1993's 'Fan Man' fight remains boxing's most bizarre night
November 5, 2018 - 3:05 pm
Updated November 7, 2018 - 4:24 pm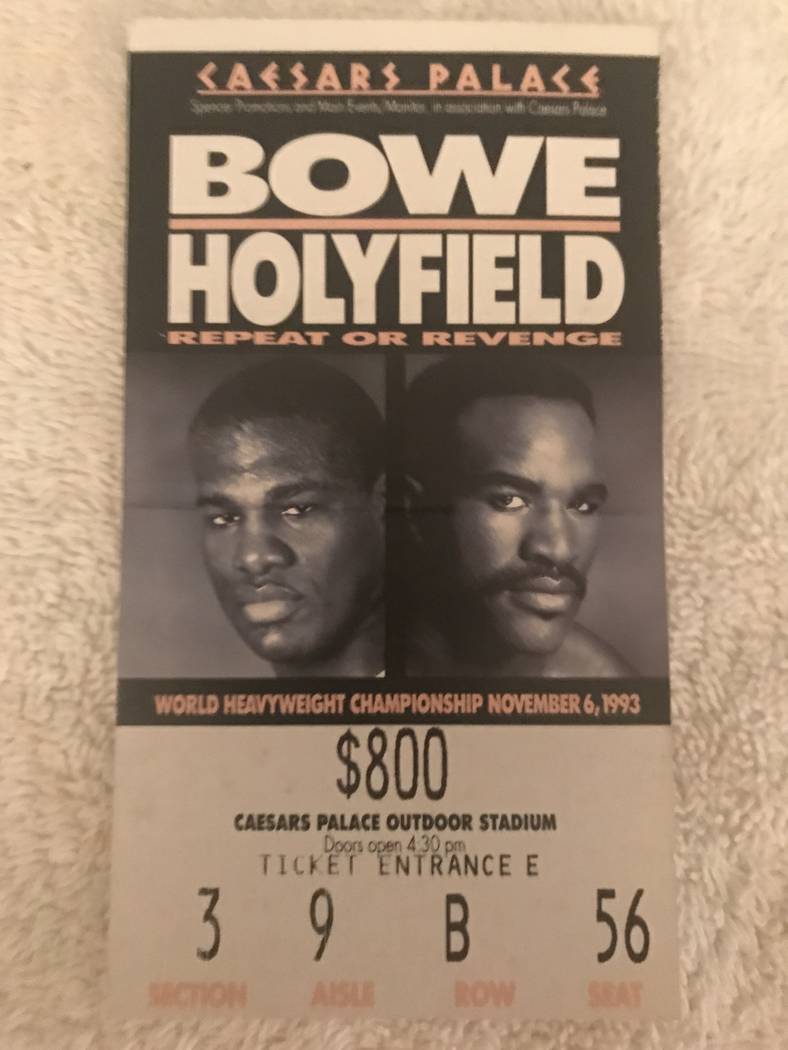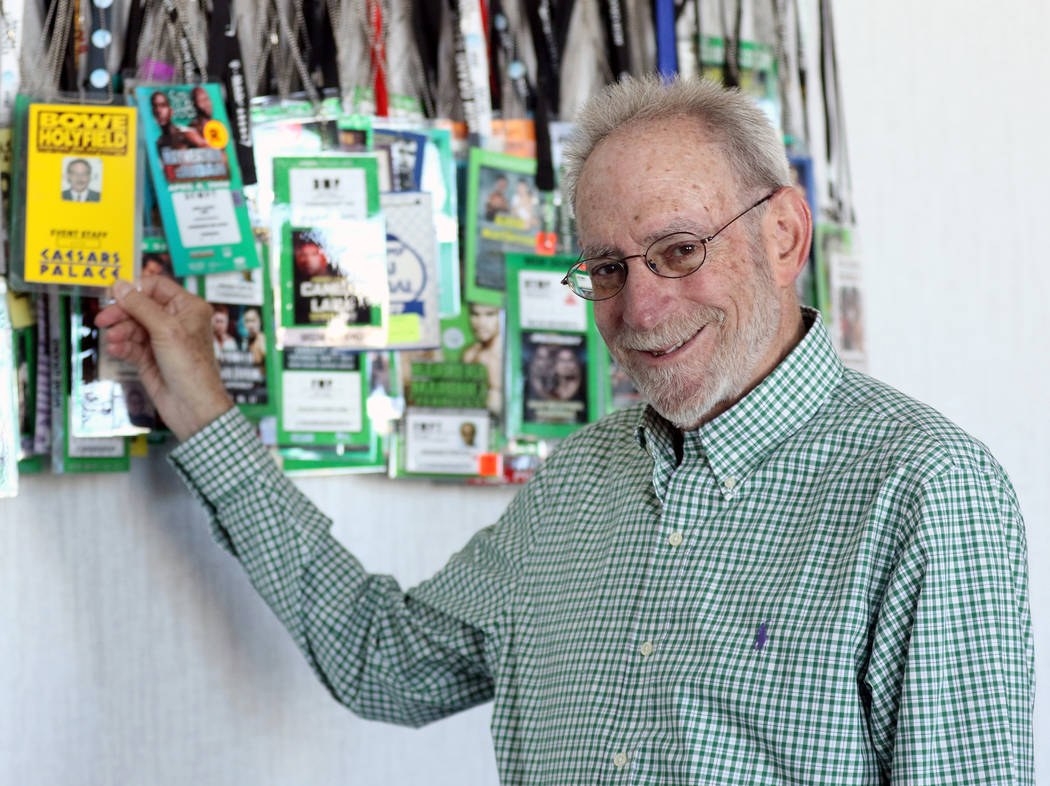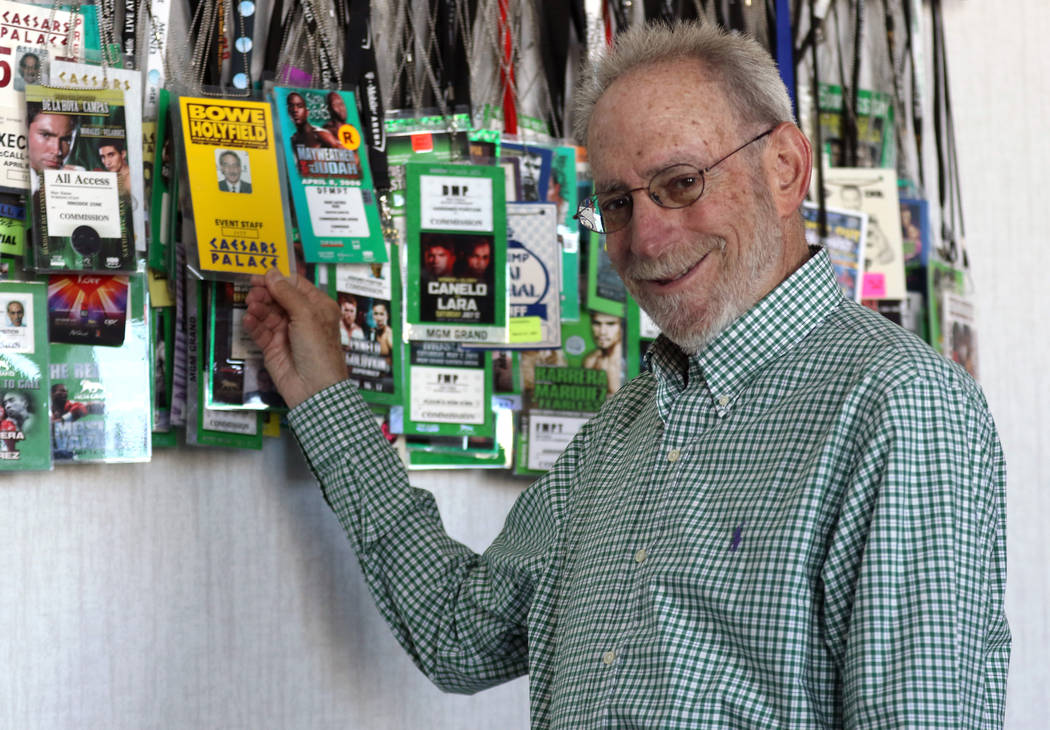 The exploding lights.
Judy Bowe never will forget the sound from the popping lights that caused her to faint and put her in an ambulance with the Rev. Jesse Jackson holding her hand, while Judy's husband, Riddick, stood in a Las Vegas boxing ring not knowing if he should be with his pregnant wife.
As debris from the broken lights fell, a fight away from the heavyweight fight erupted.
"It was bedlam," said Rock Newman, Bowe's manager at the time. "You can describe that as bedlam."
Newman remembered the ring lights that shattered 25 years ago at the Caesars Palace outdoor arena during the Bowe-Evander Holyfield rematch that was billed "Repeat or Revenge" but forever will be referred to as "Fan Man."
The rematch is considered a boxing classic, but what transpired away from the ring in the middle of the seventh round made it one of the most unusual events in sports history.
"Being born and raised in Brooklyn, New York, I was used to hearing gunshots," Judy Bowe said. "So that was my first instinct, was gunshots."
What the heavyweight champion's wife heard on the night of Nov. 6, 1993, wasn't from a bullet.
James Miller and his motorized paraglider ignited the ringside hysteria, a scene that was described by HBO announcer Jim Lampley as "a monumental disaster" and "a monstrosity of an interruption."
Miller, of Henderson, became known as "Fan Man" after he crashed near the ring, as his feet dangled on the ropes with his yellow, blue and orange parachute caught on a row of ring lights.
"I remember this part vividly," said Marc Ratner, the Nevada Athletic Commission executive director at the time. "His legs were over the ropes, and then Bowe's people were beating him."
Away from the corner where Miller landed, fans weren't sure what to think.
"Nobody saw that man coming," said Kelly Swanson, Bowe's publicist at the time, who was sitting adjacent to the crash site. "I don't care what anybody says.
"People were more surprised than anxious because there was a delayed reaction to how people should react to this invasion of the boxing event."
Actress Demi Moore leaned over to Holyfield's manager, Shelly Finkel, and asked if "Fan Man" was part of the show.
"No, not at all," Finkel said he recalled telling Moore.
For Judy Bowe, it never felt scripted.
She still has a hard time speaking about what transpired during one of boxing's most bizarre nights. To her recollection, this was the first "Fan Man" interview request she accepted.
Holyfield, who regained his titles on that infamous night with a majority decision, has answered countless questions about the fight.
But the boxing legend can't call "Fan Man" the wildest night of his career because he lost part of his ear from a Mike Tyson bite during their 1997 bout at the MGM Grand Garden.
"I would say 'Bite Fight' was crazier," Holyfield said. "It's something you don't think about. Out of all the things in the world, you don't think someone is going to bite you."
Holyfield was reminded of the flying man who interrupted his fight.
"Who in the world thinks, 'I'm going to fly down into the ring with these two guys who can fight?'" he said. "That's the craziest thing in the world."
Here's a look back at what happened during the Bowe-Holyfield II delay and an update on the relationships among the key figures of "Fan Man" 25 years later.
21-minute delay
It had only been a few months since the commission named Ratner the permanent executive director, and he already was faced with a career-defining moment.
"There's nothing in the athletic commission rulebook that says what do you do when a guy flies into the ring," Ratner, now the senior vice president of regulatory affairs for the UFC, said recently.
Ratner acted on instinct. Being a college football referee and the shot-clock operator at UNLV men's basketball games, his first move was to ask the timekeeper how much time was left when the seventh round stopped.
Referee Mills Lane signaled for a timeout at the 1:50 mark. It was the three-minute round that turned into the 24-minute seventh. In a strange way, it could be called the longest round in the history of Nevada boxing.
Ratner said he wasn't sure whether the fight should continue. He asked judges Jerry Roth, Patricia Morse Jarman and Chuck Giampa to score the seventh round and make a note of their winner after 19 minutes, 10 seconds of action.
But during the 21-minute delay, the decision was made to resume the fight. Holyfield went on to avenge his 1992 loss to Bowe with a majority decision.
Morse Jarman scored the wacky seventh 10-10. Maybe she played it too safe, but how do you judge a round that was interrupted by the "fool" caught in the ropes?
Morse Jarman told the Review-Journal in 2009 that she had Bowe clearly winning the seventh round before "Fan Man" hit the ring. If she had scored it 10-9 for Bowe, the outcome would have been a majority draw with Bowe keeping his WBA and IBF titles.
"It changes the course of heavyweight history," Ratner said.
Let's get ready to stay calm
Ratner's handling of the situation didn't go unnoticed.
"Turned out to be a momentous night for me because I think I had to go on the air to say something and people knew me from that," recalled Ratner, who was inducted into the International Boxing Hall of Fame in 2016.
But he didn't want credit for restoring order.
"The true hero is Michael Buffer," he said.
Buffer, the legendary ring announcer best known for his "Let's get ready to rumble" catchphrase, spoke to the announced crowd of 14,292 and asked fans to stay calm.
"I didn't want people thinking it was a terrorist attack," Buffer said. "The very first thing I did was make sure my mic was hot, and I just asked people to stay calm, and I could see it was an isolated thing.
"I just kept talking to the crowd: 'No problem. This will be taken care of. We'll have a brief interruption.'"
Buffer also told the corners to wrap their fighters in blankets and towels to keep them warm during the delay.
Ratner said his one mistake on that 50-degree night was not telling the fighters to wait in their dressing rooms. But for that to be his only regret sums up how the crisis was averted.
No one was seriously injured, and spectators didn't run for the exits in a panic, as they later watched a classic finish in the ring.
"If this happened 10 years later after 9-11, when the mentality of the world was different, who knows what would have happened?" Ratner said.
Riddick Bowe's decision
A terrorist attack didn't cross Newman's mind, but something else did.
Louis Farrakhan, the leader of the Nation of Islam, was sitting a few feet from Miller's landing.
"I thought this was some convoluted attack on (Farrakhan)," Newman said.
Farrakhan's and Bowe's bodyguards immediately pulled Miller away from the ring and began to beat him with their brick-like cellphones.
A flustered Judy Bowe was surrounded by several people. She was six months pregnant with her youngest son, Julius.
She remembers seeing people falling, screaming and attacking one another before being taken to a hospital by ambulance.
"I was scared," she said. "I was worried about the baby and worried about my safety. Worried about Bowe."
Newman told Riddick Bowe that his wife had fainted.
"I wanted to leave and get out of the ring," he recalled telling his manager. "Rock was saying, 'Nah, Bowe, stay in the ring.'"
To this day, Judy Bowe doesn't understand why her husband wasn't by her side.
"Later on, I thought it was the inappropriate move to make him continue to fight knowing that they did rush me to the hospital," she said. "I was a little upset about that. No one thought that being by my side was more important than continuing the fight that was already interrupted?"
Bowe said he regrets not leaving with his wife that night. The two divorced years ago.
The aftermath
Bowe and Newman had a falling out not long after "Fan Man." Bowe said he hasn't talked to Newman in more than 20 years. Signing with Newman, he said, "was the worst decision I've ever made in my life."
Newman has his side of the story.
"Bowe made some horrible decisions, and I just could not continue to support or maintain the relationship, and eventually he made attacks about me and sued me … and ultimately withdrew and apologized," Newman said.
The two said they have no desire to reconnect.
Judy Bowe said she and her children still have a relationship with Newman and regard him as family. She declined to discuss the family's relationship with Riddick.
After the infamous interruption, Miller was hospitalized briefly, arrested, released on $200 bail at 2:28 the next morning and charged with misdemeanor "dangerous flying," according to media reports. He later pleaded guilty to a charge of misdemeanor trespassing and was sentenced to eight days in jail.
Miller and his paraglider were spotted two months after the fight flying over the Los Angeles Memorial Coliseum during the Los Angeles Raiders-Denver Broncos 1994 NFL playoff game. He also had other stunts in the United Kingdom at soccer matches.
In 2002, at age 38, Miller disappeared in the wilderness of Alaska. His body was found six months later. His death was ruled a suicide.
From foes to friends
Bowe's only loss in his 44 professional fights was to Holyfield. They fought for a third time in 1995, with Bowe knocking out Holyfield in the eighth round at Caesars Palace.
It's one of boxing's best trilogies, but no other series of fights is as memorable as Bowe-Holyfield simply because of "Fan Man."
Royce Feour covered boxing for 37 years at the Review-Journal before retiring, including the "Fan Man" fight and the Tyson-Holyfield "Bite Fight."
"I covered boxing for so long, I was used to crazy things," Feour said. "But 'Fan Man' was probably the craziest."
Bowe, now 51, and Holyfield, 56, pummeled each other for 32 rounds and share this strange event in sports history. So perhaps it's only fitting that they're now close friends.
The two see each other daily at a Florida gym. They work out, joke around and reminisce about the ol' days.
"Evander tells me I'm his best friend. If somebody knocked my ass, I'd be his best friend, too," Bowe said jokingly.
Holyfield gives Bowe credit for winning the series 2-1 but tells him that "Fan Man" saved him from getting knocked out.
"He better be glad that 'Fan Man' was in there or he would have been toasted," Holyfield said.
Good friends, but the rivalry never stops.
More boxing: Follow all of our boxing coverage online at reviewjournal.com/boxing and @RJ_Sports on Twitter.
Contact Gilbert Manzano at gmanzano@reviewjournal.com. Follow @GManzano24 on Twitter.
Bowe-Holyfield 2 Scorecard by Las Vegas Review-Journal on Scribd
25th anniversary of 'Fan Man' fight
Date: Nov. 6, 1993
Location: Caesars Palace outdoor arena
Fight: Evander Holyfield (217 pounds) defeated Riddick Bowe (246) by majority decision.
Judges: Jerry Roth (115-113 Holyfield), Patricia Morse Jarman (115-114 Holyfield), Chuck Giampa (114-114).
Announced crowd: 14,292
Backstory: Bowe and Holyfield met in a rematch with the WBA and IBF heavyweight belts on the line. Bowe took the titles from Holyfield in November 1992 at the Thomas & Mack Center. James Miller, also known as "Fan Man," interrupted the rematch in the seventh round when he crashed into the ropes on his motorized paraglider. The bout resumed after a 21-minute delay.
Notable
— Bowe opened as a 5-1 favorite, but the odds went down to 2½-1.
— Bowe was guaranteed $11 million and Holyfield $9 million.
— The fight generated 950,000 HBO pay-per-view buys.
— The live gate was $5,792,838.50.
— Emanuel Steward trained Holyfield for the fight. Eddie Futch was in Bowe's corner.
— Bowe landed 353 of 786 punches (45 percent), and Holyfield connected on 253 of 514 (49 percent).
Source: Boxrec.com