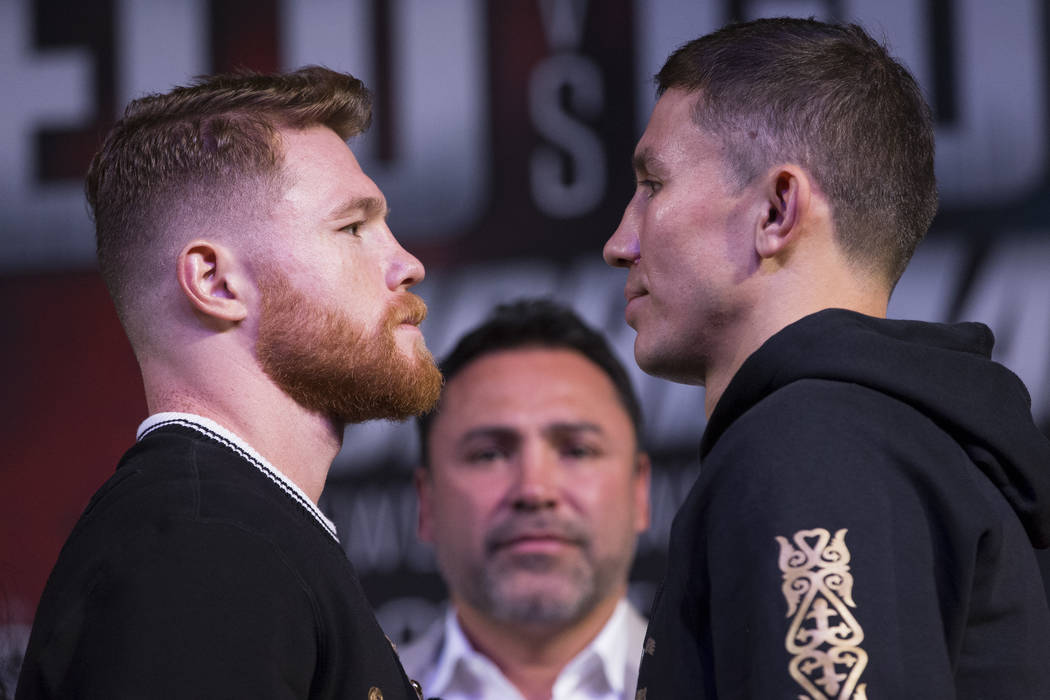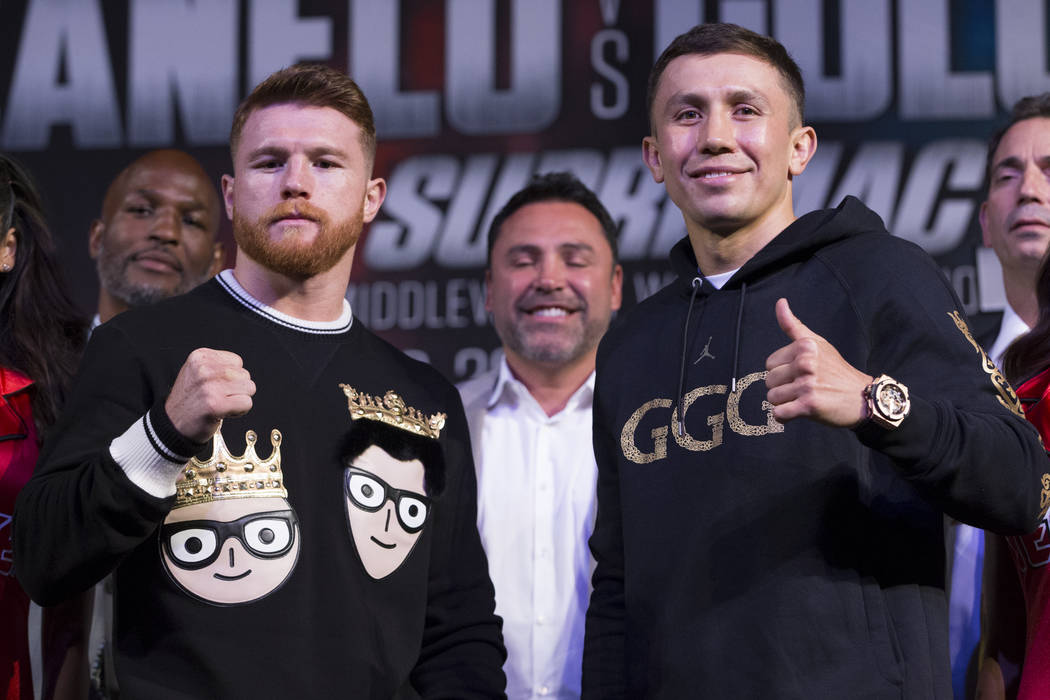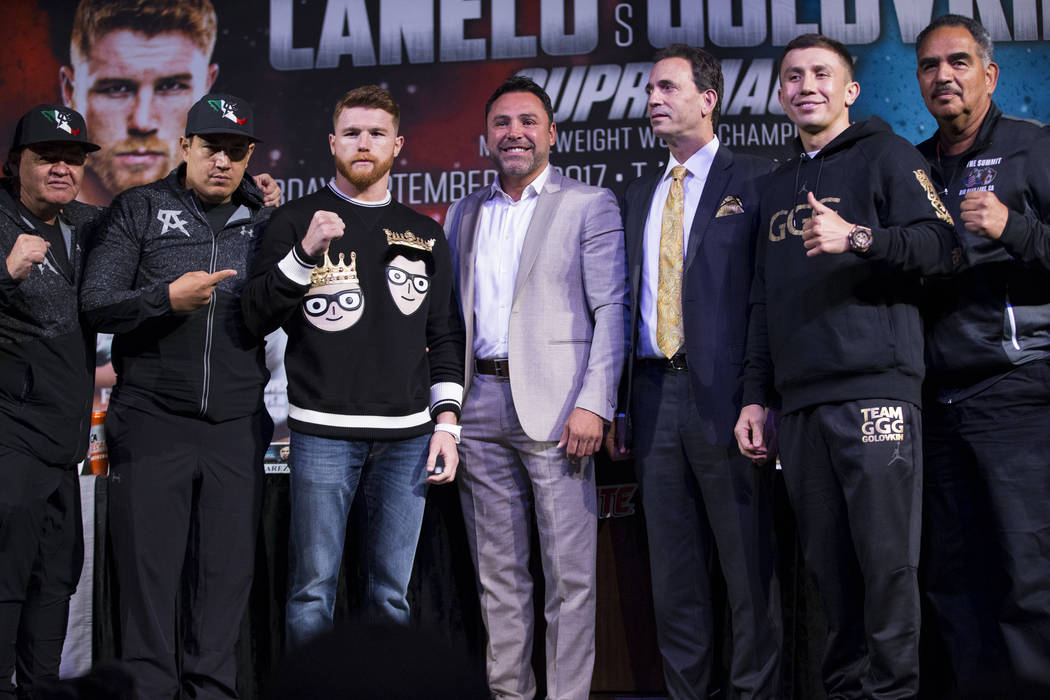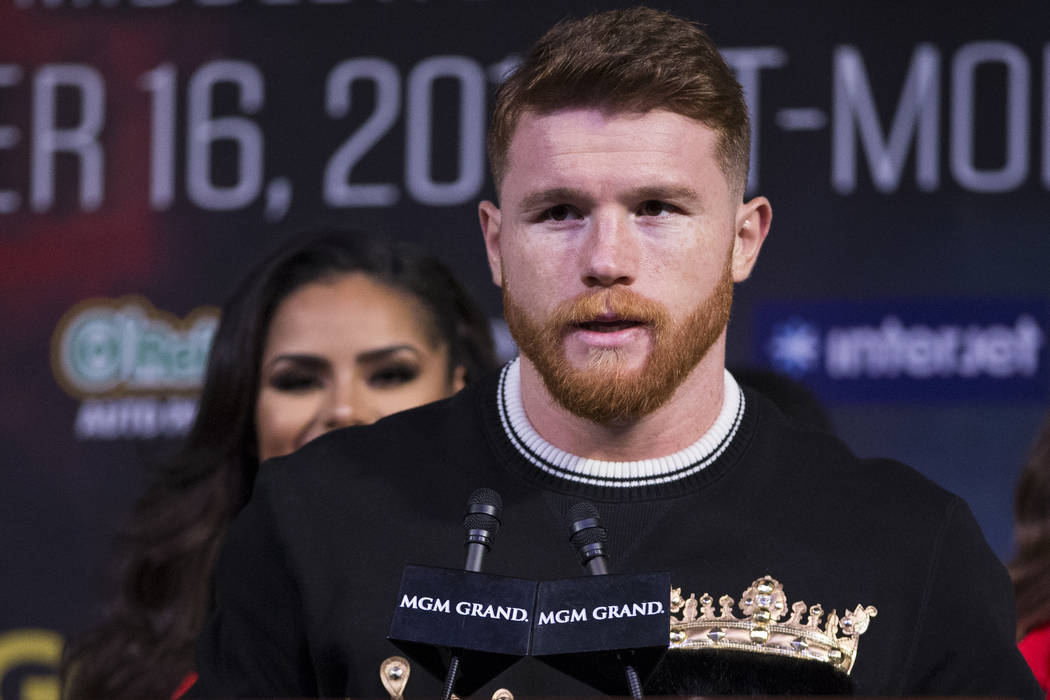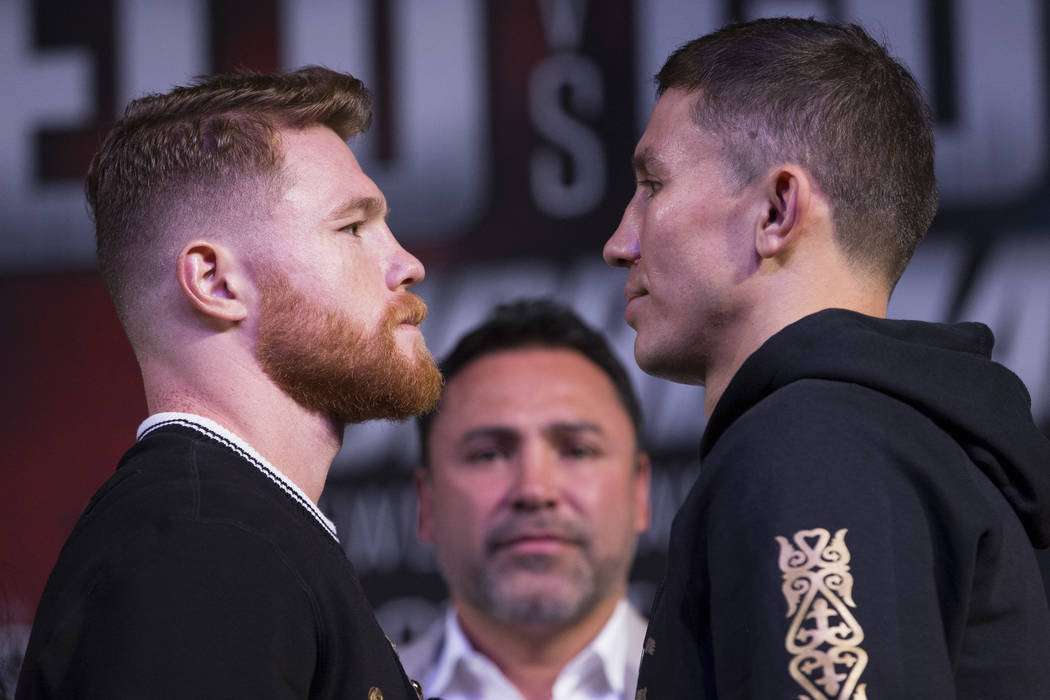 The Review-Journal asked 16 boxing reporters to pick a winner for Saturday's megabout between Saul "Canelo" Alvarez and Gennady "GGG" Golovkin at T-Mobile Arena.
And surprise, surprise. This evenly matched fight was split down the middle at eight picks apiece.
There are high hopes this potential fight of the year will be remembered for a long time and possibly produce the latest boxing trilogy.
The ingredients are there for that to come to fruition with Golovkin (37-0, 33 knockouts) being an aggressive attacker who fights forward, while Alvarez (49-1-1, 34 KOs) prefers to counter with fast combinations.
Here are three keys to victory for Alvarez and Golovkin:
Alvarez's three keys
1. Attack the body
Alvarez, 27, clearly remembers the heat he took for vacating the WBC middleweight belt last year to put the Golovkin bout on hold for another year.
Many said he was ducking Golovkin, 35, and afraid to get hit by the knockout artist. But by not rushing the fight, it helped Alvarez form into a true middleweight before facing Golovkin. The last time Alvarez rushed a blockbuster bout, he was embarrassed by Floyd Mayweather for his only career loss.
"Every day, every night I've visualized the knockout (against Golovkin)," Alvarez said. "I've visualized it every night before going to sleep. I'm prepared to knock him out, and I keep seeing it."
If Alvarez knocks out Golovkin, the doubters will eat their words. But again, Alvarez can't rush. He needs to attack the body first before head hunting.
The Mexican superstar needs to earn Golovkin's respect early and wear him down for the later rounds. Golovkin has an iron chin and won't go down easily.
2. Be smart with uppercuts
Alvarez needs to be smart when going for the head. He thrives on starting a combination with a body shot that ends with a power shot upstairs.
But he can't do that every time against the hard-throwing fighter from Kazakhstan.
Alvarez's best weapon is the uppercut. He needs to land that at a high rate without taking too much punishment in return.
"There's going to be a lot of punishment on both sides," Alvarez said. "To attack him, I'll need to take risks to be able to hit him to the body or to the head, but I need to do it in a smart way, not just to do it.
"I have to be thinking and not just be a target for him to hit."
3. Stay true to yourself
With Alvarez talking about taking punishment regardless of what he does in the ring, that means he's not going away from what made him a two-division champion.
Alvarez is a counter puncher who welcomes a brawl. He's not a technical fighter, and he shouldn't try to be to avoid the power shots from Golovkin. The last time Alvarez tried to outbox an opponent, he got picked apart by Mayweather.
He hasn't made that mistake since and has delivered memorable knockouts against James Kirkland and Amir Khan.
Alvarez has fought 12 former champions. He needs to use that experience and stay true to what makes him one of the best fighters.
Golovkin's three keys
1. Utilize the jab
When there's a 50-50 bout, it's always important to win those early rounds when both fighters are feeling each other out.
Golovkin usually doesn't need to rely on the jab, but he might against Alvarez. Golovkin has one of the better jabs in the sport, and by using that he can dictate the pace and not allow Alvarez to get his combinations off.
The three-belt middleweight champion last used the jab to his benefit against David Lemieux, a power-punching fighter. Alvarez is arguably the strongest puncher Golovkin has faced.
"I don't think his snap and his power is like Golovkin's, but if Golovkin gets caught with a good shot, anybody can go down," said Abel Sanchez, Golovkin's trainer.
2. Cut the ring
Not many cut off the ring better than Golovkin. Alvarez likes fighting off the ropes to throw his counter punches, but Golovkin must move him away from his comfort spots.
By stalking Alvarez and dictating the pace, that doesn't allow the Mexican fighter to get into a rhythm.
3. Don't get robbed
Golovkin said he has faith in the three judges if it comes down to the scorecards.
The undefeated boxer is new to Las Vegas. He should never leave it up to the judges, especially the ones from Nevada.
Golovkin needs to do what he does best — knock out his opponent. His 23-straight knockout streak ended in March, but he needs to start a new one to make sure there are no robberies on fight night.
More boxing: Follow all of our boxing coverage online at reviewjournal.com/boxing and @RJ_Sports on Twitter.
Contact Gilbert Manzano at gmanzano@reviewjournal.com. Follow @GManzano24 on Twitter.
Predictions
Boxing reporters pick the Alvarez-Golovkin winner:
— Ryan Burton (BoxingScene.com)
Alvarez, unanimous decision
— Lance Pugmire (Los Angeles Times)
Alvarez, split decision
— Bob Velin (USA Today)
Alvarez, split decision
— Elie Seckbach (EsNews)
Alvarez, 11th-round KO
— Michael Rosenthal (The Ring Magazine)
Golovkin, 10th-round KO
— Ed Graney (Review-Journal)
Golovkin, 10th-round KO
— Tim Dahlberg (The Associated Press)
Golovkin, 10th-round KO
— Gilbert Manzano (Review-Journal)
Golovkin, majority decision
— Norm Fraueneheim (The Ring Magazine)
Golovkin, split decision
— Dan Rafael (ESPN.com)
Golovkin, 10th-round KO
— Bryan Salmond (Review-Journal)
Alvarez, split decision
— Sam Gordon (Review-Journal)
Golovkin, split decision
— Gareth A Davies (The Daily London Telegraph)
Alvarez, majority decision
— Keith Idec (BoxingScene.com)
Alvarez, split decision
— Mike Coppinger (The Ring Magazine)
Alvarez, split decision
— Andreas Hale (Yahoo Sports)
Golovkin, 10th-round KO
Total: Alvarez 8, Golovkin 8