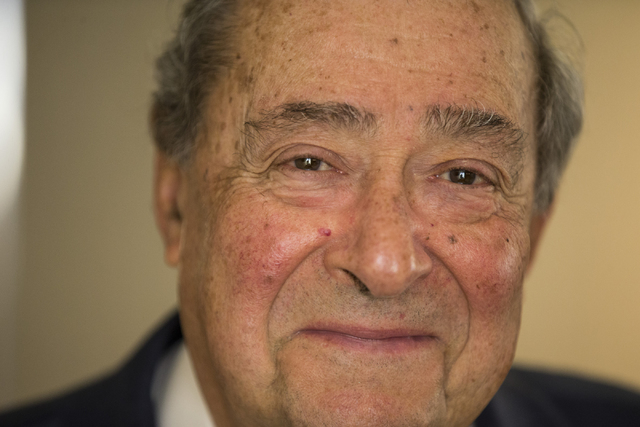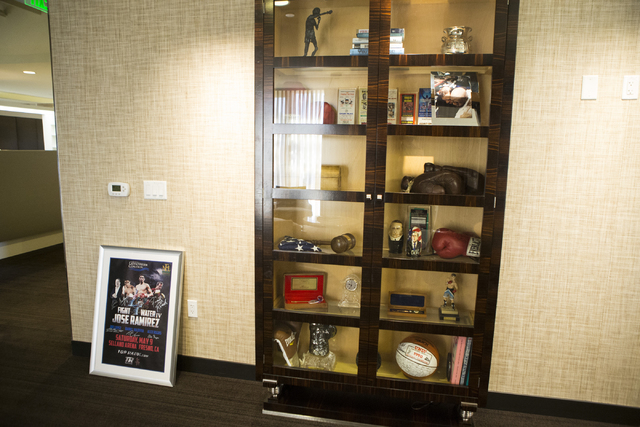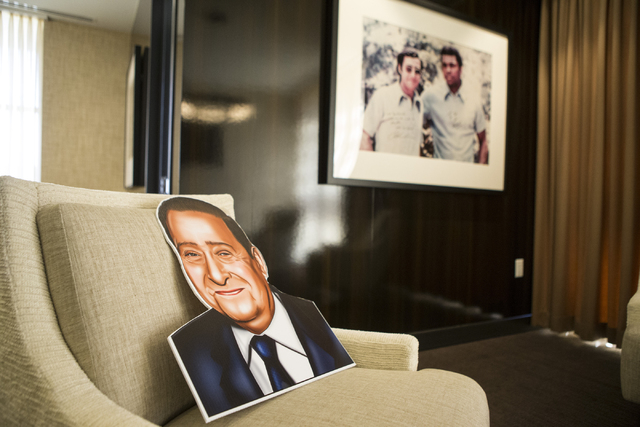 LOS ANGELES
It's a good thing Willie Mays didn't know anything about boxing. If he had, it's likely Bob Arum never would have become a fight promoter.
Fifty years ago, Arum promoted his first fight, Muhammad Ali's heavyweight bout against George Chuvalo on March 29, 1966, in Toronto. He is arguably the best of all time at what he does. At 84, he's showing no signs of slowing down, much less stopping.
"Why should I quit?" Arum asked rhetorically as he sipped iced tea on the outdoor deck of his massive Beverly Hills, California, home. "As long as I can talk and get on a plane, I'm going to keep working."
Top Rank, Arum's Las Vegas-based company, is strong and vibrant with several stars, including Manny Pacquiao and Timothy Bradley Jr., who will meet for the third time April 9 at the MGM Grand Garden.
"I love what I do," said Arum, a 1999 inductee in the International Boxing Hall of Fame. "We've got some exciting young fighters who are already world champions or are going to be world champions soon. I'm having a blast."
Rivals at every turn
In his six decades as a fight promoter, Arum has had his share of archrivals. First, it was Don King, who controlled many of the heavyweights during the 1980s and into the 1990s, though they were doing business as early as the 1970s. Eventually, they would become good friends, but there were a lot of years when they were mortal enemies. King once referred to Arum as "The master of trickeration" and "The prince of eviality."
"King was a pussycat to deal with," Arum said. "Once the deal was done, he didn't interfere."
When Oscar De La Hoya left Top Rank in 2002 to form his own company, Golden Boy Promotions, bad blood surfaced between Arum and his star performer. Arum and De La Hoya are on good terms now, but Arum still holds a grudge against Richard Schaefer, the Swiss banker and businessman who helped De La Hoya form Golden Boy and served as its CEO until 2014.
"Schaefer is a bad guy," Arum said. "He nearly ruined Oscar. I never trusted him."
When Floyd Mayweather Jr. left Top Rank in 2006 to promote himself, their relationship was never the same.
Possibly his toughest negotiation came a year ago. As Pacquiao's promoter, Arum had a fiduciary responsibility to make the best deal possible for his fighter to get into the ring with Mayweather in what had been an eagerly anticipated fight between boxing's two biggest names. But it also meant doing business with someone Arum despises, Al Haymon, who was Mayweather's adviser.
The deal was finalized, and the May 2 megafight produced boxing's biggest live gate ever — $72.1 million — as well as the biggest pay-per-view numbers, $440 million. Both sides did well financially even though the fight didn't live up to expectations, as Pacquiao fought with an injured right shoulder that he had hurt in training camp and Mayweather dominated in a 12-round unanimous decision.
"That fight took us two hours to make a deal and two months to finalize it," Arum said of the negotiations and the constant revising of terms, including the delivery of the coveted tickets to the fight that Top Rank didn't receive its share of until fight week. "We weren't equal partners in the promotion. (Mayweather) controlled everything. Haymon was a conniver."
Arum is suing Haymon for violating anti-trust laws and the Muhammad Ali Boxing Reform Act.
He also has done battle with the Las Vegas casinos from time to time.
Arum did his first Las Vegas hotel fight in 1978 when Ali fought Leon Spinks at the Las Vegas Hilton. From there, Arum forged a relationship with Caesars Palace, where some of boxing's most memorable fights were staged.
He has done business with Steve Wynn for years and continues to work with the MGM Grand despite some recent bad blood stemming from Pacquiao's rematch with Bradley in 2014.
That fight shared advertising with Mayweather's fight against Marcos Maidana, which sent Arum into a rage against the hotel.
Jim Brown changed his game
But one person Arum never had a problem with was Ali.
Ali gave Arum his break in boxing. Which brings us back to Mays. Arum had been working for the U.S. attorney general in New York and had left to join a Manhattan law firm.
His company was handling all the paperwork for the promoters of a heavyweight fight between Ernie Terrell and Chuvalo in November 1965 that was going to be shown on closed-circuit TV in U.S. movie theaters.
"The fight wasn't selling well, and they asked me what I thought they can do to get people to buy the fight," Arum said. "I said, 'Have a black athlete be the analyst.' So they asked me if I knew any black athletes, and I said I knew Willie Mays, and they said, 'Will you call him?'
"I call Mays, tell him about the fight and ask him if he would do it. He turned me down, saying he didn't know anything about boxing. But he suggested I call Jim Brown, the football player."
Brown agreed to do the fight, and Arum said he did great.
"Afterward, he said to me, 'You shouldn't be behind the scenes, you should be in front as the promoter," Arum said. "I said, 'What do I know about promoting boxing?'
"Next thing I know, I'm getting a call from Ali. He's going through all his legal issues with the government for refusing induction into the army, and he's going to fight Chuvalo in Canada, and he asks me to help him promote the fight. I told him the same thing I told Jim, and Ali said, 'Don't worry about it. I'll do all the talking.' We became friends, I was accepted by Elijah Muhammad and the Nation of Islam, and the rest is history."
Who's who stable of boxers
Arum's list of fighters he has promoted reads like a who's who of boxing: Ali, Joe Frazier, George Foreman, Sugar Ray Leonard, Marvin Hagler, Thomas Hearns, Roberto Duran, Julio Cesar Chavez, De La Hoya, Mayweather and Pacquiao. On Tuesday, a dinner was held in Toronto to honor Arum's accomplishment of promoting his first fight.
Arum didn't have today's technology at his disposal to promote Ali in 1966. There was no Internet. No social media. No cellphones or tablets. Newspapers were the main source of disseminating information, and over time Arum built relationships with virtually all the boxing writers and sports columnists from coast to coast.
"We'd invite the writers up to camp where Ali trained, and they'd stay for a few days," Arum said. "They'd write their stories, and that's how you built up interest in a fight. We did the same thing when Ray fought Duran and Tommy and Marvin, and when Marvin and Tommy fought each other.
"Today, very few newspapers even have a boxing writer. You've got all these websites, and everything is up in a matter of seconds, but you don't know what's accurate or not. There's no accountability. There's no screening. And that's a problem for the public, because they have to try to determine what's true and what isn't."
But Top Rank has its own website and tries to control its message. Arum said the positive is that his company can reach anywhere in the world with information on a fight. It has allowed his company to do business in Macau as well as in mainland China, where up until a few years ago professional boxing was banned.
"It was an untapped market," Arum said. "But when (flyweight) Zou (Shiming) turned pro after the (2012) Olympics, that opened the door for us after we signed him to use him on our cards over there. The Chinese love boxing."
But Arum said the biggest change to boxing is coming quickly.
More changes ahead
"Digital is going to change everything," he said. "Pay per view, as we know it, won't exist in three years. You'll be able to watch a fight on your phone, on your tablet, anywhere in the world. And you won't pay as much. Maybe 10, 20 bucks."
Arum said because more people will be able to watch, fighters still will get paid big money. But the biggest challenge for boxing is to continue to develop stars and give people a reason to watch.
Mayweather retired in September. Pacquiao is running for the Senate in the Philippines in May, and he said April 9 is probably his last fight. There's Canelo Alvarez, Gennady Golovkin, Sergey Kovalev and Andre Ward, along with Terence Crawford, Keith Thurman, Shawn Porter, Danny Garcia and Amir Khan, whom boxing fans already know.
"You've got to have stars, fighters that fans want to see," Arum said. "But it takes time to develop a superstar fighter. It doesn't happen right away."
All along, through 50 years, Arum has been there, building careers and guiding the fortunes of fighters. Boxing has allowed him to see the world, to do something fun with his life, to meet world leaders and to be richer than he could ever have imagined. That's something no ordinary law practice could have provided.
"You can never predict where life is going to take you," he said. "If Willie Mays said 'yes' to me, none of this would have ever happened."
Contact reporter Steve Carp at scarp@reviewjournal.com or 702-387-2913. Follow him on Twitter: @stevecarprj