After Senate victory, experts differ on Manny Pacquiao's boxing future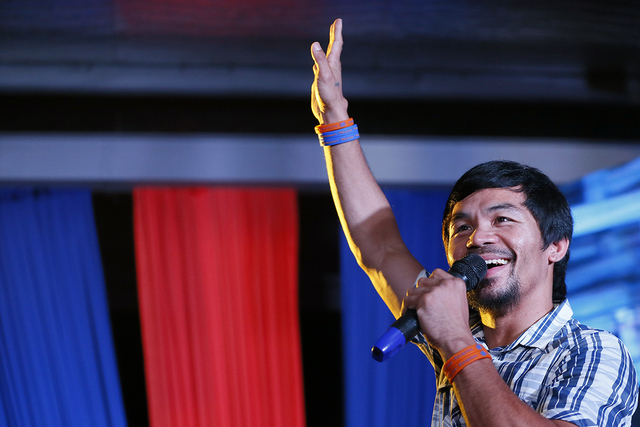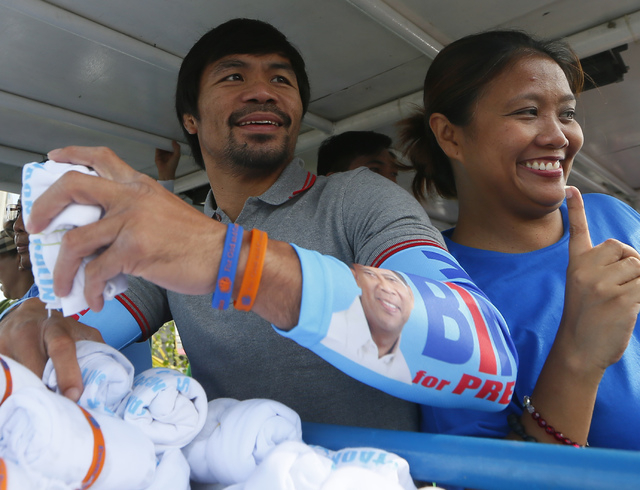 LOS ANGELES — Of all of Manny Pacquiao's many victories, this may have been the biggest.
The eight-division world champion boxer from the Philippines appears to have won his election for a seat in that country's Senate.
The top 12 finishers earn a six-year term. Pacquiao, who was running as a candidate of the United Nationalist Alliance, had more than 15.4 million votes cast for him and was seventh among 50 candidates.
And with Pacquiao being elected to office, the question is, can he maintain his boxing career? Pacquiao, 37, retired with a 58-6-2 record with 38 knockouts after he beat Timothy Bradley on April 9 at the MGM Grand Garden.
Top Rank chairman Bob Arum, who has been Pacquiao's promoter, thinks he won't.
"The job of senator is so demanding," Arum said. "I don't expect to see Manny in the ring ever again. But it remains to be seen. With Manny, anything is possible."
Freddie Roach, Pacquiao's longtime trainer, thinks that if there's a way Pacquiao can legislate and fight, he'll do so.
"Manny can still fight," Roach said. "I think we all saw that in his performance against Bradley. A lot of the old Manny Pacquiao was on display that night."
Arum said the only fight that would make sense for Pacquiao to take would be a rematch with Floyd Mayweather Jr., and he doesn't see it happening.
"Mayweather has made no effort to solidify that fight," Arum said. "It doesn't make any sense for Manny to fight someone else."
Pacquiao, who had to survive death and kidnapping threats to himself and his family from Islamic extremists as well as his own gaffes when he made anti-gay comments while campaigning back in February, managed to succeed at the polls.
"It is his biggest win," Arum said. "It's one thing to run for a seat in Congress where you just have to win your district. It's another thing to win a national election.
"We're thrilled for Manny. This is something he has taken very seriously, and he has put a lot of effort into his campaign."
Roach said he'll leave Pacquiao's area to work out at his Wild Card Boxing Club in Hollywood ready just in case.
"I think he's going to take his job as senator very seriously, and he should. But I also think there's part of Manny that still thinks he should keep fighting," Roach said. "If he can fight and wants to fight, I'm ready to help him. But Senator Pacquiao has a nice ring to it."
Contact Steve Carp at scarp@reviewjournal.com or 702-387-2913. Follow on Twitter: @stevecarprj