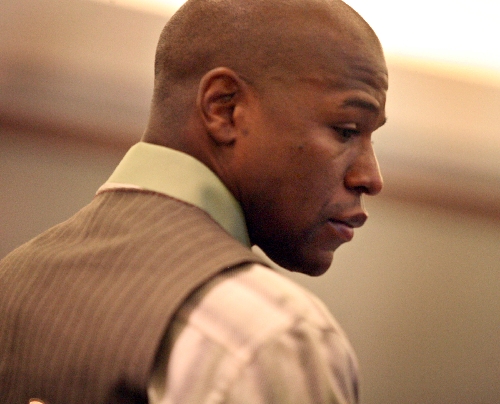 Before he stepped into the ring Saturday night to face WBA junior middleweight champion Miguel Cotto, Floyd May­weather Jr. had intentions to fight again in 2012.
His pending June 1 incarceration at the Clark County Detention Center aside, the plan was to get back in the gym upon his release from jail and reap another multi­million dollar payday. But in the wake of his hard-fought, 12-round unanimous decision over Cotto at the MGM Grand Garden, Mayweather suddenly wasn't sure whether he would fight again this year.
Or ever.
"I don't know where I'm going, I really don't know," Mayweather said at the postfight news conference late Saturday night. "I'll sit down with (co-manager) Al (Haymon) and my staff at home and see about my future. I don't have to fight again."
No, he doesn't.
But the popular 35-year-old fighter probably will, especially given he made a record $32 million Saturday night – and there's more out there still to be made. However, Mayweather took some punishment at the hands of Cotto in taking Cotto's title and he admitted this might have been the toughest fight in his 43-0 career.
"Normally, I don't have no bumps or bruises when I'm up here," he said. "But I got roughed up a little, so I'll see how I'm doing."
Mayweather gave Cotto credit for his tenacity.
"This guy's tough," Mayweather said of Cotto, who lost for only the third time in 40 fights. "I was going for the knockout. I tried to take this guy down, but Cotto surprised me.
"But I embrace pressure. I'm not going to fold under pressure."
Mayweather, who usually takes lengthy vacations with his family following his fights, doesn't have that luxury this time. In 26 days, he will enter jail for 87 days following his guilty plea to domestic battery – so any postfight trip to Hawaii, Mexico or another locale will have to be an abbreviated one.
On Saturday, Mayweather elected to go toe-to-toe with Cotto for most of the fight. While he won the majority of the exchanges, as evidenced by the final Punchstats which saw him throw and land more shots, Mayweather also paid a price by getting hit more than he's accustomed.
"Every fight is not the same," Mayweather said, explaining why he changed tactics in facing Cotto. "You don't fight every fight the same. I could have stayed on the outside, outboxed Cotto and won. But that would have been boring. I wanted to give the fans some excitement."
The sellout crowd of 16,047 appreciated the action. But if Mayweather decides to fight again this year after his release from jail, who would he face? It won't be Manny Pacquiao because a fight of that magnitude would need several months of promotion and even if Mayweather gets out of jail early, he'd need more time for a late-fall fight with Pacquiao.
WBC junior middleweight champ Saul "Canelo" Alvarez could be a possibility as the star of Golden Boy's stable was impressive in beating Shane Mosley in Saturday's co-feature.
"I watched Canelo, he's a good fighter, a tough fighter," Mayweather said.
Alvarez said he'd welcome such an opportunity later this year.
"I feel I am ready," Alvarez said. "I would like to fight Mayweather or Cotto. This is what I deserve the most."
But Mayweather said he's not sure who besides Pacquiao is worthy of being his opponent.
"There's really nobody out there for me to fight anymore," he said. "I guess it's just the young pups."
While he recovers from Saturday's win, Mayweather will have plenty of time to deliberate on his boxing future.
For now, it's uncertain.
Contact reporter Steve Carp at scarp@reviewjournal.com or 702-387-2913.
Follow him on Twitter: @stevecarprj.