Aging great Lomachenko embraces final shot at undisputed glory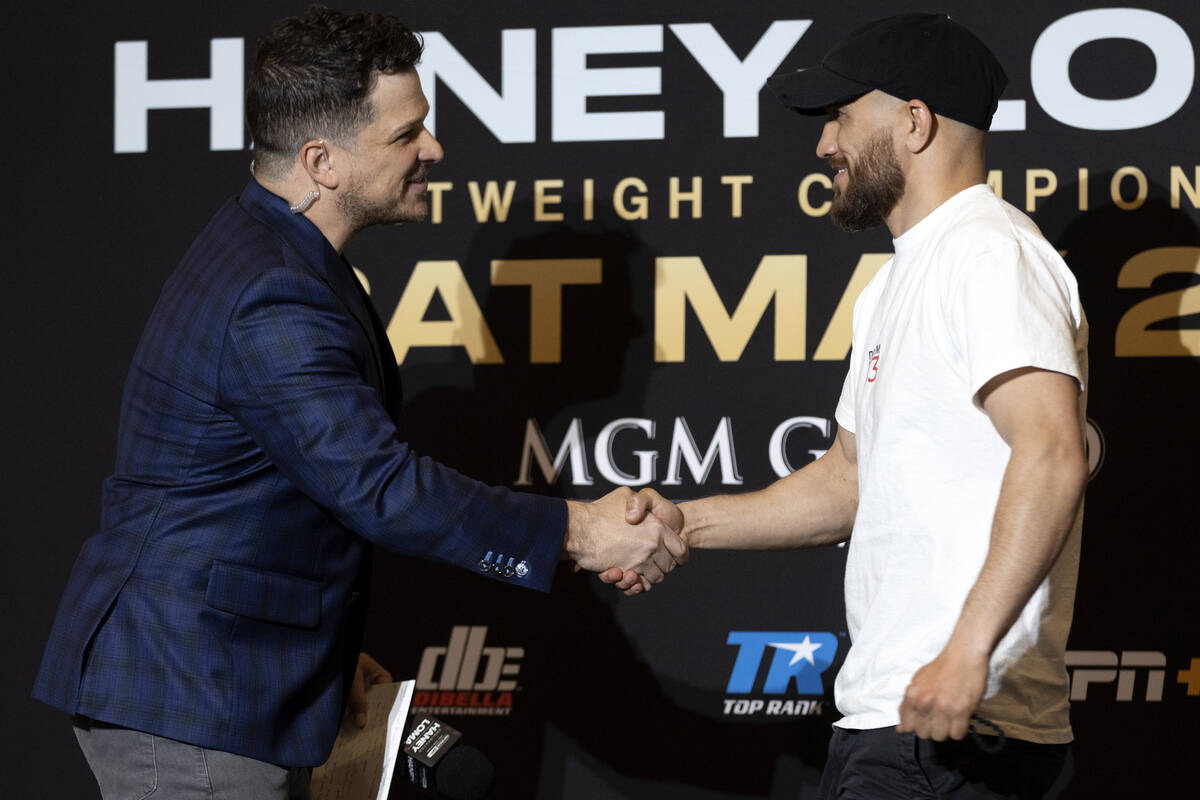 The deal was done. The fight all but finalized, pending Vasiliy Lomachenko's approval.
The great pound-for-pound pugilist would fight unified lightweight titlist George Kambosos Jr. in Australia — if boxing wasn't the furthest thing from his mind.
"I'm not going to Australia," Lomachenko told manager Egis Klimas last year after receiving the offer amid the unjust Russian invasion of his native Ukraine.
"You know this would be your last opportunity," Klimas replied, to which Lomachenko said: "If that's what it needs to be, that's what it needs to be.
"My decision is to stay here."
But Lomachenko's decision paid dividends, allowing him to stand with his countrymen during the Russo-Ukrainian War — and for Devin Haney to beat Kambosos and unify the IBF, WBA, WBC and WBO lightweight (135-pound) titles.
As the youngest undisputed champion in boxing's four-belt era at 24, Haney reciprocated Lomachenko's goodwill by agreeing to fight him Saturday at the MGM Grand Garden.
Lomachenko, 35 and perhaps past his pound-for-pound prime, acknowledged that this fight is likely his last chance to capture an undisputed title and fulfill his final professional goal.
"To be undisputed champion, it's very, very serious for me," said Lomachenko, who last beat fringe contender Jamaine Ortiz in October by decision to end his 10-month layoff.
"It compares to the Olympic games, to the gold medal. It's the same."
A legend's last stand
Lomachenko (17-2, 11 knockouts) would know, having two of them — winning the featherweight one in 2008 and the lightweight one in 2012 before debuting professionally on Oct. 13, 2013, at the Thomas & Mack Center. His amateur record was 396-1.
Lomachenko's talent remains tantalizing and his instincts impeccable. His ledger is lined with titles in the featherweight, junior lightweight and lightweight divisions.
He was once regarded the world's best pound-for-pound fighter, requiring a record-low 12 fights to claim championships in three weight classes.
But he lost for good that mythical title on Oct. 17, 2020, when he was outpointed by Teofimo Lopez for the IBF, WBA and WBO lightweight titles in a pandemic-bubbled ballroom at the MGM Grand's conference center.
Nearly three years later, he hasn't accepted the loss.
"In life, we have two different opinions," said Lomachenko, who was slowed against Lopez by an injured right shoulder that required surgery.
"Somebody is thinking about his win. The judges (decided) he won. In my mind I didn't lose that fight," he added.
What he did lose, though, were the titles — plus the momentum he'd developed in a deep division. Lopez would subsequently lose a decision to Kambosos, who would lose consecutive decisions to Haney while Lomachenko watched from afar, his homeland mired in war.
Haney reciprocates
Haney (29-0, 15 KOs), a Las Vegan by way of the Bay Area, has long professed the desire to fight Lomachenko.
"I respect his decision to stay and fight for his country and all that," Haney said. "That allowed me to get my shot to go to Australia. It's only right that I give him his shot as well."
Lomachenko doesn't have any misgivings about the challenge Haney presents as the younger, taller and bigger of the two. Nor does he have much trash to talk, reiterating only his intention to showcase the refined set of skills that has powered him to this point.
He's sought undisputed glory since he started boxing professionally, enduring 15 world title fights to earn his 16th against Haney.
Perhaps its awaits after all these years.
"His dreams are my dreams," Klimas said. "Every time in 10 years, I was hearing 'When are we going to do undisputed? When are we going to do undisputed?' … Yes, we want this fight. It's a big fight. We're ready for it.
"He is ready."
Contact Sam Gordon at sgordon@reviewjournal.com. Follow @BySamGordon on Twitter.
Up next
Who: Devin Haney (29-0, 15 KOs) vs. Vasiliy Lomachenko (17-2, 11 KOs)
What: Undisputed lightweight championship
When: 7 p.m. Saturday
Where: MGM Grand Garden
TV: ESPN+ pay-per-view ($59.95)
Tickets: Beginning at $59 on axs.com
Odds: Haney -270; total rounds 11½ (over -500)