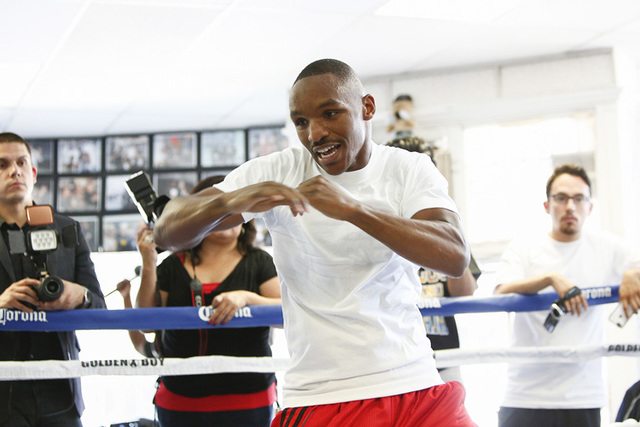 He's a boxer, not a minister. But Devon Alexander wants to help his community heal.
The 27-year-old welterweight from St. Louis will fight Amir Khan on Saturday at the MGM Grand Garden with a chance to give residents of Ferguson, Mo., a St. Louis suburb, a much-needed respite.
The community has been ripped apart by racial strife after Michael Brown, a black teenager, was shot to death by a white police officer on Aug. 9. Then came a Nov. 24 announcement that the officer, Darren Wilson, would not be indicted by a grand jury, a decision that set off riots in the community and protests across the country.
"It's a sad situation," Alexander said. "But it's something that's been brewing for a long time. To me, I gotta do what I can to help the cause. That means winning these kind of fights and making my voice heard."
Brown's father, Michael Sr., will attend Saturday's fight as a guest of Alexander and his trainer, Kevin Cunningham, who was raised and attended high school in Ferguson and now owns a bar and restaurant in the community.
Cunningham said Alexander can finally give the people of Ferguson something to cheer for.
"Devon has a huge following in that region," Cunningham said. "St. Louis isn't that far from Ferguson, maybe 15, 20 minutes. The people there know Devon, and they've been behind him his entire career.
"Right now, things are tough there. The people are upset with the politicians and with the police. To me, the police department should represent the community it serves. When the community is 75 percent black and the department is 90 percent white, something's not right."
Alexander (26-2, 14 knockouts) said the upheaval near his hometown hasn't distracted him. If anything, it serves as motivation to put forth a great performance against Khan (29-3, 19 KOs), who had planned to face Alexander a year ago but pulled out hoping for a fight against Floyd Mayweather Jr. That fight never materialized.
So now the two will headline a Showtime-televised card in Alexander's debut in Las Vegas. Alexander, who has trained in Las Vegas before, will make $650,000, and Khan will get $950,000.
"It doesn't get any bigger than this for me," Alexander said. "You're in Vegas at the MGM Grand in a building where all the top fights go.
"I wanted to get to Vegas sooner than this, but for one reason or another, it didn't happen. Now I'm here, and I'm going to make it a big night for myself and my fans."
Alexander said he's also motivated by perhaps a bigger payday in the future.
"I definitely need to win, and I want to look good doing it," he said. "I think the winner of this fight is going to have a lot of people looking at him for even bigger opportunities down the road. I'm not a champion anymore, but the stakes are still high and the reward is still there."
Alexander believes he can handle anything Khan brings to the ring and is confident he can match Khan's speed and surpass his quickness.
"Every fighter fits my style of fighting," Alexander said. "I just have to know their weaknesses and outpower them and outsmart them. Everybody can be beaten. Everybody's fast. But you've got to have something else in your arsenal at the top level."
NOTES — Khan is a minus-210 betting favorite at the MGM Resorts sports books. The take-back on Alexander is plus-175. … Khan said he will auction his trunks from the fight to charity. The trunks, leather stitched in 24-karat gold, are valued at $50,000.
Contact reporter Steve Carp at scarp@reviewjournal.com or 702-387-2913. Follow him on Twitter: @stevecarprj.