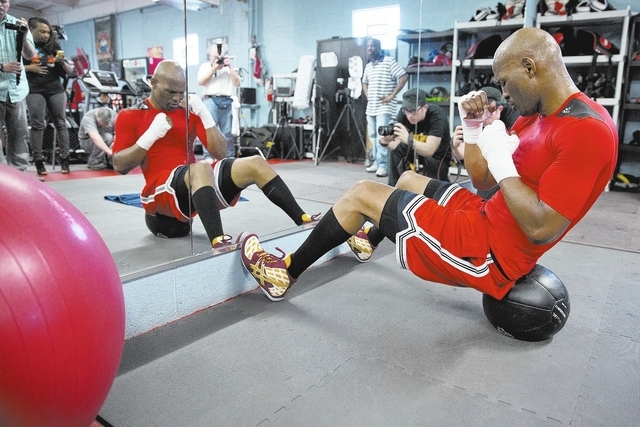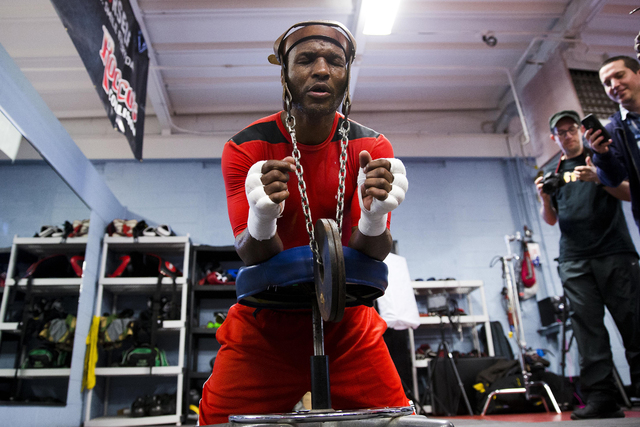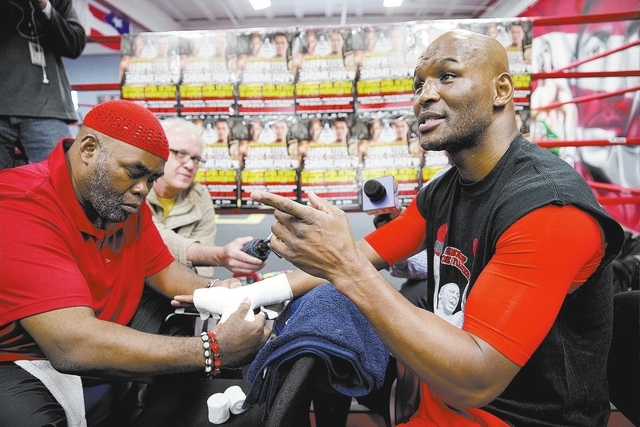 When Bernard Hopkins speaks, it pays to listen.
He doesn't deal in sound bytes. He's more like a narrative from a documentary, telling the entire story and telling it with thoughtfulness, insight and the wisdom of a 49-year-old man who has seen and done virtually everything in boxing.
Hopkins, the International Boxing Federation light heavyweight champion, is looking to add another belt to his collection when he faces World Boxing Association champ Beibut Shumenov, a Las Vegas resident, on Saturday in Washington, D.C. The card airs at 9:30 p.m. on Showtime.
If Hopkins has learned anything in his nearly three decades of plying his craft, it's to never overlook or underestimate his opponent.
"I'm in a position right now where I haven't been in many, many years, and that is people overlooking my opponent," Hopkins said. "I'm here to show that this is why I'm different and to show how in a sport that's so physical and mental, what better place to prove yourself than boxing?"
Hopkins (54-6-2, 32 knockouts) grew up in Philadelphia, and after numerous scrapes with the law, he was sent to prison for 4½ years at age 17 after being convicted of armed robbery.
He didn't turn pro until he was 23 and lost his first fight. But he stayed the course, became a world champion at middleweight and, despite his advanced age, continues to perform at a world-class level as a light heavyweight.
Last year, Hopkins, at age 48, became the oldest man to win a world title when he took the IBF belt with a victory over Tavoris Cloud.
Hopkins said his continued excellence at his age is a blessing and a curse.
"People have overlooked Bernard Hopkins even with titles," he said. "I have the records to prove, but at the same time, I know what that can do to a guy. It can motivate a guy, and it can also put pressure on a guy. That's the blessing, and that's the education that I come from both sides."
The 30-year-old Shumenov, who was born in Kazakhstan, has had only 15 fights (he's 14-1 with nine KOs), but Hopkins said anybody who thinks he isn't a worthy opponent is a fool.
"If you look at Shumenov's record, you can be misled by that," Hopkins said. "You're thinking one way, then you think what you see. But I'm smart enough to understand that when a guy has a pedigree of an amateur record where he has hundreds of fights and fought in the Olympics for Kazakhstan, he understands the big stage. He's been around the championship level. So I'm not underestimating him."
Still, it's going to be a challenge for Shumenov to solve the complexities that make up Hopkins' ring repertoire. And from Hopkins' perspective, he's not going to be surprised by anything Shumenov does on Saturday at the D.C. Armory.
"There's nothing I haven't seen, and I've been in this game 26, 27 years, that's going to surprise me," Hopkins said. "I repeat, there's no style on this planet Earth dealing with boxing that I haven't seen or been in the ring with."
Hopkins has done his homework on Shumenov and is well aware of his style.
"I've seen how Beibut holds his hands, how he fights with a jab out, all this stuff," Hopkins said. "This isn't giving away no secrets. That's the boldness of me, not the showoff, because I'm confident about what I say based on putting the work behind and understanding I have to live up to those things."
In 2001, Hopkins defeated Felix Trinidad and unified the middleweight title. Thirteen years later, he can do the same thing by beating Shumenov and taking his WBA belt, then pursuing World Boxing Council champ Adonis Stevenson later in the year.
"To me, this isn't the climax, this is the pre-climax," Hopkins said. "I love history, and I love breaking records that have been set for multiple years. So, yes, this has me energized."
Hopkins said he's not finished crafting his legacy in the ring, which is why he continues to fight.
"I have my own agenda," he said. "And, trust me, that agenda is one day to be part of a long conversation about where do they put Bernard Hopkins because we can't just put him with all the other historic legend boxers. So I want to make y'all have a really hard time figuring out where to put this.
"You work now, you enjoy later. That's how it's supposed to be."
Contact reporter Steve Carp at scarp@reviewjournal.com or 702-387-2913. Follow him on Twitter: @stevecarprj.
PREVIEW
WHO: Bernard Hopkins vs. Beibut Shumenov
WHAT: IBF/WBA light heavyweight title unification
WHERE: Washington, D.C.
ON TV: 9:30 p.m. Saturday, Showtime (240)
UNDERCARD: Peter Quillin vs. Lukas Konecny, WBO middleweight title; Shawn Porter vs. Paulie Malignaggi.