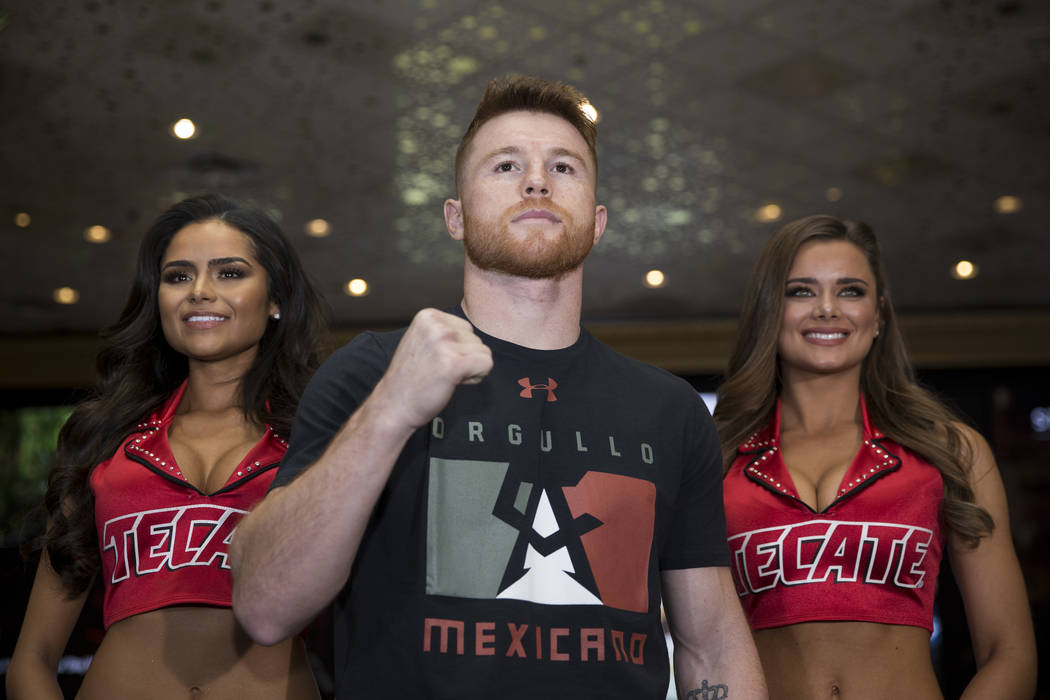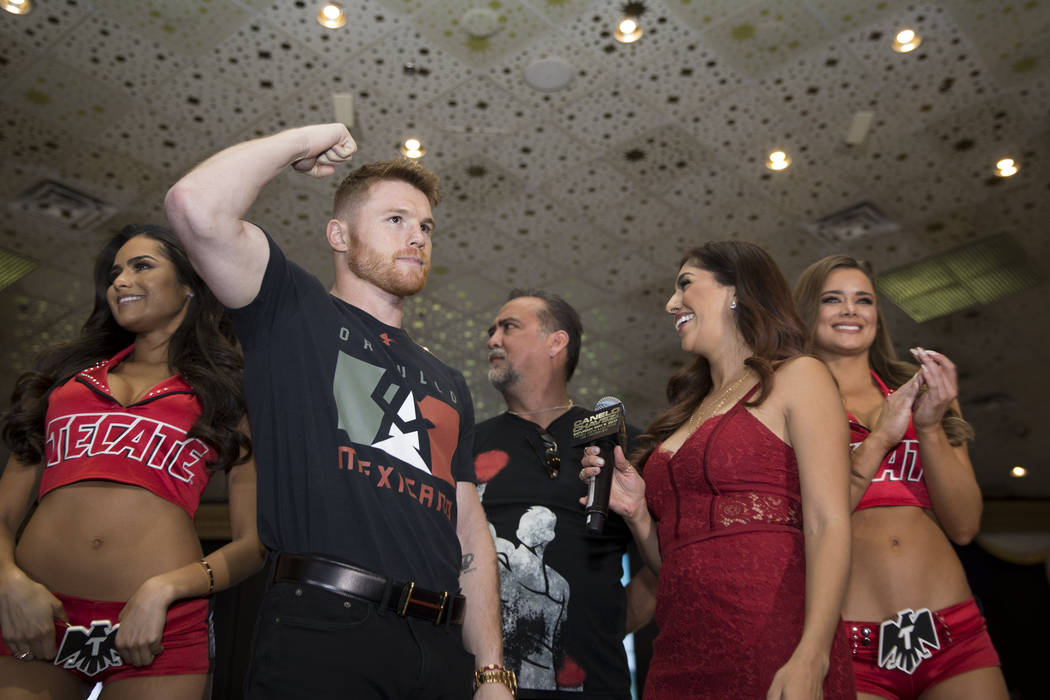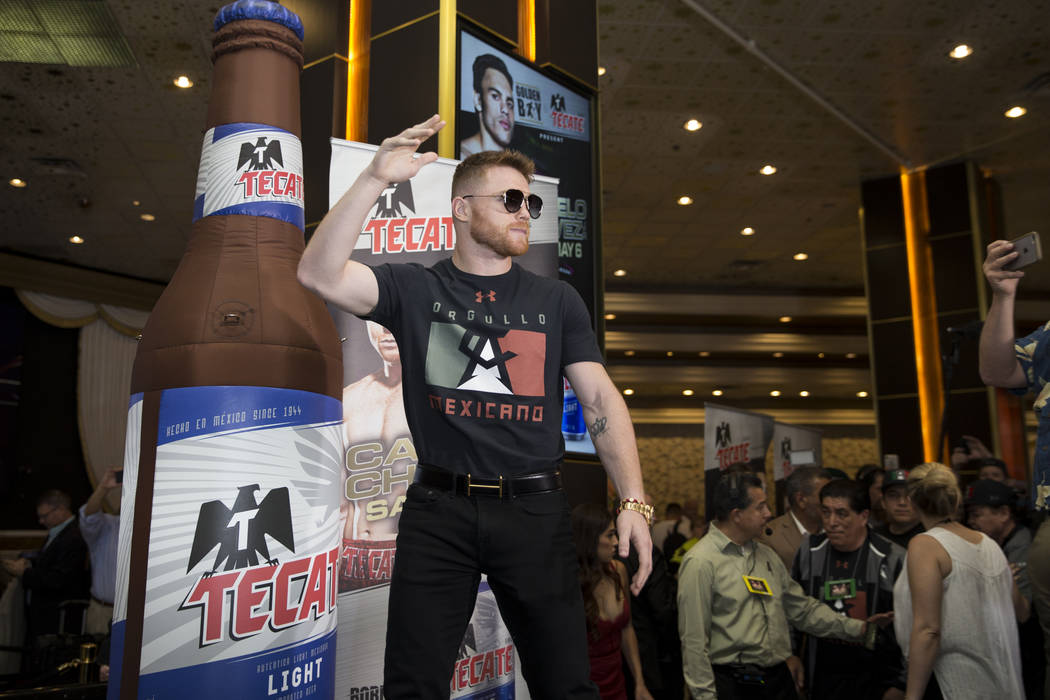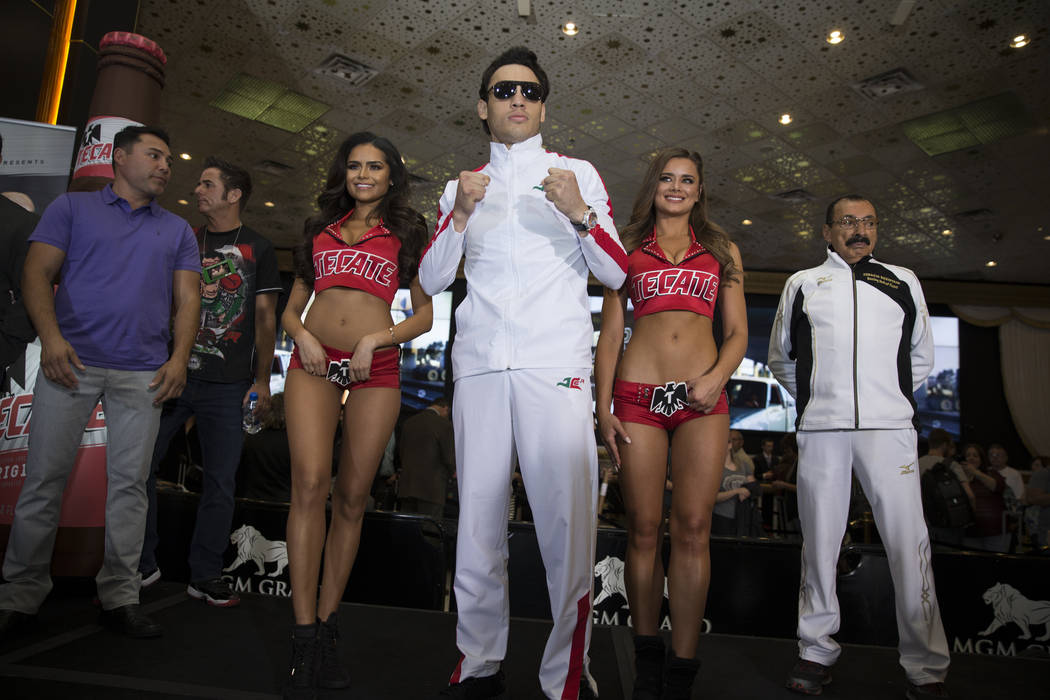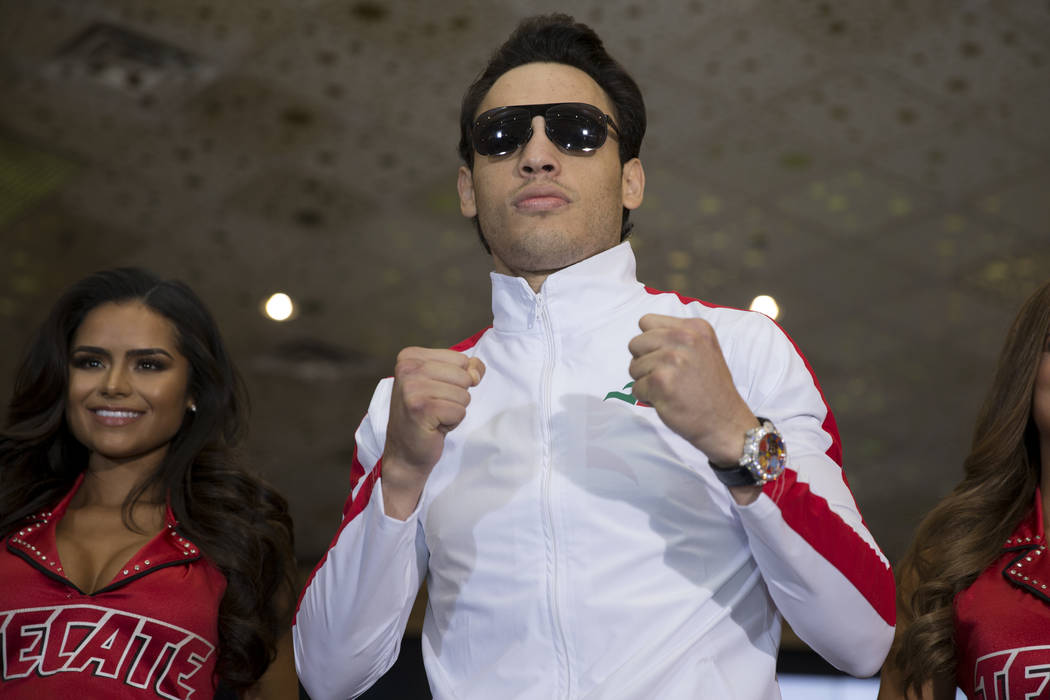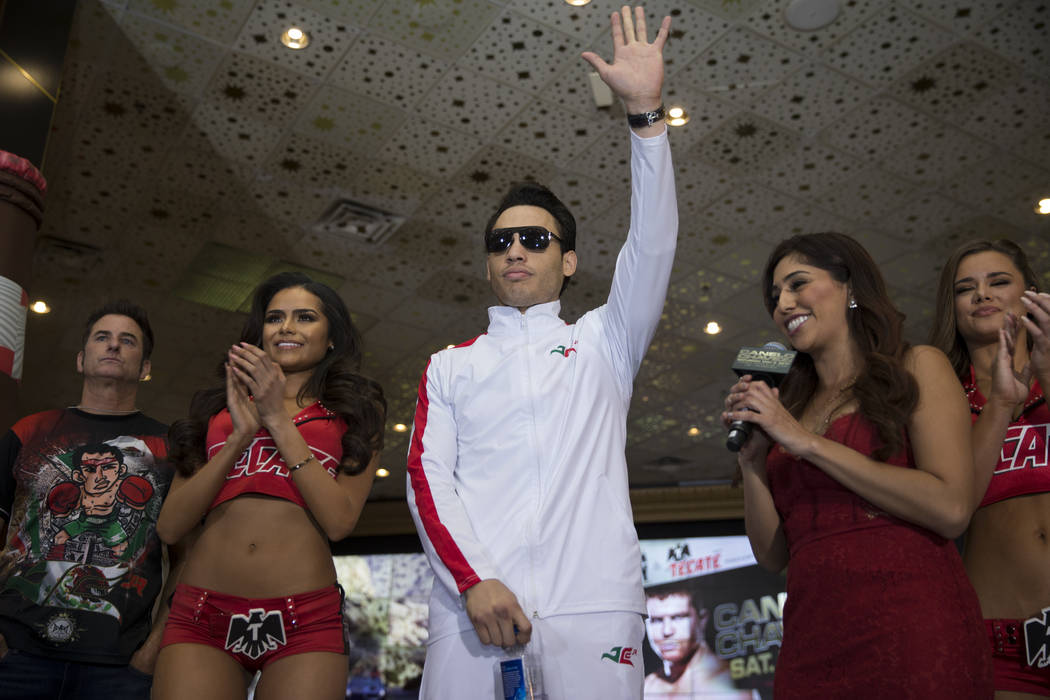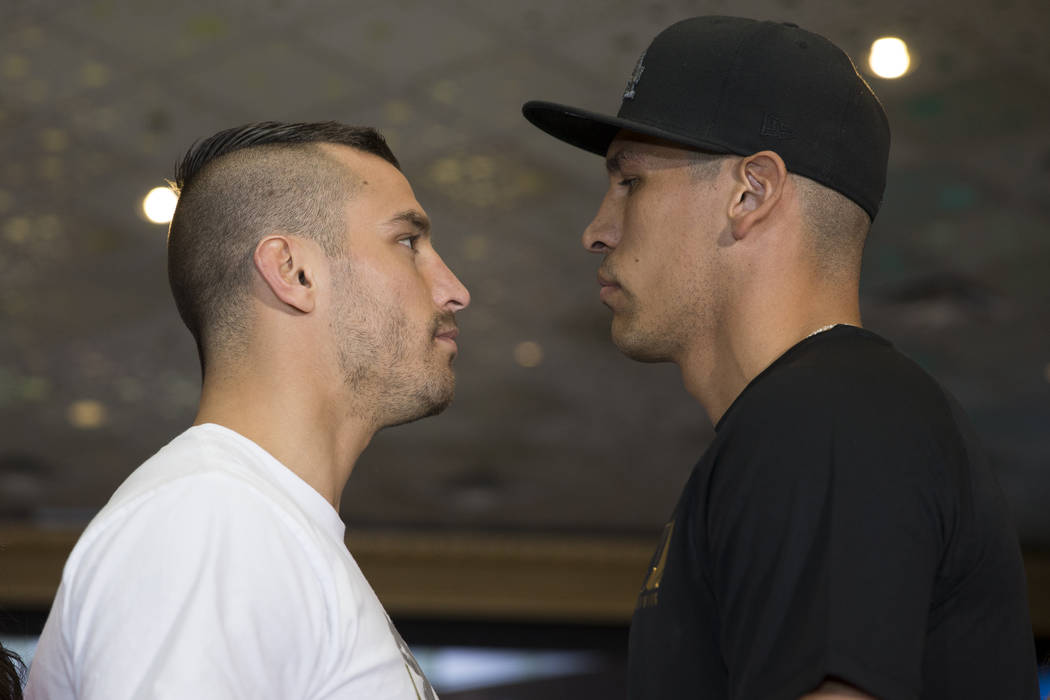 The first question for Saul "Canelo" Alvarez when he met the media for the first time Tuesday in Las Vegas for his highly anticipated bout against Julio Cesar Chavez Jr. was about the bad blood between the Mexican fighters.
"Yes, there's a rivalry there," Alvarez said, "but we will go into the fight knowing we have a job to do. We need to have cooler heads."
Fight night isn't until Saturday, and the day of the "Grand Arrivals" at the MGM Grand wasn't the time to keep a cooler head.
The usually mild-mannered Alvarez had a lot to get off his chest during his 40-minute interview. The Mexican boxing superstar said all the right things for about 10 minutes until he asked his own question.
"No one has asked me this question," said Alvarez, who will face Chavez at a catchweight of 164.5 pounds. "Many people in the media say I have the advantage because I'm the one moving up in weight. But when I was fighting guys who were moving up in weight, they said I had an advantage because they were moving up.
"That doesn't make sense to me. You guys need to get on the same page. Both can't be an advantage. So which one is it?"
Alvarez often has been criticized for fighting smaller opponents like he did against Amir Khan a year ago at T-Mobile Arena. Khan moved up from welterweight to a catchweight of 155 pounds only to be knocked out by Alvarez in the sixth round.
Chavez has been quick to point that out leading up to the fight, and has called Alvarez a diva for picking his opponents and catchweights. Chavez (50-2-1, 32 knockouts) hasn't fought under 168 pounds since 2012. Alvarez (48-1-1, 34 KOs) has never fought above 155 pounds.
Alvarez, 26, wasn't only peeved about the weight issue. The former two-division champion made it clear he wasn't happy with the WBC and didn't want them involved with Saturday's fight, which won't have a title on the line.
The WBC offered to give the winner a special belt made by Huichol artists. Huichols are native Mexicans who live in mountain regions of Nayarit and Jalisco.
"The WBC made the belt knowing I would reject it," Alvarez said. "They want to make me look like the bad guy. I respect the Huichol people. I fought many fights in Nayarit."
Alvarez's relationship with the Mexican boxing organization went south last year when it imposed a two-week deadline on him to come to an agreement to fight mandatory challenger Gennady Golovkin or be stripped of the middleweight belt. Alvarez decided to vacate the belt.
"You don't make that type of fight in two weeks," Alvarez said. "I was dealing with my court issues in Miami."
Last year, a Miami jury ordered Alvarez and Golden Boy Promotions to pay $8.5 million to Alvarez's previous promoter, All-Star Boxing.
Chavez, 31, didn't forget to bring that up when his winner-take-all bet with Alvarez came up. The Mexican fighters had a handshake agreement to put their purses on the line, which quickly became national news.
"My dad (Julio Cesar Chavez Sr.) and Canelo stopped the bet," Chavez said. "When you have millions on the line, you need that in writing. Besides, I don't think (Alvarez) can afford to lose that money after what happened in Miami."
Chavez threw his fair share of oral jabs at Alvarez when he met the media. But Chavez said he's only doing it to agitate his opponent and can't figure out why Alvarez started the heated rivalry.
"I don't have a relationship with Canelo," Chavez said. "I never knew him. We met once and greeted each other. He can't say I was the one who was looking for a fight. He's the one who started the trash talk.
"He created this rivalry, and maybe he felt he needed to because I was the one getting the television attention. If I didn't exist, he wouldn't exist, either."
The bad blood is definitely brewing, and we'll find out in a few days if Alvarez can put on a cooler head when he enters the ring at T-Mobile Arena.
"I don't know if this hate toward me will affect (Alvarez) during the fight," Chavez said, "but I know I am in his head."
Contact Gilbert Manzano at gmanzano@reviewjournal.com or 702-383-0492. Follow @gmanzano24 on Twitter.
Undercard workouts
Fighters from the undercard for Friday's boxing card at the MGM Grand and Saturday's at T-Mobile Arena will work out Wednesday at the MGM Grand casino floor next to the sports book. Here's the schedule:
3 p.m.: Morgan Fitch and Jesus Rojas
3:20 p.m.: Robinson Castellanos and Yamaguchi Falcao
3:40 p.m.: Abraham Lopez and Yuriorkis Gamboa
4 p.m.: Emanuel Taylor and Marco Reyes
4:20 p.m.: Marlen Esparza, Raul Curiel, and Ryan Garcia
4:40 p.m.: Lucas Matthysse and Manuel Avila
5 p.m.: David Lemieux and Joseph Diaz, Jr.