'Bad night': Stevenson apologizes to boxing idols after boring win
Updated November 17, 2023 - 12:30 am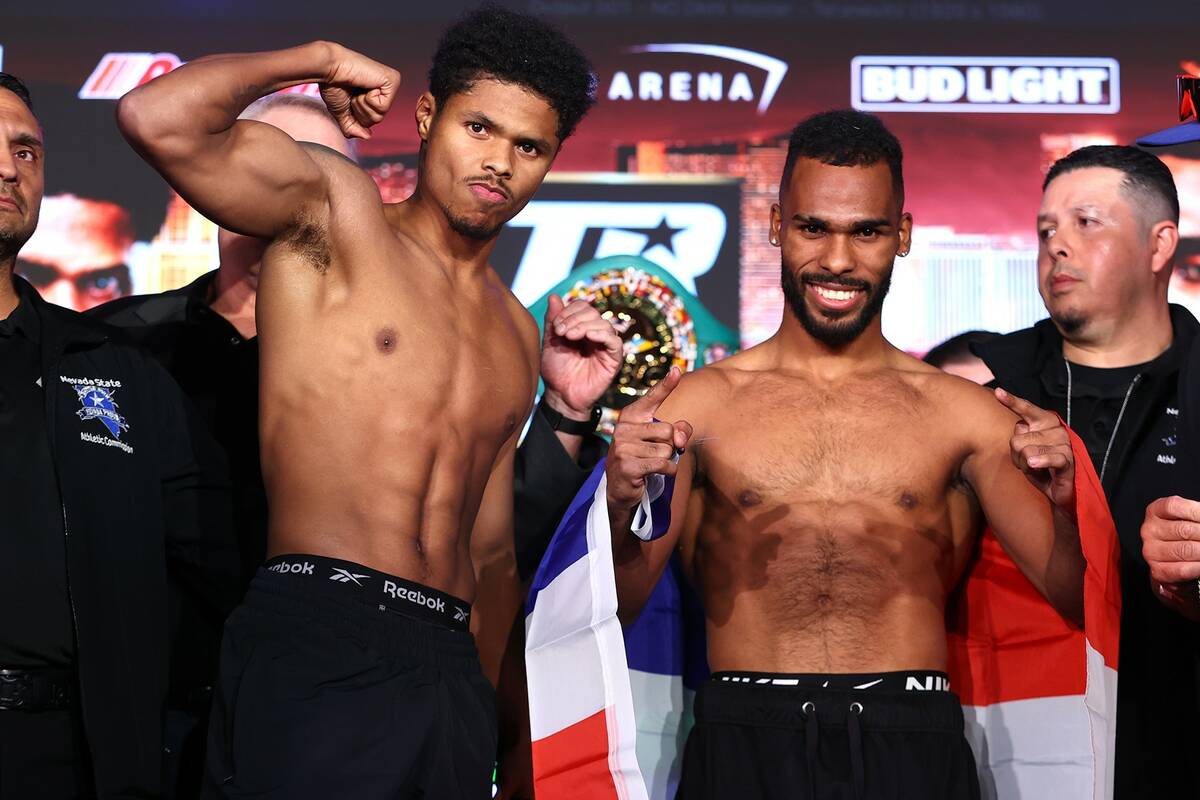 At least Shakur Stevenson admitted it.
"Bad performance," he said after a unanimous decision victory Thursday over Edwin De Los Santos at T-Mobile Arena. "I ain't got no excuses to make. Bad night. I'm going to go back to the drawing board and come back."
Joined during his ring walk by boxing greats Terence Crawford and Andre Ward, Stevenson (21-0, 10 knockouts) became a three-weight world champion with a 116-112, 116-112, 115-113 victory over De Los Santos (16-2, 14 KOs) for the vacant WBC lightweight title.
But he isn't yet a people's champion after his most uninspiring showing to date, drawing boos alongside De Los Santos for exchanging feints more than punches.
Formerly a featherweight and unified junior lightweight titlist, the 26-year-old from Newark, New Jersey, maintained his range and rarely initiated any offense — save for the occasional jab and counter right that hardly affected his 24-year-old Dominican foe.
Floyd Mayweather joined Crawford and Ward in Stevenson's dressing room before the fight, gathering pound-for-pound greats of the past, present and future.
"I apologize to (Mayweather). I apologize to Andre Ward. I apologize to Terence Crawford. All my idols," Stevenson said. "I put on a bad performance. They came out to see a great performance. I put on a bad one."
Stevenson had struggled to find a viable opponent despite repeated offerings from his promoter, Top Rank, to other contenders in the lightweight division. But De Los Santos had long called for Stevenson and was eventually awarded the fight as the WBC's sixth-ranked fighter.
A counterpunching southpaw like Stevenson, De Los Santos was often as tentative as his opponent — drawing boos beginning in the opening rounds from a restless, anxious and unsatisfied announced crowd of 6,703.
Fans began heading for the exits midway through the fight, refusing to watch Stevenson and De Los Santos fight more with their feet thanwith their hands. For his part in the snoozefest, Stevenson effectively quelled De Los Santos, whose power and defensive acumen he praised in the aftermath to ESPN's Bernardo Osuna.
"He's got some punching power … good little defense," Stevenson said. "He's a little tricky. He grabbed a lot on the inside. … He's a good fighter."
But he was also a +950 underdog whom the -1,700 favorite was supposed to dominate.
CompuBox counted 65 connections for Stevenson compared to 40 for De Los Santos, whose total is the fewest in a 12-round fight the punch-counting company has registered in its 38-year history.
But hardly any were left hands for Stevenson, who would not acknowledge in the aftermath if his dominant hand was injured or not.
"I'm not going to make no excuses," he said. "I came here tonight. I did what I had to do. I came out victorious. … Hopefully, (other top opponents) see a wrinkle in my game and now they'll give me an opportunity."
Toward the end of the promotion, Stevenson said he next hoped to fight fellow three-weight world champion Vasiliy Lomachenko. But he declined during his postfight press conference to ponder at length any possible opponents.
He isn't satisfied by his newfound status as a three-division champion, either.
"I hold myself to a higher standard. I work hard day in day out," he said, revealing he's been training consistently the last seven months — and finally needing some idle time after a victorious performance he repeatedly denigrated.
"At the end of the day, some nights you're going to have these nights and some nights they're going to love you," he added. "The nights that they love me, I can't wait for them."
Contact Sam Gordon at sgordon@reviewjournal.com. Follow @BySamGordon on X.