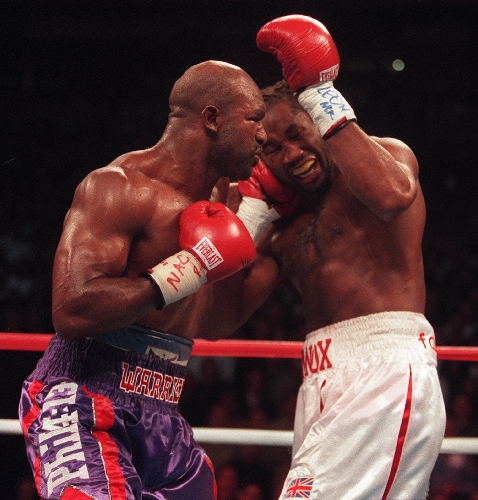 When Evander Holyfield fought Lennox Lewis at the Thomas & Mack Center on Nov. 13, 1999, in a rematch of their first bout nine months earlier, more than 17,000 filled the arena.
Holyfield lost that bout, dropping a 12-round unanimous decision.
Now, 11 years later and at age 47, Holyfield will return to the Thomas & Mack looking for a better outcome, even if it comes before an audience half the size of the one that watched him fight Lewis.
The former four-time world heavyweight champion will face 41-year-old Frans Botha on April 10. The two originally were scheduled to fight in February in Uganda, but the bout fell through for financial reasons.
"I've been preparing for a while," Holyfield said Friday. "I'm working with Tommy Brooks in Los Angeles, and we'll be ready."
Tickets, priced from $25 to $250, will go on sale at 10 a.m. Wednesday at the Thomas & Mack box office and online at unlvtickets.com. The fight, which is being promoted by Crown Boxing, will be televised on pay per view but blacked out in Las Vegas. Capacity for the fight will be 9,500, with only the lower bowl being used.
The fight will be Holyfield's first in Las Vegas since Oct. 4, 2003, when James Toney stopped him in the ninth round at Mandalay Bay. In his most recent fight, Holyfield (42-10-2, 27 knockouts) lost a 12-round majority decision to WBA champion Nikolai Valuev on Dec. 20 in Switzerland.
"Seeing the fight on tape, I could see everything coming back," Holyfield said. "My jab was crisp. My timing was good. My shoulder wasn't giving me any problems. In my mind, there's no reason why I shouldn't still be boxing."
The Nevada Athletic Commission apparently agrees. Despite Holyfield having lost five of his past nine fights, the commission on Monday granted him a license based on his medical data that said he was fit to compete and was competitive against Valuev.
Holyfield will receive $150,000 plus a percentage from the pay-per-view telecast. Botha (47-4-3, 28 KOs), whose last fight was a 12-round draw against Pedro Carrion on Oct. 24 in Germany, will make $100,000.
Holyfield said Botha's awkward style in the ring shouldn't pose any serious threat to him. "I just have to box him, and that should be enough," Holyfield said.
Considerable speculation in the past couple of days suggested Holyfield would face Mike Tyson for a third time instead of Botha. But Holyfield dismissed the reports, saying he's not interested.
"No one's presented anything to me," he said. "I hear things about Tyson all the time. But he keeps saying he's through with boxing, and me, I've moved on. I'm trying to win a championship, and Tyson doesn't have a belt. Right now, it's a joke."
Holyfield, whose 1999 fight with Lewis at the Thomas & Mack generated the second-biggest gate in Nevada history at $16.86 million, said it isn't about money this time around.
"This is about winning the title again," he said. "When I fought Lennox Lewis, it was about trying to become the undisputed heavyweight champion of the world. (In 2010) the goal hasn't changed. I want to be the undisputed heavyweight champion of the world. When I do that, then I'll leave (boxing)."
Contact reporter Steve Carp at scarp@reviewjournal.com or 702-387-2913.