Bob Arum, Al Haymon reach settlement on lawsuit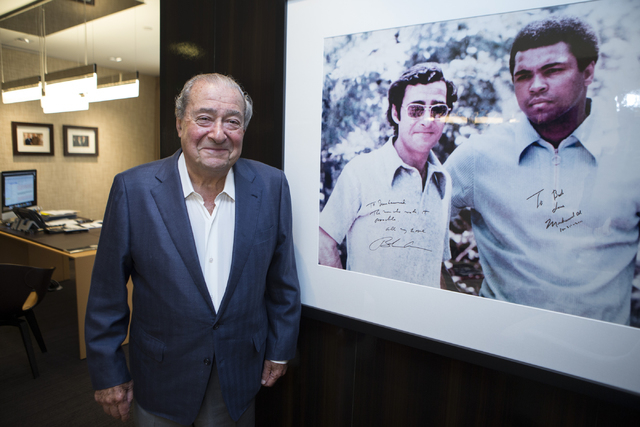 Bob Arum and Al Haymon appear to have settled their differences.
Arum, whose boxing promotional company, Top Rank, sued Haymon's company, Haymon Boxing, for $100 million over antitrust violations along with violating the federal Muhammad Ali Boxing Reform Act, settled their dispute Wednesday in U.S. District Court in Los Angeles.
The terms of the settlement were not disclosed, and both sides agreed to keep the contents of the settlement confidential.
Arum said he could not talk about the matter. He referred all comment to his attorney, Daniel Petrocelli. Petrocelli did not return a phone call Thursday seeking comment. A spokesman for Haymon said there would be no comment.
Top Rank brought the lawsuit against Haymon, who owns and operates Premier Boxing Champions, in July. Haymon was accused of monopolizing fighters and also serving as their manager and promoter, a violation of the Ali Act.
Golden Boy Promotions also sued Haymon on similar grounds for $300 million. That lawsuit remains ongoing.
The settlement opens the door for Arum and Haymon to do business again. They promoted the Floyd Mayweather Jr.-Manny Pacquiao fight May 2, 2015, at the MGM Grand Garden, the richest fight in boxing history with more than $600 million in revenue.
There has been speculation that by settling the lawsuit, the two could try to work toward promoting a rematch. But Mayweather and Pacquiao are retired.
Mayweather, who runs his own boxing promotional company, has hinted he might come out of retirement for the right price. Pacquiao was just confirmed Thursday having won a seat in the Senate in his native Philippines.
Contact Steve Carp at scarp@reviewjournal.com or 702-387-2913. Follow on Twitter: @stevecarprj