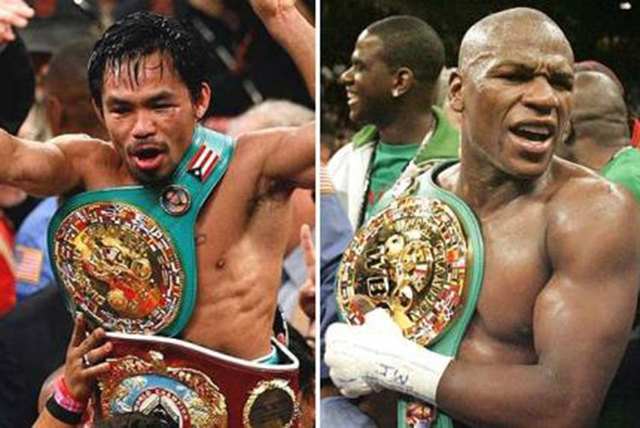 Finally, it's done.
After almost six years of trying and near-misses, Floyd Mayweather Jr., boxing's pound-for-pound champion, has agreed to face Manny Pacquiao in the ring. The two welterweights will meet May 2 at the MGM Grand Garden. This is a one-fight deal with no rematch clause. Mayweather's World Boxing Council and World Boxing Association welterweight belts and Pacquiao's World Boxing Organization welterweight title, will be at stake that night.
The pay-per-view television of the fight will be a collaborative production effort between HBO and Showtime on a channel separate from the two networks. The cost of the pay-per-view as well as ticket prices and date for public sale were not released Friday and will be made public later.
Mayweather broke the news around 3:15 p.m. Friday on his Shots social media account, saying: "What the world has been waiting for has arrived. Mayweather vs. Pacquiao on May 2, 2015, is a done deal. I promised the fans we would get this done and we did. We will make history on May 2nd."
Pacquiao, who was in the Philippines when Mayweather broke the news to the world, said: "I am very happy that Floyd Mayweather and I can give the fans the fight they have wanted for so many years. They have waited long enough and they deserve it."
Top Rank Chairman Bob Arum, who has been Pacquiao's longtime promoter and promoted Mayweather during the early stages of his professional career, said he's glad his fighter gets the opportunity he has been pursuing for years.
"Look, Manny is going to hang up his gloves in 2016 and it would have left a gap in his legacy if he didn't fight Floyd," Arum said. "This will allow Manny to cement his legacy by beating Floyd."
Leonard Ellerbe, the CEO of Mayweather Promotions, said Mayweather has wanted this fight all along.
"Floyd bent over backwards to make it happen for the fans," Ellerbe said. "He will prepare like he always does and I have no doubt you'll see the best of Floyd Mayweather in the ring at the MGM and he will once again be victorious on May 2."
For the past couple of months, several sports books in town had put up a line for the fight pending it being made and actually contested. Mayweather was anywhere from a 2½-1 to 3-1 favorite. With the fight officially announced Friday, MGM Resorts put up its line with Mayweather the favorite at minus-240 and Pacquiao a plus-200 underdog.
If sales go as expected, it will be the richest boxing match in history in terms of purses, live gate and pay-per-view.
Mayweather (47-0, 26 knockouts) is expected to make $120 million while Pacquiao (57-5-2, 38 KOs) would earn $80 million in what would be a 60-40 split of an anticipated $200 million purse. The gate is expected to surpass $40 million, which would more than double the record of $20.1 million set in September 2013 when Mayweather faced Canelo Alvarez at the MGM. That fight also holds the record for pay-per-view sales at $150 million. As for pay-per-view buys, the record of 2.5 million, set in 2007 when Mayweather met Oscar De La Hoya at the Grand Garden, is also expected to tumble.
Arum confirmed the 60-40 split for Mayweather. He also confirmed that the United States Anti-Doping Agency, which Mayweather usually does business with, will handle all the prefight drug testing in conjunction with the Nevada Athletic Commission, which will handle the prefight and postfight drug tests. Olympic-style random blood testing will be implemented for both fighters.
As for the telecast, both Showtime's Stephen Espinoza and HBO's Ken Hershman agreed that both networks gave a little to get a lot.
"What it shows was everyone wanted to cooperate and find a common ground," said Hershman, who is president of HBO Sports. "Everyone compromised at the right time."
Espinoza, the executive vice president and general manager of Showtime Sports, said: "There has been a lot of blood, sweat and tears from both sides. Mayweather vs. Pacquiao has been a goal of ours since Floyd came to Showtime three years ago."
Arum said Espinoza's and Hershman's bosses, Les Moonves at CBS, which owns Showtime, and Richard Plepler the CEO at HBO, deserve a lion's share of the credit for getting the deal done.
Initially, there had been talk of making this fight in 2009. Mayweather had come off an impressive win over Juan Manuel Marquez on Sept. 19 while Pacquiao had knocked out Miguel Cotto on Nov. 14. Both fighters were with HBO at the time and the delicate negotiations appeared to be pointing to a successful resolution for a showdown in March 2010.
But Mayweather made some late stipulations, specifically that Pacquiao submit to random Olympic-style drug testing that included having blood drawn and analyzed. Pacquiao, who has never flunked a drug test in his 20-year career, refused.
At that point, the negotiations hit a dead end.
Mayweather's other attempt to face Pacquiao was short-lived. Mayweather had offered Pacquiao a flat $40 million to fight him in the spring of 2012. But with no cut of the lucrative pay-per-view money and other revenue streams, Pacquiao said no.
After Mayweather beat Marcos Maidana last September and Pacquiao routed Chris Algieri in November, the two sides began talking in December. Complicating matters were the television issues between Showtime, which has a contract with Mayweather, and HBO, which has a deal with Pacquiao.
Slowly, the two sides began to work things out. Last month, Mayweather and Pacquiao were at American Airlines Arena in Miami for the Miami Heat-Milwaukee Bucks game. They chatted briefly at halftime and later, Mayweather visited Pacquiao at Pacquiao's hotel. They talked for an hour and Pacquiao's adviser Michael Koncz, who was there, called it a constructive conversation, raising hopes the fight could ultimately be made.
The final push came earlier this week as the two networks wrapped up their negotiations, whatever sticking points that remained in Mayweather's mind got resolved and he decided it was time to get back to work.
"I am the best ever — TBE — and this fight will be another opportunity to showcase my skills and do what I do best, which is win," Mayweather said. "Manny is going to try and do what 47 before him failed to do, but he won't be successful. He will be number 48."
Contact reporter Steve Carp at scarp@reviewjournal.com or 702-387-2913. Follow him on Twitter: @stevecarprj
RELATED:
Mayweather, Pacquiao camps silent as megafight speculation abounds
Report: Progress being made on Mayweather-Pacquiao fight
Mayweather-Pacquiao matchup is 'the only fight out there'
Mayweather says Arum halting fight vs. Pacquiao
Issues remain before Pacquiao-Mayweather fight can be finalized
Mayweather-Pacquiao talks for May 2 fight are reportedly stalled
Mayweather-Pacquiao getting closer … or not
Mayweather calls for Pacquiao fight to happen in May
Mayweather Jr., Pacquiao attend Bucks-Heat game, talk at halftime
Mayweather, Pacquiao met again after Bucks-Heat game