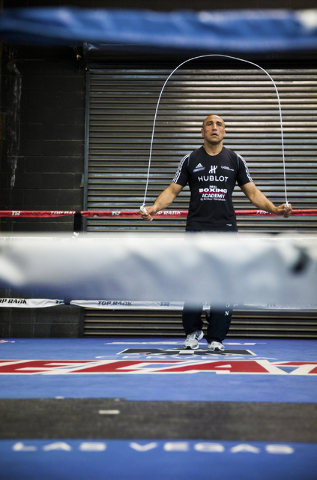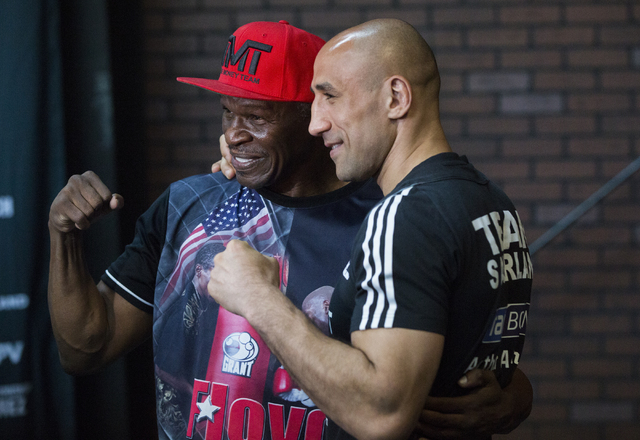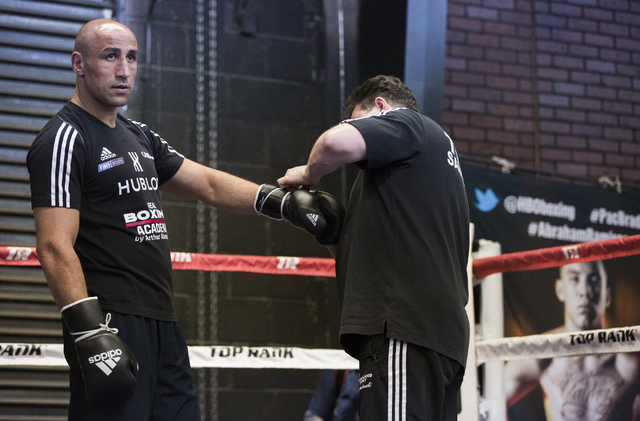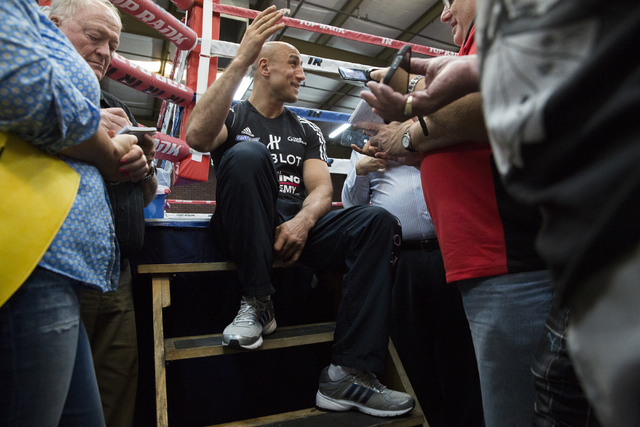 Like most professional boxers, Arthur Abraham dreamed of headlining a show on the Strip.
That day may yet come for the 36-year-old World Boxing Organization super middleweight champion. For now, he'll settle for making his Las Vegas debut Saturday on the undercard of the Manny Pacquiao-Timothy Bradley Jr. main event at the MGM Grand Garden as he defends his belt against Gilberto Ramirez.
The Abraham-Ramirez fight, which is scheduled for 12 rounds, will be part of the HBO Pay Per View telecast.
"All the big champions fight at the MGM," Abraham said Monday as he met with the media at the Top Rank Gym. "(Mike) Tyson. (Julio Cesar) Chavez (Sr.). (Floyd) Mayweather. This is big history for me."
Abraham is used to being a main-event fighter. He said it's been 10 years since he last fought on an undercard. But for Pacquiao, he is willing to make an exception.
"My manager made this fight, so we fight," he said. "Of course, Pacquiao is Pacquiao. He has a great history and I respect him. He is a big champion."
Abraham (44-4, 29 knockouts) remains part of a very competitive division at 168 pounds even with the departure of Andre Ward to light heavyweight. Badou Jack, the WBC champ, and James DeGale, the IBF champ, both want to hook up with Abraham at some point. But Abraham, who beat Robert Stieglitz for the belt in 2014 and will be making his sixth title defense on Saturday, said that will have to wait until after the fight.
"This is the fight I am concentrating on," he said of Ramirez (33-0, 24 KOs). "After Saturday, you can ask me that question again."
Abraham, who lives in Germany, looked tremendous. He credits his condition to his training camp in the mountains of Bulgaria to prepare for this fight.
"It was the hardest training of my life," he said. "The snow was up to here (pointing to his waist) and we worked for four hours every day.
"We were 2,300 meters (7,545 feet) above sea level. The first day, my nose was bleeding (from the altitude). But we never stopped working. We had difficult sparring with very good fighters. That's how important this fight is to me. It's important times two times two."
Abraham looked very much at ease. He said he plans to spend a week after the fight visiting different parts of the United States. He is of Armenian heritage and he expects a lot of his fans to make the trip from Glendale, California, which has a large Armenian population, to Las Vegas for the fight.
"People here understand boxing," he said of the crowd that awaits his arrival Saturday night. "I have many fans who plan to come watch."
They better watch while they can. Abraham, who got married a few months ago, said he plans to fight two more years and retire.
"Right now, I live in a hotel seven, eight months a year," Abraham said. "It's not nice. It's very hard being away from my family. But when I'm training, that's what I have to do to prepare for my fights. I'm looking forward to being able to be at home."
Contact reporter Steve Carp at scarp@reviewjournal.com or 702-387-2913. Follow him on Twitter: @stevecarprj