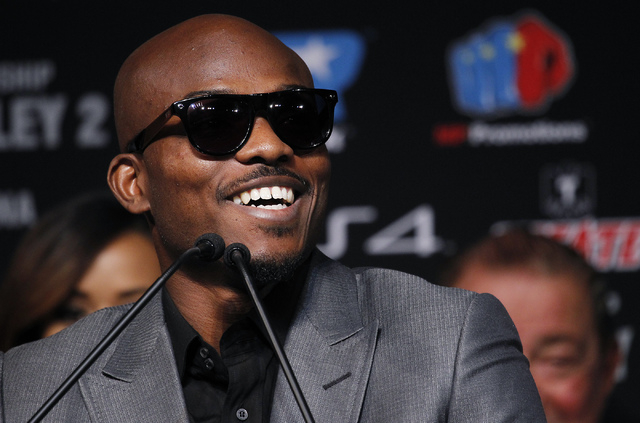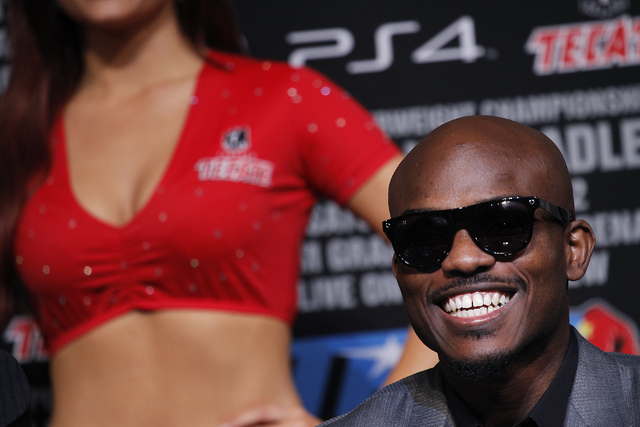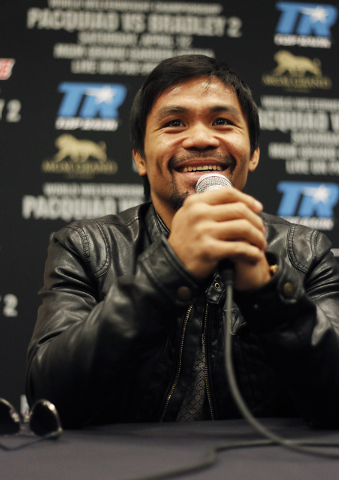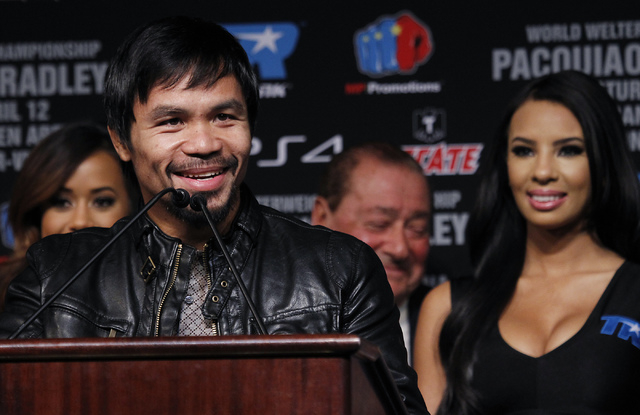 Timothy Bradley was recently in a Toys R Us in Palm Springs, Calif., when a woman approached him.
They started up a conversation, and during the course of it, the woman asked Bradley when he was fighting again. He told her that his rematch with Manny Pacquiao was on Saturday at the MGM Grand Garden.
"She said, 'I hope you win this time,' " Bradley recalled Wednesday. "She said, 'Well, kick his butt,' and I said to her, 'Thank you.' "
Enough time has passed since the first fight for Bradley to disregard absent-minded comments from strangers. He truly believes he deserved the 12-round split decision on the night of June 9, 2012, at the Grand Garden, a controversial victory in which he took Pacquiao's World Boxing Organization welterweight title belt.
He's no longer depressed about the feedback the fight received from the media and fans, comments so negative toward Bradley that he seriously contemplated suicide.
"Hell, yeah," Bradley said. "I was in a dark, dark place for a while. I'm getting death threat letters, and I got people telling me I suck, that I didn't beat Pacquiao and I should give the belt back. I said to my wife, 'This is ridiculous.'
"But the turning point came when I got away and stopped reading what people had to say. I realized who was important in my life, and I changed. I can accept criticism. You can tell me I suck, that I'm the worst fighter in the world, and I'm going to laugh."
Bradley, 30, has endured a lot of changes since that controversial night in 2012. He has enhanced his image among fans with two outstanding performances — a gutsy slugfest victory over Ruslan Provodnikov in March 2013 that was voted Fight of the Year, and a win over future Hall of Famer Juan Manuel Marquez on Oct. 12 in which Bradley totally outboxed Marquez.
"I got some love from the fans after those two wins," Bradley said. "That did feel good. They were two very different fights, but I showed I'm capable of doing different things in the ring and still finding a way to win."
Bradley (31-0, 12 knockouts) also changed managers. He and Cameron Dunkin parted ways after the Marquez fight, and Bradley's wife, Monica, now handles his business affairs.
"We keep everything in the family this way. She's doing a fantastic job," Bradley said.
She must be. Her husband and Pacquiao each will make $6 million Saturday, according to purse figures supplied Wednesday by the Nevada Athletic Commission. In their first fight, Bradley made $5 million and Pacquiao $26 million.
The figures don't take into account the likely earnings from the HBO Pay Per View telecast. When factored in, Pacquiao will make at least $20 million, and Bradley also will receive additional revenue.
One thing hasn't changed with Bradley — he's still with Joel Diaz, his longtime trainer. And Diaz said as long as Bradley follows the game plan, he has nothing to worry about in the rematch.
"You're going to see Tim Bradley attack Manny Pacquiao," Diaz said. "He's going to wear him down. I make adjustments every round, and as long as he listens and adjusts, he's going to ruin Manny Pacquiao's plans, just like he did the last time."
Bradley said he is peaking as a fighter and Pacquiao (55-5-2, 38 KOs) is declining.
"When was the last time you saw (Pacquiao) knock somebody out?" Bradley said. "In our fight, I had two wounded feet, and he couldn't take me out. What makes you think he can take me out with two good feet? Manny Pacquiao used to come in blazing and knock guys out. Now he's more compassionate toward his opponents, and that's not good for boxing.
"I think everybody has seen me grow in the last two years and see how confident I am in my ability. I feel the boxing world knows who I am. The boxing fans know who I am, and they respect me."
One woman at a toy store notwithstanding.
Contact reporter Steve Carp at scarp@reviewjournal.com or 702-387-2913. Follow him on Twitter: @stevecarprj.