Boxing cornermen Rafael Garcia, Ferdie Pacheco put others first
November 24, 2017 - 5:48 pm
Updated November 24, 2017 - 6:31 pm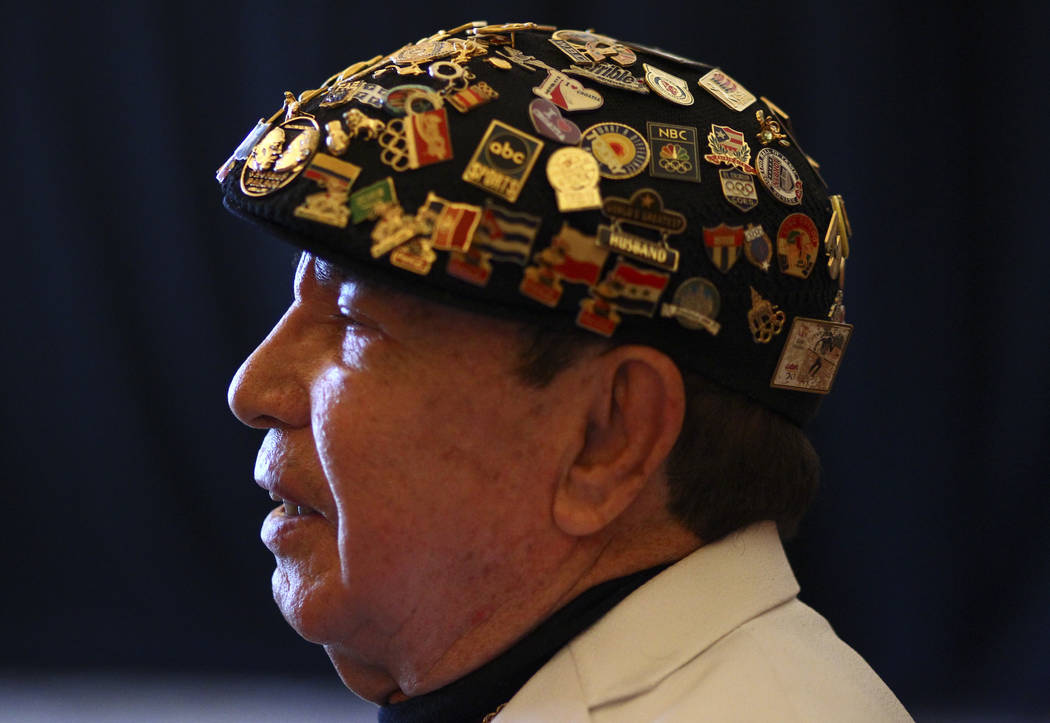 Rafael Garcia got up from his chair and began to look around the room.
The legendary cornerman who rose to fame as Floyd Mayweather Jr.'s cutman was in awe of the company he had joined.
To his right was Michael Carbajal, a former junior flyweight titlist and five-time champion. To Garcia's back was Leon Spinks, a former heavyweight champion who once defeated Muhammad Ali.
Garcia, Carbajal and Spinks were announced as members of the 2017 Nevada Boxing Hall of Fame class in February.
"Por fin (finally)," Garcia said in Spanish after the announcement ceremony. "I've been in boxing for over 50 years, and it's feels great to be recognized with so many great people here."
Garcia admitted he felt slighted for not making the Hall of Fame in years past. But any bitter feelings he had left immediately went away when he got the call from his godson, Jessie Vargas, that he was a Nevada Boxing Hall of Famer.
The Las Vegas resident of 45 years was filled with joy to be recognized with the best of the best in the fight capital of the world. Walking the stage at the NVBHOF ceremony in August was one of Garcia's final accomplishments on a long list of achievements.
Garcia died Nov. 14 from complications of leukemia. He was 88.
The boxing lifer, who was easily recognized because of his pin-adorned cap, assisted many boxing greats as a cutman, trainer and hand wrapper.
The boxing world lost a second great cornerman last week. Ferdie Pacheco, the former cornerman and doctor for Ali, died Nov. 16 at age 89.
Pacheco worked in Ali's corner from 1962 to 1977 and became known as "The Fight Doctor." He worked with Ali during multiple title defenses.
Pacheco felt remorse for not convincing Ali to stop fighting sooner. He pleaded with Ali to give up boxing after the "Thrilla in Manila" against Joe Frazier in 1975. Ali didn't retire until 10 fights later in 1981. Ali died in 2016 after decades of battling Parkinson's disease.
The doctor from Tampa, Florida, also worked as a boxing analyst, winning two Emmy Awards over tenures with networks including Showtime, NBC and Univision.
Garcia also worked with boxing champions Roberto Duran and Alexis Arguello. But he's best remembered for his work as Mayweather's hand wrapper.
Mayweather, who often had issues with his brittle hands, always raved about Garcia's ability to wrap his hands. Mayweather once said he wouldn't let anyone else touch his hands.
In his final years, Garcia worked with Vargas, a Las Vegas native and former welterweight champion.
"Rafael Garcia is my godfather, I'm very close to him," Vargas said in November 2016 when he was training to fight Manny Pacquiao. "He's family to me, and I'm blessed to have him on my team and blessed to have him by my side."
Contact Gilbert Manzano at gmanzano@reviewjournal.com. Follow @GManzano24 on Twitter.
Calendar
Dec. 9: Orlando Salido vs. Mickey Roman, 7 p.m., HBO, Mandalay Bay Events Center