Boxing note: Losses compel Donaire to rededicate himself
November 22, 2015 - 12:07 am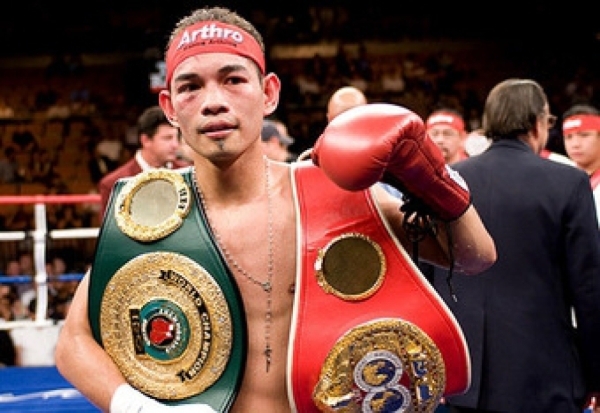 Nonito Donaire insists he's a changed fighter and a changed man.
For the sake of his boxing future, he had better be.
After a failed attempt to win the world featherweight title 13 months ago, the 33-year-old former four-division world champion has returned to being a super bantamweight, has his father Nonito Sr. training him again, and has rededicated himself to his craft. His hope is to have the kind of success in the second half of his career that he enjoyed early on.
"The beauty of life is you learn the good and the bad," said Donaire (35-3, 23 knockouts), who faces Cesar Juarez on Dec. 11 in San Juan, Puerto Rico, on truTV. "It took a couple of losses to make me realize whether or not I really still wanted to do this."
Those losses, to Guillermo Rigondeaux in 2013 and to Nicholas Walters in October 2014 were hard for someone of Donaire's stature to deal with. He had to come to grips with the fact that what he was doing in and out of the ring wasn't good enough.
"I was knocking guys out so easily and it was like, 'Why work 100 percent when I could do it at 10 percent?' " Donaire said. "Then I started fighting better, smarter opponents and after the Rigondeaux fight, I started to ask myself if I should keep fighting.
"But it's funny, after I got knocked out by Walters, it was more about who I was and how I needed to change. It was about being fulfilled.
"I don't take anything for granted anymore. Every day is a blessing. I don't want to waste time. i want to go beyond what I can do and not settle for being satisfied with what I've done."
Reuniting with his father wasn't that difficult. Yes, the two didn't speak for almost five years. But Donaire knows his father has his best interests and, together, he believes they can get back to the top.
"My dad created my style; he's the only one who can change me," Donaire said. "He knows me inside-out."
Donaire said to expect a different fighter Dec. 11.
"You're going to see a smarter fighter, someone who will dissect his opponent and take advantage of his mistakes," Donaire said. "I'm going to be like an eagle ready to pounce on his prey."
RIOS UNRETIRES — Brandon Rios' retirement from boxing may have been one of the briefest in history.
The 29-year-old welterweight announced he was though fighting after being stopped by Timothy Bradley on Nov. 7 at the Thomas & Mack Center. Rios since has had a change of heart.
"He said to me, 'I let so many people down. I don't want to go out like this,' " Rios' manager Cameron Dunkin said. "But a couple of days after the fight, he reconsidered his decision. I didn't say anything because there was the possibility he might change his mind again. When I talked to him Tuesday, he said he definitely wanted to keep fighting so we're going forward."
Dunkin said Rios' future is likely at 154 pounds but explained that when Rios is dedicated to training he can compete effectively at 147 pounds.
"He can make 147," Dunkin said. "But you can't do it when you start at 205 six weeks before a fight, which is where Brandon was when he began training for Tim.
"Bottom line? If Brandon takes care of himself, he can get where he wants to be."
Dunkin said he thinks Rios' next fight will come in March or April and possible opponents include Ruslan Provodnikov, Lucas Matthysse or even Jessie Vargas, who Dunkin also manages.
"All those fights make sense," he said. "Even Jessie. I don't like seeing my fighters fight each other, but maybe they can do a catch-weight fight against each other."
CRAWFORD WAITS — WBO junior welterweight champion Terence Crawford said he hasn't heard anything definitively about a potential fight with Manny Pacquiao on April 9. Crawford is in the mix along with Bradley and Amir Khan for what is supposed to be Pacquiao's farewell fight.
"We're just waiting to hear," Crawford said Friday while attending Top Rank's card at The Cosmopolitan of Las Vegas. "Right now, I'm on vacation. I'm not even thinking about fighting right now."
Crawford is coming off an impressive win Oct. 24 when he stopped Dierry Jean in the 10th round to improve to 27-0. The 2014 Fighter of the Year has enjoyed the celebrity that has come with his success.
"It feels great what's happened to me," he said. "I felt like I was overdue for this."
Crawford said if the Pacquiao fight fails to materialize, he'll focus on defending his 140-pound title.
"I don't pick the fights," he said. "Whoever Top Rank puts me in with, that's who I'll fight."
— Contact reporter Steve Carp at scarp@reviewjournal.com or 702-387-2913. Follow him on Twitter: @stevecarprj.