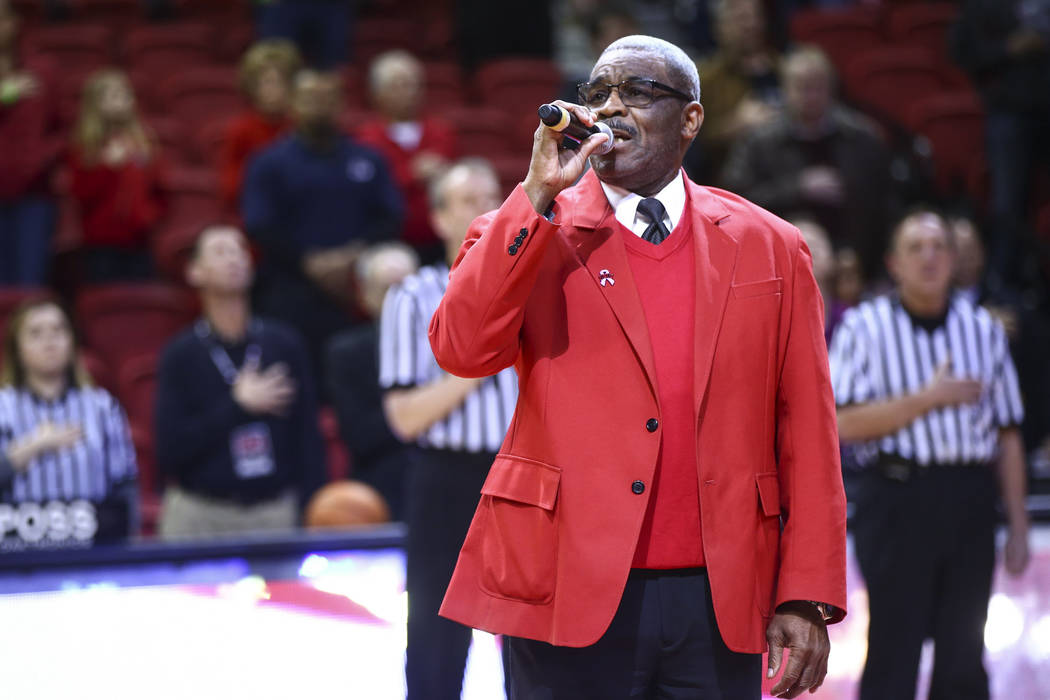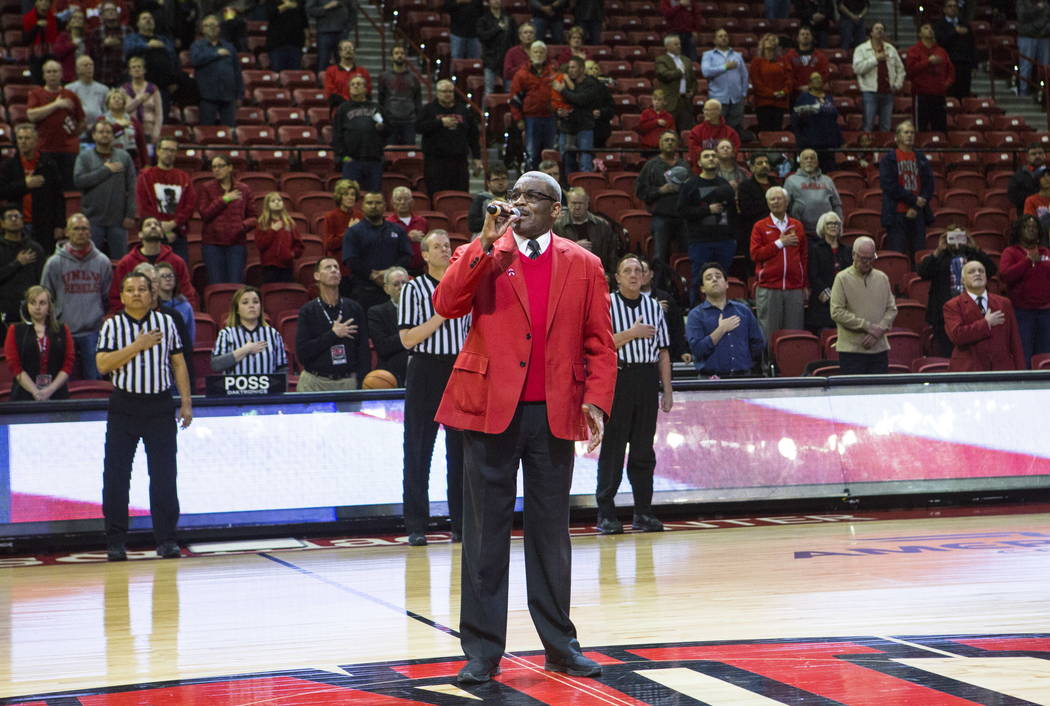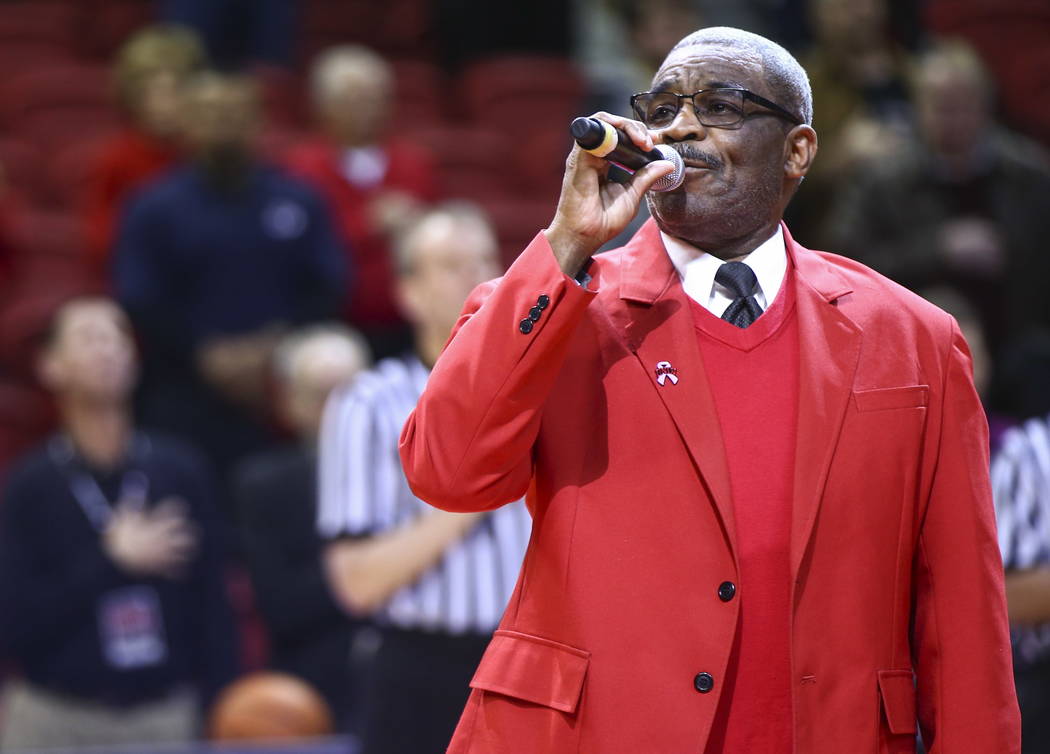 Before Floyd Mayweather and Conor McGregor began to hit each other, Demi Lovato elegantly hit on every high note during her rendition of the national anthem in front of fellow musicians and NBA All-Stars who paid north of $10,000 to sit ringside at T-Mobile Arena on Aug. 26.
Behind Lovato, Robert Byrd stood head bowed, right hand over his heart. Lovato's performance provided a two-minute escape for Byrd before he refereed arguably the biggest fight of his career.
"I'm an old Marine. I'm always very respectful of the anthem," Byrd said.
Byrd, 74, has been in the ring with some of the greatest singers of all time during his 37-year career as a boxing referee.
"Some of the worst, too," he said.
But not one of those vocalists can profess to both delivering a national anthem and officiating a world title fight. Byrd can. He's done both many times.
Byrd has sang the national anthem at a UNLV men's basketball home game in February for the past seven years.
"I always do it for Black History Month," he said. "After the first time I did it, everyone started asking me, 'When are you going to do the anthem?' It's nice to know people actually look forward to it."
The tradition continued Wednesday before the Rebels played Fresno State at the Thomas &Mack Center.
For most singers, the nerves start to kick in hours before they take the mic, and there was probably added pressure this week after Fergie's rendition of the national anthem at the NBA All-Star Game.
"I don't get nervous," said Byrd, who sings with the choir at his church. "It's just like church. If you can get up on Sunday morning and sing in front of everybody, you can do the anthem."
As he casually walked to center court in a red blazer — not the blue dress shirt and bow tie he wears in the ring — Byrd was introduced as "world famous boxing referee" by the Thomas &Mack announcer.
Why the red blazer?
Byrd has been an usher at UNLV events since 2001. That's right, Byrd is a bit of a triple threat as a singer, usher and referee.
"I get recognized all the time, especially when there was a lot of UFC here (Thomas &Mack)," Byrd said. "They say, 'Hey, I know you. What are you doing here?' I just smile and respond, 'Let me help you find your seat.' "
Byrd didn't blow anyone away with his performance Wednesday in front of a sparse crowd, but he got the job done. He learned a long time ago from the legendary Marvin Gaye that the anthem doesn't have to be sang a certain way, as long as there's passion and respect behind it.
"No one did it better than Marvin Gaye," Byrd said. "I would love to do it the way he did it, but you can't, and that's why he stands out because it was just different. He took his time."
After Byrd thanked the crowd, he walked back to his post next to the players' tunnel and began to assist fans.
Singing usher
Byrd moved to Las Vegas from Los Angeles after former Nevada Athletic Commission executive director Marc Ratner hired him in 2001 as a judge and referee.
Ratner had no problem with Byrd taking on a second job as an usher. Ratner has operated the shot clock at UNLV games for more than 30 years.
"He didn't need permission from me," Ratner said. "He's an excellent referee, and he's got a good voice. He's a singing usher. Not too bad."
Byrd's first event as an usher was a UNLV football game at Sam Boyd Stadium. He's worked at UNLV baseball games, conventions, concerts and even boxing weigh-ins.
The former California highway patrol officer said concerts and UNLV rivalry games get the rowdiest. If he sees a fight break out in the stands, he doesn't allow his boxing referee instincts to kick in.
"My uncle used to tell me, 'Son, you don't run to a fight, you walk,' " Byrd said. "For the most part, fans behave. But I do remember some crazy incidents when Utah and BYU played against UNLV. I don't know what it is about fans in Utah."
Byrd, who is married to boxing judge Adalaide Byrd, said he continues to usher at events because he enjoys interacting with people.
"I love getting to know people," he said. "I do my best to make sure they're safe and enjoy themselves. … But I can also be firm if needed."
Just like in the ring.
Contact Gilbert Manzano at gmanzano@reviewjournal.com. Follow @GManzano24 on Twitter.
Get to know UNLV's singing usher
— Robert Byrd has been a boxing referee since 1981
— Has officiated more than 100 world title bouts
— First world title bout as a referee was Tony Lopez-Rocky Lockridge in 1988
— Referee for Floyd Mayweather-Conor McGregor in August at T-Mobile Arena
— Began to usher at UNLV games in 2001
— First event as an usher was at Sam Boyd Stadium for UNLV football
— Sings the national anthem at UNLV men's basketball games once a year
— Married to boxing judge Adalaide Byrd
— Born in Chicago, joined Marines after high school
— Former highway patrol officer in Los Angeles