Bradley gets draw after seeming to control Chaves
December 14, 2014 - 12:31 am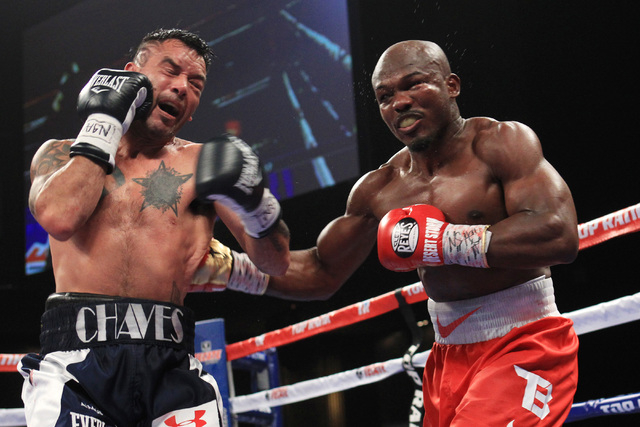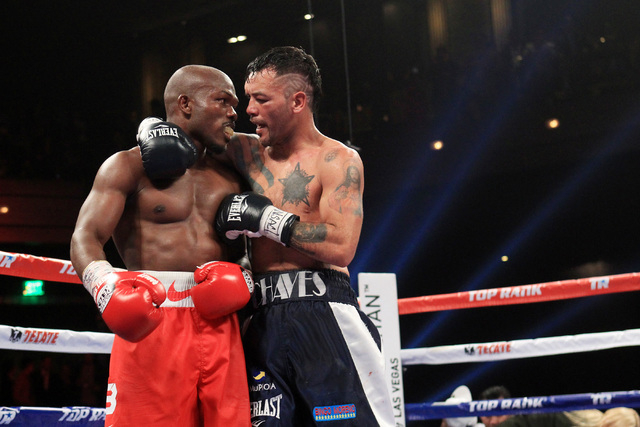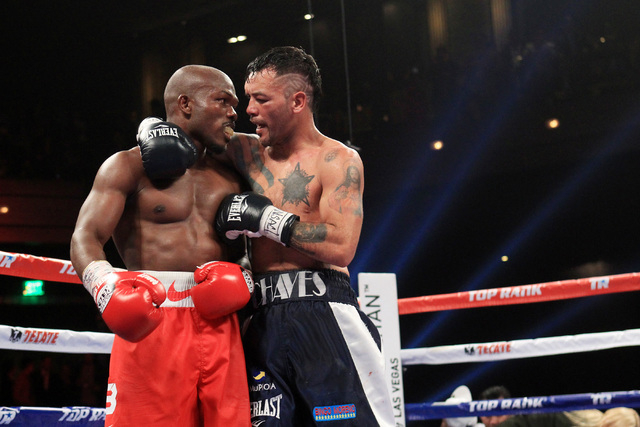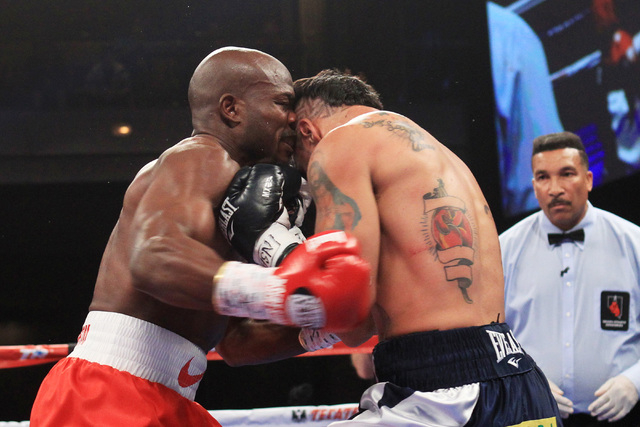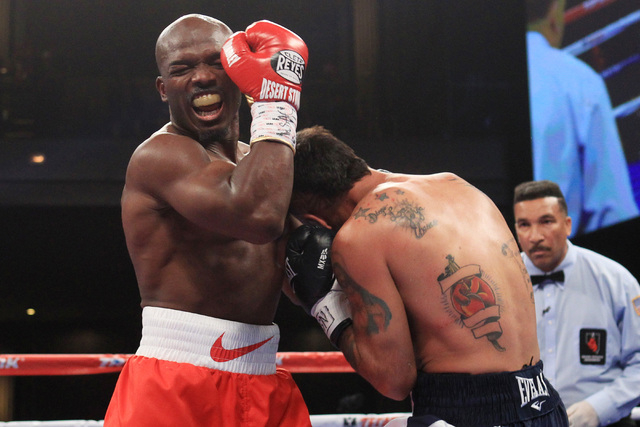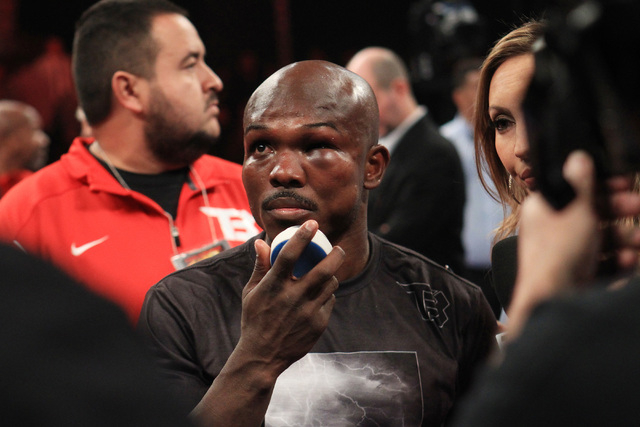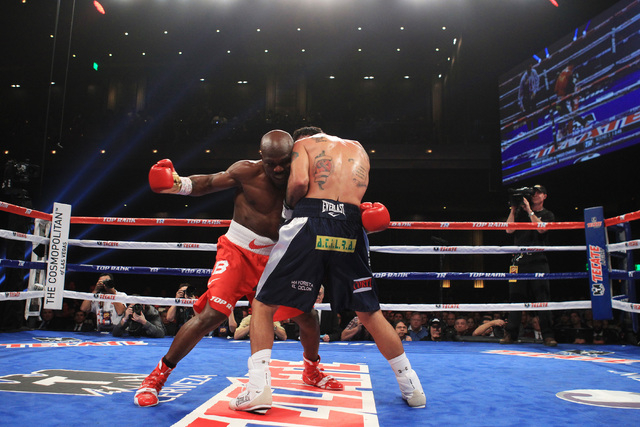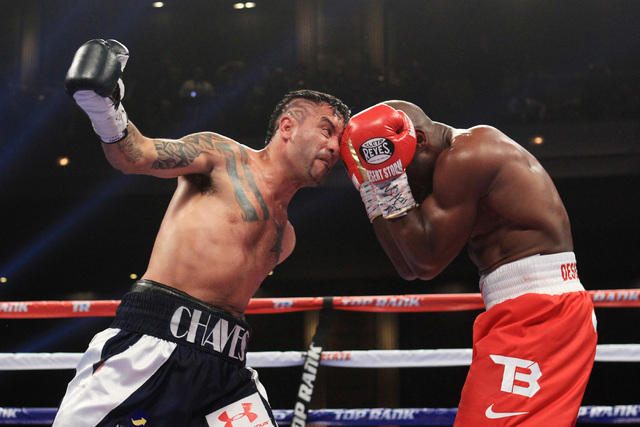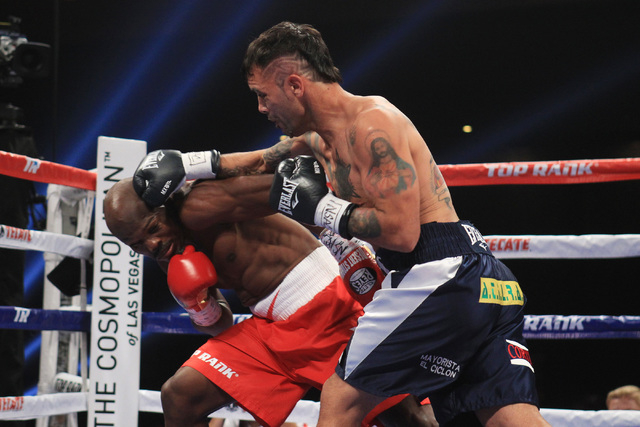 Timothy Bradley has had the judges in his corner in the past when he has fought in Las Vegas. On Saturday, he felt their wrath.
Bradley appeared to have dominated Diego Chaves in a welterweight bout in front of 2,400 at The Cosmopolitan of Las Vegas. All of his boxing skills were on display, and he battled through 12 rounds despite a nasty mouse under his left eye for the final nine rounds.
And all it got him was a draw.
Julie Lederman had Chaves winning 116-112, while Burt Clements had Bradley winning 115-113. Craig Metcalfe saw it 114-114. The decision was nearly as unjust as the night of June 9, 2012, when Bradley was awarded a split decision over Manny Pacquiao at the MGM Grand Garden.
"I'm not going to say it was horrible, but I'm not a judge," Bradley said. "I maybe gave him four rounds. I was landing clean punches, and I felt like I won the fight."
Bradley said his left eye, which was hit by an accidental head butt in each of the first two rounds, was not as bad as it looked.
"I can see fine," he said.
Chaves (23-2-1) said he thought he did enough to win.
"I thought it was a pretty even fight, but I thought I got the best in many instances," he said through an interpreter. "I felt I landed more punches and was more aggressive and deserved to win."
Lederman and Metcalfe both gave Chaves the final four rounds, and that had Top Rank chairman Bob Arum, who promotes Bradley, apoplectic afterward.
"This was as bad as the decision in the first Pacquiao-Bradley fight," Arum said. "Julie Lederman should never be allowed to judge a fight here again. Her scorecard was a disgrace. The real problem is the disparity in the scoring. It makes all of us look insane."
Bradley (31-1-1) used an effective right hand to score against Chaves and said he might have broken the cheekbone below the left eye, which could keep him on the sidelines for a while. Bradley said he would discuss it with his trainer, Joel Diaz, and his wife, Monica, who also serves as his manager, before determining how to proceed with his career.
"I thought I won the fight, but the judges said otherwise, and there's nothing I can do about it," Bradley said.
Arum said having a competing card at the MGM Grand Garden on Saturday didn't help matters in terms of having a deep pool of officials to select from.
"They should not have allowed to have two cards in the same city on the same night," he said. "Nevada barely has enough judges and referees to go around. I'm just so fed up with this whole system."
The judging also came into question as Jose Benavidez shocked Mauricio Herrera, winning a 12-round unanimous decision and Herrera's World Boxing Association interim super lightweight title.
Benavidez (22-0) spent a good portion of the fight laying on the ropes, as Herrera (21-5) attacked his body. But when the fight was in the middle of the ring, Benavidez was able to let his hands go and showed superior speed.
Still, many ringside observers believed Herrera had done enough to win, and he was shocked when he heard the scores of 116-112, 116-112 from judges Erick Cheek and Max DeLuca and 117-111 from Dave Moretti go in Benavidez's favor.
"Nothing new. I won the fight, and they took it away from me," Herrera said. "They must not count body shots in this division."
Benavidez obviously saw things differently.
"He was very aggressive, but I was catching him as he walked into my punches," he said. "I landed everything. I know I won the fight."
In the fight for the vacant World Boxing Organization middleweight title fight, Andy Lee landed a huge right hook to the head in the sixth round and won by technical knockout over Matt Korobov.
Lee (34-2) had just been hit by a Korobov left when he fired back and scored a direct hit to the Russian's chin. Korobov (24-1) shook off the shot as Lee swarmed all over him.
Referee Kenny Bayless wisely stepped in and stopped the fight at 1:10.
Contact reporter Steve Carp at scarp@reviewjournal.com or 702-387-2913. Follow him on Twitter: @stevecarprj.