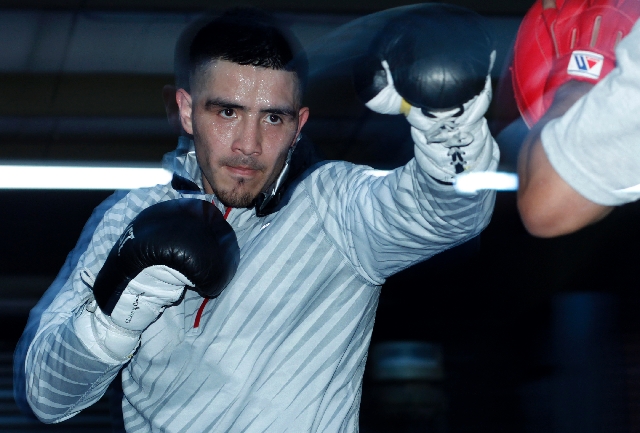 The last time Brandon Rios stepped on a scale at Mandalay Bay, the results weren't good.
He didn't make weight last year for his WBA lightweight title fight against Richard Abril. Fighting two pounds over the 135-pound limit, Rios won a controversial 12-round split decision over Abril on April 14.
Rios left the lightweight division for good that night, though he probably should have done so sooner. Now fighting at junior welterweight, his stay at 140 pounds might be brief.
Assuming he defeats Mike Alvarado tonight at Mandalay Bay in a rematch of their Oct. 14 fight, won by Rios on a seventh-round technical knockout, Rios might move up to welterweight, where some lucrative opportunities possibly await.
"Sure, I can do (147 pounds)," he said. "But right now, I'm concentrating on this fight."
On Friday, the 26-year-old Rios (31-0-1, 22 knockouts) and 32-year-old Alvarado (33-1, 23 KOs) each weighed in at 140 pounds for tonight's 12-round fight on HBO for the WBO interim title. Alvarado had to get on the scale twice. After initialing weighing 140½, he took off his shorts and hit 140.
While Rios is focusing on tonight, his manager, Cameron Dunkin, can afford to look ahead. There are great fights to be made at 140 against opponents such as Danny Garcia, Lucas Matthysse, Marcos Maidana and Amir Khan.
The problem is, that quartet is promoted by Golden Boy Promotions and Rios by Top Rank — companies with a frosty relationship. The likelihood of a match between fighters from those companies is remote, especially after HBO's recent announcement that it no longer was doing business with Golden Boy.
That's why Dunkin is looking to move his fighter up to 147 pounds, where possible paydays loom against the Top Rank trio of Manny Pacquiao, Juan Manuel Marquez and Timothy Bradley.
"It's a tough deal for Brandon," Dunkin said. "He's caught in the middle of this Top Rank-Golden Boy war. Sure, he could fight Garcia or Matthysse or Maidana, and those are great fights that the fans would love to see. But because of the way things are, it's not going to happen.
"He can go to 147 and make big money fighting Tim or Pacquiao or Marquez and not have to deal with any of the politics."
But first things first. Rios needs to dispose of Alvarado the way he did in their first meeting, in which he matched Alvarado punch for punch at the Home Depot Center in Carson, Calif.
Alvarado had some good moments, but Rios again proved his toughness and tenacity. He unloaded on Alvarado in the seventh round, finally forcing Pat Russell to stop the fight with about a minute remaining in the round.
"I watch it (the fight) all the time," Rios said. "And every time I watch, I learn something. I see something that I can improve on.
"I trained differently for this fight. I trained more like a soccer player, trying to stay light on my feet. I noticed I was flat-footed when we fought the last time. I'm a little more tippy-toe and lighter on my feet."
As eager as he thinks Alvarado will be to avenge his only defeat, Rios vows to match his opponent's motivation.
"I can't go into the ring not expecting to be hungry," Rios said. "I'm always ready to fight. That's who I am."
Contact reporter Steve Carp at scarp@reviewjournal.com or 702-387-2913. Follow him on Twitter: @stevecarprj.
RIOS VS. ALVARADO II
RIOS VS. ALVARADO II
■ WHAT: WBO interim junior welterweight championship
■ WHEN: 4:05 p.m today
■ WHERE: Mandalay Bay Events Center
■ RECORDS: Rios 31-0-1, 22 KOs; Alvarado 33-1, 23 KOs
■ PURSES: Rios $1 million, Alvarado $650,000
■ OFFICIALS: Referee Tony Weeks; judges Duane Ford, Dave Moretti and William Lerch
■ TV: HBO (Cable 201), 7:15 p.m.
■ LINE: Rios minus-450, Alvarado plus-350
■ TICKETS: $100, $150, $250