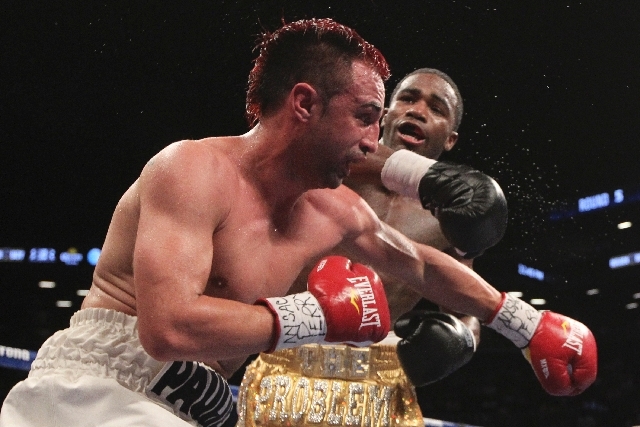 NEW YORK — First, Adrien Broner took Paulie Malignaggi's girlfriend from him. On Saturday night, he took his title. All while running his mouth.
The brash 23-year-old from Cincinnati won his third world title in three weight classes, taking Malignaggi's WBA welterweight belt with a 12-round split decision at Brooklyn's Barclays Center in front of 11,461 mostly pro-Malignaggi fans.
Broner had won belts at 130 and 135 pounds but jumped a weight class for a shot at Malignaggi's 147-pound title.
Judge Glenn Feldman had Broner winning 115-113, and Tom Miller scored it the same way for Malignaggi. Tom Schreck cast the deciding vote, scoring it 117-111 for Broner (27-0, 22 knockouts). Malignaggi fell to 32-5 with seven KOs.
"To go into someone's hometown and win a split decision is a tremendous accomplishment," Broner said. "I beat Paulie, and I left with his belt and his girl."
Broner was referring to the promotion for the fight, when he called Malignaggi's ex-girlfriend at one appearance and claimed her as his "sweetheart."
All of the derogatory comments got Malignaggi riled up after the scores were read. The two exchanged X-rated barbs before members of the New York State Athletic Commission separated them and got Broner out of the ring.
Broner "was sharp, but he wasn't busy," Malignaggi said. "He worked 30 seconds of every round. I thought I outworked him. He's a good, talented fighter, but my pace carried the victory."
Broner used an effective overhand counter right hand throughout the fight. And when Malignaggi managed to keep his left hand up, Broner tagged him with his left and did more damage.
He would taunt Malignaggi, saying, "Is that all you got?" and "You can't hurt me."
"He couldn't hit me. It was like shadow boxing," Broner said. "This was a tremendous win for me. I mean, who's doing it like me? Nobody. He hit all arms. He couldn't hurt me, and he went straight to survival mode."
Malignaggi, whose response of choice was to stick his tongue out at Broner, wasn't able to hurt him. But he believed he did enough to win and was angry with Schreck, who is from New York, albeit upstate in Albany.
"This was a close fight," Malignaggi said. "I thought I won. I'm the defending champion in my hometown, and he has to take it from me and he didn't. There's always B.S. and politics in boxing. Somebody should do something about it.
"If I don't get a rematch immediately, I'm going to retire and go back to Showtime."
On the undercard, Sakio Bika finally won a world title, taking a 12-round majority decision from Marco Antonio Periban to win the vacant WBC super middleweight belt. Ironically, that belt belonged to Andre Ward, who handled Bika with ease when they fought in 2010. Ward was stripped by the WBC in April while he was recovering from a shoulder injury.
Both fighters landed big shots. And though Bika appeared to be tiring in the final rounds, he had done enough early to win a world title in what was his fourth attempt.
Judge Max DeLuca had Bika (32-5-2, 21 KOs) ahead 115-113, Robin Taylor scored it 116-112 for Bika, and Julie Lederman had it 114-114.
Periban (20-1, 13 KOs) lost for the first time in his first 12-round bout.
In the co-feature, Seth Mitchell (26-1-1, 19 KOs) avenged his knockout loss to Johnathon Banks (29-2-1, 19 KOs) in November, scoring a 12-round unanimous decision in a lackluster heavyweight fight.
Judge Waleska Roldan scored it 115-112, Don Trella had it 114-112, and Michael Ross scored it 117-109.
Mitchell knocked Banks down in the second round with a punch to the back of the head, and Banks did virtually nothing to take the fight back to him.
Contact reporter Steve Carp at scarp@reviewjournal.com or 702-387-2913. Follow him on Twitter: @stevecarprj.