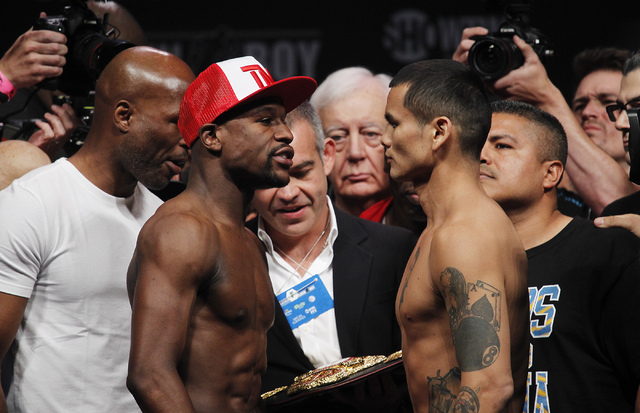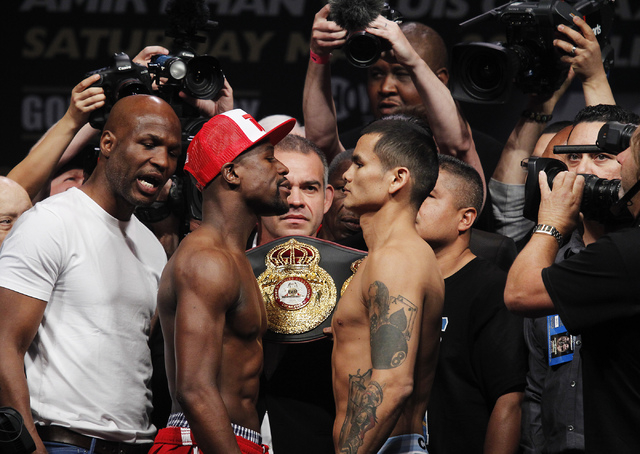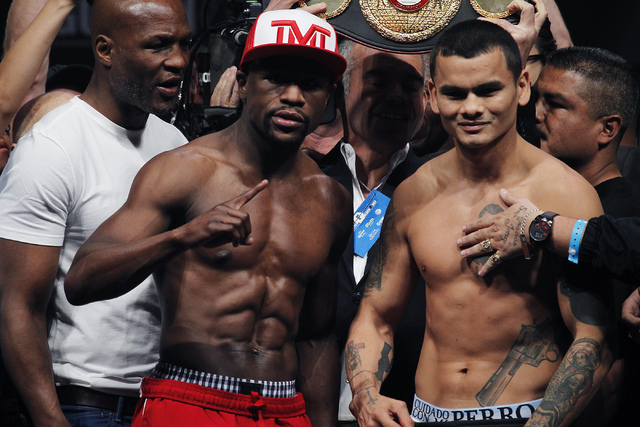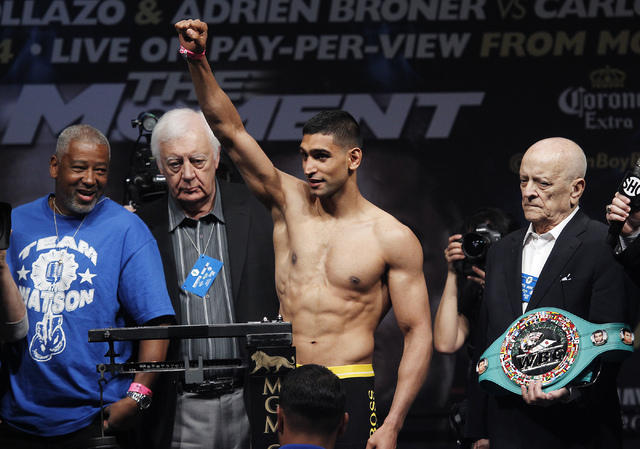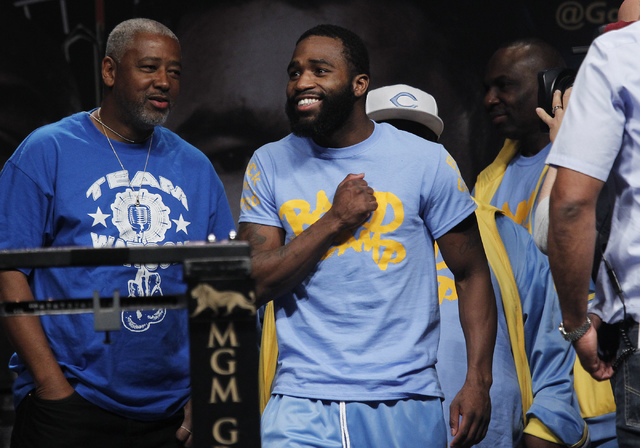 One minute, Floyd Mayweather Jr. is talking retirement, finding the right woman, settling down and having kids. The next, he's pining to open the new MGM arena in 2016.
There's Mayweather's recent revelation that he split with his longtime girlfriend, Shantel Jackson, after she had an abortion, something that Mayweather didn't want, and that it is perceived that has become a major distraction.
But when he's in his gym off Spring Mountain Road, he's tearing up his sparring partners, looking better than a 37-year-old has a right to look and totally focused on building on his legacy as the greatest fighter of his generation and perhaps one of the greatest of all time.
So as Mayweather, the World Boxing Council's champion, enters the ring Saturday night at the MGM Grand Garden against World Boxing Association champ Marcos Maidana in a welterweight unification title bout, which Mayweather will emerge?
Those closest to him say he'll handle his business the way he always does and beat Maidana, picking up a minimum of $32 million in the process. Others think he indeed might be ripe for the taking, that outside forces have sidetracked him.
As for Mayweather himself, it depends on what day you talk to him and what's in his heart at that moment.
"When you mention boxing, all I want you to mention is one name — that's Floyd Mayweather," he said this week. "Before my career is over, I don't want you talking about nobody else."
But moments later, Mayweather talks about quitting. He talks about being able to go to the movies without his cadre of burly bodyguards or going to the casino by himself, or taking a vacation with the woman of his dreams.
His six-fight Showtime Pay Per View deal reaches the midway point Saturday. Assuming he finishes it out and remains victorious, he would be 49-0 and equaling Rocky Marciano's record. He's 45-0 with 26 knockouts entering tonight's fight with Maidana (33-5, 31 KOs).
"Different days, I feel different ways," Mayweather said. "Everybody's talking 50-0, 51-0, but we take it one fight at a time."
Perhaps the retirement talk is a promotional ploy to boost the pay-per-view sales for a fight that many see as one-sided — Mayweather remains a prohibitive 10-1 betting favorite at the MGM Resorts sports books and had been as much as 15-1 around town. The idea would be to get fans to think this could be the final time he see Mayweather in the ring.
And it was Mayweather who broke the news about his onetime fiancee's abortion. For the past few years, he has used social media and other outlets to control the narrative as it pertains to him. He was the one who posted it on his Facebook account, then took it down. On Friday, in an interview with an Atlanta radio station, Mayweather confirmed he had documentation that Jackson had the abortion, not a miscarriage as she claimed, and that he was hurt by the news.
People may believe he's vulnerable and they'll buy the pay per view thinking he'll lose to Maidana. But seeing is believing, and to have watched him train for this bout is to see he never has been more serious about preparing to fight.
"In my case it's about being mentally strong," Mayweather said. "I don't think guys can go to the level I'm at mentally."
Does that sound like someone who will allow himself to be distracted?
Mayweather continues to branch out into various business ventures, for himself and those in his company, Mayweather Promotions. He has a headphones deal that is being finalized. He has backed a women's clothing boutique and cosmetics line. He continues to invest in real estate. And there's the $100 million plus left to pick up from the Showtime deal. So it pays for Mayweather to remain active in boxing.
"When I get involved in something, I have to have some ownership," he said of his personal investing.
So while Mayweather may appear to be contradicting himself, he has the one thing that propels him beyond everything else — his legacy. And that's why he can be expected to perform at a high level against a fighter who has absolutely nothing to lose in Maidana and the fact he can keep that zero in the right-hand column.
"That's what I'm fighting for," he said after weighing in at 146 pounds Friday before 8,000 at the Grand Garden (Maidana weighed 146½). "It's all about being smart. I don't really think about losing in the ring."
And if he needs a reminder, he wears a shirt with the list of the 45 opponents he has vanquished with a check mark next to each name.
He probably has a new, updated shirt on order.
Contact reporter Steve Carp at scarp@reviewjournal.com or 702-387-2913. Follow him on Twitter: @stevecarprj.
MAYWEATHER VS. MAIDANA
WHAT: WBC-WBA world welterweight championship
WHEN: 6 p.m. Saturday
WHERE: MGM Grand Garden
RECORDS: Mayweather 45-0, 26 KOs; Maidana 35-3, 31 KOs
WEIGHTS: Mayweather 146 pounds, Maidana 146 1/2 pounds
OFFICIALS: Referee — Tony Weeks. Judges — Dave Moretti, Burt Clements and Michael Pernick
PURSES: Mayweather $32 million, Maidana $1.5 million
LINE: Mayweather minus-1000, Maidana plus 600.
TV: Showtime PPV (Cable 501) $64.95