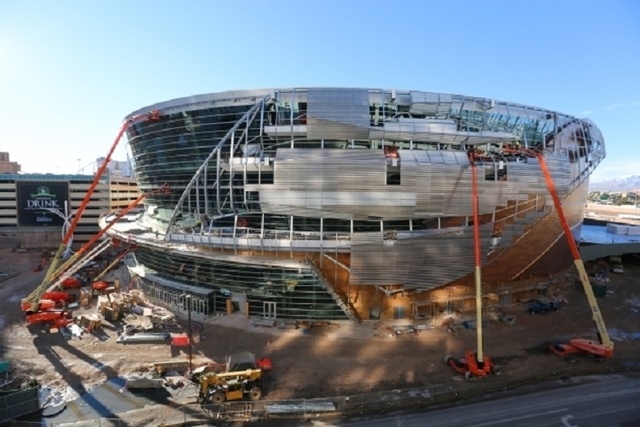 Oscar De La Hoya never forgot the excitement that came with being the first boxer to compete in a new arena.
It was 2000, and Staples Center in downtown Los Angeles was already open. De La Hoya faced Shane Mosley, and though he lost the fight, he always remembered how special the night was.
"It was a new building, and being home is something I never forgot," said De La Hoya, who grew up in East Los Angeles.
Canelo Alvarez and Amir Khan will share a similar experience when they meet May 7 in the first boxing event at T-Mobile Arena. The two have fought in Las Vegas numerous times, but to open the new home to showcase boxing in Las Vegas gives both added motivation.
"It's an honor, quite frankly," Khan said. "I have heard a lot about it, and I'm anxious to see it for myself."
Alvarez said: "I'm very happy to be involved in the first fight. It's a huge honor and big responsibility, and I will do everything I can to make an exciting fight for the fans."
T-Mobile Arena will seat 20,000 for boxing, and with its suites and private and public club space, the vibe figures to be different from at the MGM Grand Garden or Mandalay Bay Events Center.
"I think it's going to feel like a big party is going on," De La Hoya said. "I've toured it, and it's like no other arena. It's going to be a great place for boxing, and we're honored to have been given the opportunity to be the first boxing event."
Many thought Floyd Mayweather Jr. would get that honor, but he retired after beating Andre Berto in September.
Manny Pacquiao could have been first, but he's running for a seat in the Senate in the Philippines and couldn't wait until May to fight. He will fight Timothy Bradley Jr. on April 9 at the MGM Grand Garden.
The arena is scheduled to open April 6 with a concert by The Killers.
Moreno turns pro
Las Vegas lightweight boxer Randy Moreno has turned pro and signed a multiyear deal with Roy Jones Jr. Boxing.
Moreno, 19, a Liberty High School graduate who was 48-6 as an amateur, is the first pro to sign from the amateur ranks for Jones' company.
Moreno, who will fight at 135 pounds, has spent the past five years training at Las Vegas Elite. He is expected to make his pro debut this month.
Hall of Fame
The Nevada Boxing Hall of Fame will announce its Class of 2016 on Tuesday at Caesars Palace. The Hall, created in 2013, has 58 members.
Contact reporter Steve Carp at scarp@reviewjournal.com or 702-387-2913. Follow him on Twitter: @stevecarprj.
LOCAL FIGHT SCHEDULE
March 12 — At Downtown Las Vegas Events Center, 5 p.m., Zab Judah vs. Josh Torres, 10 rounds, welterweights (CBSSN)
March 19-20 — At Santa Fe Station, 3 p.m., Golden Gloves Western Regionals
April 9 — At MGM Grand Garden, 6 p.m., Manny Pacquiao vs. Timothy Bradley Jr., 12 rounds, welterweights (HBO PPV)
May 6 — At Hard Rock Hotel, 5 p.m., TBD
May 7 — At T-Mobile Arena, 6 p.m., Canelo Alvarez vs. Amir Khan, 12 rounds for Alvarez's WBC middleweight title (HBO PPV)