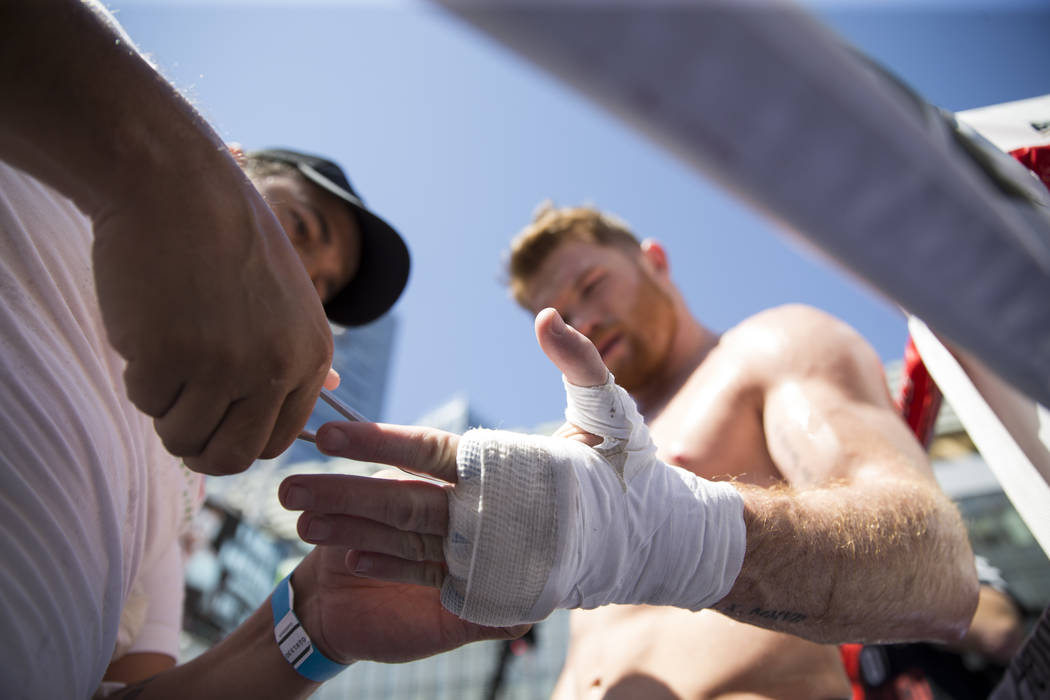 Walk into Abel Sanchez's The Summit Gym in Big Bear, California, and you'll immediately notice countless photos hanging on the walls that tell the story of Sanchez's decorated career as a boxing trainer.
Many of the photos feature Gennady Golovkin, who has had tremendous success under Sanchez. But the picture that sticks out is the one with Golovkin flexing next to a young Saul "Canelo" Alvarez as the two sweaty fighters smiled for the camera six years before they were scheduled to battle in a middleweight showdown.
These days, Golovkin and Alvarez don't smile together anymore. They don't like being around each other.
Alvarez and Golovkin will trade mean mugs during multiple face-offs this week leading up to their HBO pay-per-view bout Saturday at T-Mobile Arena.
Alvarez said he considered Golovkin a friend when they were sparring partners for a few months in 2011. Alvarez, 20 years old at the time, was starting to make a name for himself as the WBC junior middleweight champion from Mexico and was in need of a sparring partner to help him get better.
A then-28-year-old Golovkin was mostly unknown in the U.S., but boxers in Southern California knew about the Kazakhstan boxer's crushing sparring sessions.
"Yeah, I think we were friends," Alvarez, now 27, said in Spanish of Golovkin. "We were partners in the gym, and we rented Abel Sanchez's gym and we would see each other and spar. We would say hello to each other, and we would talk even though there wasn't much said since we don't speak the same language."
The sparring stories of Canelo-GGG vary from witnesses in the gym. Some say Golovkin, 35, had no trouble against the unpolished Alvarez. Others say Alvarez held his own against the Olympic silver medalist.
The two camps haven't elaborated much on the sparring details, but expressed gratitude for the work in the ring that benefited both fighters.
"I think they were helping each other," Sanchez said. "They both had careers and they both needed good work and they got it from each other. It was more of helping each other with some quality sparring with top-notch world-class guys.
"They both have matured immensely. Canelo was only 19 or 20, with not that many fights. You can't take anything from sparring."
Golovkin's camp has given Alvarez the "little brother" treatment during the buildup to this megabout. Sanchez has criticized Alvarez's punching power by calling him a "slapper."
Alvarez said he's improved drastically since sparring with Golovkin and is not the same teenager they remember.
"They're completely confused if they see me as a little brother or think of me that way," Alvarez said. "I don't want to get involved with their games or even talk about it, but the words won't mean a thing come Sept. 16. That's when they'll find out about the real Canelo."
Alvarez (49-1-1, 34 knockouts) said he wanted to continue sparring with Golovkin (37-0, 33 KOs), but had a feeling they would eventually meet and decided to move his camps to San Diego.
"This rivalry started brewing a long time ago, so we needed to go our separate ways," Alvarez said. "We had good work together and part of me still feels there's still a friendship somewhere there."
Contact Gilbert Manzano at gmanzano@reviewjournal.com. Follow @GManzano24 on Twitter.
Canelo-Golovkin fight week
Tuesday: Grand Arrivals, MGM Grand lobby
Gennady Golovkin, 12:45 p.m.
Saul "Canelo" Alvarez, 1:15
Wednesday: Undercard public workouts, MGM Grand sports book next to TAP sports bar
Jorge Lara, Francisco Rojo, 3 p.m.
Randy Caballero, Ryan Martin, 3:30
Joseph Diaz Jr., Diego De La Hoya, 4
Friday: Weigh-in, MGM Grand Garden Arena
Doors open, 10 a.m.
Fighters on scale, Noon
Saturday: Fight night, T-Mobile Arena
Doors open, 3 p.m.
First fight, 3:15
HBO pay-per-view, 5
Related
'Canelo' Alvarez-Gennady Golovkin could be throwback fight
Gennady Golovkin sharpens fists and focus for Canelo Alvarez bout
'Canelo' Alvarez, Gennady Golovkin regain boxing's spotlight