Canelo Alvarez knocks out Sergey Kovalev in 11th round
Updated November 3, 2019 - 7:21 am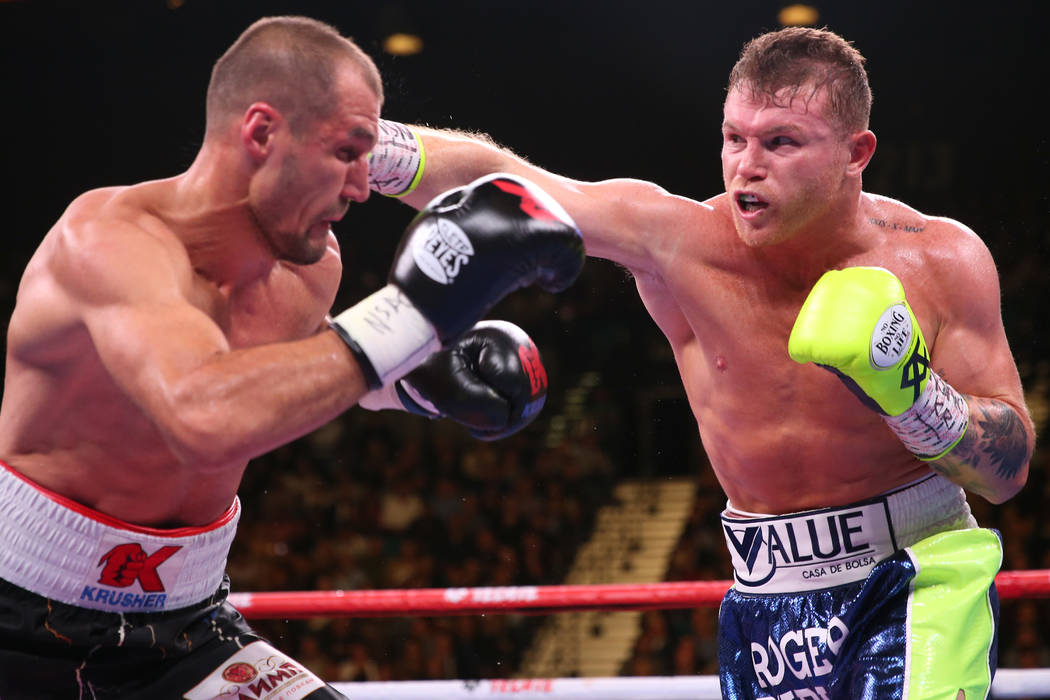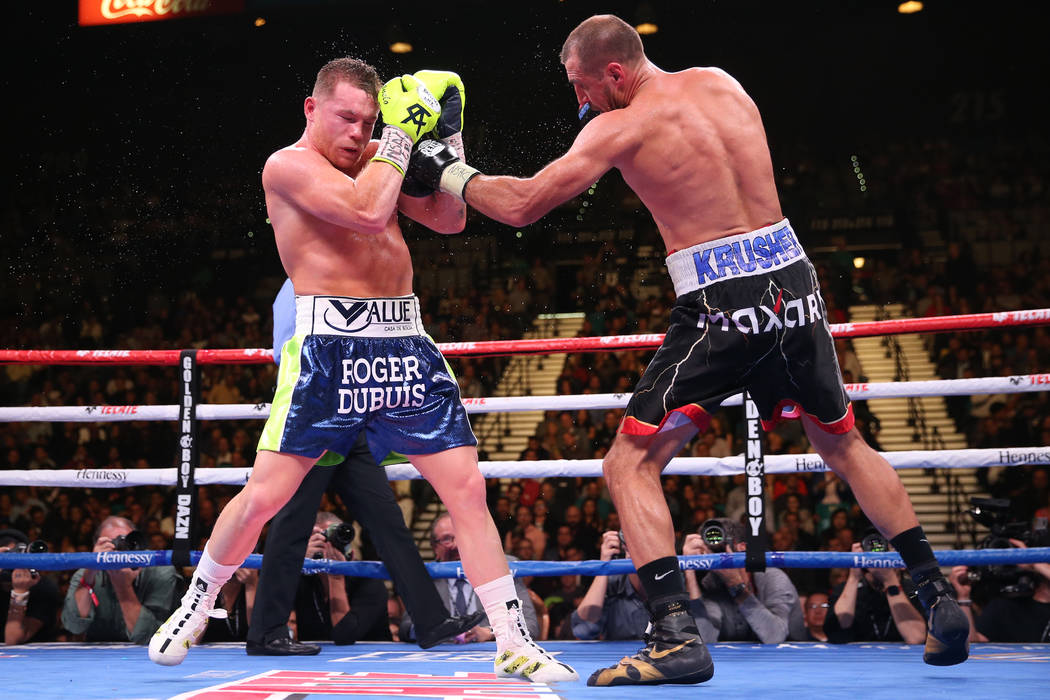 Canelo Alvarez holds world boxing titles in the middleweight, super middleweight and now the light heavyweight divisions.
All at the same time.
How's that for history?
Alvarez won a fourth world title in a fourth division with a resounding technical knockout victory over Sergey Kovalev in their WBO light heavyweight title fight Saturday night at the MGM Grand Garden. The 29-year-old Mexican icon usually fights in the middleweight division, but conquered yet another weight class at the expense of Kovalev, a three-time world champion at 175 pounds and a fixture in the division.
Alvarez joins the legendary Henry Armstrong as the only boxers to concurrently hold world titles in three divisions after disposing of Kovalev 2:15 into the 11th round. He also joins a select group of iconic fighters such as Sugar Ray Leonard, Roy Jones Jr. and Bernard Hopkins, all of whom successfully moved from middleweight to light heavyweight.
"We knew it was going to be five, six rounds and it was going to take some time for me to get him," Alvarez said through an interpreter. "But, honestly, he's a great fighter. I'm new at this weight, new in this division. Much credit to him, he's a great fighter, but we stuck to our game plan. It was delayed a little bit, but overall it was successful."
Alvarez (53-1-2, 36 knockouts) last fought in May and unified the WBA, WBC and IBF middleweight championships with a unanimous decision over Daniel Jacobs at T-Mobile Arena. He was stripped of the IBF title in the summer after his promotional firm, Golden Boy, failed to schedule a fight against mandatory challenger Sergiy Derevyanchenko.
But his transition to light heavyweight was already in the works at the suggestion of longtime trainer Eddy Reynoso, who pitched Alvarez the idea before he fought Jacobs.
Kovalev, 36, is taller and bigger than Alvarez and was once one of the most powerful punchers in boxing. But his physical advantages didn't yield a victory against Alvarez because the shorter and smaller Alvarez is a better boxer. And maybe a better boxer than anybody else.
"Canelo is really a great champion," Kovalev said. "I have big respect for him. He made history."
Kovalev (34-4-1, 29 KOs) established his trademark jab over the better part of 11 rounds as Alvarez relied on his counter punching and body punches. Kovalev threw 745 punches compared with 345 for Alvarez, per CompuBox. But Kovalev connected on 15 percent and landed 115 punches compared with 39 percent and 133 connections for Alvarez, who bobbed his way to safety while wearing down his opponent.
Alvarez finally found an opening late in the 11th round and capitalized with a brutal left hook to Kovalev's temple. He waited a three count as Kovalev stumbled and finished him off with a picturesque straight right to stun an anxious announced crowd of 14,490 that waited more than 90 minutes between the end of the undercard and main event.
UFC 244 in New York was streaming on ESPN Plus, and the streaming service DAZN, which televised Alvarez-Kovalev, delayed the start to maximize viewership. The MGM Grand Garden televised the conclusion of the UFC card, and the boxers were promptly introduced after it ended.
The delay was a distraction, but it certainly didn't deter Alvarez's performance.
"All he was doing was trying to establish points, but we knew what was coming," Alvarez said. "Inevitably it would come, and everything came out the way we had planned."
Alvarez said he's not sure who he's going to fight next. He has a bevy of titles to defend and said he plans to look for "the best fights. The big fights."
He's a four-division world champion.
He might be the world's best pound-for-pound boxer.
He's ready to make more history, in whatever weight class can offer it.
"I'm very thankful," Alvarez said. "This is just a step in my career, in my history, and all I ask of you is to be patient because Canelo will make history. That's a guarantee."
Holyfield handles Winstead in pro debut
Evan Holyfield's professional debut was over before it started.
Well, almost.
Holyfield, the son of former undisputed heavyweight champion Evander Holyfield, battered Nick Winstead and prompted referee Robert Hoyle to stop the fight 16 seconds into the first round for a technical knockout victory.
"It was such a blessing to be able to showcase my talent on the card like this," Holyfield said. "I was just expecting to box, and I just went out there and did my job."
Holyfield, 22, turned professional this summer and looked the part against Winstead. He opened the fight with a ferocious combination and floored Winstead with a left hook before Hoyle intervened.
More boxing: Follow at reviewjournal.com/boxing and @RJ_Sports on Twitter.
Contact reporter Sam Gordon at sgordon@reviewjournal.com. Follow @BySamGordon on Twitter.