Canelo Alvarez looks to add to boxing legacy against Amir Khan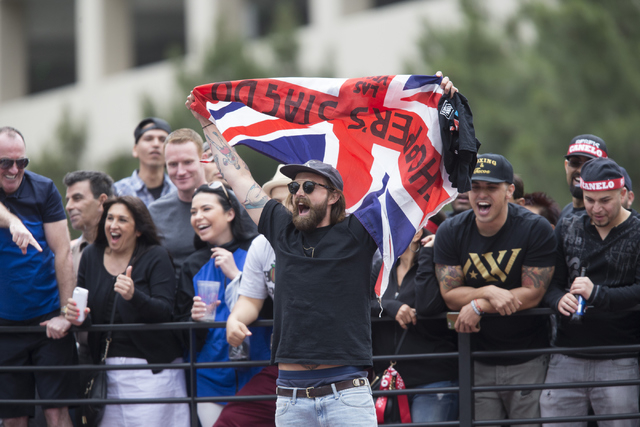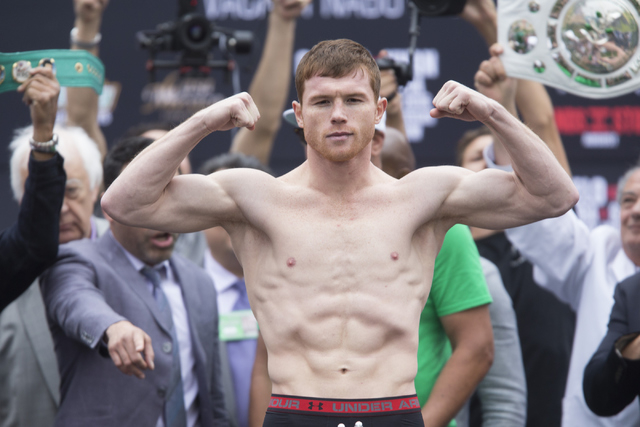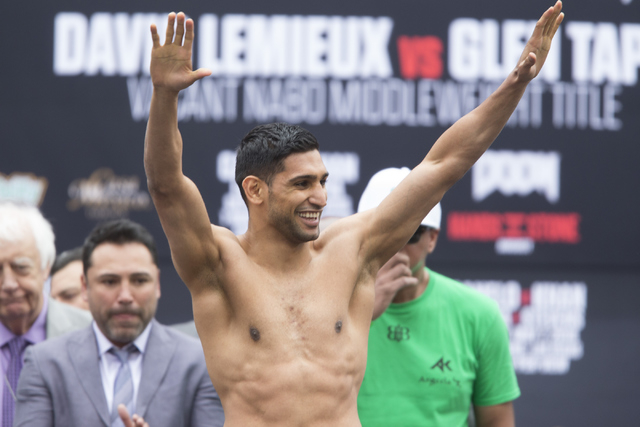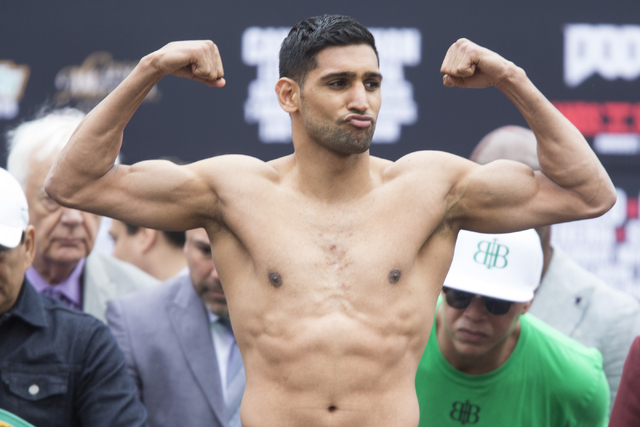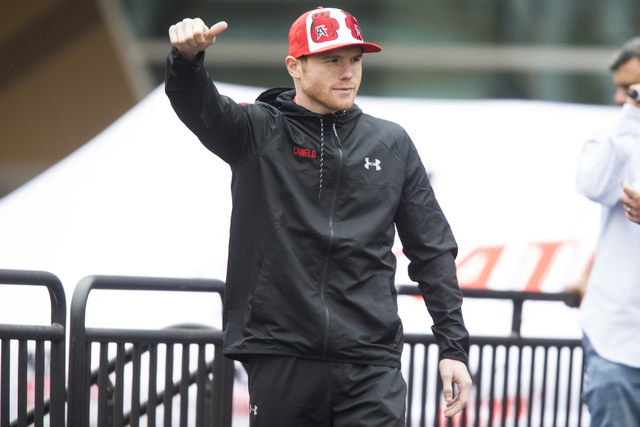 He's so young. And at 25, he should just be getting started.
But the reality is Canelo Alvarez has been getting paid to fight for 10 years, and as he approaches the prime of his boxing career, his legacy already has been established.
He will add another chapter to that legacy tonight when he faces former world junior welterweight champion Amir Khan in the first boxing card at the new $375 million T-Mobile Arena.
Alvarez will be making the first defense of his World Boxing Council middleweight title, even though the HBO Pay Per View fight will be contested at a catchweight of 155 pounds. Alvarez won the title Nov. 21 when he outpointed Miguel Cotto at Mandalay Bay.
Alvarez (46-1-1, 32 knockouts) and Khan (31-3, 19 KOs) each weighed in at 155 pounds Friday before an estimated crowd of 4,000 at Toshiba Plaza.
"The fight comes at a good moment," Alvarez said. "I've had many fights, big fights, a lot of experience now. I always say these years will be my best years.
"I've already had some good fights before the age of 25. I've done a lot, but my best years are still to come. I haven't displayed everything. So I'm working for that."
Many in boxing question why this fight was made. It appears to be a mismatch, with Alvarez a minus-575 betting favorite at the MGM Resorts sports books, with Khan at plus-425.
Those same boxing people think Alvarez should accept his mandatory fight against Gennady Golovkin, the undefeated World Boxing Association, International Boxing Federation and World Boxing Organization middleweight champ who is also the WBC's interim champion and No. 1 contender at 160 pounds.
Every time Alvarez prepares to fight someone not named Golovkin, he's asked if he's ducking GGG.
"It doesn't bother me," Alvarez said. "In reality, that has always happened with all the fighters, but I believe the one that has to be ready is him, not me. Seeing him fight opponents like the one he fought two weeks ago (he knocked out Dominic Wade in the second round), it doesn't sound right for him to say I'm avoiding him after taking that fight.
"I'm a fighter that has never been scared of anyone. I've fought the best in the world. I characterize myself as not being scared of anyone. Like I said, he's the one that needs to be ready, not me. … He needs to fight somebody with a name. Someone worthy of a big fight. Yes, he has the 22 knockouts, but against who? He hasn't knocked out anyone notable."
Alvarez has a title at 160 pounds, but he insisted the 29-year-old Khan fight him at 155, and the WBC sanctioned it as a title bout. He said he would be surprised if Khan tried to trade big punches.
"Every fighter is different, every fighter brings different skills, and you have to adjust for that," Alvarez said. "For Amir, we have focused on increasing my hand speed, counterpunching and preparing for lots of movement and footwork."
Alvarez said he's looking forward to being the headliner in the first fight at T-Mobile Arena. He has fought in Las Vegas seven times at the MGM Grand or Mandalay Bay.
"It's a big honor. It's a huge honor," he said. "It's something new in my career, something that's going to go down as one of the best arenas for boxing. I think there's going to be some great fights there, and to be the first one, it means so much for me, and I'm very happy and I'm honored."
It will be part of his growing legacy, one that he envisions adding to for a long time.
"I don't see a limit," he said on how long he plans to fight. "I want to be in this sport for another 10 years, to have a better career than the one I've had the first 10 years."
Contact Steve Carp at scarp@reviewjournal.com or 702-387-2913. Follow on Twitter: @stevecarprj
WBC middleweight championship
WHO: Canelo Alvarez (46-1-1, 32 KOs) vs. Amir Khan (31-3, 19 KOs)
WHEN: 6 p.m. today
WHERE: T-Mobile Arena
WEIGHTS: Alvarez 155; Khan 155
PURSES: Alvarez $3.5 million; Khan $2 million
OFFICIALS: Referee — Kenny Bayless. Judges — Adalaide Byrd, Glenn Trowbridge, Glenn Feldman
LINE: Alvarez minus-575; Khan plus-425
TV: HBO PPV ($59.95)