Carl Frampton wants to honor trainer Barry McGuigan by retaining title
January 24, 2017 - 8:05 pm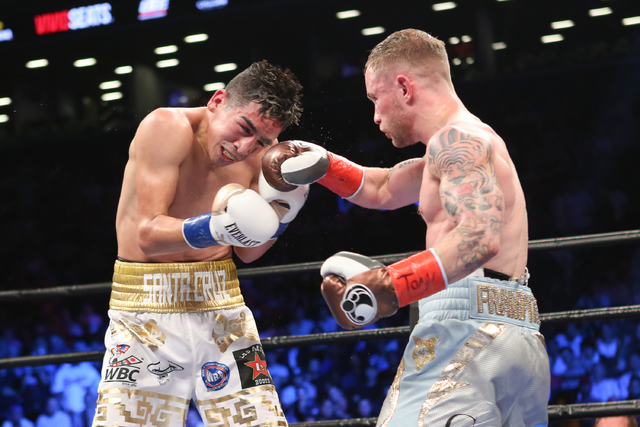 Barry McGuigan opened the door to the southwest Las Vegas home he was renting from former two-division champion Robert Guerrero.
Folded clothes were stacked in the corners of the seven-bedroom house next to opened luggages. The table in the living room was covered with boxes full of protein bottles with a man looking for space on the edge to work on his laptop.
Singing was coming from the kitchen. The tunes were provided by featherweight titlist Carl Frampton, who was sporting a blue jacket with the Northern Ireland national soccer team's logo.
"We know what Carl is capable of, and he's a bad singer," said McGuigan, Frampton's manager. "Shut up, Frampton!"
McGuigan was in charge of the 14 men in the household, the majority in their 20s and 30s, including a camera crew following Frampton for an upcoming documentary. The unit moved its training camp from London to Las Vegas on Jan. 2 for Frampton's Saturday rematch against Leo Santa Cruz at the MGM Grand.
Keeping a dozen young men focused in Las Vegas for a month seemed like a daunting task for the 55-year-old McGuigan, but it was the former champion's idea.
"We're far away enough from the Strip," said Frampton, 29, who took Santa Cruz's WBA belt with a majority decision in July. "Not a lot of distractions around here. It was important for us to come out early to settle in."
McGuigan knows the importance of settling in. He was a rising Irish star in the 1980s and was looking to establish himself in the United States. He made his Las Vegas debut in the summer of 1986 against obscure Steve Cruz and was a heavy favorite to retain his WBA featherweight belt. The bout changed McGuigan's career but for the wrong reasons.
The Irishman known as the Clones Cyclone was drained by the scorching sun on that June evening at the outdoor arena at Caesars Palace. A pale-faced McGuigan could barely hold himself up throughout the bout and fell multiple times in the 15th round. He lost his belt by unanimous decision and was never the same, fighting only four times after and retiring in 1989.
But McGuigan's Las Vegas failures weren't going to stop him from helping Frampton become a star in the U.S. It was Frampton's dream to fight on the Strip, and McGuigan delivered.
"It was hard to shake off that (Las Vegas) fight, but it never made me resent the city," McGuigan said. "If you want to be remembered as one of the best, you have to make it in America, and that includes the bright lights of Las Vegas."
McGuigan is fascinated by Las Vegas history, including the U.S.-Mexican War of the 1800s when Nevada was part of Mexico. He can tell you that the Strip isn't part of Las Vegas and belongs to Paradise.
"It's fascinating stuff," he said. "Very clever."
McGuigan knows his boxing history as well and has guided Frampton's career in the right direction for seven years.
Frampton, who goes by "The Jackal," and McGuigan are always being compared to each other. They're both featherweight champions, but they also have many differences. Frampton is a protestant from Northern Ireland, and McGuigan hails from the republic in the south and is a devoted catholic. In the old days, Frampton and McGuigan's partnership would be unfathomable.
Another common trait: Frampton and McGuigan don't see race or religion. Frampton married a catholic, and McGuigan is married to a protestant.
"He's not me," McGuigan said of Frampton. "He has a nice personality, makes friends easily, nice and charming like me. Fighting style, he's different. How he handles things is different."
McGuigan is at peace with what transpired in Las Vegas more than 30 years ago, but Frampton wants to make it right. The first part was Frampton winning the same belt McGuigan lost to Cruz when he defeated Santa Cruz in Brooklyn, New York. The second part: Leave Las Vegas as a champion.
"I don't know how Barry made it 15 rounds in that heat," Frampton said. "This fight is big for me. I wanted to be a champion, and I've done that in two divisions. Beating a great fighter like Santa Cruz twice will open up a lot more doors for me."
McGuigan said Frampton is the most popular boxer in the United Kingdom "by a mile." Frampton (23-0, 14 knockouts) and McGuigan are expecting 5,000 Irish and British fans to make the trip.
Santa Cruz (32-1-1, 18 KOs), a popular Mexican fighter, will have his own crowd making the quick trip from his hometown in Los Angeles.
"Leo has the home advantage, but he'll be surprised how loud my fans will be on fight night," Frampton said.
Frampton was counted out by most pundits in the first bout against the taller and aggressive Santa Cruz.
Frampton, who stands 5 feet 5 inches tall, put his skills on display by allowing the 5-7½ Santa Cruz to attack to set him up for power counter shots while fighting off the back foot. It was his coming out party.
"I surprised a lot of people with that performance," Frampton said. "I knew I had that in me, but everyone was focused on my size. I had a poor performance against Alejandro Gonzalez and didn't need to empty the tank versus Scott Quigg."
Frampton is now an established star and regarded as one of the best 10 pound-for-pound fighters in the world. He made the right choice after giving up on his soccer dreams and jest singing career.
"I would like to think I was a half decent football player," Frampton said. "I think boxing is working out for me."
Contact Gilbert Manzano at gmanzano@reviewjournal.com or 702-383-0492. Follow @gmanzano24 on Twitter.
CARL FRAMPTON VS. LEO SANTA CRUZ II
When: Saturday
Where: MGM Grand
Time: First bell 3 p.m.
TV: 7 p.m., Showtime
Tickets: Axs.com