Chavez Jr. fined, suspended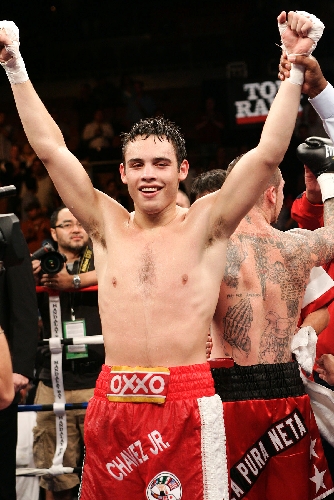 Boxer Julio Cesar Chavez Jr. was suspended for seven months and fined $10,000 by the Nevada Athletic Commission on Monday after testing positive for a banned substance before his Nov. 14 win over Troy Rowland at the MGM Grand.
The punishment could have been worse for the son of Mexican boxing legend Julio Cesar Chavez.
The 24-year-old Chavez admitted using furosemide, a diuretic on the commission's list of banned medications, to make weight for the 160-pound bout.
In addition to the fine and suspension (retroactive to the date of the violation), Chavez's 10-round unanimous decision over Rowland was changed to a no contest, making his record 40-0-1 with one no decision and 30 knockouts.
"I'm glad to put this behind me," said Chavez, who can return to the ring in June and is looking at a possible fight against John Duddy. "I was hoping for no suspension, but it was fair. When the situation is not in your hands, there's not much you can do about it."
Chavez's Las Vegas attorney, Peter Bernhard, said his client "was treated fairly."
Chavez was contrite during a two-hour hearing before the five-member panel. He admitted using furosemide twice — once eight days before the fight and again two days before entering the ring.
Chavez, who was hospitalized 10 days before the fight because of exhaustion and dehydration, said his personal physician, Dr. Jose Salazar, gave him the diuretic after Chavez received intravenous fluids and electrolytes in the hospital. Chavez was 7 pounds over the 160-pound limit eight days before the fight and weighed 163 pounds two days before the bout.
"I did not mean to hurt anybody," said Chavez, who has dropped Salazar as his physician since the violation. "It was very embarrassing for me to test positive. I know I'm a role model for kids, and I have a family name to honor, and I hurt them.
"I had complete, 100 percent trust in my doctor when he gave me the diuretic, and I didn't know it was illegal to take. But I am responsible for what I put in my body, and now I understand it can be harmful to me, and it will never happen again."
The commission took him at his word and could have handed down a harsher punishment.
Chairman Pat Lundvall wanted to suspend Chavez for eight months. But commissioner Skip Avansino cited Chavez's hospitalization as a reason to act with more leniency. The vote was 4-1 with Lundvall the lone dissenter.
Chavez said he plans to continue to fight at 160 pounds despite his struggles to make weight.
Contact reporter Steve Carp at scarp@reviewjournal.com or 702-387-2913.