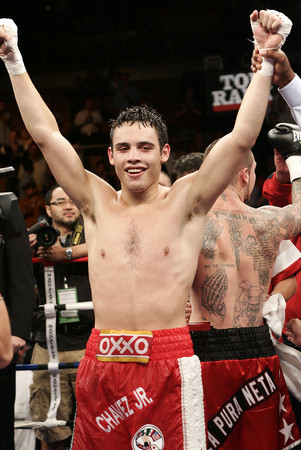 Light middleweight champion Julio Cesar Chavez Jr. has tested positive for a banned substance following his Nov. 14 bout and is facing suspension by the Nevada Athletic Commission.
Chavez, 23, tested positive for Furosemide, a diuretic, following his 10-round unanimous decision victory over Troy Rowland at the MGM Grand Garden. The positive result was yielded from a prefight urinalysis.
The complaint against Chavez was filed Tuesday by the NAC in conjunction with the state Attorney General's office. Chavez will have 20 days to respond to the allegations.
Once he responds, a hearing will be held, probably in January.
"It's always unfortunate when we get positive drug tests," said NAC executive director Keith Kizer. "But the commission will deal with it in due course."
Chavez is the son of legendary champion Julio Cesar Chavez, is 41-0-1 with 30 knockouts.
If his positive test is upheld, his win over Rowland would be changed to a no decision, he could be fined up to 100 percent of his purse, which was $100,000, and he would face a suspension of up to nine months.
However, in similar previous cases, fighters have been fined anywhere from one-third to one half of their purse and suspended anywhere from six to nine months.
In addition, Chavez would have to produce a negative drug test before being allowed to fight again in Nevada.
Bob Arum, the chairman of Top Rank, who promotes Chavez, said Chavez was in the process of retaining legal counsel and would not comment.
Contact reporter Steve Carp at scarp@reviewjournal.com or 702-387-2913.