Confident Khan lets critics rap him on jaw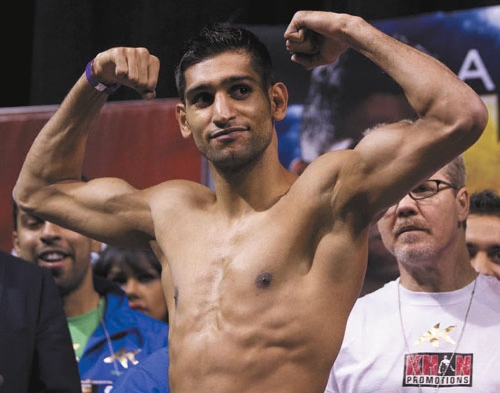 In every fighter's career, there comes a moment when he is tested for courage, for durability, and for some, greatness.
Amir Khan, the WBA junior welterweight champion, is convinced his moment came the last time he fought in Las Vegas, on Dec. 11 against Marcos Maidana. Khan's skills were on display for most of the fight, until the 10th round when Maidana sent him reeling with a huge right uppercut.
Khan's critics already had claimed he had a glass jaw and that one good shot would shatter his jaw and career. Maidana continued his pursuit, tagging Khan until the bell rang. Khan staggered to his corner, but he had not gone down. He would go on to win a 12-round unanimous decision at Mandalay Bay Events Center.
"I truly believe it was a turning point in my career," said Khan, 24, who puts his belt on the line against IBF champ Zab Judah tonight at Mandalay Bay.
"I showed everyone, and most importantly, to myself, that I was a warrior, that I could take a big punch."
Yet that performance has not silenced Khan's critics. He gave a "What can you do?" shrug when his supposed inability to take a punch was raised yet again.
"I think some people want to find something to break you down," he said. "I don't let any negativity creep into my mind. I know what I did that night and what I'm capable of doing."
Khan (25-1, 17 knockouts) can't afford to live in the past. He is close to a 5-1 favorite to beat Judah tonight, but is facing a 33-year-old southpaw who knows every trick in boxing and isn't afraid to use them. Judah, a 15-year pro, has won five world titles and is 41-6 with 28 KOs.
"The is a difficult fight," Khan said. "This is going to be a very technical fight, and you can't afford to make mistakes against a fighter like Zab Judah. He's a very tricky fighter, very awkward."
Both fighters weighed in Friday at 140 pounds, and tonight's fight will be far different from Khan's last two appearances. Judah won't engage Khan the way Maidana constantly did, but he'll be busier than Paul McCloskey, Khan's most recent opponent, was on April 16.
That night in Manchester, England, McCloskey suffered a cut over his left eye on an accidental head butt, and the fight was stopped after the sixth round with Khan comfortably ahead on the judges' cards.
Khan has been in the United States for more than two months to get ready for tonight.
"We had 10 great weeks in Los Angeles, and we focused on what we need to do to get ready," Khan said. "What was nice was we stayed in one place the entire time, whereas in the past we'd fly to different places like the Philippines and there would be an issue of jet lag. That's not the case this time."
Khan, still trained by Freddie Roach, said he is back on the same page with Alex Ariza, his strength and conditioning coach. The two haven't always agreed on Ariza's methods, but Khan said he is pleased with his preparation for the fight.
"When you've got something that works, it doesn't make sense to break it up," Khan said. "Alex and I had our differences, but we've settled them and he really helped get me ready. We did a lot of work in the pool, and I'm a much better swimmer now."
Roach said he thinks Khan is a better fighter than he was against Maidana in December.
"Amir's stronger and faster, and he's maturing physically," Roach said. "I think he's much more durable, and he's hitting harder than I've ever seen him."
If Khan wins, it could be his last appearance at 140 pounds. He's convinced that WBC and WBO champion Timothy Bradley doesn't want to fight him. If Khan climbs to welterweight, potential big paydays loom against Manny Pacquiao and Floyd Mayweather Jr. in 2012.
Khan's purse tonight is $1,072,500, according to the Nevada Athletic Commission. Judah will get $500,000.
"Everything's coming naturally for me physically," Khan said. "I think going to 147 is a realistic goal for the future. But I have to win this fight first."
Contact reporter Steve Carp at scarp@reviewjournal.com or 702-387-2913. Follow him on Twitter: @stevecarprj.
FIGHT NIGHT
KHAN VS. JUDAH
WHAT: WBA/IBF junior welterweight championship
WHEN: 3 p.m. today (undercard begins)
WHERE: Mandalay Bay Events Center
RECORDS: Khan 25-1, 17 KOs; Judah 41-6, 28 KOs
OFFICIALS: Referee, Vic Drakulich; judges, Burt Clements, Robert Hoyle and Michael Pernick
TV: HBO (Cox Cable 200), 7 p.m.
LINE: Khan minus-480, Judah plus-360