Conor McGregor exceeds expectations before tiring against Mayweather
August 26, 2017 - 10:40 pm
Updated August 27, 2017 - 12:00 am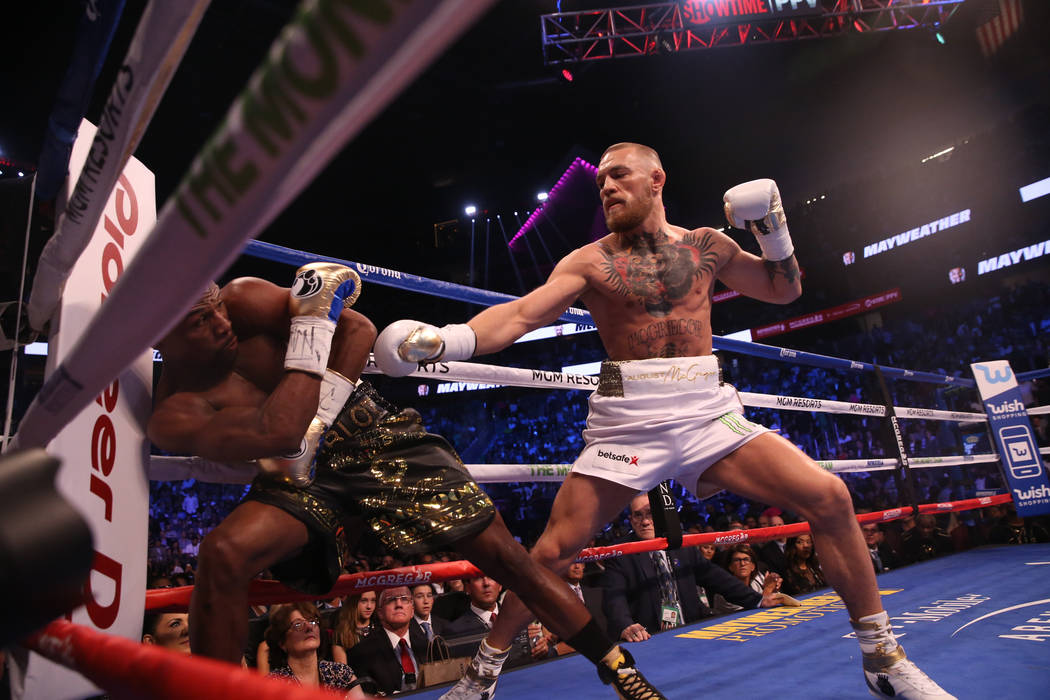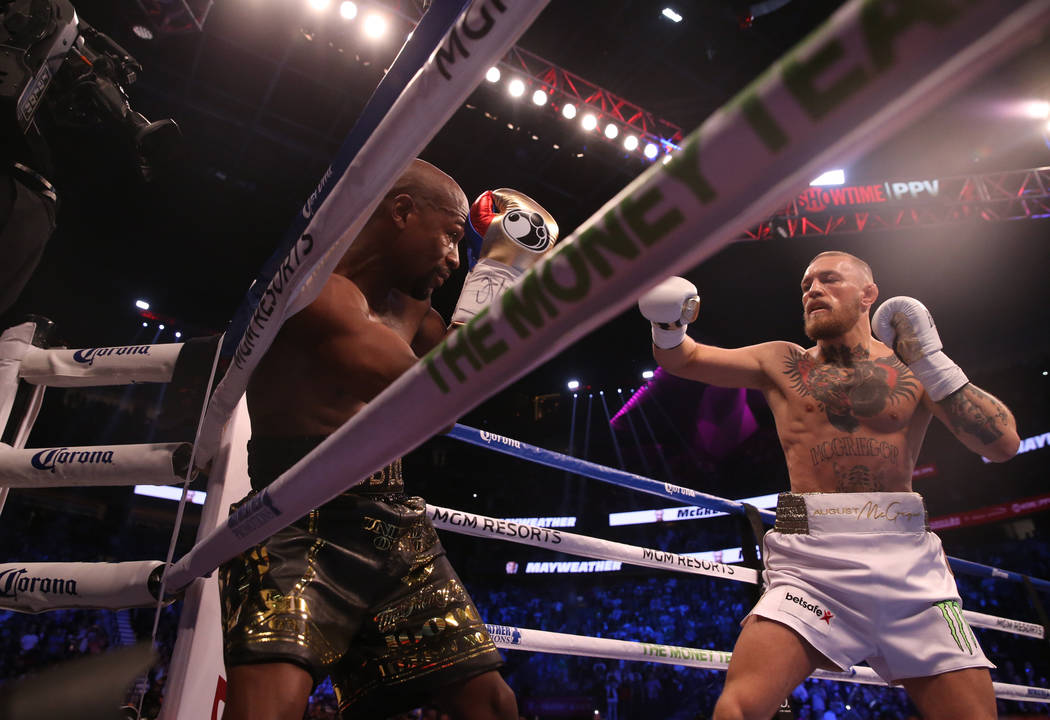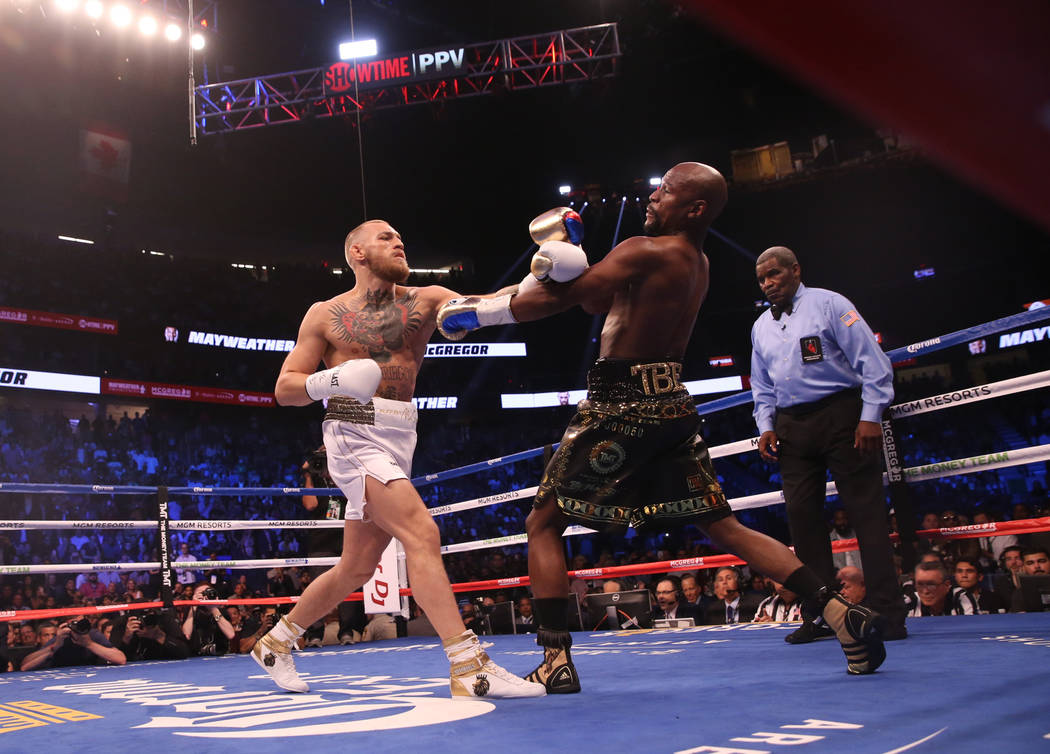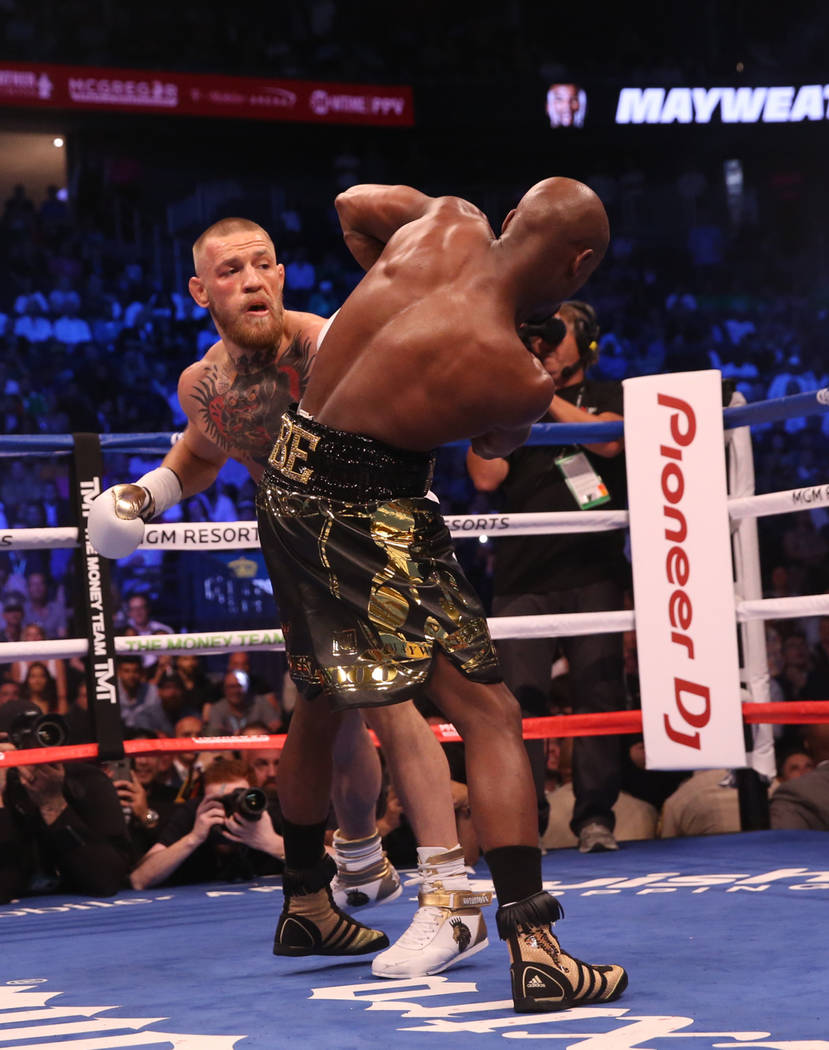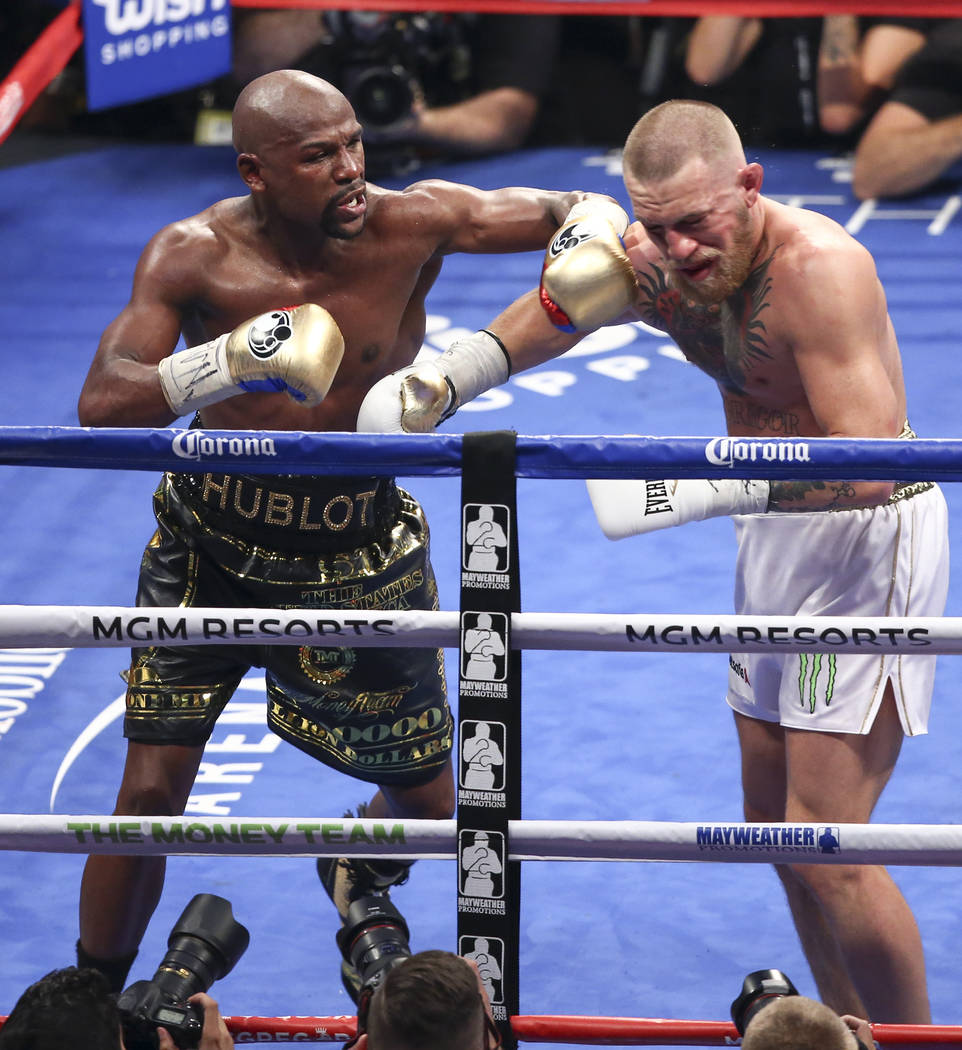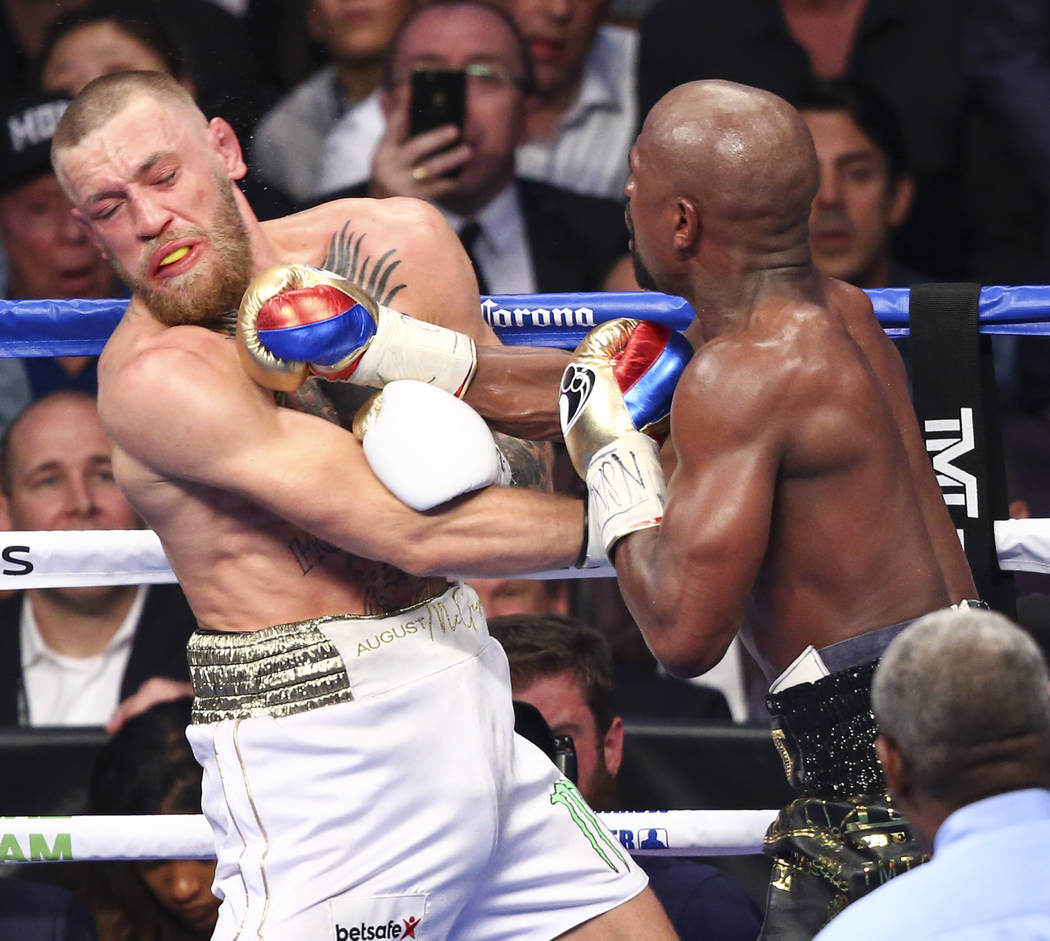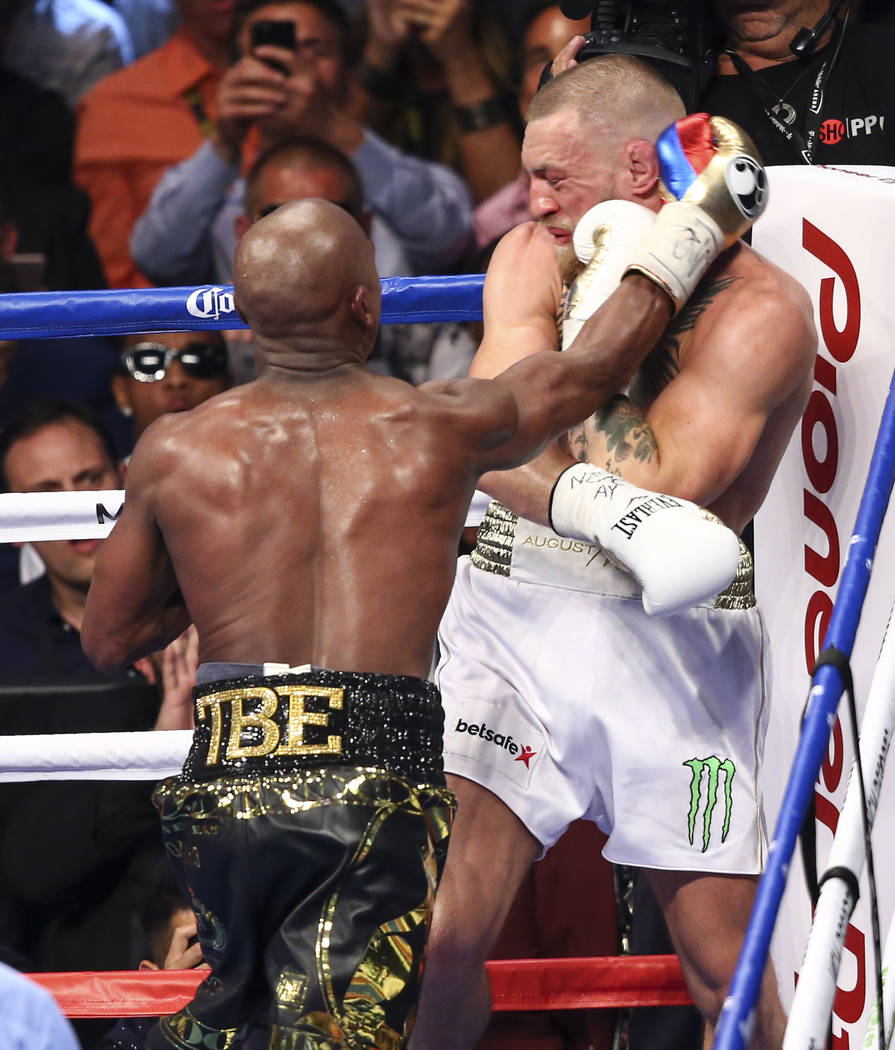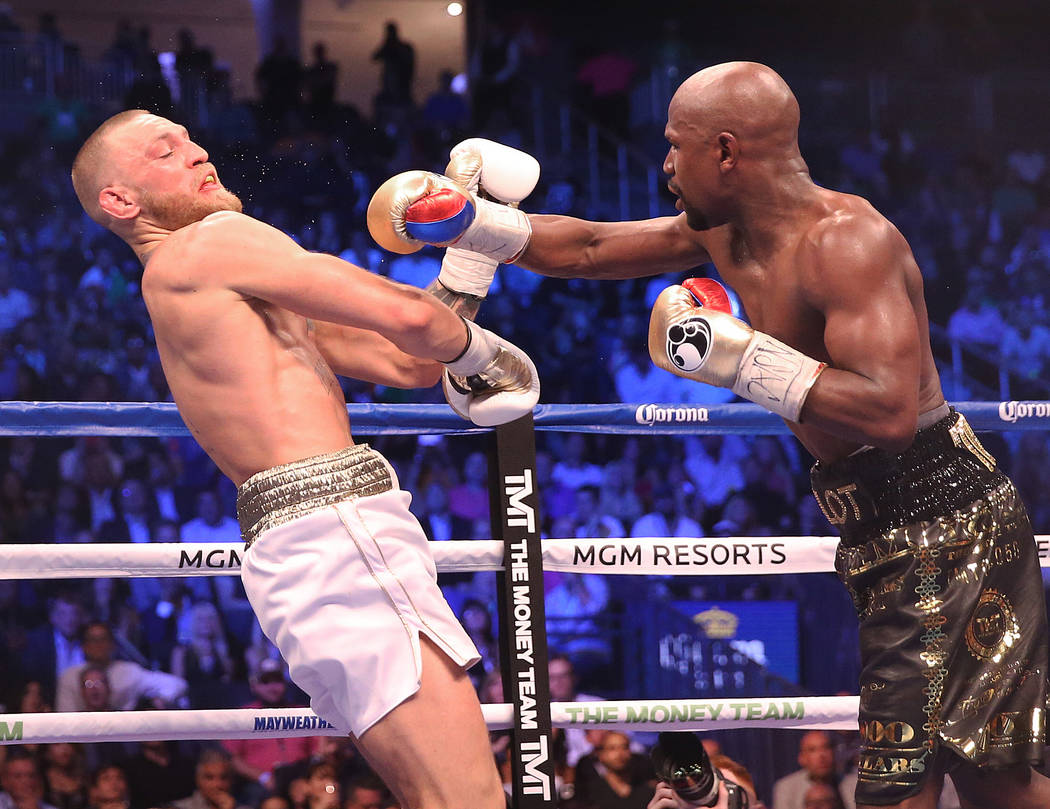 UFC star Conor McGregor guaranteed an early knockout of Floyd Mayweather in his boxing debut, and the MMA star did everything he could to make it happen.
When it didn't come, McGregor discovered what has allowed Mayweather to stay undefeated for more than two decades as a professional.
"He's composed," said McGregor after referee Robert Byrd stopped the fight in the 10th round. "He's not that fast. He's not that powerful, but, boy, is he composed in there. I've got to give it to him. That's what 50 pro fights will give you."
McGregor hardly looked like a novice, especially early in the fight.
He found a home for his left hand on several occasions, as Mayweather largely took a defensive posture.
McGregor threw punches from different angles to keep Mayweather off balance, stopping Mayweather in his tracks with a big left uppercut, and won all three rounds on one scorecard.
Momentum started to swing in the fourth round, and Mayweather took over in the fifth as he repeatedly blasted McGregor with power rights until the fight was stopped.
"I thought it was close early on, and I thought it was a little early on the stoppage," McGregor said.
McGregor had difficulty staying within the rules of boxing, though he was not docked any points. The Irish superstar drew repeated warnings from Byrd for shots to the back of the head and throwing punches while holding Mayweather.
Some of the tactics appeared to get to Mayweather, as there was a brief skirmish after the bell early in the fight.
When the action was clean, McGregor had moments of success. He landed 111 total punches, though he connected at just a 26 percent clip.
Mayweather indicated the plan was to allow McGregor to take his shot early and wear him out in the middle rounds. It seemed to work.
McGregor, however, certainly did enough to earn the respect of his opponent.
"He's a lot better than I thought he was," Mayweather said. "He used different angles and was a tough competitor, but I was the better man tonight."
McGregor, who indicated he definitely planned to return to competition in the UFC, said he thought Byrd should have at least allowed him to hit the mat before calling the fight.
"Let the man put me down," McGregor said. "That's fatigue, that's not damage. Where was the final two rounds? Let me walk back to my corner and compose myself."
While Mayweather's record remains unscathed, McGregor has dealt with defeat before. He's suffered three losses in MMA competition, including once in the UFC.
He said those experiences will help him cope with losing his boxing debut.
"I've been strangled on live TV and come back," he said. "I'll be fine."
McGregor is the UFC lightweight champion, though it's unclear if he will defend his belt when he returns to MMA competition or seek other challenges.
More Mayweather-McGregor: Follow all of our Mayweather-McGregor coverage online at reviewjournal.com/maymac and @RJ_Sports on Twitter.
Contact Adam Hill at ahill@reviewjournal.com or 702-277-8028. Follow @adamhilllvrj on Twitter.
Related
Floyd Mayweather stops Conor McGregor in 10th round
Floyd Mayweather's TKO a historic win for sports books
The circus of Mayweather-McGregor is over and it was pretty good show
Badou Jack leads undercard with TKO over Nathan Cleverly
PPV issues cause problems for Mayweather-McGregor card
Stars of all styles hit Mayweather-McGregor bout
Explore the scene at the Mayweather-McGregor fight — PHOTOS
Floyd Mayweather vs. Conor McGregor — TWEETS