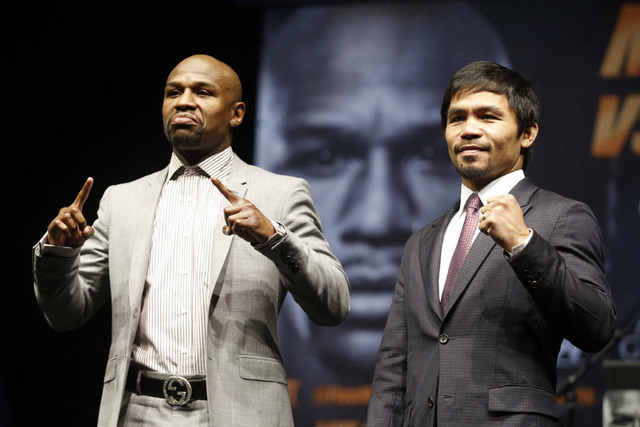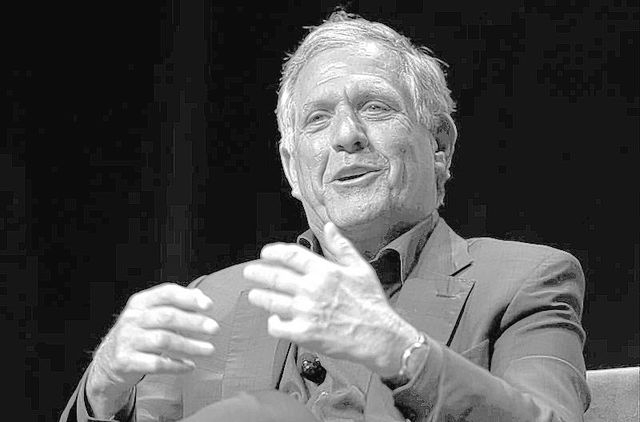 Get your credit card ready and hope you get lucky.
Tickets for the May 2 megafight between Floyd Mayweather Jr. and Manny Pacquiao at the MGM Grand Garden will go on sale at noon today after Top Rank signed off on the contract Wednesday with the MGM, the host hotel.
A limited number of tickets — reportedly 500 and priced at $1,500, $2,500, $3,500, $5,000 and $7,500 — will go on sale through mgmgrand.com or ticketmaster.com. There will be a limit of four tickets per household. Tickets also will be available by phone with a major credit card by calling 1-800-745-3000.
Also, tickets to the closed-circuit telecast of the fight at 10 MGM Resorts International properties will go on sale at 3 p.m. today. The price is $150 a ticket, and there is an eight-ticket limit per household.
Participating properties are the MGM Grand, Mandalay Bay, Aria, Bellagio, The Mirage, Monte Carlo, New York-New York, Luxor, Excalibur and Circus Circus. Purchases can be made at the individual property's box office, by calling 1-866-799-7711 or through Ticketmaster at 1-800-745-3000. Closed-circuit tickets also can be purchased at ticketmaster.com.
Plans still are being finalized for selling tickets to the May 1 weigh-in at the Grand Garden. Tickets, priced at $10, are expected to go on sale Friday or Saturday, with the proceeds being donated to charity.
After weeks of stalling over distribution of the coveted tickets, a breakthrough took place Tuesday afternoon when Top Rank, which promotes Pacquiao, received a manifest from the MGM showing what number of the 16,700 tickets it would receive. Pacquiao and Mayweather are to receive 30 percent of the tickets, with the MGM controlling the remaining 40 percent.
On Wednesday morning, a conference call was held, as CBS CEO Leslie Moonves interceded on Top Rank's behalf to settle a dispute over the contract with the MGM and make sure Top Rank's and Pacquiao's signatory rights pertaining to the fight were not violated.
Moonves, who was instrumental in making the fight a reality, got both sides on the phone and worked out the remaining legal issues. Included on the call was Mayweather's adviser, Al Haymon, and Top Rank chairman Bob Arum.
"He was able to fairly communicate with everyone," Top Rank president Todd duBoef said. "If it wasn't for him, I don't know that we would have gotten this done. He has been instrumental from the very beginning to make this fight happen."
Mayweather said he stayed out of the ticket process and let Mayweather Promotions CEO Leonard Ellerbe handle it. Ellerbe and MGM officials spent Wednesday afternoon finalizing the details for today's public sale.
"I don't worry about tickets," Mayweather said on a conference call Wednesday afternoon. "I worry about the man in front of me — Manny Pacquiao."
Contact reporter Steve Carp at scarp@reviewjournal.com or 702-387-2913. Follow him on Twitter: @stevecarprj.
RELATED:
Vegas' Bayless picked to referee Mayweather-Pacquiao fight
Expect big security at Mayweather-Pacquiao fight
Mayweather-Pacquiao revenue could double original $200 million estimate
Mayweather, Pacquiao say fans will get their money's worth
5 questions to ponder about Mayweather-Pacquiao
Mayweather, with style points, has early lead on Pacquiao
Hype for Mayweather-Pacquiao fight gaining traction
Pacquiao seeks last laugh against Mayweather
Mayweather: Pacquiao fight won't define legacy