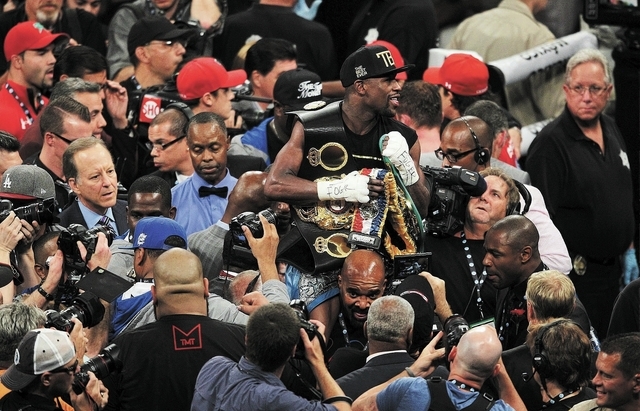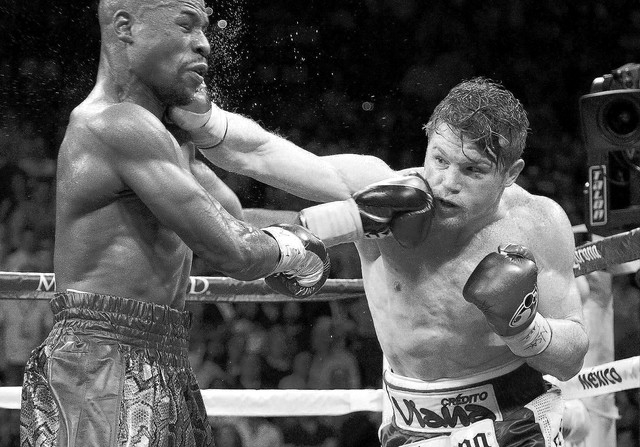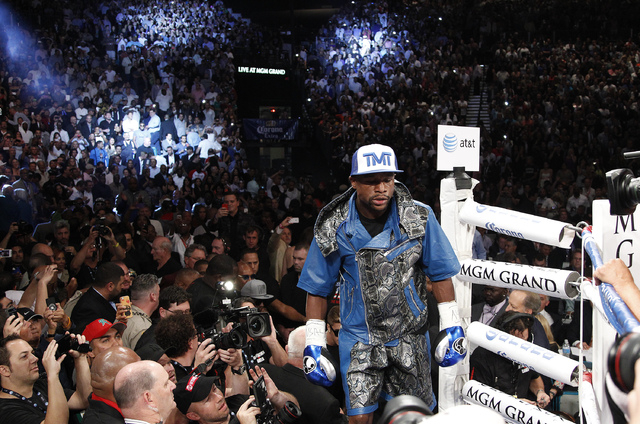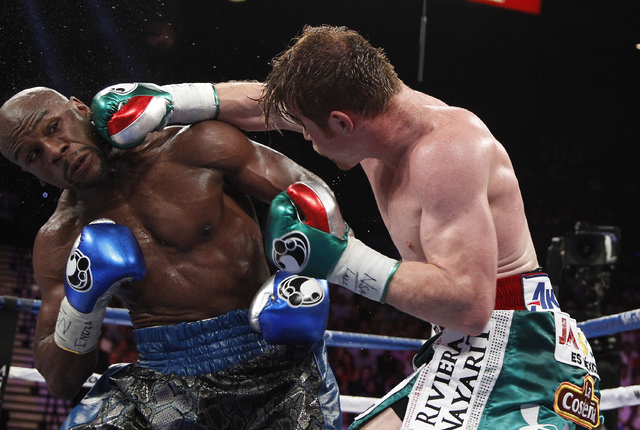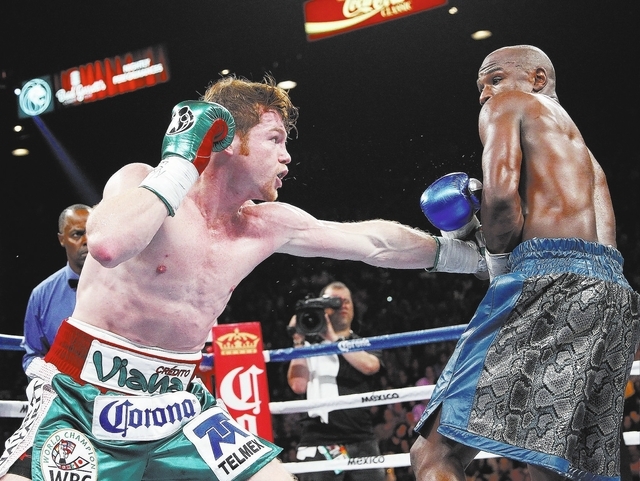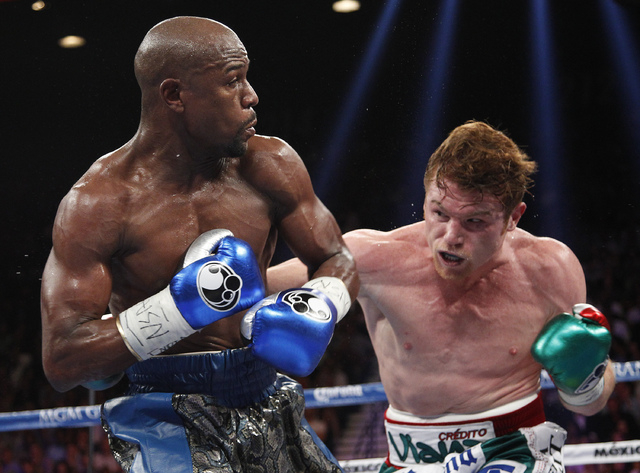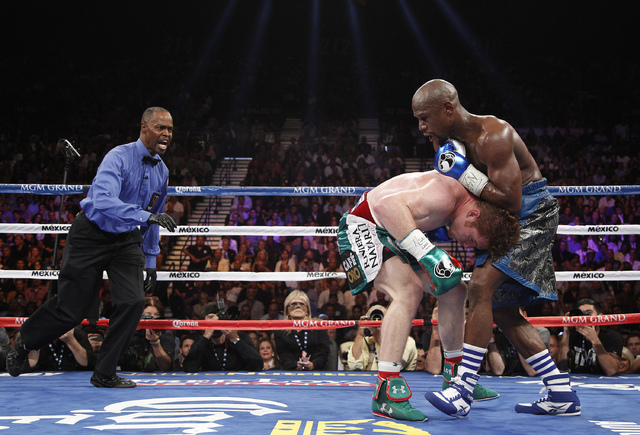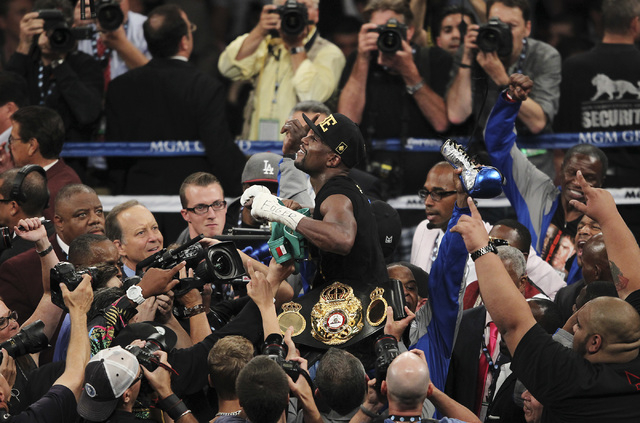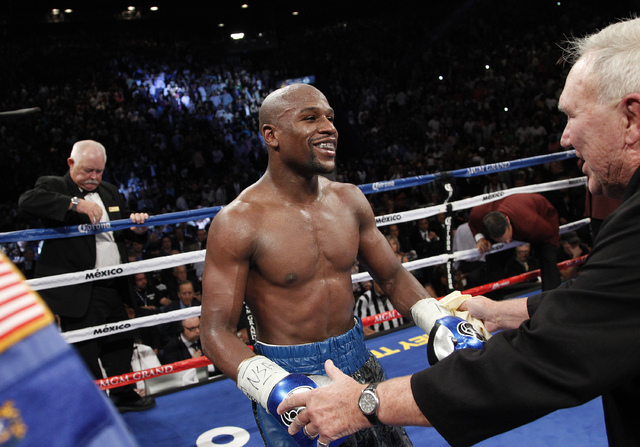 Easy Money.
Floyd Mayweather Jr., whose nickname is "Money" and who made a lot of it Saturday at the MGM Grand Garden, made Saul "Canelo" Alvarez his latest victim while adding to his legacy in one of the most anticipated fights in years.
The 36-year-old Mayweather scored a 12-round majority decision in front of a sellout crowd of 16,746 to remain undefeated at 45-0 and he earned a record $41.5 million for the night's work while capturing Alvarez's WBC and WBA junior middleweight titles in the process.
Judge Craig Metcalfe of Canada had Mayweather winning 117-111 while Dave Moretti of Las Vegas had Mayweather ahead 116-112. Inexplicably, C.J. Ross had it a draw, 114-114. Ross was one of the judges who caught heat a year ago when she had Timothy Bradley beating Manny Pacquiao in a fight most observers believed Pacquiao won easily.
"My dad had a great game plan, go out there, be patient and use the jab," Mayweather said. "We could have possibly taken him out late and gotten a stoppage.
"Canelo's a young, strong champion with a true champion's heart. I take my hat off to him. A guy like that can take the loss and bounce back from it. He still has a good career in front of him."
Mayweather said he wasn't going to let Ross' ineptitude take away from his victory.
"I'm not going to talk about the judges," he said, handling a touchy situation in a delicate manner. "Things happen in boxing."
Mayweather, who was a minus-280 betting favorite at the MGM Resorts sports books at fight time, had been confident throughout the promotion leading up to Saturday. He always had praise for the 23-year-old Alvarez but never doubted he would lose to him.
And even though Alvarez came into the ring weighing 165 pounds in what was supposed to be a 152-pound fight, it didn't matter. Mayweather was simply too good.
"I couldn't connect with him," Alvarez said. "I honestly couldn't find him to work inside against him."
Mayweather said he too needed to pack on a little extra weight after waking up Saturday lighter than the 150 1/2 pounds he weighed in at Friday.
"I woke up at 146 so I called my chef and I had to get something in my stomach," Mayweather said..
Mayweather didn't need long to dissect his opponent. By the third round, he was taking control, landing his jab and following it up with nice, sharp counter punches. Alvarez, who needed to work inside effectively so he could use his power was unable to do so. Mayweather's defense, a hallmark of his body of work over 17 years, once again was on display. The shoulder roll, which he learned as a kid from his father, Floyd Sr., was effective and he gave little of his body as a target for Alvarez to attack.
It was evident that Alvarez was getting frustrated. In the fourth round, he deliberately hit Mayweather below the belt in the groin, causing referee Kenny Bayless to warn him. Worse though, Alvarez's dirty tactic may have fired up Mayweather.
He came back winging, nailing Alvarez with shot after shot after shot. There was swelling under Alvarez's right eye in round four and it wasn't improving as the fight moved into the middle rounds. Mayweather was starting to use the Mexican's red head for target practice.
In the seventh, Mayweather landed a left hook to Alvarez's face. He was cunning and calculating at this
point, biding his time, then unleashing scoring blows that Alvarez had little answer for. When Alvarez tried to respond, Mayweather simply hit him again and again, the Grand Garden crowd gasping with every punch that landed.
It was more of the same in the eighth as Alvarez appeared to be landing only to take a half-dozen shots in return from Mayweather. According to the Punchstats, Mayweather was landing twice as many punches as Alvarez and no fighter can win that way when the other guy is hitting you twice as often.
But with the rounds winding down, his fans desperate for a miracle and Mayweather unwilling to get careless, Alvarez was unable to pull out the victory.
"He's very intelligent and very elusive," Alvarez said. "The frustration was getting in there. We tried to get to him but we couldn't.
"I'm only 23. I'm still going to work to fight in big fights."
But Mayweather is the one with the biggest fights in his future. Look for him to return to the ring in May 2014 and maybe face Danny Garcia, the WBC and WBA junior welterweight champion who defeated Lucas Matthysse on the undercard.
"They're both great fighters," Mayweather said. "But I'm going to relax and enjoy this one. it's 17 years and I'm still going strong."
Contact reporter Steve Carp at scarp@reviewjournal.com or 702-387-2913. Follow him on Twitter @stevecarprj.