Cuban contender Morrell Jr. tailor-made for Las Vegas spotlight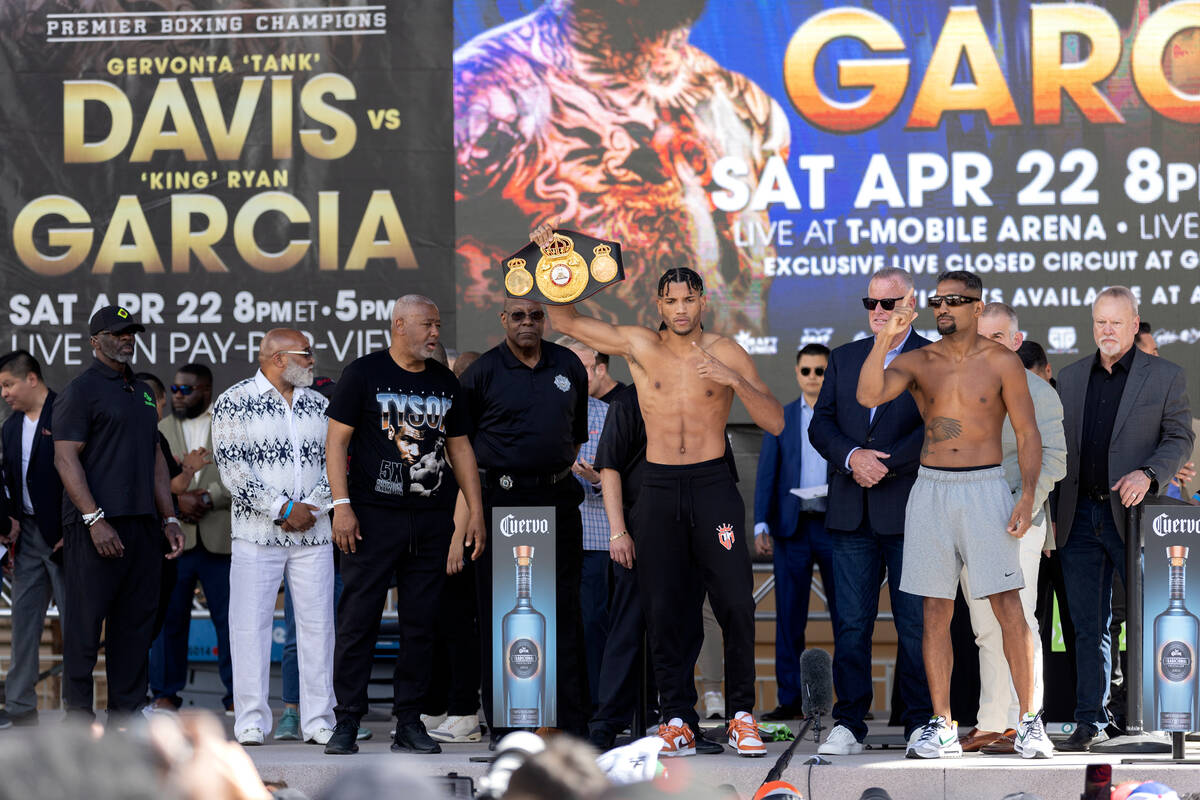 The size, the speed, the will and the skill weren't the issue for super middleweight David Morrell Jr. Nor were the charisma and championship charm.
That much was obvious during the 18-month commute from Cuba to Mexico to Minneapolis.
What he didn't have was the kind of clothing he required to run outside in subzero temperatures.
"But he got used to it quick," said welterweight contender Jamal James, a Minneapolis native and mentor to Morrell. "He has a natural ability that I think is going to make it hard for them top dudes in his weight class to beat him."
Morrell (8-0, seven knockouts) resides in Minneapolis, but his fighting style is tailor-made for Las Vegas — where he'll fight for the first time Saturday against former Olympic bronze medalist Yamaguchi Falcao in the co-feature to the Gervonta Davis-Ryan Garcia showdown at T-Mobile Arena.
Morrell, the 25-year-old WBA secondary 168-pound titlist, has flashed tantalizing talent amid accelerated development since settling in the Twin Cities.
A victory over Falcao (24-1-1, 10 KOs) could quickly position Morrell opposite another one of division's elite.
"This guy is a real, real, real star," said Luis DeCubas of Warriors Boxing, Morrell's Cuban countryman and promoter and formerly the handler of 23 world champions, including Roberto Duran.
"He's an old-time fighter. He doesn't say no to nobody. He'll fight anybody."
From Minneapolis to Las Vegas
Morrell's smile is contagious, and he can hardly speak a sentence without showing it, maintaining a youthful sense of enthusiasm as his career continues to evolve.
He's unusually gracious and unguarded, whimsically rapping in Spanish one minute and moonwalking the next if he hears "Billie Jean."
"My second sport," Morrell says of dancing — and, yes, he smiled.
Fleet as they are on the dance floor, his feet serve him better in the boxing ring — and have since he began fighting in the streets of Santa Clara, Cuba. Morrell began fighting in makeshift rings, going to a local gym as a 9-year-old and sharpening his southpaw skills through the country's esteemed amateur academy.
He accumulated a 135-2 record and several national championships, blending refined technique and raw punching power to become one of the top prospects in Cuban history.
But professional boxing was barred in Cuba, meaning Morrell had to defect in 2018 to fulfill his desire to prize-fight.
"I wanted money, too. I wanted to help my family," he said, rarely relying on the translator by his side.
Empowered and encouraged by the family members he wanted to support, Morrell coordinated his defection and left Cuba via speedboat, spending lengthy stretches in the Mexican cities of Cancun, Mexico City and Acapulco.
DeCubas was aware of Morrell's amateur accomplishments before Morrell was aware of the plan for his prospective professional career.
DeCubas moved as a 9-year-old from Cuba to Minneapolis, where he lived for 19 years, and where he knew Morrell would be free from distraction once he acquired his P-1A Athlete working visa.
"It would be very, very difficult to get any Cuban guy to Minnesota. … That's when I knew the kid had a heart of a lion." DeCubas said. "Not only (is he) a great boxer but a guy with a strong mind, willing to go from Caribbean and Mexican weather to 30 below zero."
Morrell has since adjusted, leaning on James and the coaches of Circle of Discipline — the gym at which he used to train before relocating his preparation to Houston under famed trainer Ronnie Shields.
Morrell debuted in 2019 at the historic Minneapolis Armory, the venue that once housed the NBA's Minneapolis Lakers. He's since filled it four more times and knows he'll fight Saturday in another packed venue, this time on the Las Vegas Strip.
"Right now I'm here. My life has changed in one second," Morrell said, snapping his fingers for emphasis. "I don't have any limits. Anything is possible."
Contact Sam Gordon at sgordon@reviewjournal.com. Follow @BySamGordon on Twitter.