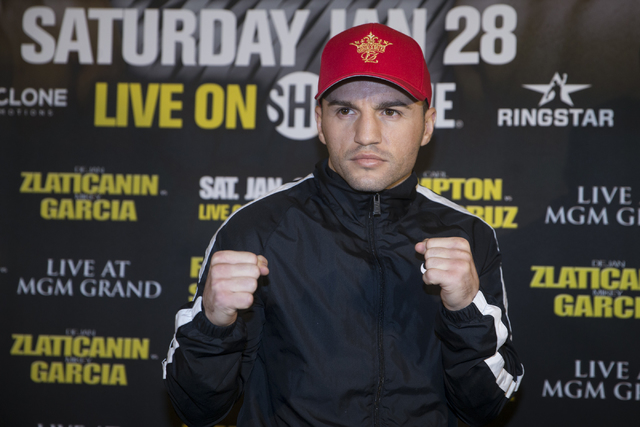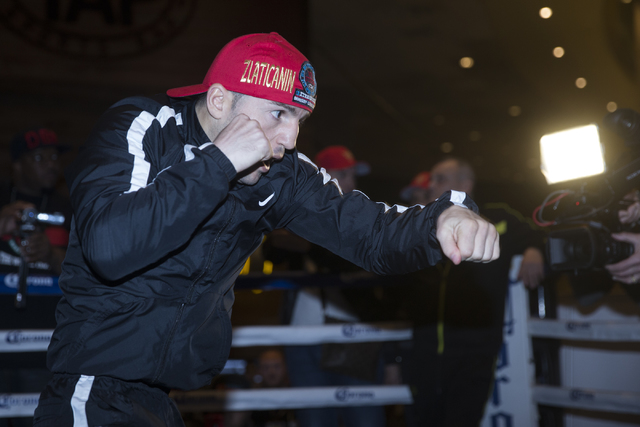 Boxers from Saturday's championship tripleheader made their arrivals Wednesday for open workouts at the MGM Grand casino floor.
The majority of the fighters then went up to the box above the sports book to meet the press. Featherweight champions Carl Frampton and Lee Selby were surrounded by cameras and voice recorders from U.S. and U.K. reporters.
Leo Santa Cruz had his own mob with everyone asking how will he adjust in the rematch versus Frampton.
But the third champion was nowhere to be found. Dejan Zlaticanin, who holds the WBC lightweight title, has been forgotten leading up to his fight against Mikey Garcia in the co-main event to Frampton-Santa Cruz at the MGM Grand Garden Arena.
Garcia (35-0, 29 knockouts) talked to reporters for 30 minutes and only received one question regarding Zlaticanin, the undefeated boxer from Montenegro.
"Someone told me to call him 'The Alphabet,'" Garcia said. "I don't want to disrespect him, but no one knows how to pronounce his name. He's a dangerous opponent with power in his left hand."
Zlaticanin (22-0, 15 KOs) is fine with being the underdog and is aiming to have boxing fans learn his name by knocking out Garcia, a minus-240 favorite at most casinos.
"I'm not surprised that everyone wants to talk about Mikey Garcia," said Alex Vaysfeld, Zlaticanin's manager. "We like it better that way. More motivation and it fires us up.
"We'll continue to add more fans after Dejan beats him on Saturday. We get it. Garcia is established, but Manny Pacquiao was once an underdog. No one knew Pacquiao in his first fight against Marco Antonio Barrera. Look how that turned out?"
Zlaticanin, who goes by "Dynamite," is known for his quick punches and power left hand, similar to Pacquiao's fighting style. He's often the shorter fighter at 5 feet 4 inches tall, but his aggressive approach doesn't allow his opponent's reach advantage to become an issue.
It's rare when a WBC lightweight titlist is an afterthought. That belt has belonged to stars such as Floyd Mayweather Jr., Julio Cesar Chavez and Pacquiao.
Zlaticanin, 32, became the first world champion from Montenegro when he knocked out Franklin Mamani in June. Zlaticanin owns signature victories over Ricky Burns and Petr Petrov.
"Dejan isn't afraid to go into fighters' backyards," Vaysfeld said. "He beat Ricky Burns in Scotland and is now fighting Garcia in Las Vegas. All Dejan wants to do is fight the best, and he doesn't care where the fight is."
Zlaticanin resides in Montenegro and trains in Long Beach, California, for fights in the United States. He has fought in New York, Alabama, Scotland, Serbia, Montenegro and Bosnia and Herzegovina.
Zlaticanin hasn't been forgotten in Montenegro and has turned his manager into a rock star.
"People recognize me there because of Dejan," Vaysfeld said. "Everyone wants to buy me drinks. Dejan has worked hard, and nothing was ever given to him. He just wants to fight the best."
Contact Gilbert Manzano at gmanzano@reviewjournal.com or 702-383-0492. Follow @gmanzano24 on Twitter.
DEJAN ZLATICANIN VS. MIKEY GARCIA
When: Saturday
Where: MGM Grand
Title: WBC lightweight
Time: First bell 3 p.m.
TV: 7 p.m., Showtime
Tickets: Axs.com