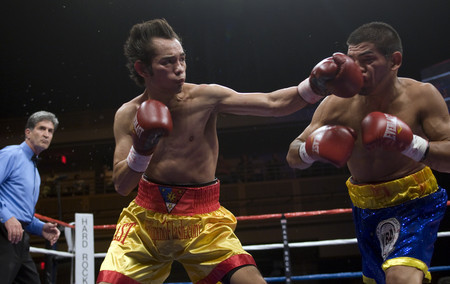 Saturday was not a good night to be a Concepcion in Las Vegas.
Rafael Concepcion was handled by Nonito Donaire, as Donaire won the vacant WBA interim super flyweight title in a 12-round unanimous decision in the main event of Top Rank's "Pinoy Power 2" boxing card at the Hard Rock Hotel.
Bernabe Concepcion also found himself on the short end, as he was disqualified for hitting Steven Luevano after the bell following the seventh round of their 12-round WBO featherweight championship bout.
For Donaire (22-1), a former world flyweight champion, it might be his only stop at 115 pounds. He figures to move up to bantamweight before the year is over. Even though he was spotting Concepcion at least 41/2 pounds, he handled himself well in winning his second world title in a different weight class.
"The weight was definitely a factor," Donaire said. "If he was 115, he would have went down early with all the shots I hit him with.
"I thought I fought a good, smart fight and that I was in control. I'm very pleased."
The judges concurred with Donaire, as Max DeLuca had Donaire ahead 117-111, Jerry Roth had it 116-112 and Duane Ford scored it 115-113. Donaire made $156,500, $6,500 of which Concepcion contributed to for his failure to make the 115-pound limit Friday when he came in at 1191/2. It was part of a $13,000 fine Concepcion paid the Nevada Athletic Commission.
Donaire showcased his speed and quickness, constantly beating Concepcion to the punch. He opened a cut over Concepcion's left eye in the third round and had the Panamanian in trouble on several occasions.
Yet Concepcion (13-4-1) wasn't impressed. He said after the fight he didn't respect Donaire, even though he took a pretty good beating at the hands of the Filipino star.
"I came to fight, not to run," he said through an interpreter. "If I wanted to run, I would have entered a marathon. He has great skills. I just wish he had more of a warrior's heart."
Bernabe Concepcion's result was far more controversial. He was in a battle with Luevano and appeared to have won the seventh round. Luevano lifted up his glove after the bell rang to acknowledge Concepcion when Concepcion hit Luevano with a right hand that knocked him to the canvas.
The punch came three to four seconds after the bell had rung. Luevano was down for several minutes, and referee Jay Nady wasted no time in disqualifying Concepcion (29-2-1) for the flagrant foul.
Many in the crowd of 1,838 lustily booed Nady's call. At first, Concepcion's trainer, Freddie Roach, disagreed with Nady's ruling. But Roach admitted afterward that Concepcion hit Luevano after the bell and Nady probably made the right call.
"It was a good call," Roach said. "My thing is that it wasn't intentional. Not by any means. He didn't hear the bell. He wouldn't do that in a million years."
Luevano (37-1-1), who made his fifth successful title defense, was surprised at what happened.
"I always touch gloves after each round and say, 'Good round,' " he said. "He must have been mad or something."
Luevano had started slowly but had fought back into the bout. By the end of the seventh round, he was ahead on judges C.J. Ross' and Steve Morrow's scorecards 68-65 and 67-66. Glenn Trowbridge had Concepcion ahead, 67-66.
Both fighters want a rematch, and Top Rank chairman Bob Arum said he will do everything to accommodate them.
Contact reporter Steve Carp at scarp@ reviewjournal.com or 702-387-2913.
Slide show