Embattled boxing judge steps down
September 18, 2013 - 12:10 am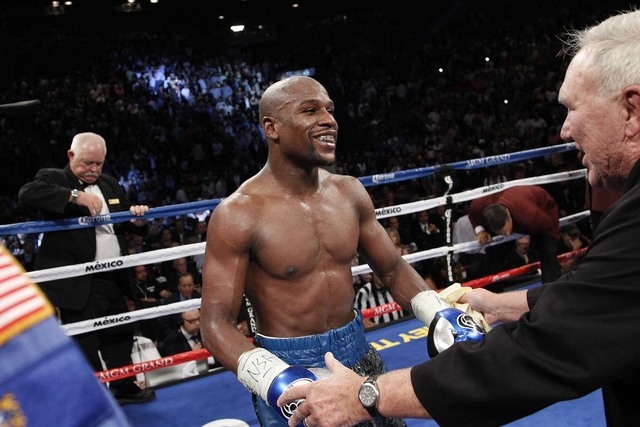 Veteran Las Vegas boxing judge C.J. Ross probably has worked her final fight.
Ross, 64, said Tuesday she has excused herself from working fights for the immediate future in the wake of her controversial scoring decision Saturday night at the MGM Grand Garden.
Ross scored the world junior middleweight unification title fight between Floyd Mayweather Jr. and Saul "Canelo" Alvarez a draw, giving Mayweather a majority decision in a bout he clearly won.
Ross, who has been judging fights for 22 years, sent Nevada Athletic Commission executive director Keith Kizer an email Tuesday indicating she is placing herself on an indefinite leave of absence. The email read, in part: "I will be taking some time off from boxing but will keep in touch."
Ross did not return phone calls seeking comment on her decision.
Her judge's license expires at the end of the year. One of two scenarios then are likely — either Ross won't reapply for a license, or, if she does, the commission won't renew it.
Ross scored the fight 114-114. The other judges — Craig Metcalfe of Canada and Dave Moretti of Las Vegas — had Mayweather winning 117-111 and 116-112.
Ross' score set off a firestorm of controversy throughout boxing, and, while she defended her work Sunday, she decided Tuesday to step aside for the good of the sport and the commission.
"She feels bad the focus is on her, not Mayweather," Kizer said. "We recognize and respect C.J.'s decision."
Mayweather co-manager Leonard Ellerbe said after hearing the news: "Things happen in the sport, and it could have been a lot worse than it was. But we want to be positive about what happened Saturday."
NAC chairman Bill Brady said the negative publicity Nevada has received since the fight because of Ross' scoring had caught the attention of Gov. Brian Sandoval, who appoints commission members. Brady said he talked briefly Tuesday with Sandoval and that their conversation was mostly positive.
"I apologized to the governor for any embarrassment we may have caused the state," Brady said. "He made me aware of his concerns. He wants things done right."
Brady said changes will be made to the process for selecting officials beginning Sept. 25, when the commission will make assignments for the WBO welterweight title fight between Timothy Bradley and Juan Manuel Marquez on Oct. 12 at the Thomas &Mack Center.
"There will be more questions asked, and Keith will be held accountable for his recommendations," Brady said. "We won't be a rubber stamp anymore."
Bradley's most recent fight in Las Vegas, against Manny Pacquiao on June 9, 2012, at the MGM Grand, also ended in controversy because of Ross' scoring. She had Bradley winning a fight many believe Pacquiao won handily.
However, unlike the Mayweather-Alvarez fight, which Mayweather won despite Ross' scoring, her work in the Bradley-Pacquiao fight helped Bradley win a split decision. That increased the scrutiny of Ross' work Saturday.
And when she scored the fight a draw, more controversy ensued and eventually led to her decision Tuesday.
"We appreciate C.J. Ross' action," Brady said. "She is a good person who cares about the sport."
Kizer said a mandatory seminar will be held in October or November for Nevada judges.
"We were planning to do a seminar before this happened," he said. "We usually do one every couple of years, just like we do for our referees, our inspectors and others."
Brady said the ultimate goal is to turn a negative situation into a positive one.
"I think it's a new day for the commission, a new day for boxing and a new day for the state," he said.
Contact reporter Steve Carp at scarp@reviewjournal.com or 702-387-2913. Follow him on Twitter: @stevecarprj.