Endless tales keep Muhammad Ali's memory alive one year after his death
Updated June 2, 2017 - 10:02 pm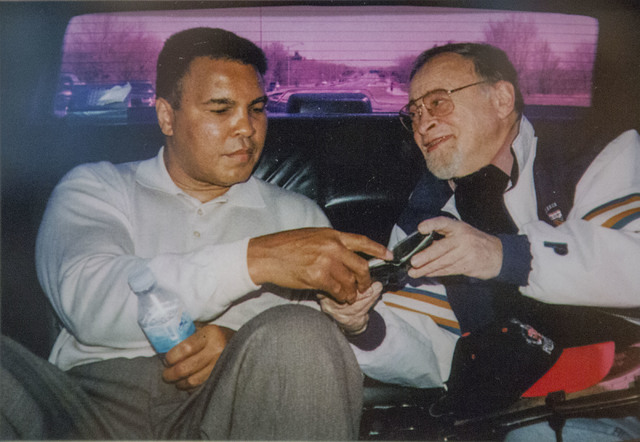 The Muhammad Ali tales kept coming in waves, one after another.
Jerry Izenberg, the legendary sports writer who covered the iconic boxer, shared his fondest memories of Ali for about 20 minutes without a pause.
Izenberg, 86, started with the time Ali wrote a six-figure check to a rabbi so he could keep open a Jewish senior citizens home in New York.
"Ali walks five steps toward the door before turning around, 'Next year get it from the Jews. They have a lot of money.' He told the rabbi that, which I thought was pretty funny," Izenberg recalled.
"If you know anything about Muhammad Ali, small children and old people had his heart."
Izenberg, who resides in Henderson, brought up the time he stood from his chair on press row to shout at referee Richard Green to stop the fight between Ali and Larry Holmes in 1980 at Caesars Palace.
"He (Ali) was getting killed in there," Izenberg said. "Awful evening and the most unprofessional moment of my career. Once I realized what I've done after the fourth time I got up, I felt stupid."
Izenberg didn't just have a professional relationship with the former heavyweight champion. They were close friends for half a century.
When telling his endless Ali stories, Izenberg stopped to correct himself.
"I keep saying everything like he's here," Izenberg said. "I'm saying everything in present tense. Very hard for me to say it in past tense."
A year ago Saturday, the world said goodbye to arguably the greatest boxer and most beloved athlete of all time.
On June 3, 2016, Ali died in a Phoenix-area hospital at age 74 from respiratory issues after battling Parkinson's disease for the better part of three decades.
"The blow is personal to me because of my relationship with him," Izenberg said. "I can't have a friend for five years, and he was my friend for 50. I did take it very hard."
For many, the one-year anniversary came quickly. Like Izenberg, almost everyone had an Ali story to tell.
"It's hard to believe it's been one year," said Top Rank CEO Bob Arum, who promoted many of Ali's fights. "But actually, I think everybody is even more connected with Ali because of the enormous publicity that came out of his death subsequently. People were reminded how great he was, so therefore, it doesn't seem like it was that long ago that he passed away.
"I'm constantly reminded about Ali. It doesn't matter where in the world I go. People want me to reminisce my interactions with him."
Izenberg recently released his latest book, "Once There Were Giants: The Golden Age of Heavyweight Boxing."
No PPV for Pacquiao
Ali told Arum being a world champion means fighting around the world. The longtime promoter never forgot that.
Manny Pacquiao's next fight against Jeff Horn will be July 1 at the Suncorp Stadium in Brisbane, Australia. More than 41,000 tickets have been sold, and it's expected to be the biggest boxing event ever in Australia.
"Ali was the one who taught me boxing is a world sport," Arum said. "Ali was always pushing me to do fights outside the country. That's what I want for Manny. I want everyone to see him fight before he hangs it up."
Arum isn't ready to announce his TV plans for the bout, but said it won't be on pay per view.
"I'm not allowed to say yet, but I can tell you it won't be on pay per view," Arum said. "We want a big audience for this fight."
Ali exhibit at the Bellagio
The Bellagio Gallery of Fine Art recently opened an Ali exhibit called "I am the Greatest: Muhammad Ali."
The exhibition includes memorabilia, family photos and videos of Ali. Tickets are $18, and the showing runs until Sept. 30.
Contact Gilbert Manzano at gmanzano@reviewjournal.com. Follow @gmanzano24 on Twitter.
Calendar
— June 17: Andre Ward vs. Sergey Kovalev, 6 p.m., HBO PPV, Mandalay Bay Events Center