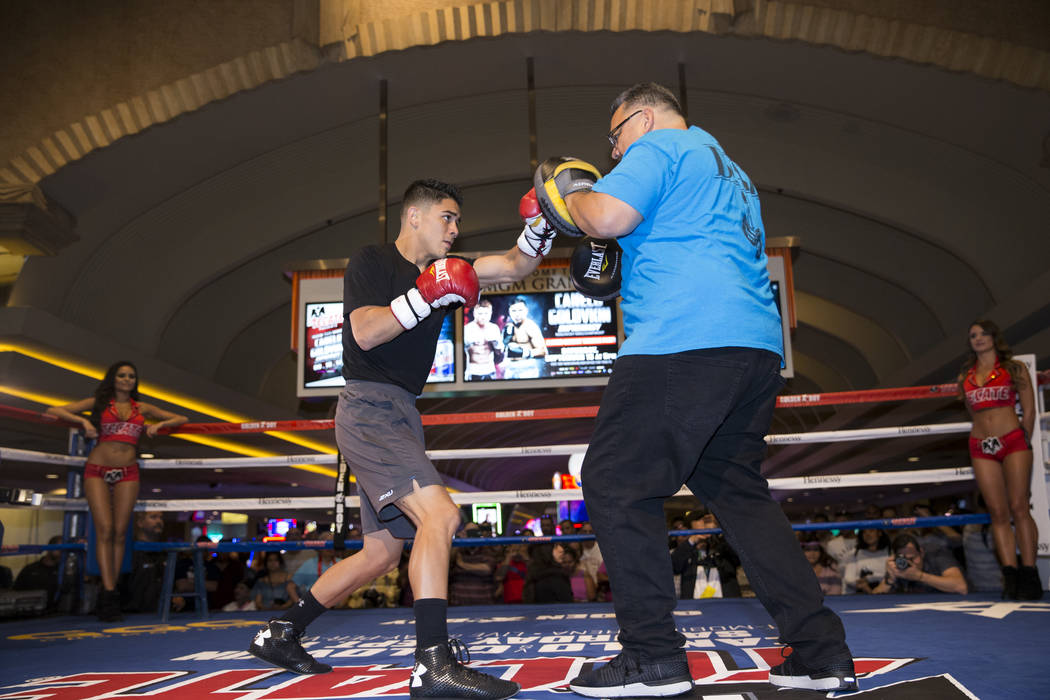 Joseph Diaz Jr. couldn't take it anymore.
The bullying had to stop.
"I was always the smaller kid in the neighborhood, so everyone used to try and pick on me," he said minutes before an open workout Wednesday at the MGM Grand. "I told my father I wanted to learn self-defense."
So Senior took his prepubescent son to a local boxing gym in South El Monte, California, where he learned to "keep all those bullies" away from him.
And a whole lot more.
The younger Diaz (24-0, 13 knockouts) doles out most of the punishment now and has worked his way to the top spot on the Saul "Canelo" Alvarez-Gennady Golovkin undercard Saturday at T-Mobile Arena. He will fight Rafael Rivera (25-0-2) in a WBC featherweight title eliminator bout.
"When I found out … I was very excited. Very blessed," the 24-year old featherweight said. "I'm going to go out and showcase to the world what I'm capable of doing."
Diaz originally started boxing at age 10 as a form of self-defense and began training more intensely after beating up a local bully in his hometown.
He wanted to turn pro at 16, but postponed his professional debut after qualifying for the boxing team at the 2012 London Olympics. He turned pro a few months after the Olympics, where he won his first fight before being eliminated.
"Being around that type of atmosphere made me the fighter that I am today and made me the person that I am today," Diaz said. "I know what it takes to have the discipline, and I know what it takes to take something very seriously … Being around all those athletes … was a dream come true. It was a blessing in disguise."
On Saturday's undercard, Diaz originally was to fight Jorge Lara, but he pulled out because of injury. Diaz initially thought he wasn't going to have a fight and was thankful when Rivera agreed to take Lara's place.
"It's a different opponent, but it's still the same goal," Diaz said. "It's still the same game plan, going out there and coming out victorious and getting the WBC (title) shot."
Winning the fight is his primary goal, but Diaz wants do it in style with hopes of showcasing "that I could be the next superstar in boxing.
"I want to go out there, give the fight fans a very exciting fight and a very pleasing fight."
More boxing: Follow all of our boxing coverage online at reviewjournal.com/boxing and @RJ_Sports on Twitter.
Contact Sam Gordon at sgordon@reviewjournal.com. Follow @BySamGordon on Twitter.