Floyd Mayweather predicts Conor McGregor will miss weight
August 22, 2017 - 7:12 pm
Updated August 22, 2017 - 7:32 pm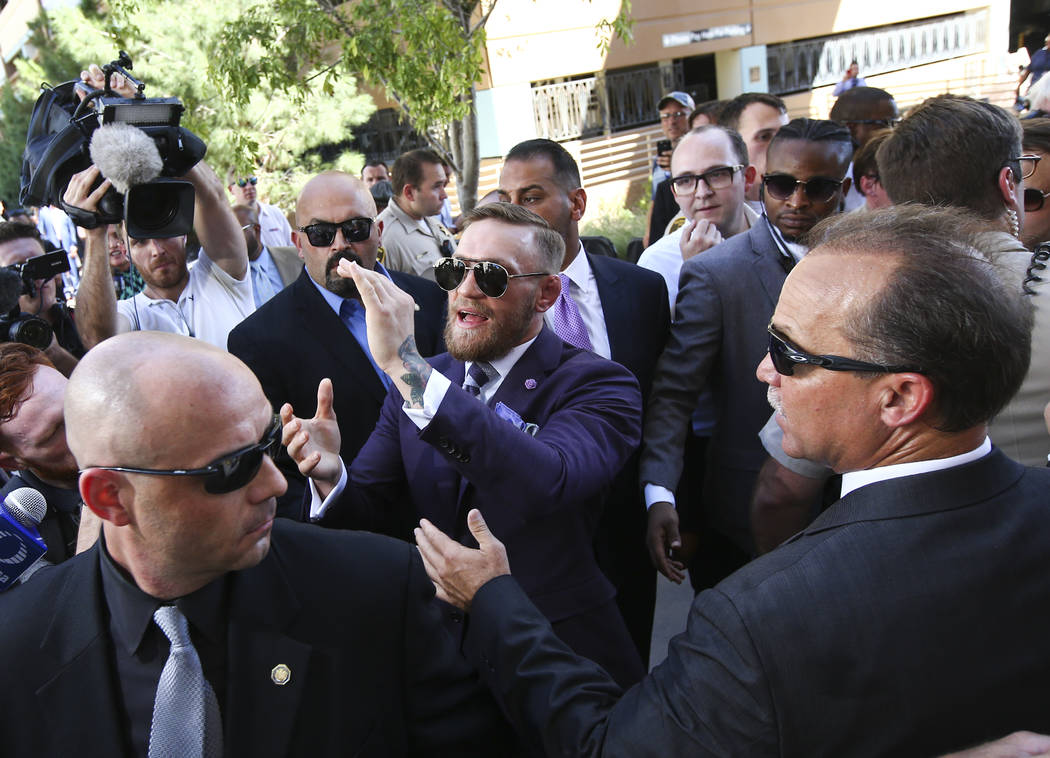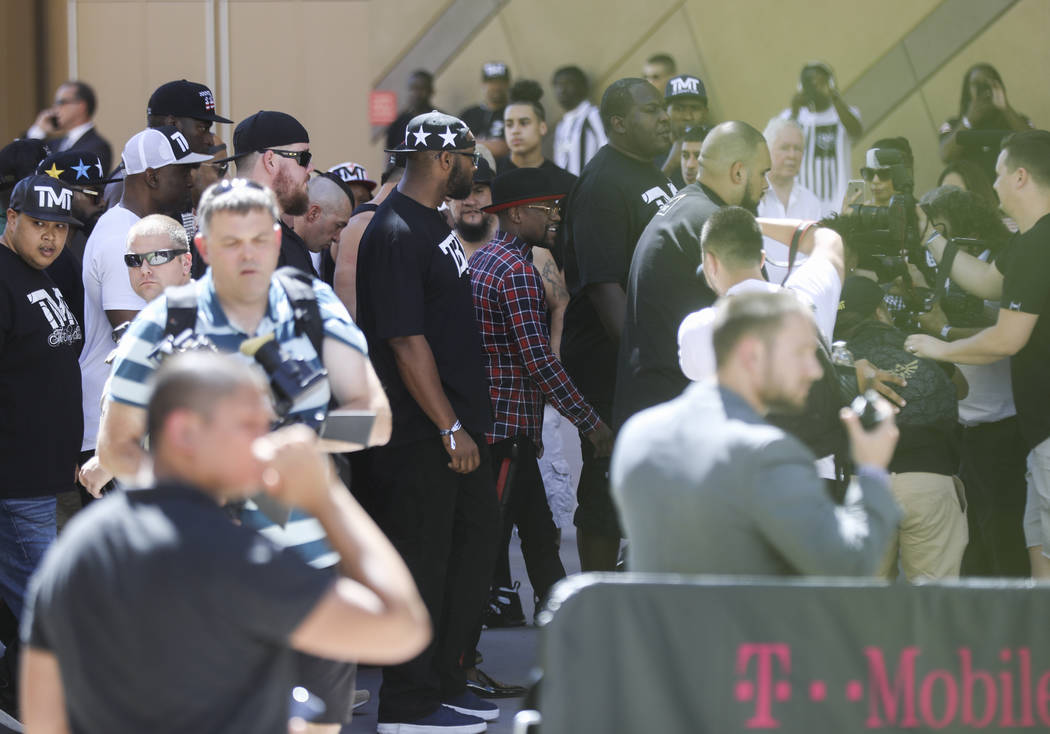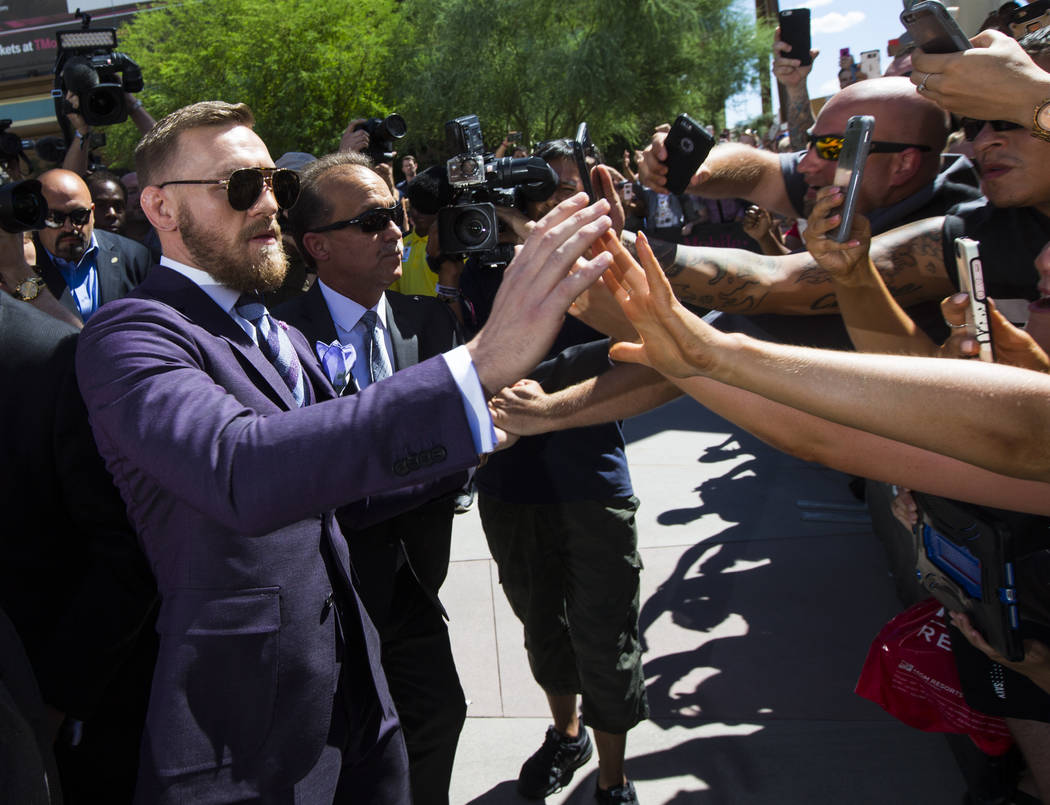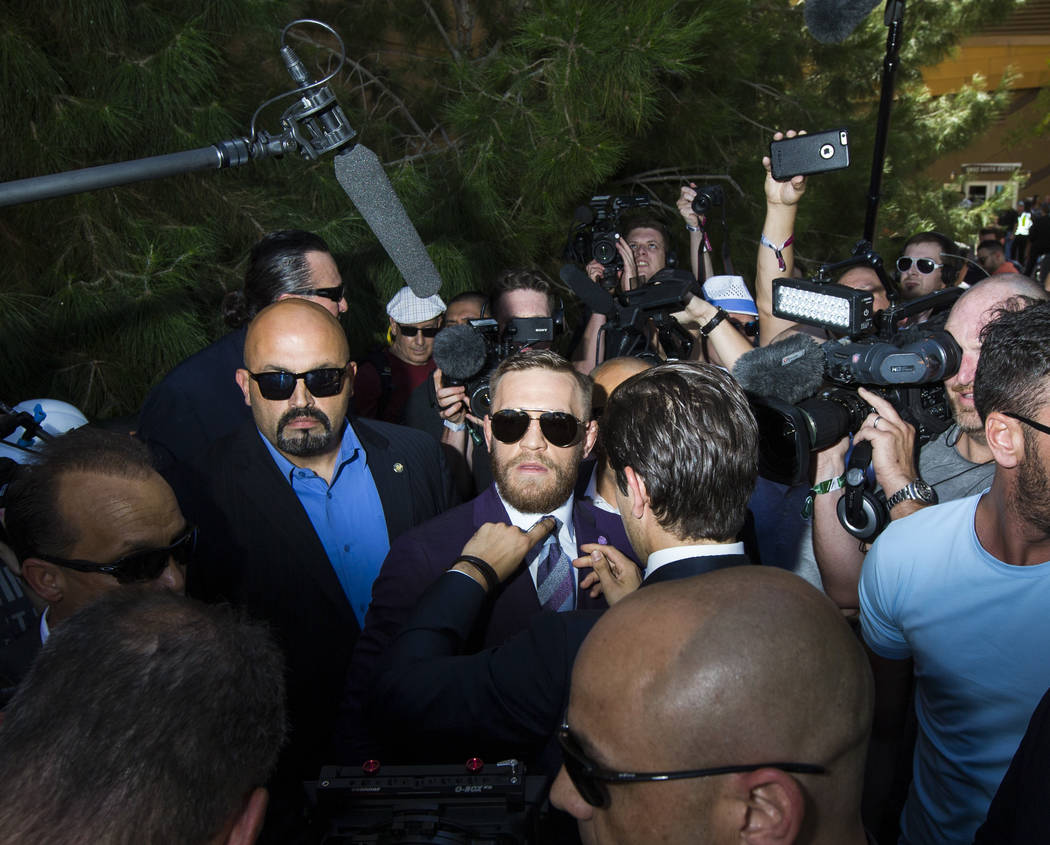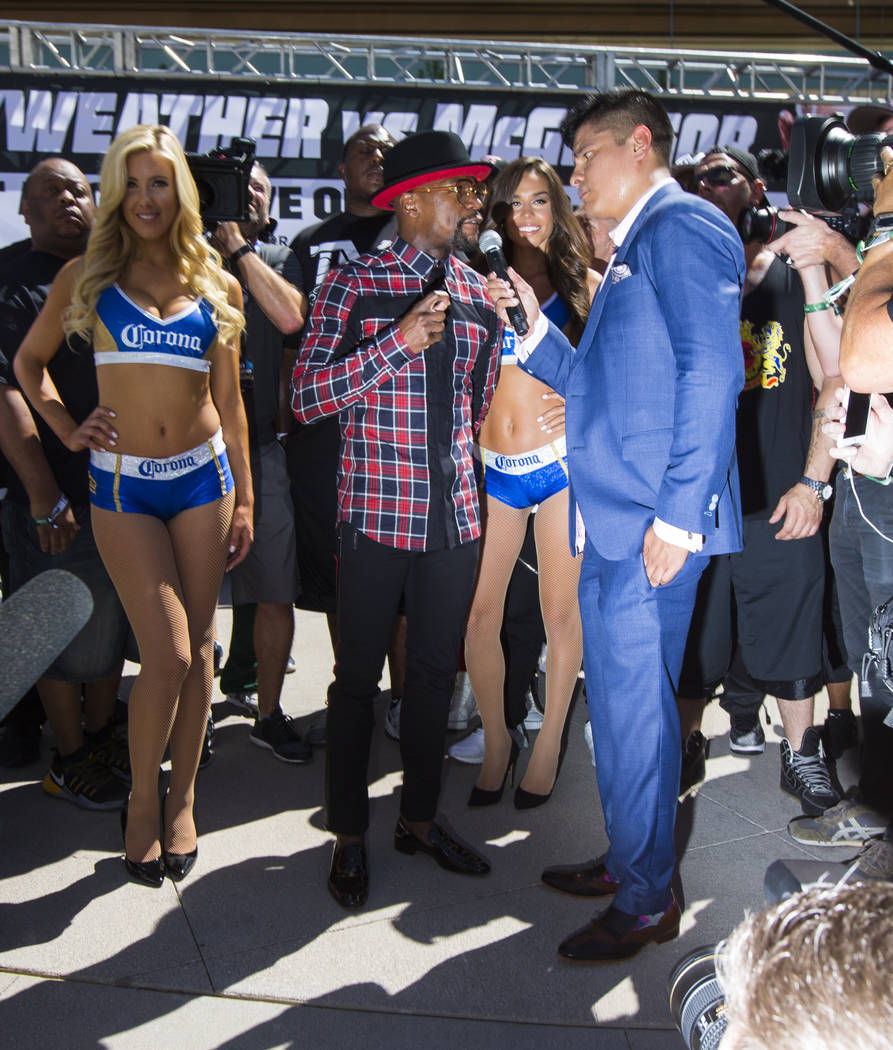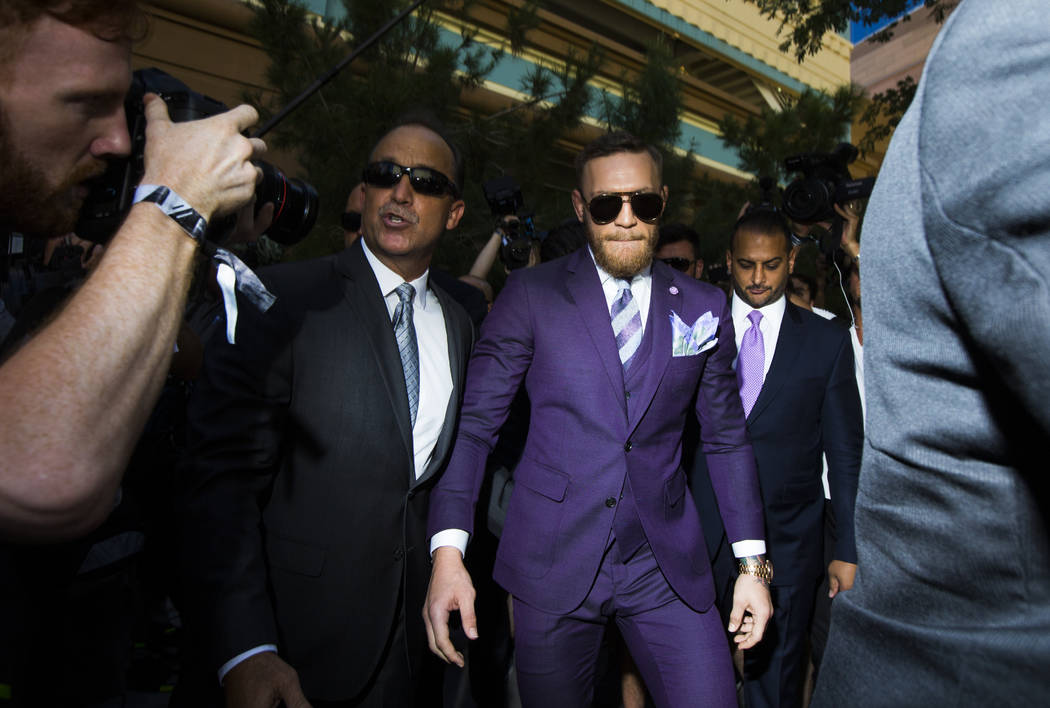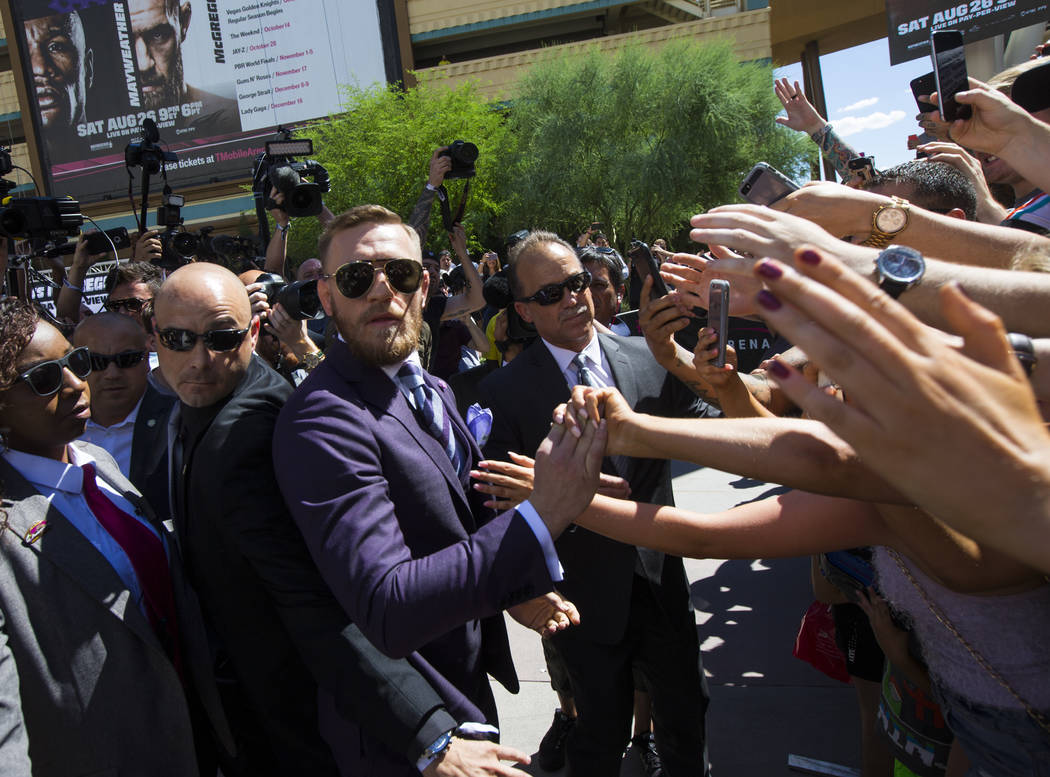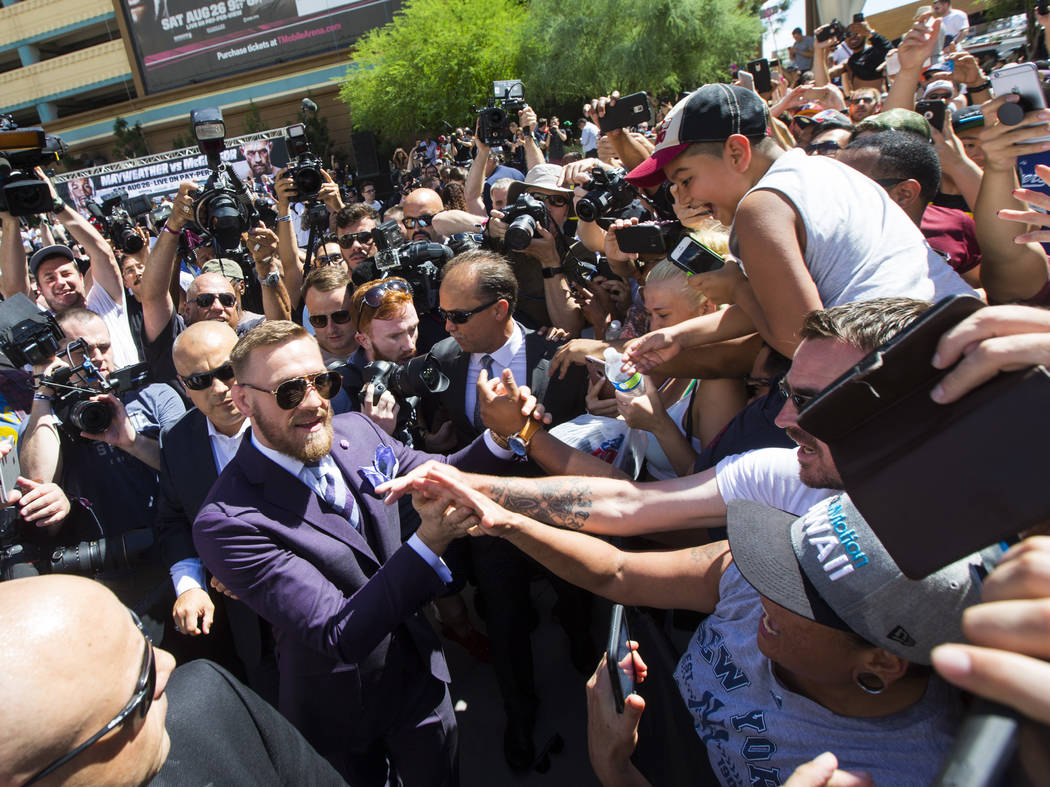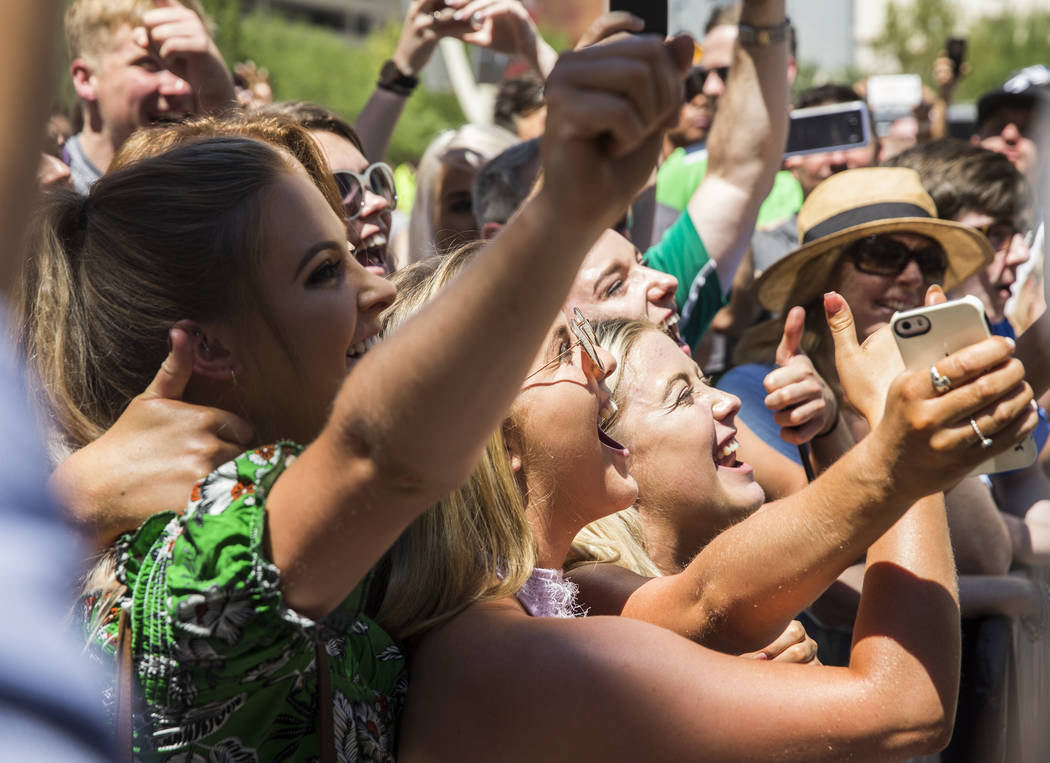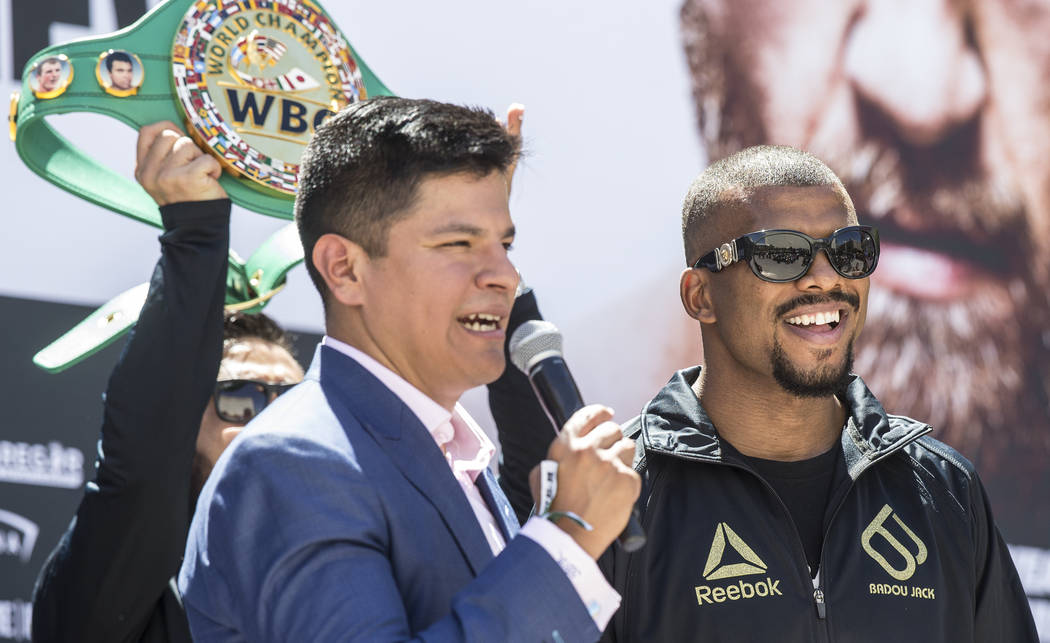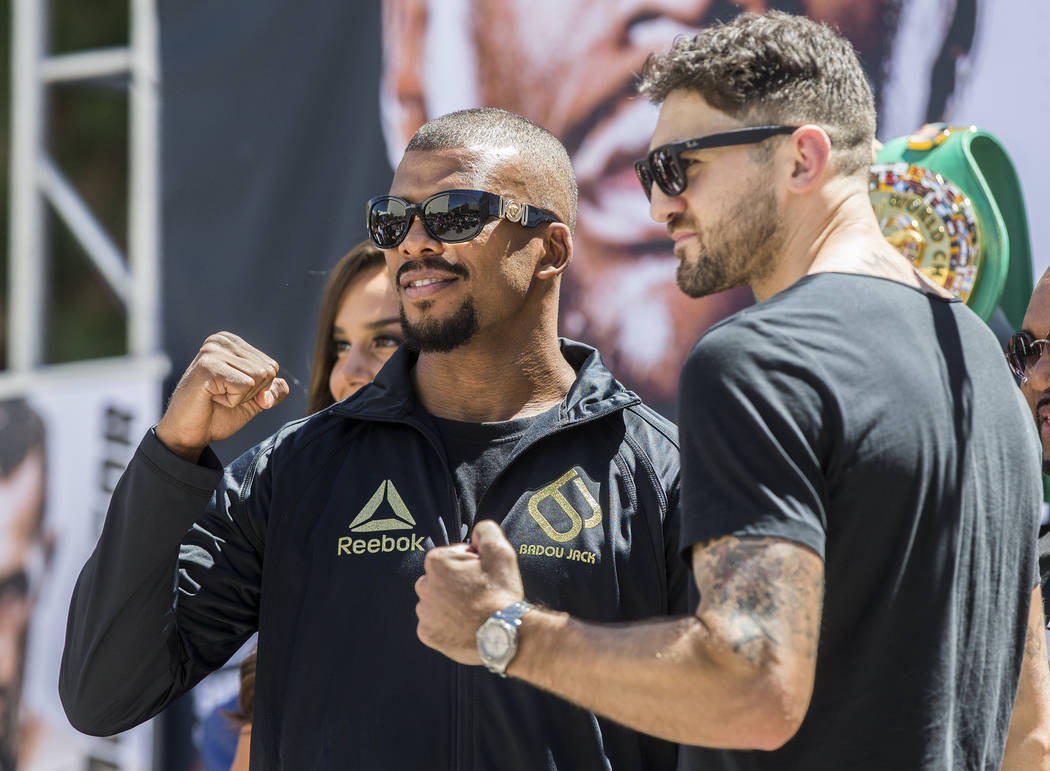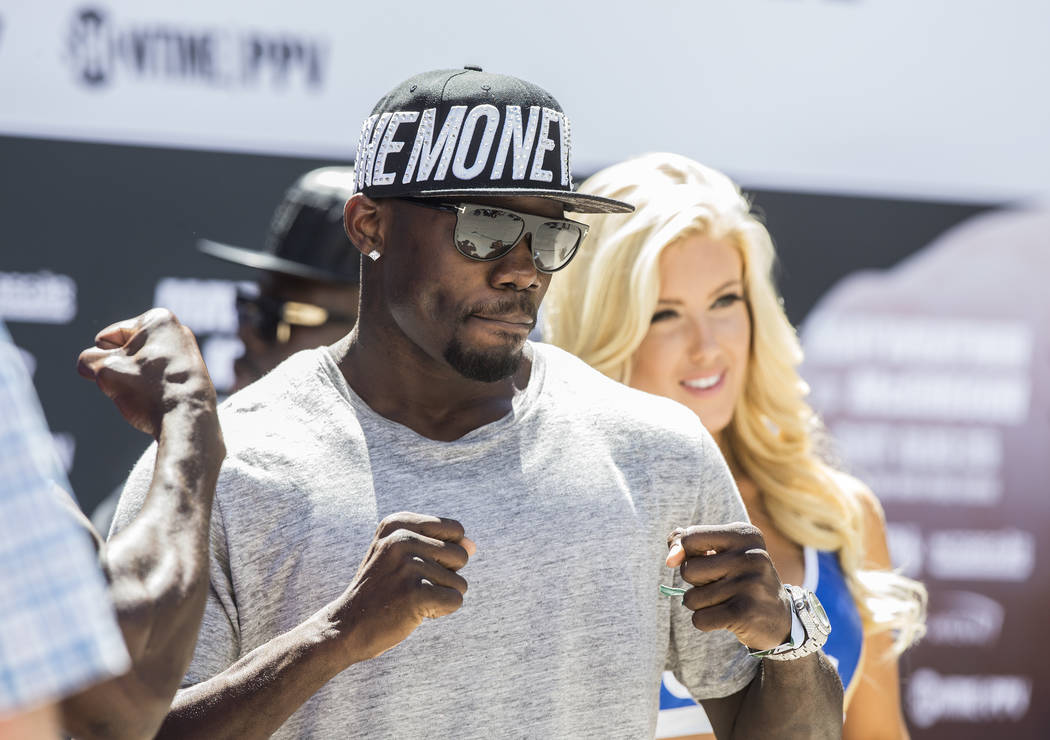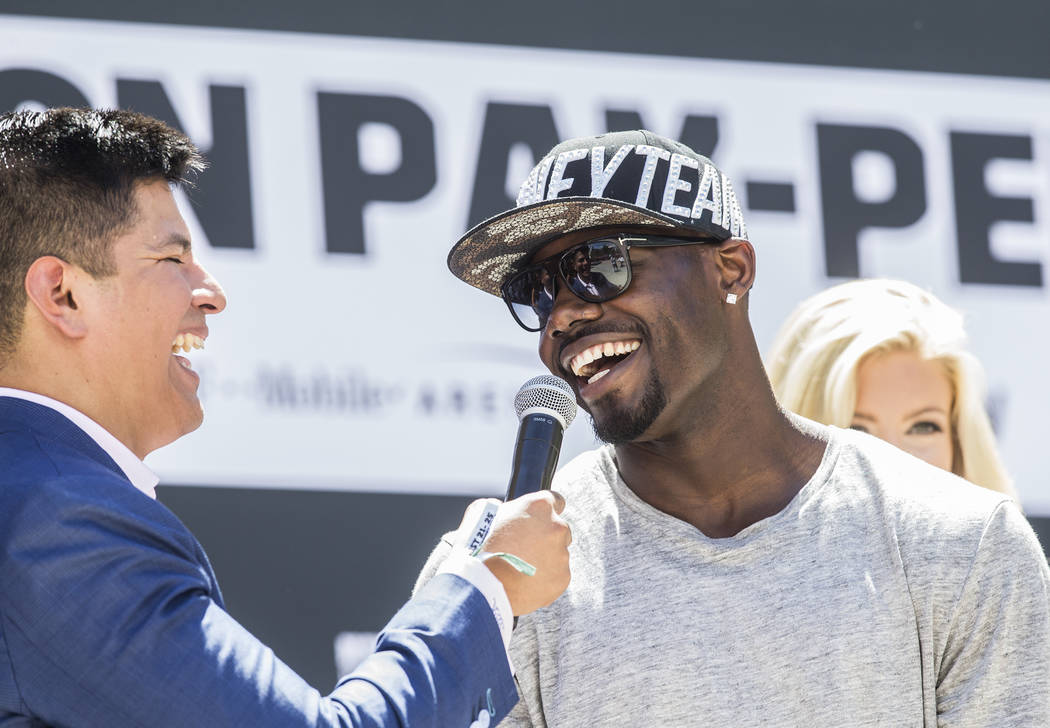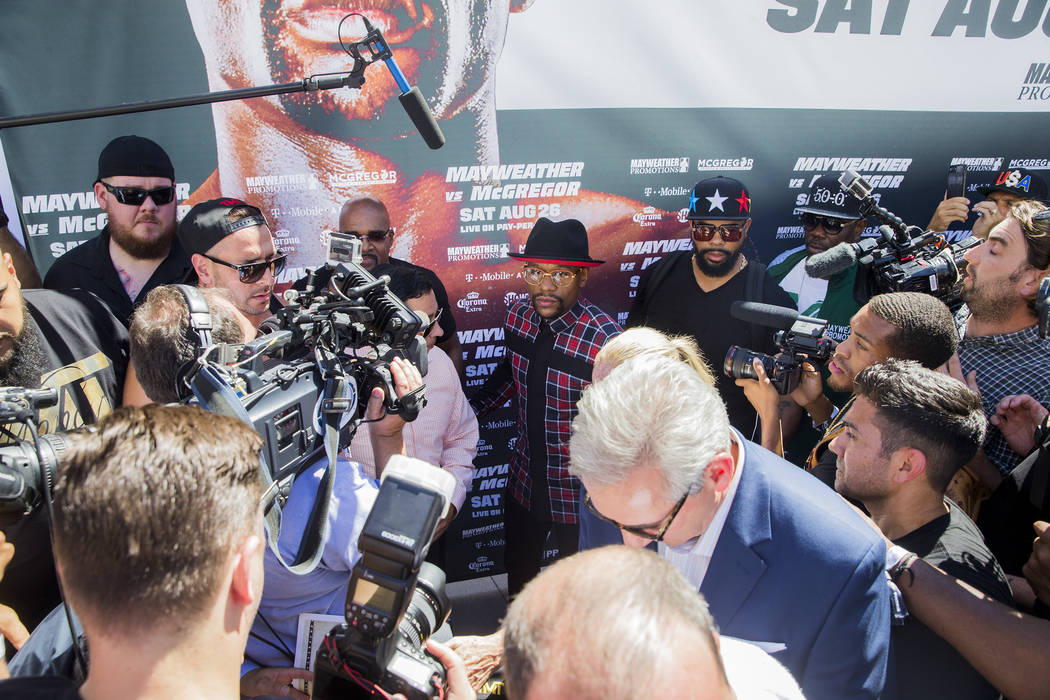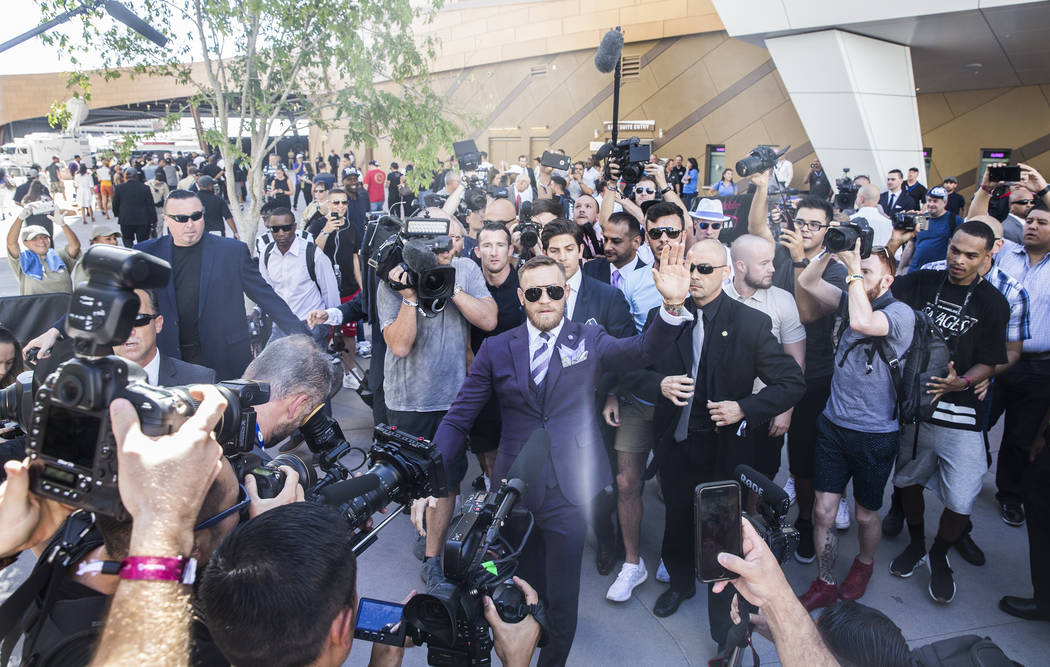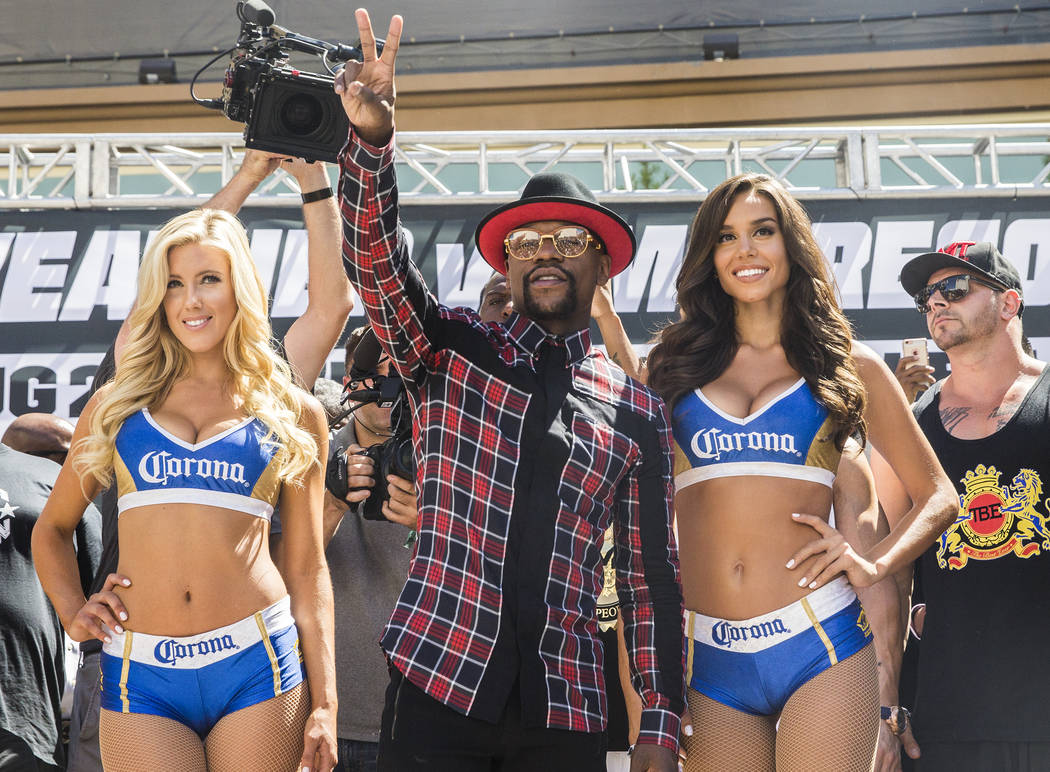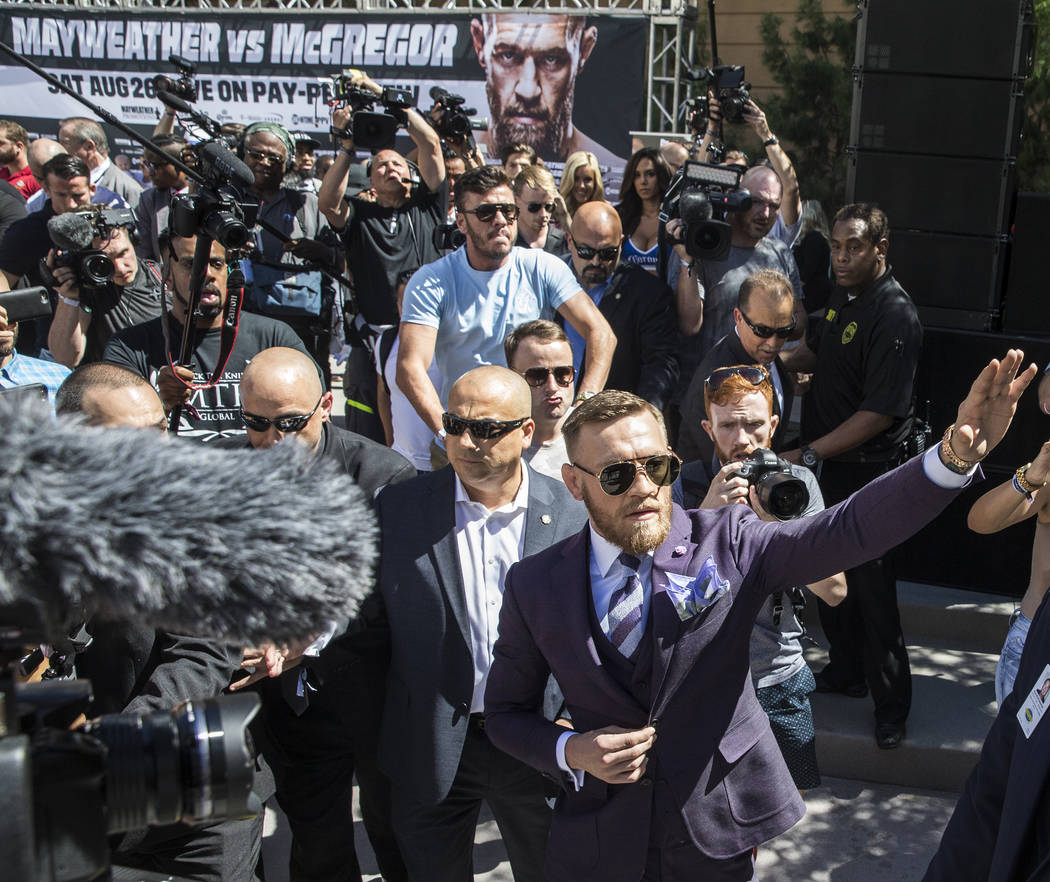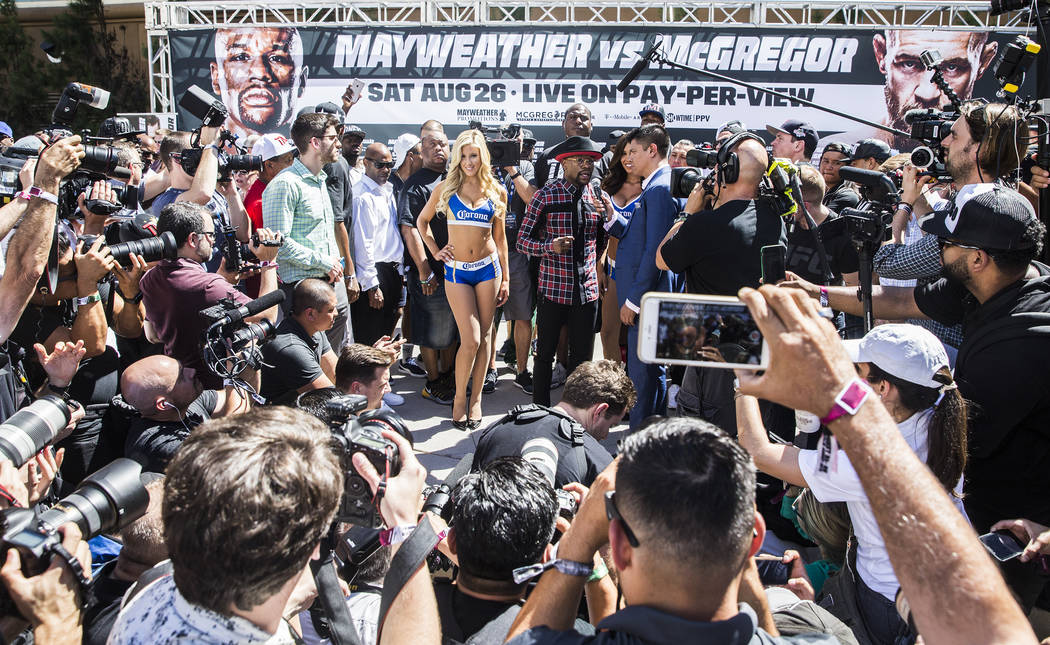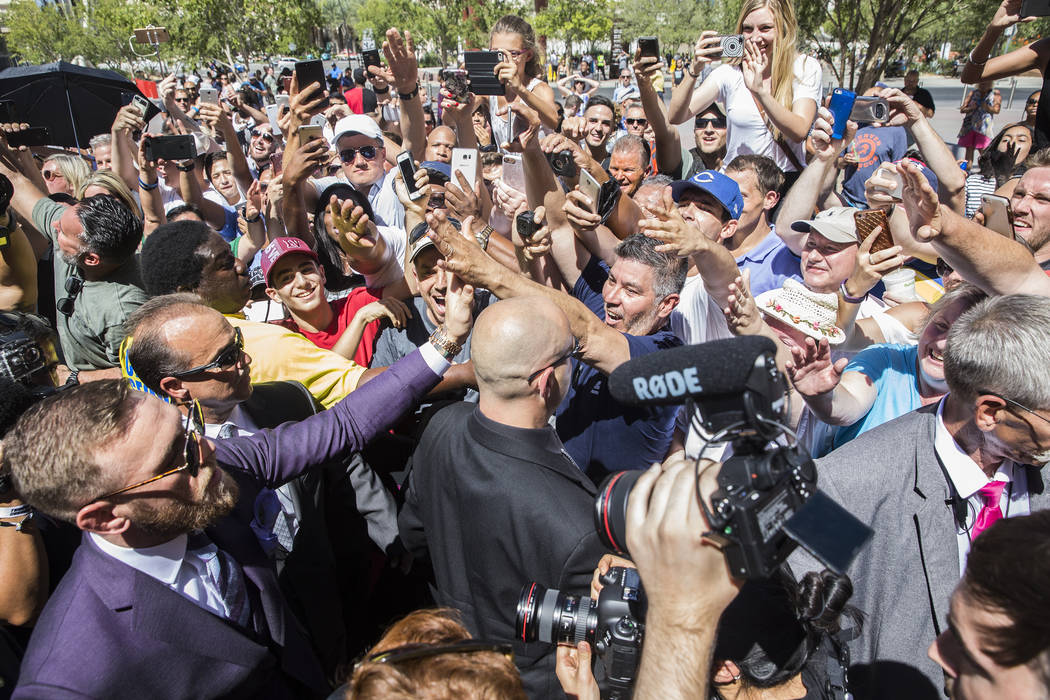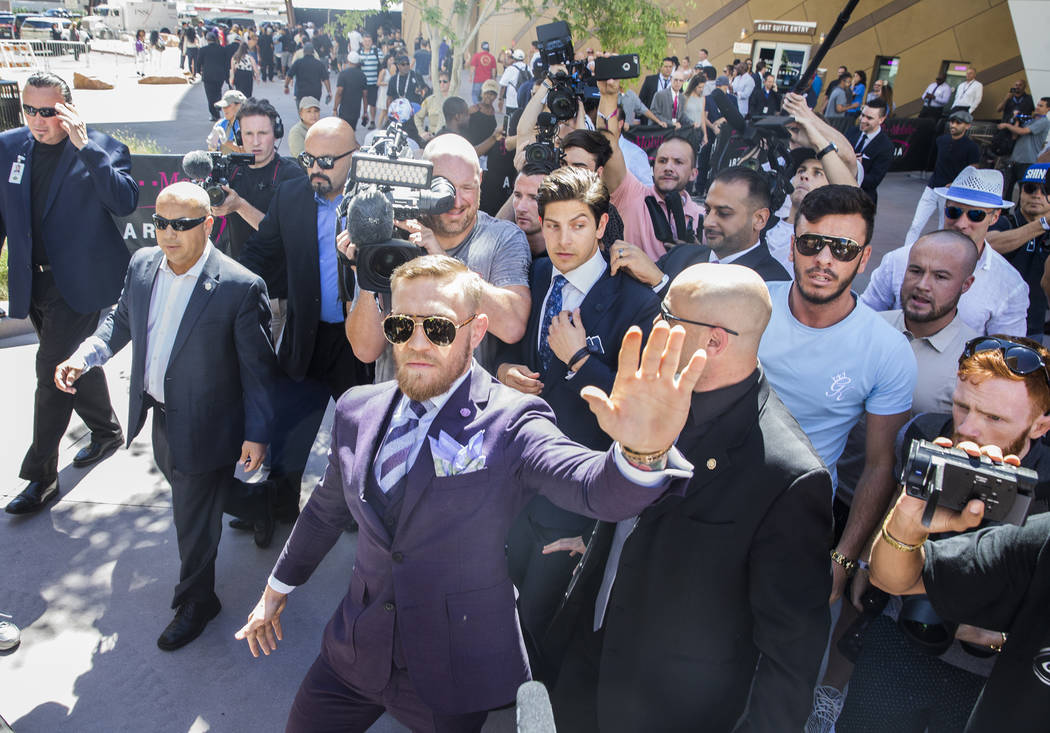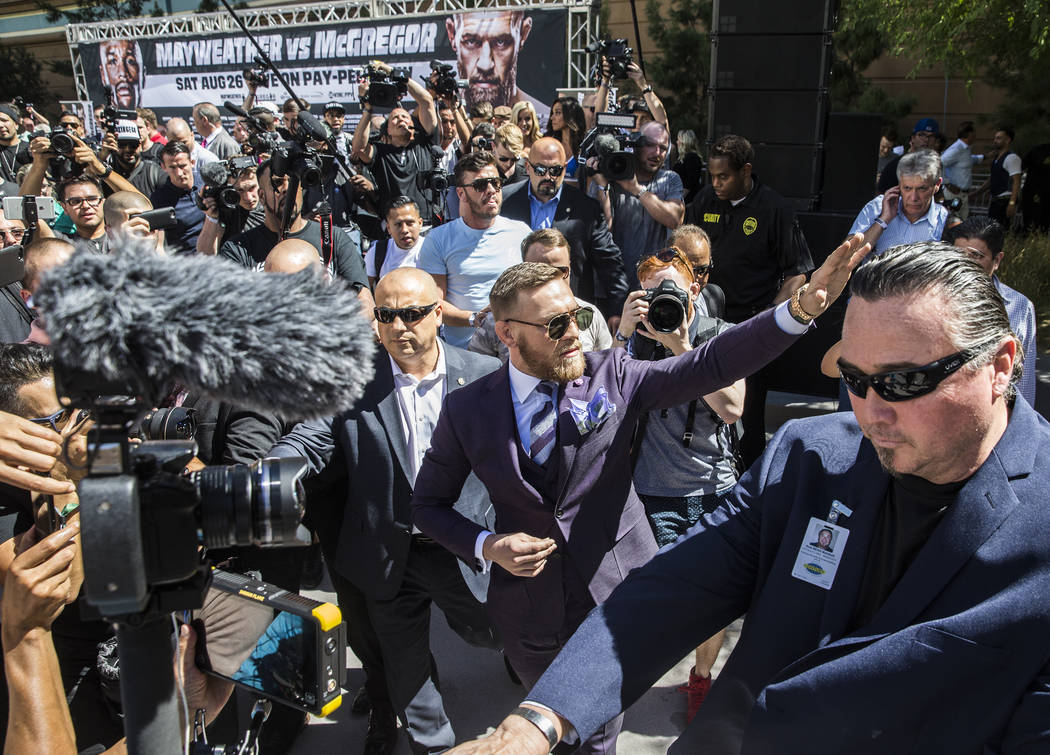 Floyd Mayweather found himself on unfamiliar turf as the clock ticked toward his grand entrance Tuesday.
Mayweather had to wait for Conor McGregor to arrive before he could take center stage at the Toshiba Plaza in front of T-Mobile Arena. It's rare when the five-division champion bends for someone else's schedule.
The undefeated boxer got tired of waiting for the UFC superstar after nearly an hour and walked to the stage first, greeting fans who endured the heat as they hoped to catch a glimpse of both fighters before they meet Saturday.
Mayweather, who considers himself the A-side to any opponent, rarely goes first to an event, and he's usually not perspiring.
With a drip of sweat running down the right side of his face, Mayweather stopped his interview for a refresher.
"Where's the nearest restroom?" he asked.
Mayweather was back in his element after the 10-minute bathroom break. The sweat was gone under his designer glasses as he began to make bold predictions with the same brash confidence he has exuded during his 21-year career.
The 49-0 boxer doesn't expect McGregor to make the 154-pound weight limit when they step on the scale Friday.
"I know about fighters," Mayweather, 40, said. "Like I said before, I know every detail of a fighter. I know everything that goes on in your camp."
McGregor responded to Mayweather's weight-cut claims.
"Tell him (Mayweather) to shut his damn mouth," McGregor, 29, said. "He knows nothing. Let him keep praying for weight. Praying for weight. Praying for fatigue. Praying for me to take a backstep.
"All he's doing is praying. But he's praying to the new god of boxing."
Mayweather told FightHype.com this week he wouldn't cancel the fight if McGregor is over the weight limit. Mayweather said McGregor would be forced to pay a hefty fine for not making weight.
Both fighters said they plan to come forward throughout the bout. Mayweather and McGregor don't agree on a lot, but they are on the same page when it comes to the length of the fight. They're both calling a knockout.
"This fight is not going the distance," Mayweather said. "I'm telling y'all. No matter what he says, it's not going the distance."
Mayweather said he anticipates McGregor to come out firing with left-hand power shots. Similar to when Marcos Maidana swarmed him with right-hand power shots in their two bouts in 2014.
"I truly believe he's going to come out like Maidana from the opening bell," Mayweather said. "I've dealt with that before, so I know how it is.
"If he come out like that, you gotta be able to realize, you gotta keep that same endurance for 12 rounds if you plan on going the distance."
Mayweather questioned McGregor's weight, cardio fitness and chin, but he believes the Irishman's downfall will be not knowing what he has coming in the ring. McGregor will make his boxing debut in four days at T-Mobile Arena.
The defensive guru referred to his fight against Manny Pacquiao in 2015 when the Filipino fighter tried rushing him early and Mayweather picked him apart with counter moves.
"When he get hit, he's going to find out this is totally different," Mayweather said about McGregor. "He keeps on thinking everything, the brittle hands, let him keep saying all that. When I come across his head, he'll find out what it really is.
"The strength is totally different."
Mayweather hasn't recorded a knockout since 2011 against Victor Ortiz. He's confident that streak ends Saturday.
Contact Gilbert Manzano at gmanzano@reviewjournal.com. Follow @GManzano24 on Twitter.
Fight night
Who: Floyd Mayweather vs. Conor McGregor
What: 154-pound boxing match
When: Saturday night
Where: T-Mobile Arena
Odds: Mayweather -500; McGregor +400
Pay-per-view: Showtime pay-per-view, 6 p.m.
Related
Conor McGregor struts with confidence as fight week begins