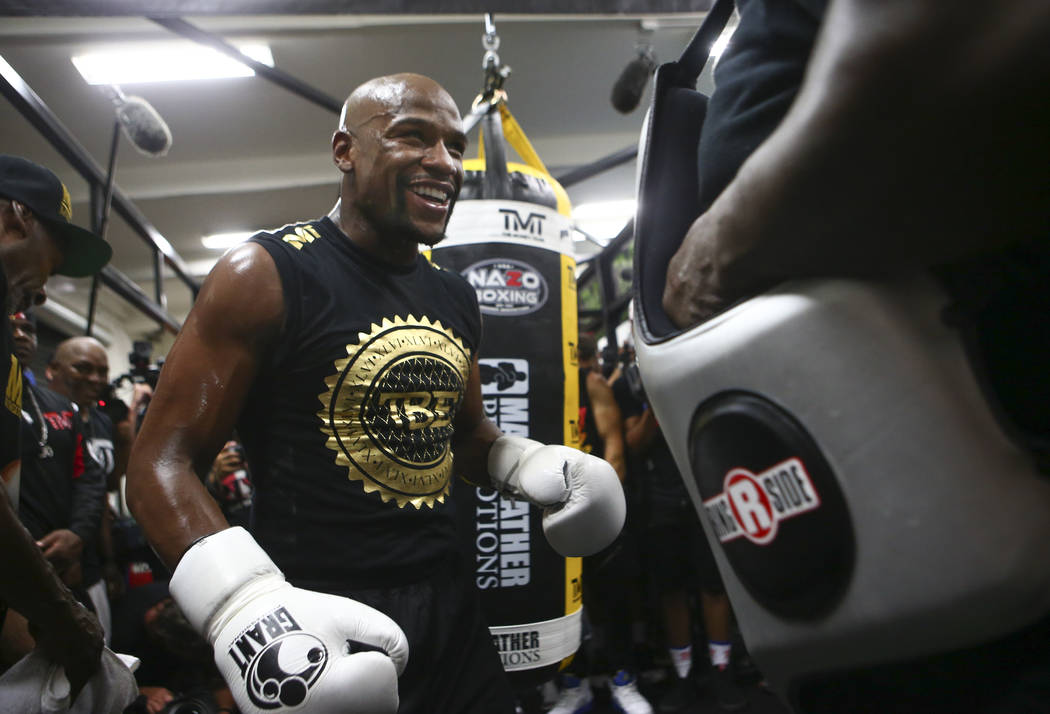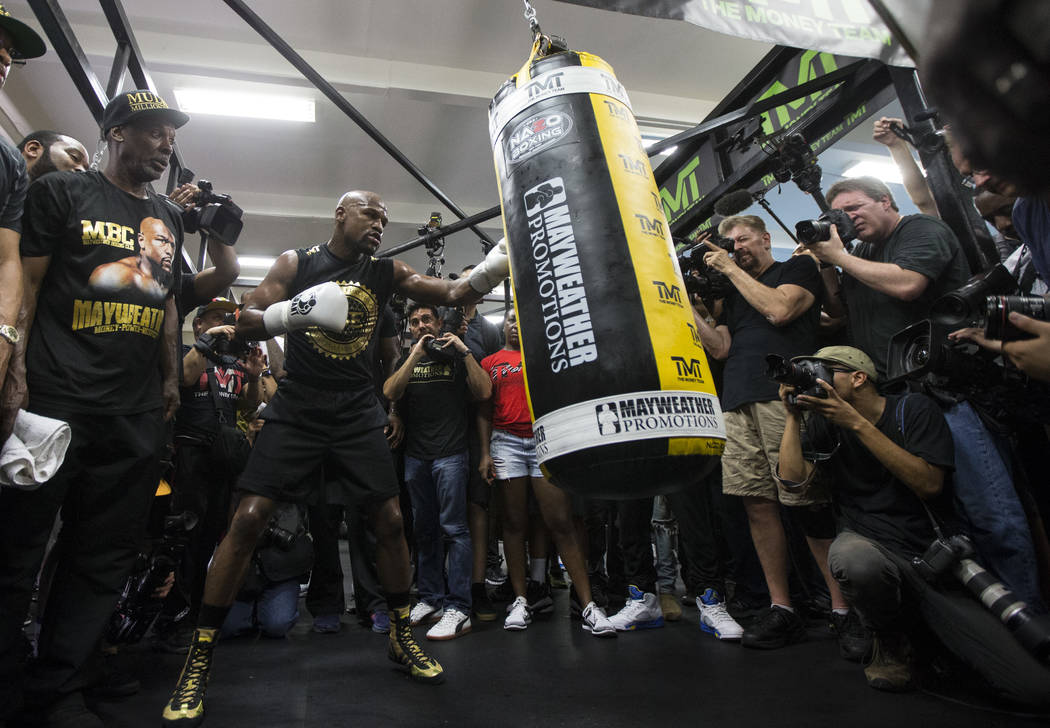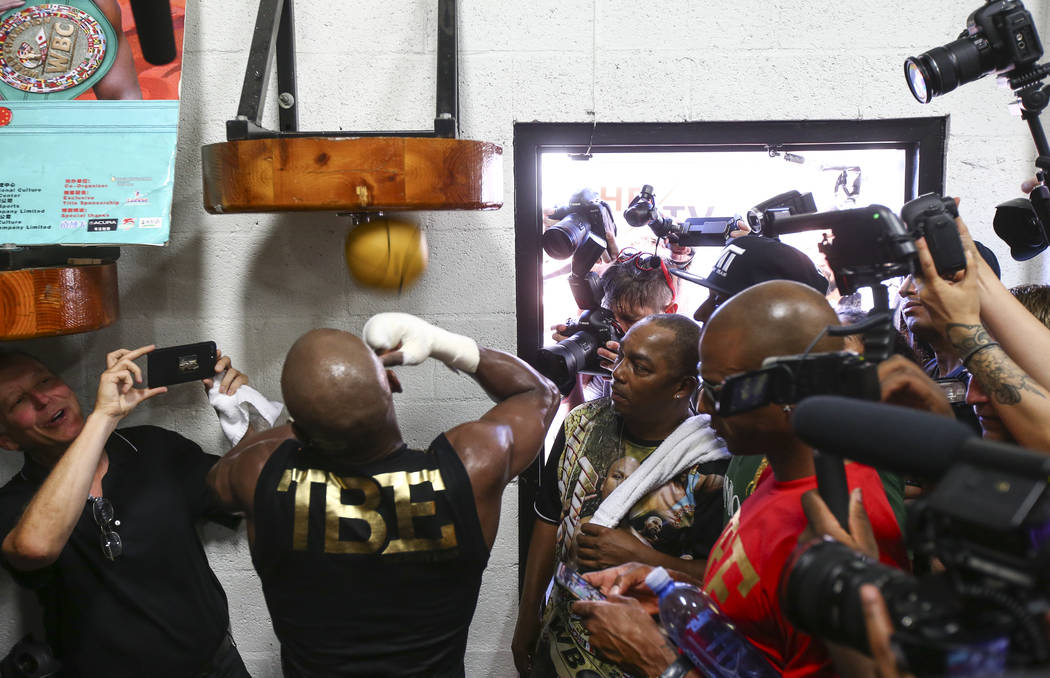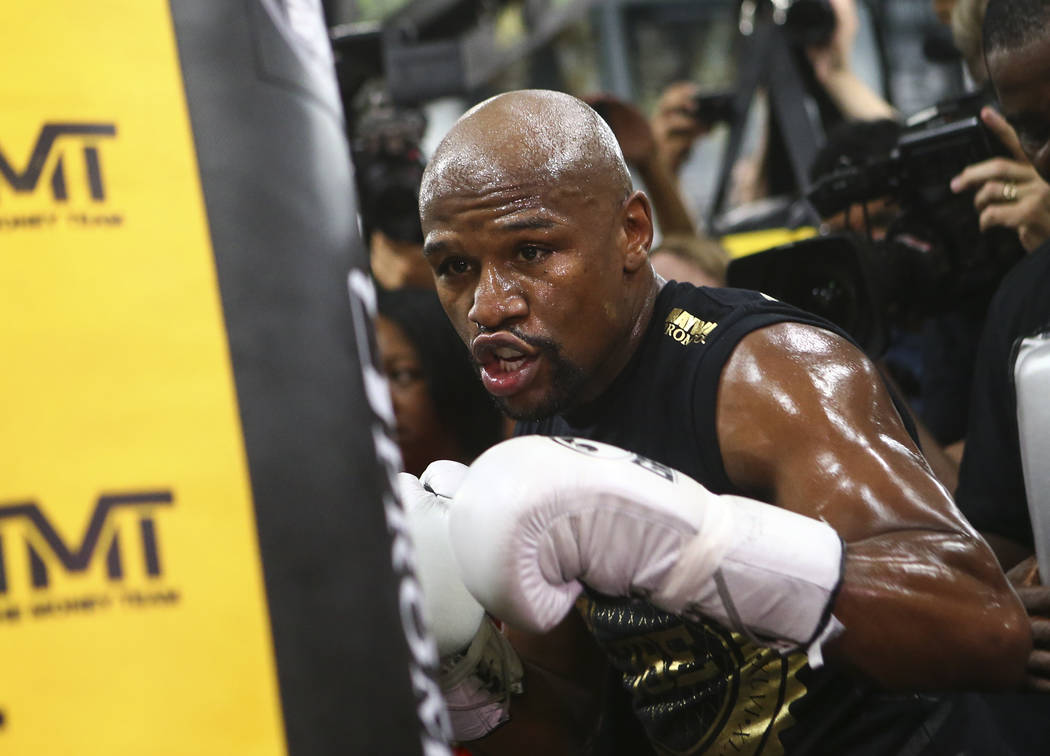 Floyd Mayweather had a few questions for the Los Angeles crowd at Staples Center during the first stop of his world tour with rival Conor McGregor last month.
"All work is what?" the undefeated boxer shouted to the mic.
"Easy work," Mayweather fans responded.
"Well point to the easy work then," Mayweather followed up as fans pointed to McGregor, who will be making his boxing debut against Mayweather on Saturday at T-Mobile Arena.
It was one of Mayweather's better jokes on the world tour that didn't offend anyone besides McGregor. But there could be some truth to the dig.
Not many are giving the UFC superstar a chance against arguably the best defensive boxer of all time. McGregor is a plus-500 underdog and Mayweather a minus-700 favorite, according to VegasInsider.com.
Mayweather could potentially earn a $300 million payday. But he will face a handful of challenges even with McGregor's boxing skills not being at the top of the list.
The 40-year-old Mayweather has all the pressure with his legacy on the line, and he hasn't fought in almost two years.
"If Conor gets beat, hey, who cares? Conor went in there and fought the best boxer," said Edson Berto, a professional mixed martial artist. "Think about it, if Floyd gets beat by Conor McGregor, that's the most embarrassing thing ever. I would not want to see that happen."
Berto has a soft spot for boxing as a former competitor and with his younger brother, Andre, being a welterweight contender. Edson Berto doesn't want to see boxing get a black eye if the face of the sport is conquered by a newcomer.
But Berto isn't too concerned. If his brother and many other former champions couldn't touch Mayweather, he's not giving the Irishman a shot. Andre Berto was the last man to fight Mayweather and lost a unanimous decision in September 2015 at the MGM Grand Garden.
"As a puncher, Conor hits hard, especially with 4-ounce gloves," Edson Berto said. "But what people don't understand, can you hit Floyd? It's not about how hard you hit. Conor doesn't hit harder than (Marcos) Maidana. Conor doesn't hit harder than Canelo (Alvarez).
"Conor hit hard for MMA fighters. Boxers would take his punches. Nate Diaz took all of his punches. He couldn't knock Diaz out. What makes you think he can knock out Floyd Mayweather?"
Andre Berto also doesn't see McGregor winning, but he's rooting for him. The two are close friends.
"From the boxing purist perspective, it's a joke," Andre Berto said about the cross-sport bout. "It's a WWE type of spectacle, but you know it's entertainment, and that's what is important right now is entertaining.
"At the end of the day, you have to respect what Conor is doing. He's a star. He knows how to rise to the occasion. It's going to be a completely different world for him, but that's the thing about this fight game, anything can happen."
McGregor's unique boxing strategies in the gym have gone viral and become a joke on social media. But he did gain some respect when videos and pictures of him overpowering Paulie Malignaggi in sparring sessions were leaked. Malignaggi is a former two-division boxing champion.
Mayweather didn't need to see the footage.
"I'm not going to overlook him," he said. "That's why I've been in the gym pushing myself and been working extremely hard. I can't overlook any opponent, even if it is Conor McGregor."
Mayweather, who was considered the hardest worker in boxing before retiring, has toned down his training camp schedule because of age. McGregor, 29, is 11 years younger than his opponent.
"I do my normal workout, but I'm a lot older now, so I have to let the body rest a lot more," Mayweather said. "When I was a lot younger, I would train, train, train, and never let the body recoup. I can train for two to three days and let the body rest for two days."
Rising boxing star Vasyl Lomachenko knows what it's like to go against a top fighter from the UFC. Lomachenko sparred against former UFC bantamweight champion T.J. Dillashaw this year.
Lomachenko said Dillashaw connected on a few shots when he was relaxed, but for the most part he didn't have any trouble during the four-round sparring session.
"I didn't take it too serious," Lomachenko said. "I was there to help him with his boxing."
Could Lomachenko-Dillashaw be a preview of Mayweather-McGregor?
"I don't know, for me it's hard to judge," Lomachenko said. "I don't know the levels of Dillashaw and Conor McGregor. I don't know how strong McGregor is."
Lomachenko recently called out McGregor on Twitter and challenged him to a sparring session. Everyone wants a piece of McGregor, but the 49-0 boxer has next.
"I know I'm going to see a warrior," Mayweather said. "I'm going to see a fighter."
More boxing: Follow all of our boxing coverage online at reviewjournal.com/boxing and @RJ_Sports on Twitter.
Contact Gilbert Manzano at gmanzano@reviewjournal.com. Follow @GManzano24 on Twitter.