Floyd Mayweather Sr. worth the price of admission
April 30, 2015 - 11:06 pm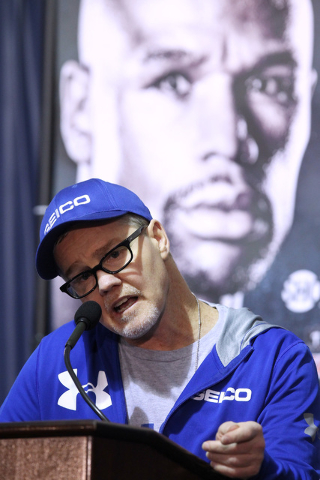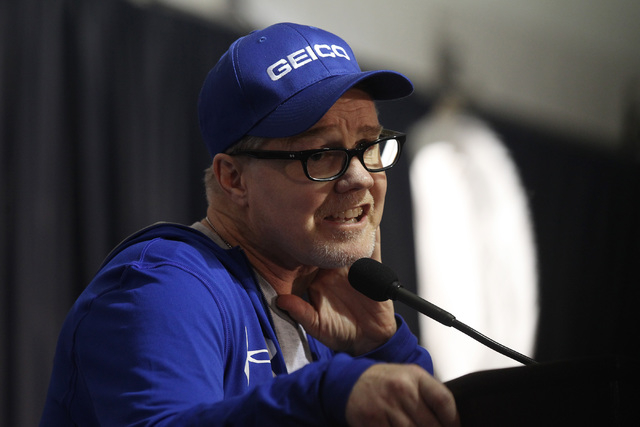 Not that there needs to be another revenue stream for Saturday's megafight between Floyd Mayweather Jr. and Manny Pacquiao at the MGM Grand Garden, but tickets probably could have been sold to hear Floyd Mayweather Sr. talk to the media Thursday.
Mayweather Sr., who trains his son, was that entertaining. Most of the questions he couldn't understand, especially from the foreign journalists. Those he did understand, he answered with equal parts alacrity and disdain.
When asked if his son was afraid of taking the Pacquiao fight, Floyd Sr. said: "We don't care what they say. We're not scared of Pacquiao or the Roach," referring to Pacquiao's trainer, Freddie Roach.
Mayweather Sr. was asked if his son could have beaten Sugar Ray Leonard. The elder Mayweather, who lost to Leonard on a 10th-round technical knockout in 1978, said: "Never mind that. I would've whupped Leonard. But I had a hairline fracture in my right hand."
He said he thinks the punch thrown by Juan Manuel Marquez that knocked out Pacquiao in their December 2012 fight continues to have lingering effects on Pacquiao and is the main reason his son will win the fight by knockout.
Someone suggested Pacquiao got sucker-punched by Marquez in the first round of that fourth fight between the two, but Mayweather Sr. was quick to jump the questioner.
"Listen, it ain't gonna be no sucker shot when my son knocks Pacquiao out," he said. "It's gonna be a real shot."
■ CCTV ADDITIONS — The MGM cleared additional space and has a limited number of tickets available for the closed-circuit telecast.
Tickets are available to watch the fight at Mandalay Bay and The Mirage. They cost $150 and can be purchased at the box office for that specific location. There is a limit of four tickets per person.
■ BROADCAST TEAM — The announcing team for the pay-per-view broadcast was finally made official in what is a collaborative effort between HBO and Showtime.
As expected, Jim Lampley, HBO's Hall of Fame announcer, will call the fight. Hall of Famers Al Bernstein of Showtime and Roy Jones Jr. of HBO will be the analysts, and Max Kellerman of HBO and Jim Gray of Showtime will be the ring reporters.
Paul Malignaggi and Steve Farhood of Showtime and Harold Lederman of HBO also will contribute to the broadcast. James Brown of Showtime will be the host for the telecast, which will begin at 6 p.m.
■ NO ISSUES — Nevada Athletic Commission executive director Bob Bennett said the equipment for both fighters is in compliance with all regulations.
ESPN reported Wednesday that the Mayweather camp had concerns over the size of the protective cup Pacquiao intends to wear under his trunks. But Bennett said the report had no validity and everything for both fighters is in order, including the gloves.
Pacquiao's gloves were turned in Wednesday, and Mayweather's arrived Thursday. They are being held for safekeeping by the commission until Saturday.
Contact reporter Steve Carp at scarp@reviewjournal.com or 702-387-2913. Follow him on Twitter: @stevecarprj
RELATED:
How the Mayweather-Pacquiao fight got made
Mayweather, Pacquiao 'officially' arrive in Las Vegas for megafight
How to watch the Mayweather-Pacquiao fight for free
Long wait ages Mayweather-Pacquiao to perfection
Mega-security planned for Mayweather-Pacquiao mega-fight weekend
'It's going to be crazy' in Vegas for Mayweather-Pacquiao
Tickets for Mayweather-Pacquiao sell out in less than two minutes
Pacquiao seeks last laugh against Mayweather
Vegas' Bayless picked to referee Mayweather-Pacquiao fight
Mayweather: Pacquiao fight won't define legacy
MGM's Fight of the Century will be Traffic Jam of the Century