Floyd Mayweather turns into brawler to knock out Conor McGregor
August 26, 2017 - 10:32 pm
Updated August 27, 2017 - 2:01 am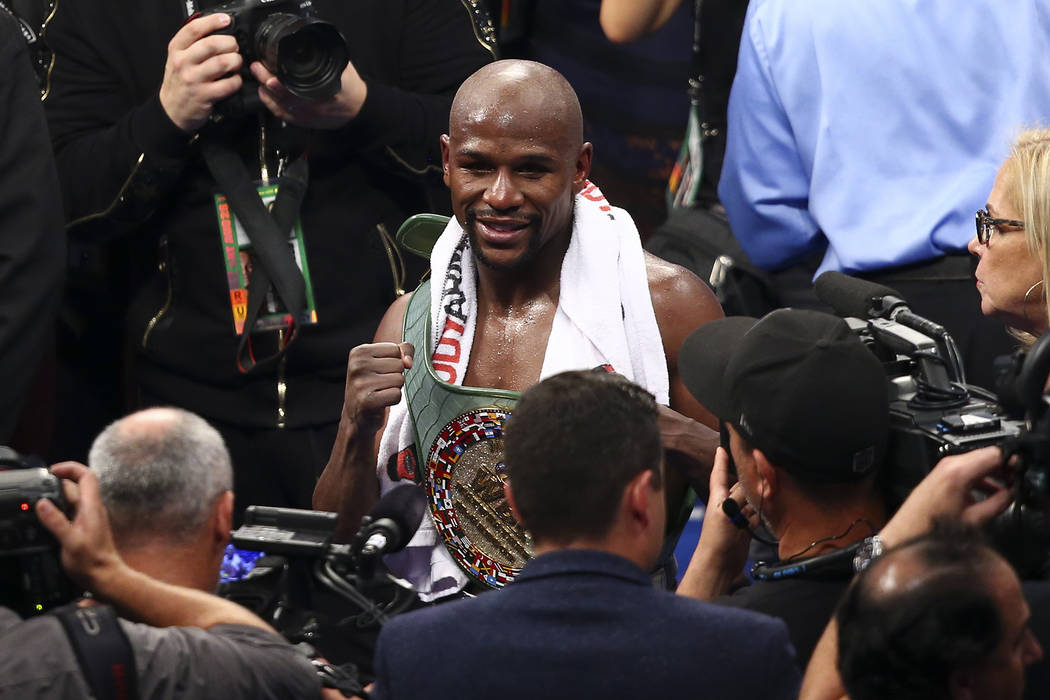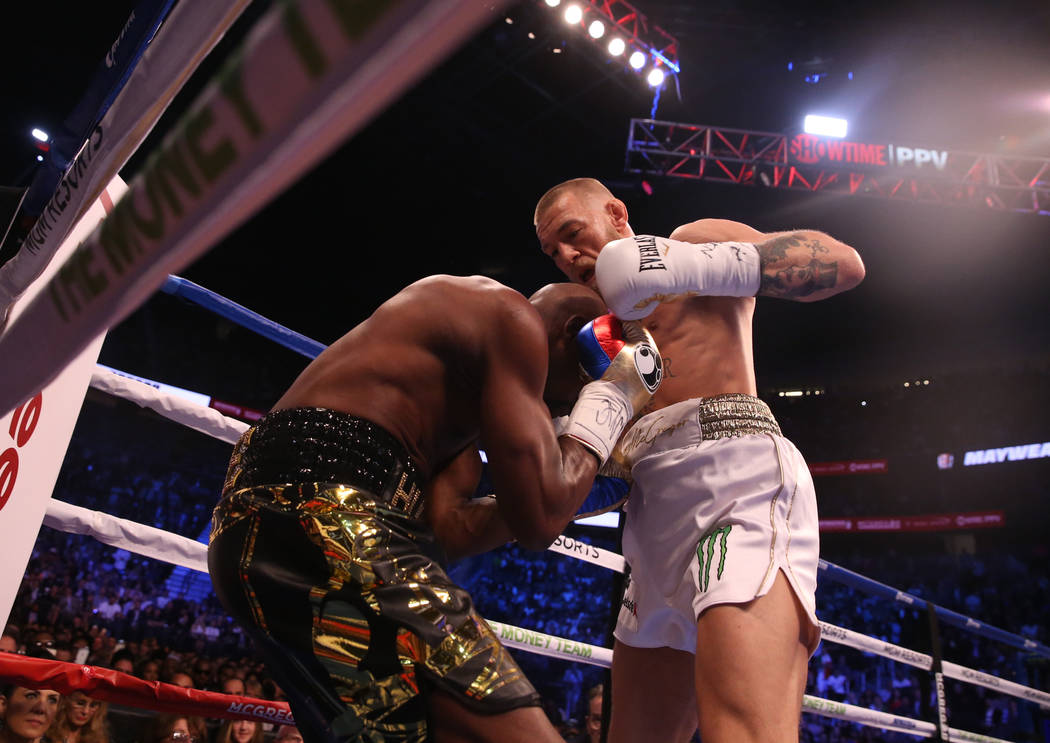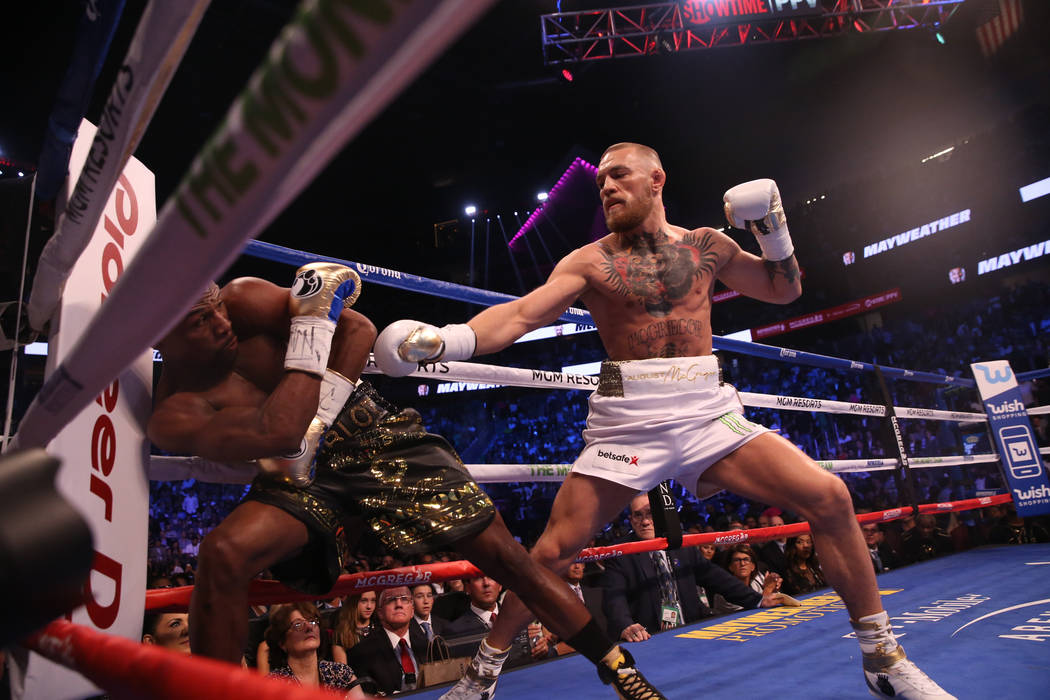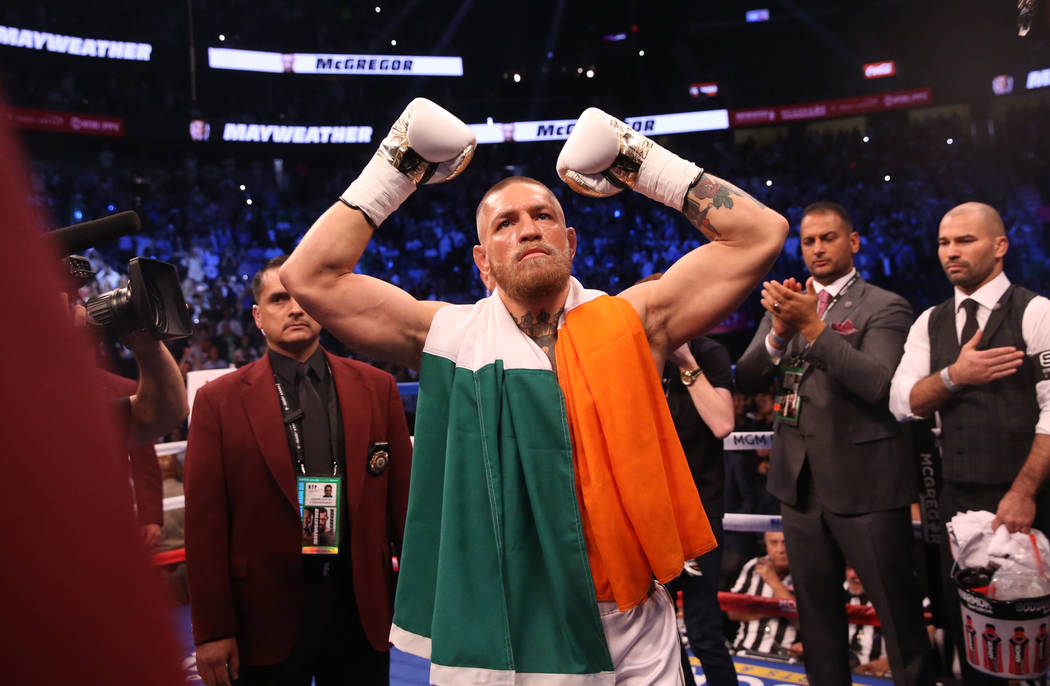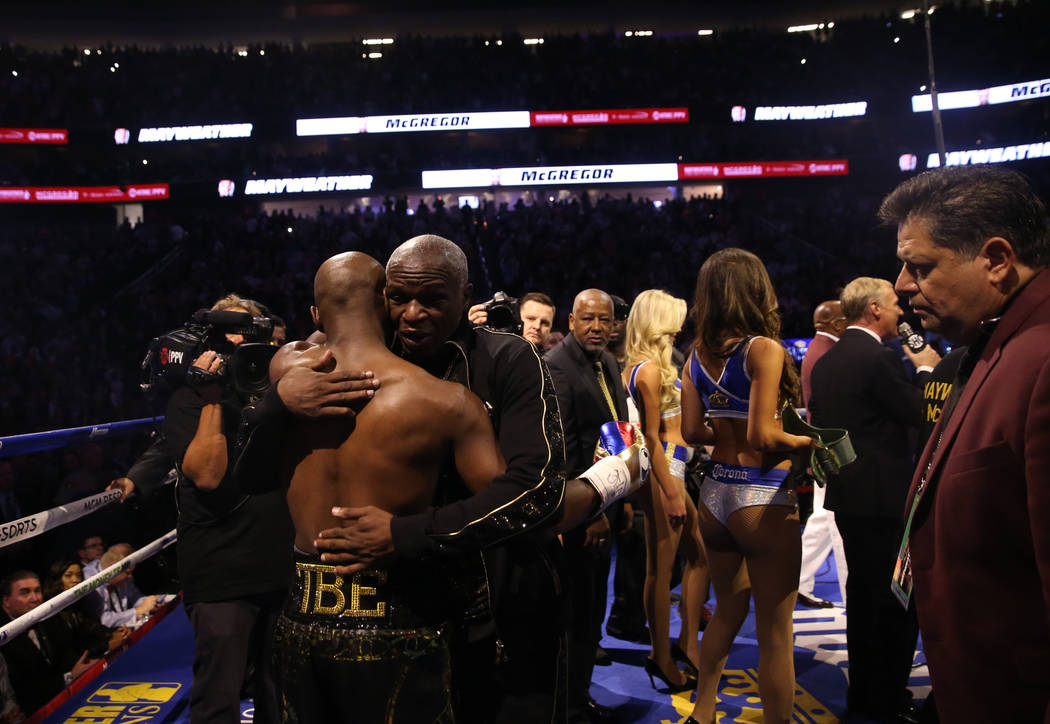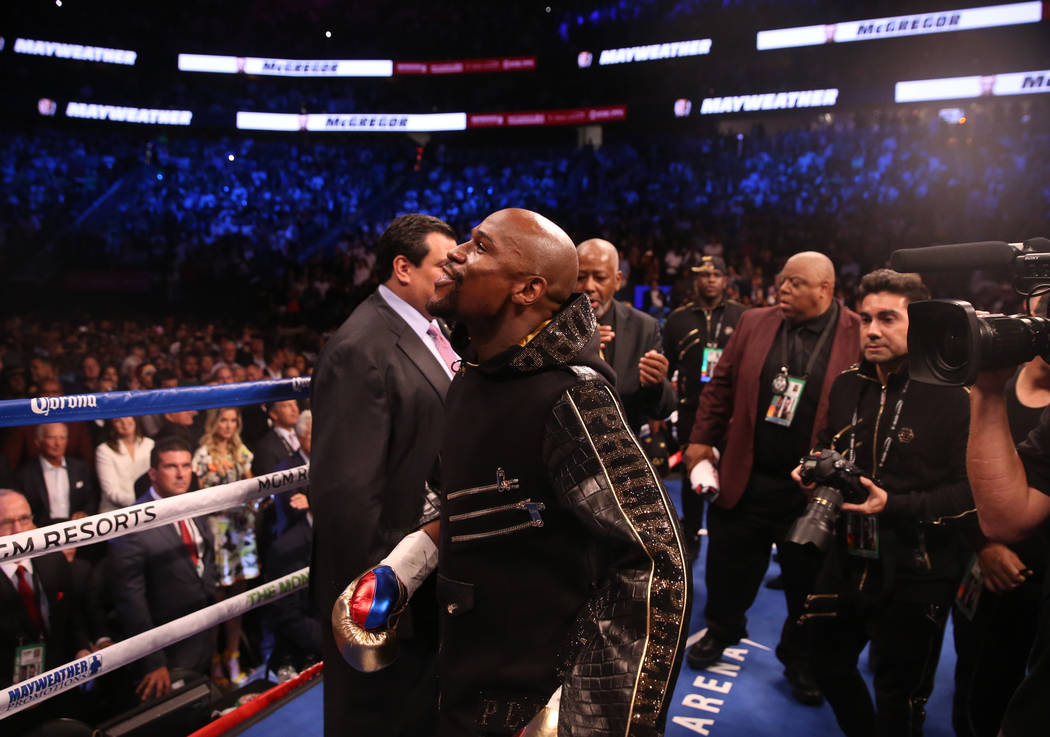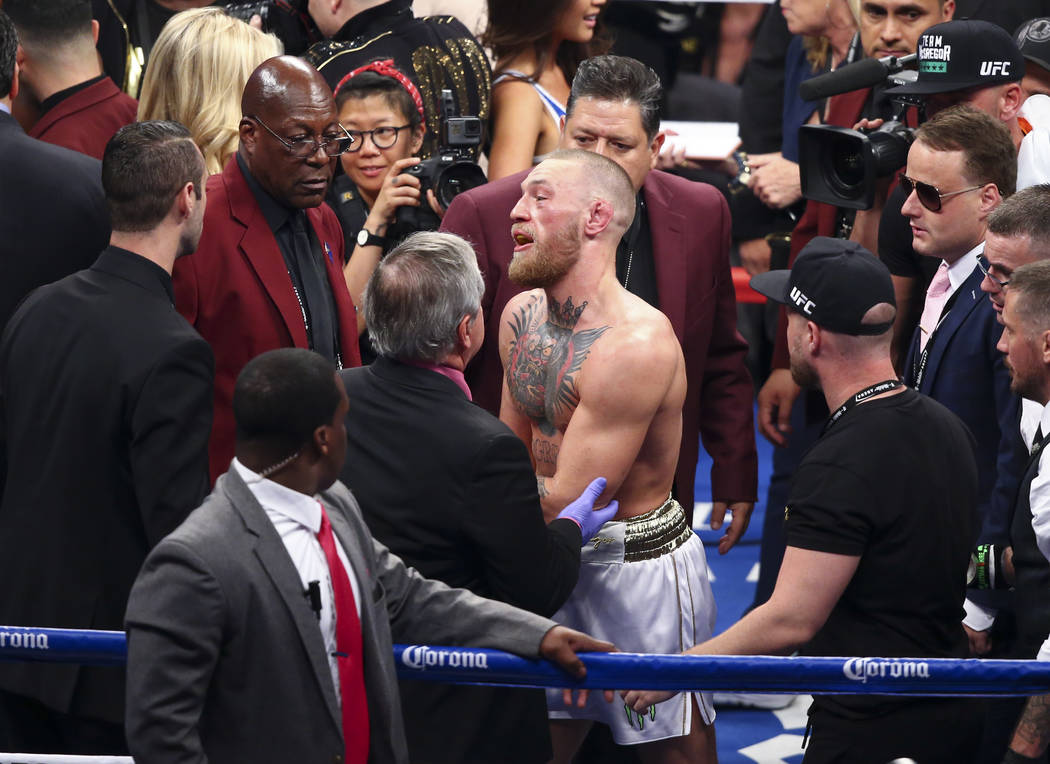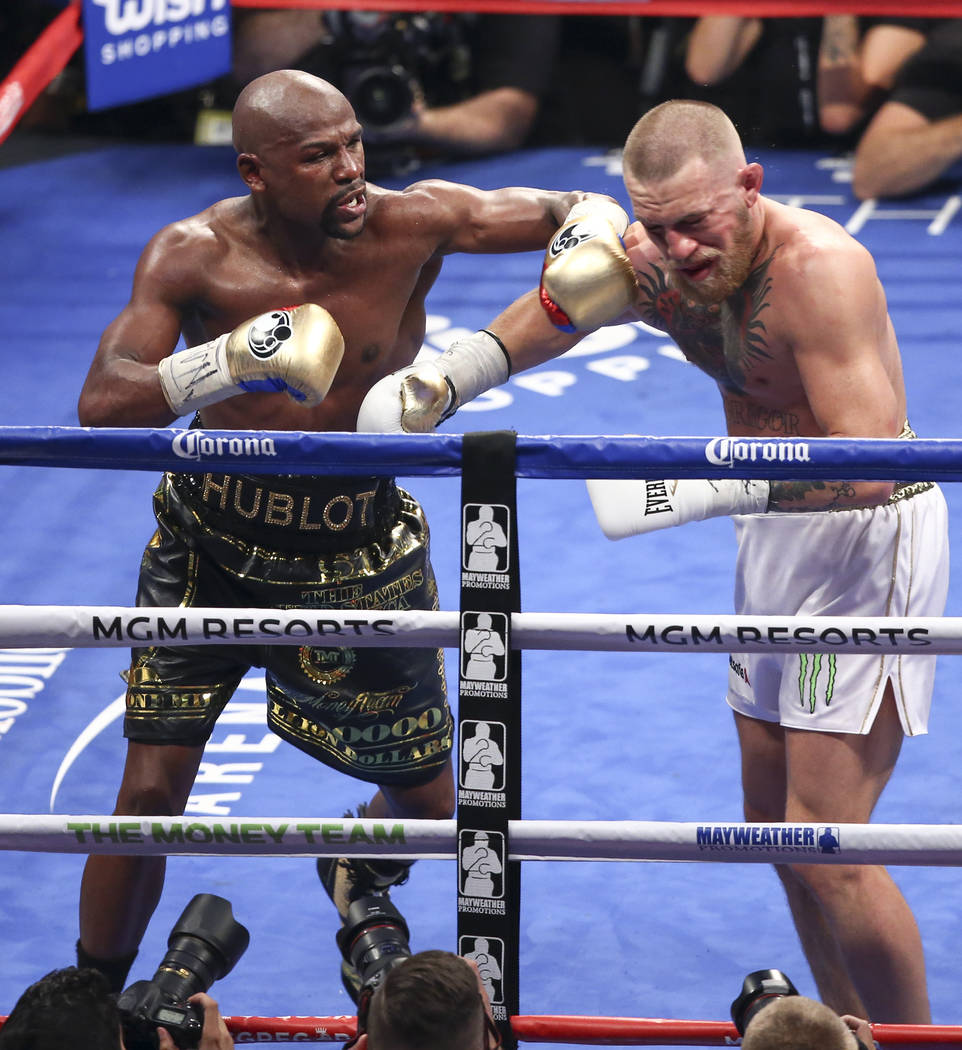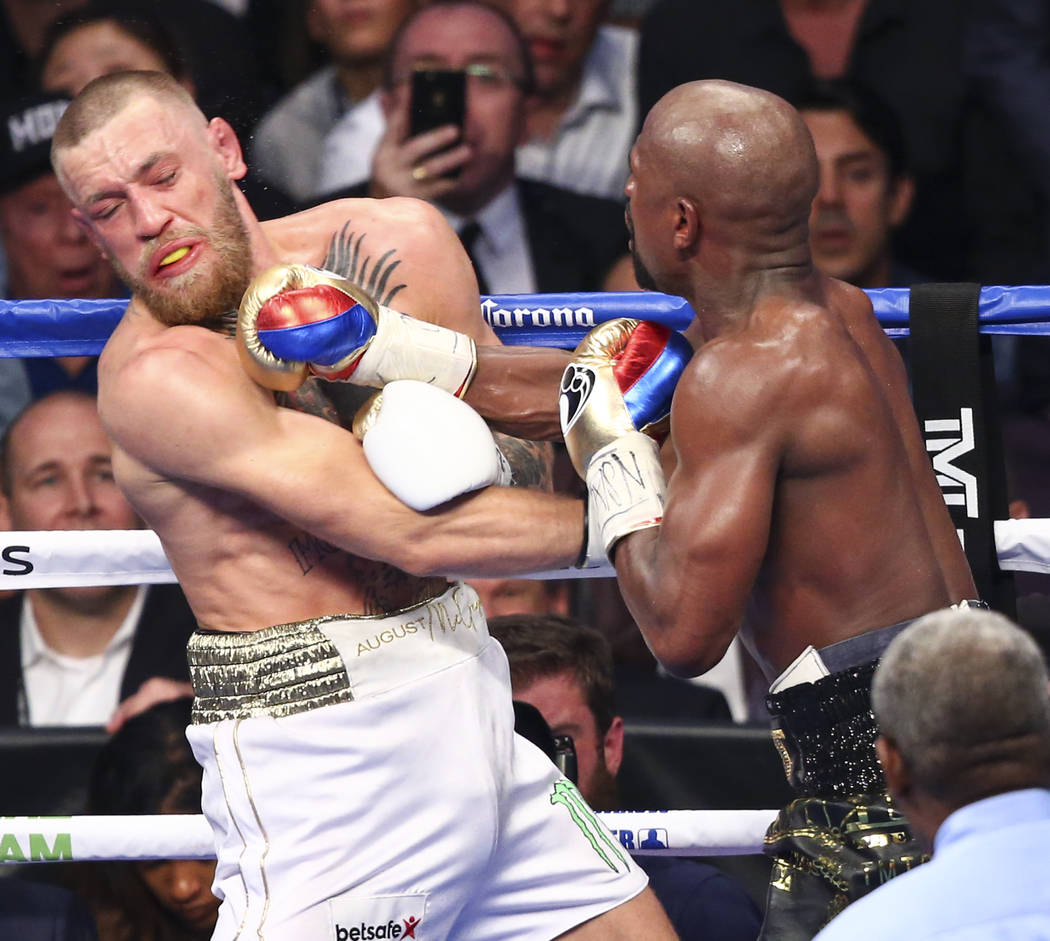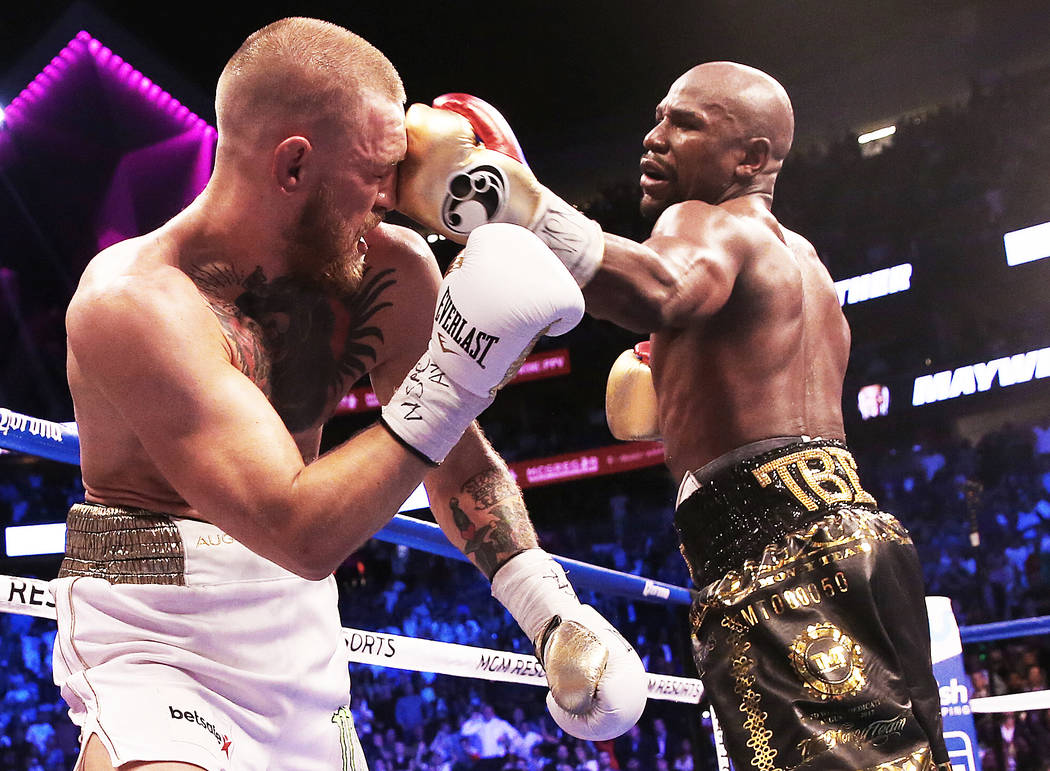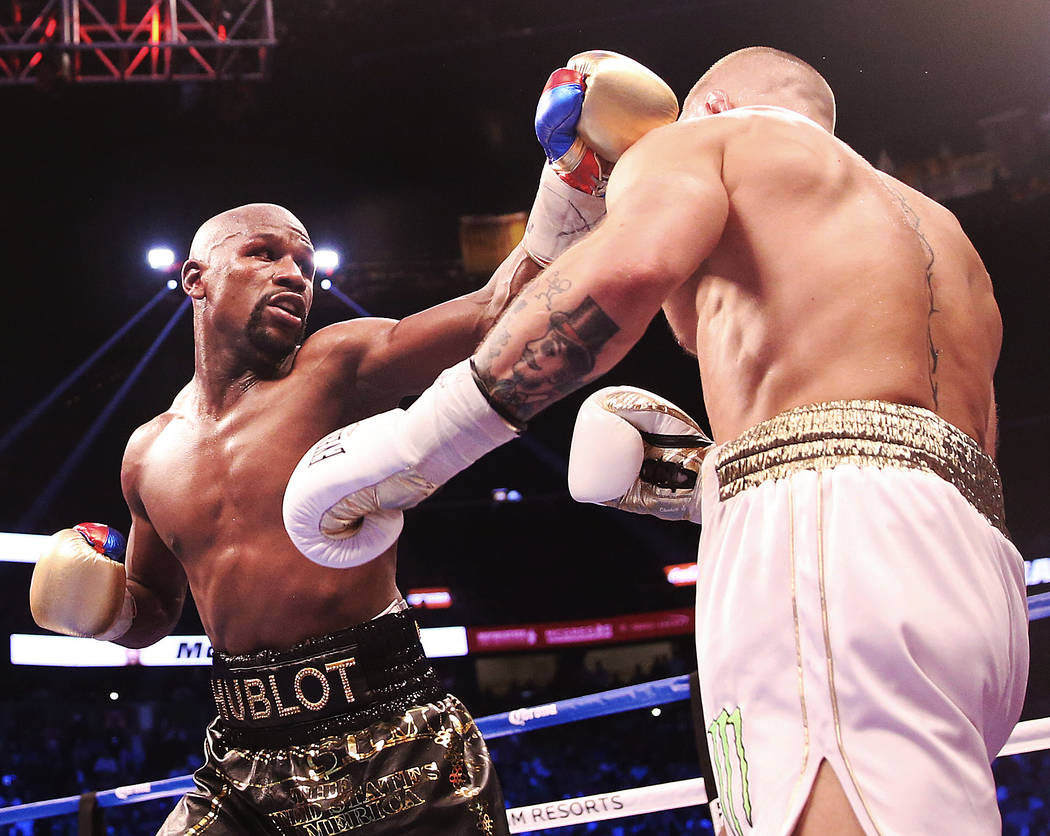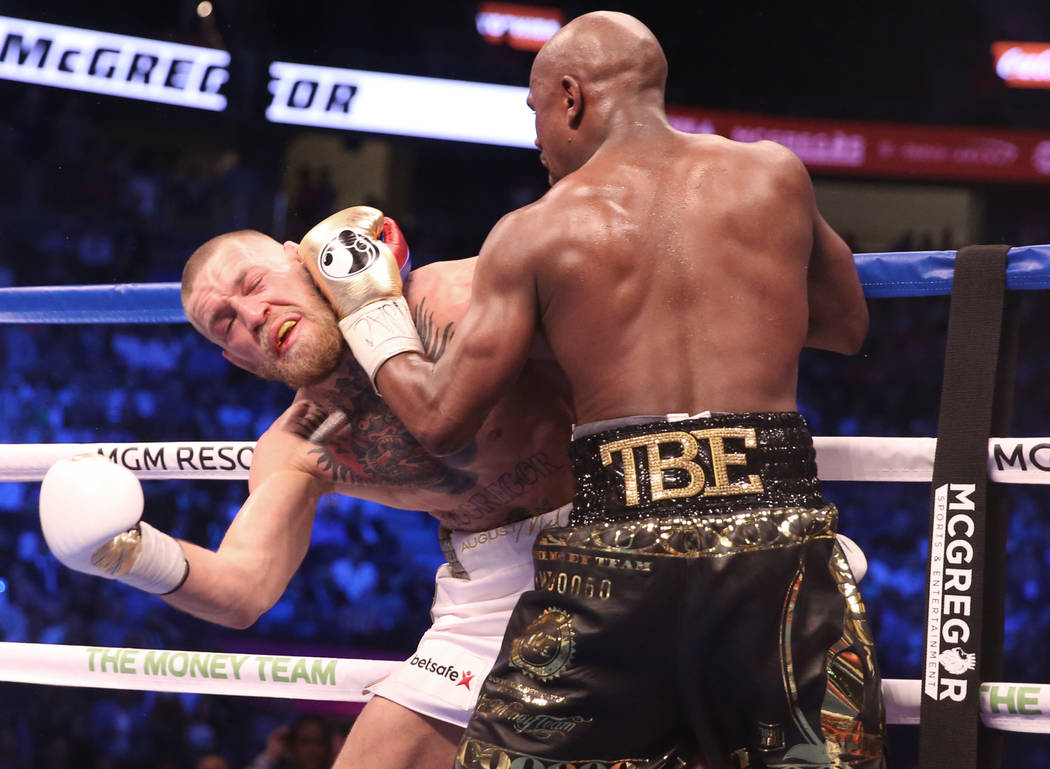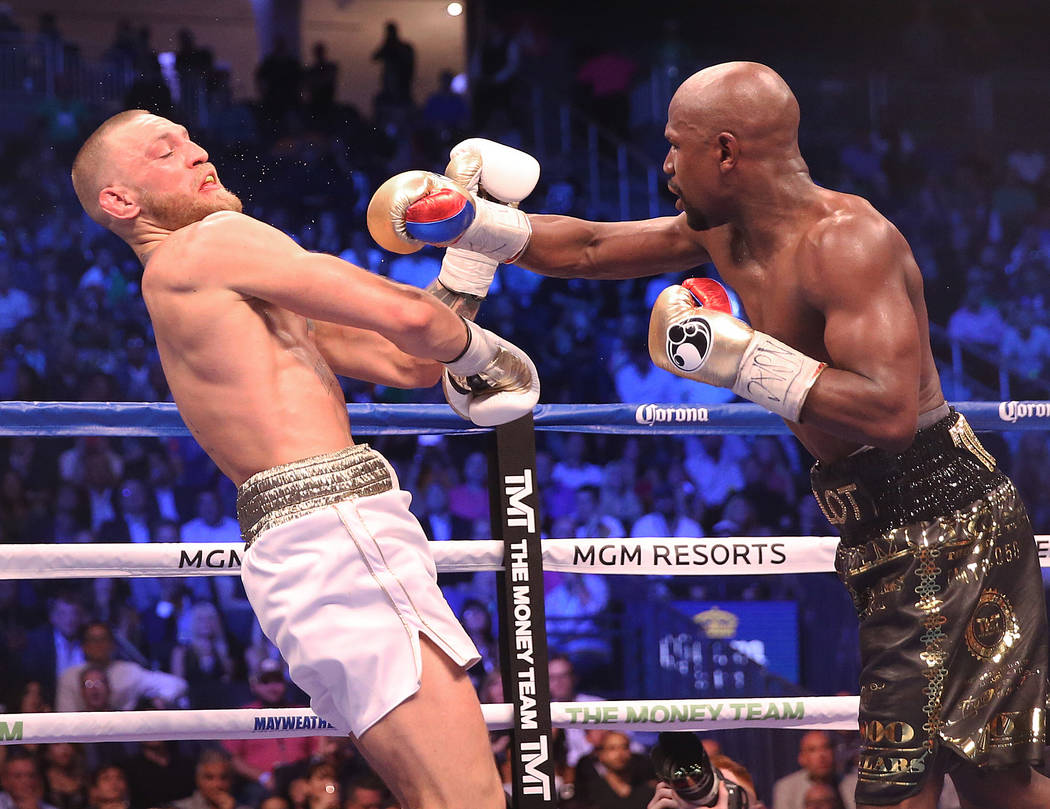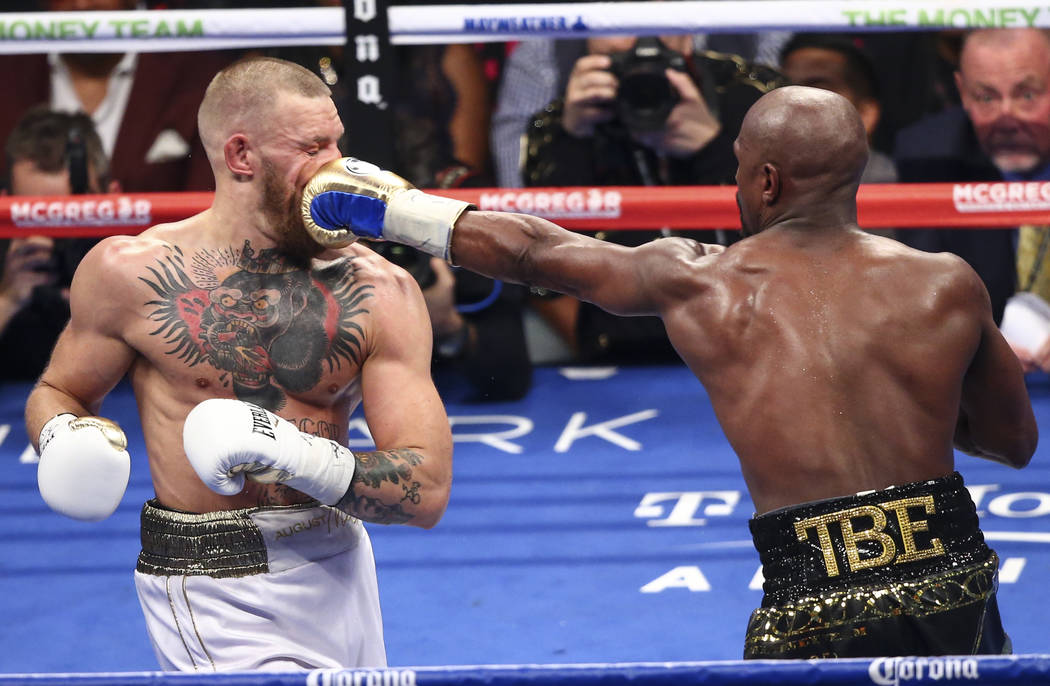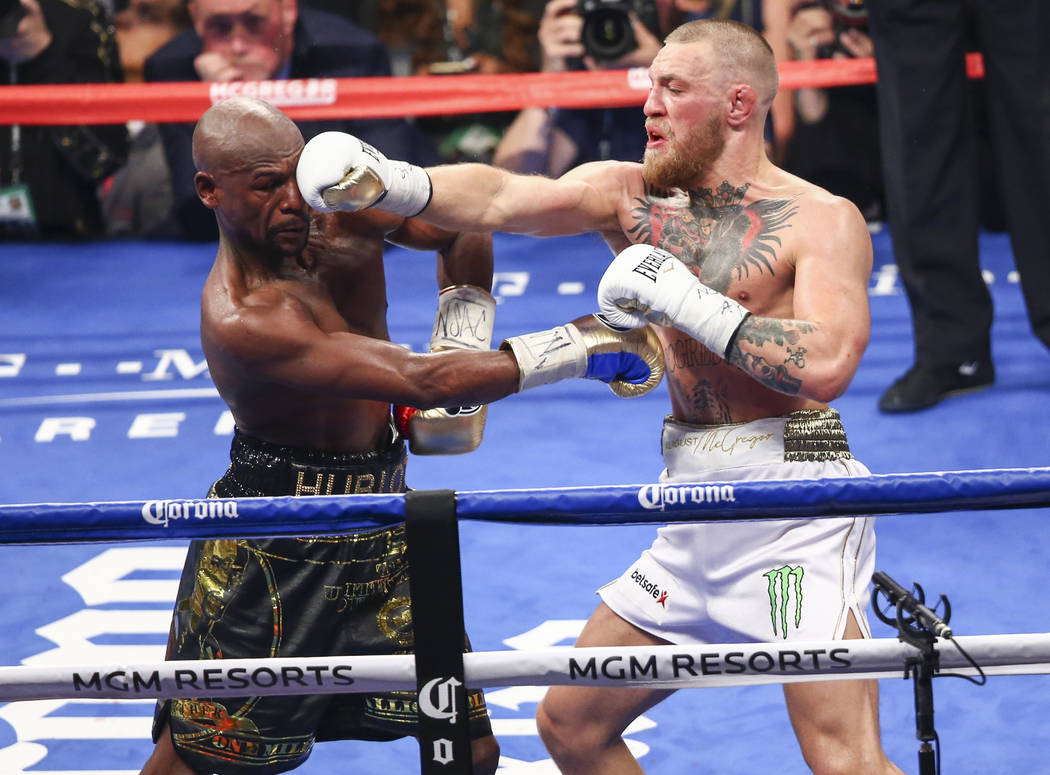 Floyd Mayweather didn't appear to be his usual self to start the mega cross-sport fight against Conor McGregor.
The shoulder roll wasn't there. The legendary head movement was absent. The effort wasn't there.
On some cards, Mayweather appeared to lose the first three rounds versus the UFC superstar, but the future boxing Hall of Famer had a game plan, and it was playing out as intended.
After allowing McGregor to connect on a few uppercuts, Mayweather brought out his patented shoulder roll to start the fourth round. Then the right hands came out.
A fatigued McGregor staggered back after taking a power right hand. Mayweather went for the kill with two more rights, forcing referee Robert Byrd to stop the bout at 1:05 of the 10th round.
The legacy stayed intact. Money May goes out 50-0.
"He's a lot better than I thought," Mayweather said in the ring about McGregor, who made his boxing debut. "He had different angles, but I was the better man tonight."
"Our game plan was to take our time, go to him, let him shoot his shots early, and then take him out down the stretch. We know in MMA he fights for 25 minutes. After 25 minutes, he started to slow down."
Mayweather, who entered the ring without a knockout since 2011, guaranteed during fight week that McGregor wouldn't last the full 12 rounds. The five-division champion kept his promise after snapping his seven-fight streak without a knockout.
A patient Mayweather is nothing new. But a lunging Mayweather looking for a brawl was different.
Mayweather stalked McGregor when he sensed the UFC lightweight champion was fading. The undefeated boxer made it look easy by throwing left jabs to set up the power right shots.
"I turned him into a Mexican tonight," McGregor said about Mayweather, who made a living picking apart Mexican brawlers.
Dave Moretti gave McGregor the first three rounds. Mayweather won two out of the first three rounds on the other two cards.
But to the crowd and many in press row, it appeared Mayweather was in trouble against the bigger McGregor, who walked into the ring close to 170 pounds.
Mayweather didn't sense danger. He was cool, calm and collected like he's always been throughout his 21-year career.
"He's composed. He's not that fast, he's not that powerful, but boy is he composed in there," McGregor said about Mayweather. "I have to give it to him. That's what 50 pro fights will do for you."
Mayweather again vowed that he is retiring for good. He said he wanted to come back to make up for the dud against Manny Pacquiao in 2015.
The crowd was pleased as Mayweather gave the fans one last show.
"This was my last fight tonight," Mayweather said. "For sure. Tonight was my last fight. Tonight I chose the right dance partner to dance with. Conor, you are a hell of a champion."
More Mayweather-McGregor: Follow all of our Mayweather-McGregor coverage online at reviewjournal.com/maymac and @RJ_Sports on Twitter.
Contact Gilbert Manzano at gmanzano@reviewjournal.com. Follow @GManzano24 on Twitter.
Related
Floyd Mayweather stops Conor McGregor in 10th round
Floyd Mayweather's TKO a historic win for sports books
Conor McGregor exceeds expectations before tiring
The circus of Mayweather-McGregor is over and it was pretty good show
Badou Jack leads undercard with TKO over Nathan Cleverly
PPV issues cause problems for Mayweather-McGregor card
Stars of all styles hit Mayweather-McGregor bout
Explore the scene at the Mayweather-McGregor fight — PHOTOS
Floyd Mayweather vs. Conor McGregor — TWEETS