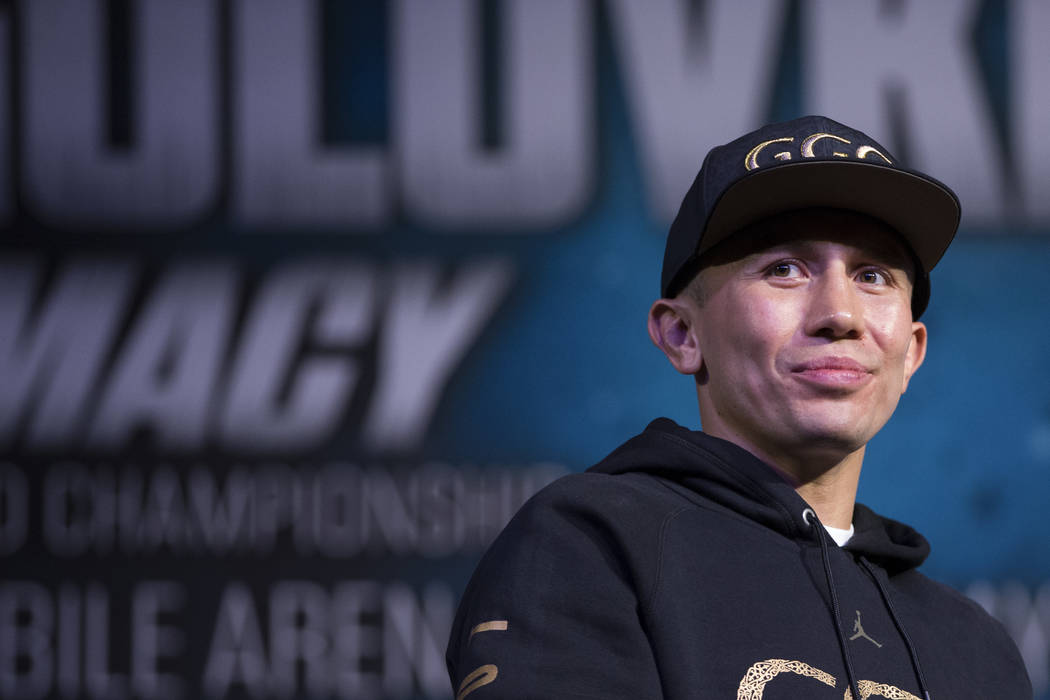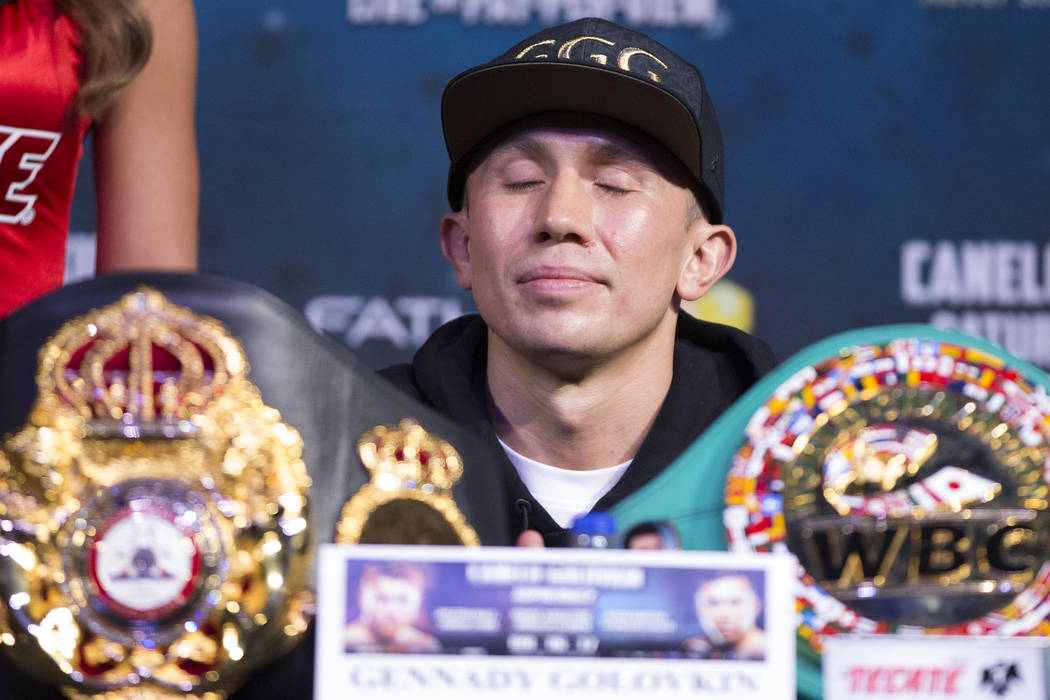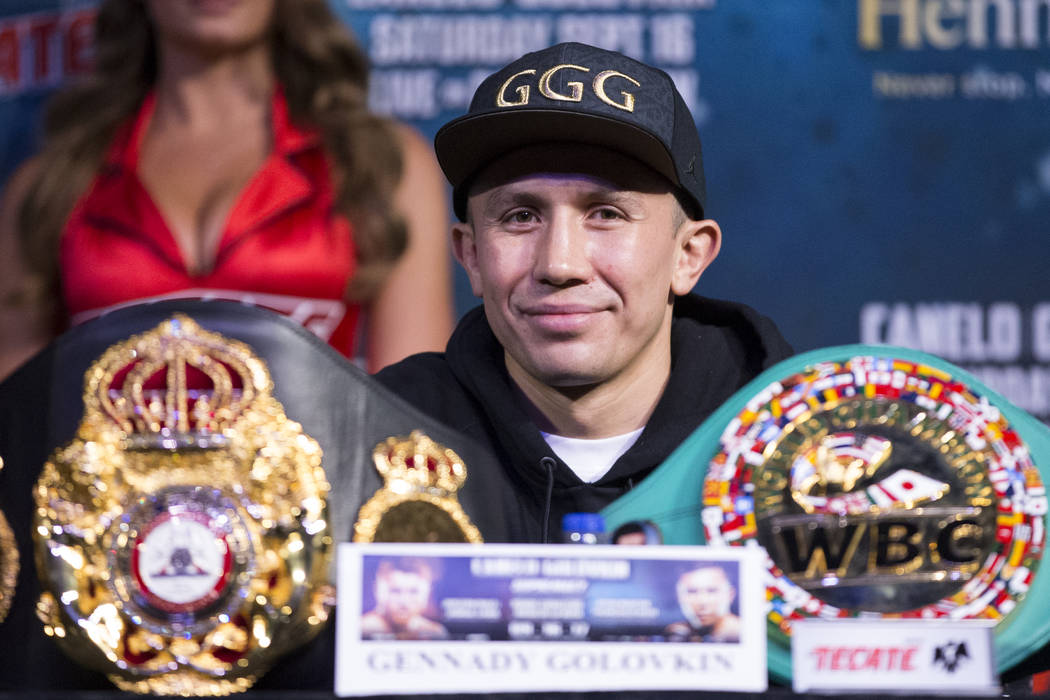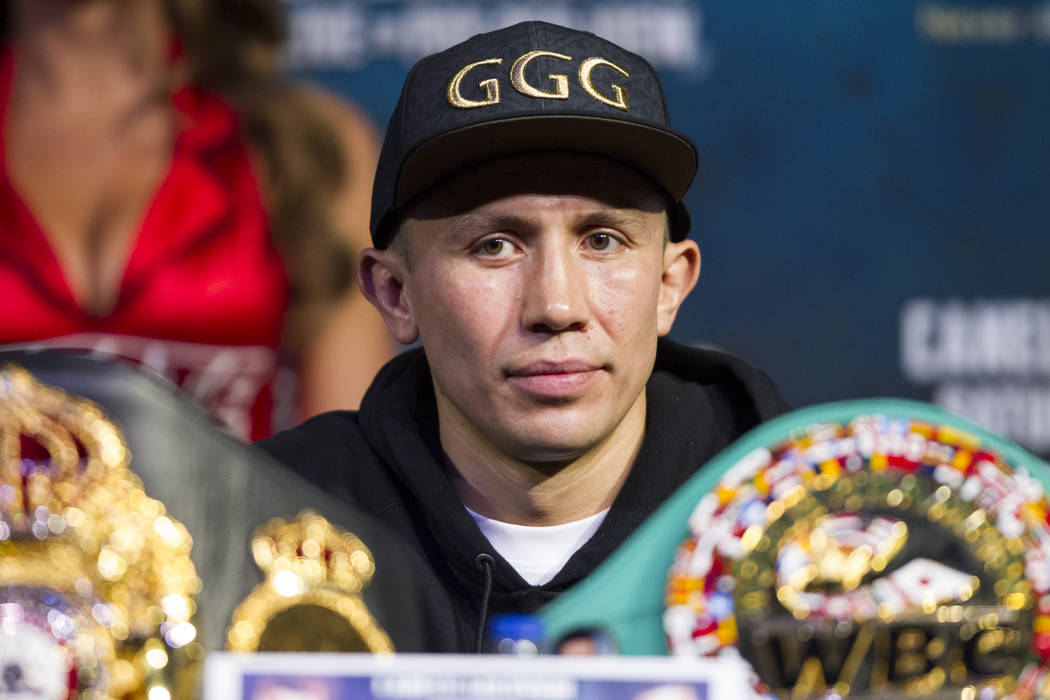 The street fights in Kazakhstan are all part of the lore at this point.
Just like the unblemished professional record. And the overwhelming punching power that has dropped or stopped 33 of 37 opponents.
But the baby-faced champion with the iron chin doesn't want to talk about where he came from, or what he's accomplished.
No. Gennady "GGG" Golovkin (37-0, 33 knockouts) is here to fight Saul "Canelo" Alvarez (49-1-1, 34 KOs) on Saturday at T-Mobile Arena.
Here for what, in his own words, is "the first step to history."
"This is my game. This is my fight … I am a champion," said Golovkin, who has the WBA, WBC, IBF and IBO middleweight titles. "I feel perfect. My body is perfect. Everything is good. I feel excited."
Golovkin, 35, has traveled the world, defeating all comers to secure his first bout in Las Vegas opposite Alvarez — the 27-year-old Mexican superstar whose only loss was a majority decision to Floyd Mayweather in 2013.
Alvarez hasn't wavered from his stern, uber-serious demeanor during fight-week festivities, but Golovkin sports an aura of comfortability, often flashing his trademark, boyish smile as he prepares for the most important fight of his life.
"Right now it hasn't sunk in, I think. It's a ring, a ref and Canelo on the other side," said Abel Sanchez, Golovkin's trainer. "It could be anywhere. It could be on the moon. It'll sink in."
Golovkin downplayed the significance of the fight's location, but acknowledged that Saturday is indeed the zenith of a career that started in his native Kazakhstan.
At the insistence of his older brothers, Golovkin fought grown men on the streets as a child before committing to the sport of boxing, annihilating the amateur circuit and winning a silver medal at the 2004 Athens Olympics.
He turned professional in 2005, and fought in Germany and Denmark before teaming in 2010 with Sanchez, who taught Golovkin the proper footwork and timing to complement his brute strength.
Sanchez coached Golovkin from the corner in Panama and Ukraine before they made their American debut in New York in 2012.
The veteran cornerman said their seven-year journey has been strenuous at times but vital in Golovkin's evolution into an elite fighter.
"It was a way of building his name up, building his reputation up, building everything up," Sanchez said. "We were willing to sacrifice in order to get him to this point now."
Golovkin has been eyeing a showdown with Alvarez for a few years, but — for whatever reason — the fighters' camps didn't make the bout until May.
Alvarez said through an interpreter that "because of all the surroundings and all the back and forth, everything that was involved to make this fight … I think this is the biggest, and it came at the right moment.
"The styles have the ingredients to make it that kind of fight, a historic fight, and a fight that will go down in history for so many years."
Alvarez is a brilliant counterpuncher with natural power who unloads combinations when openings are available.
Golovkin, ironically enough, operates with what he refers to as "Mexican style" and attacks opponents with aggressive, violent shots. But he proved in his last fight that he could go 12 rounds and won a unanimous decision over Daniel Jacobs in March.
Sanchez credits Golovkin's professional dominance — he's stopped 22 of his past 23 opponents — to an insatiable work ethic and devotion to the sport.
But even he didn't expect his fighter to have this kind of success.
"It was a dream," Sanchez said. "I thought that he would be a world champion. I thought that he would defend his title. I thought that he would be recognized as one of the better middleweights."
Which he undoubtedly is.
On Saturday, he'll have the chance to prove he's the best.
Contact Sam Gordon at sgordon@reviewjournal.com. Follow @BySamGordon on Twitter.
Alvarez-Golovkin Friday events
Weigh-in
— Doors open at the MGM Grand Garden Arena at 10 a.m.
— Fighters on the scale at noon
Golden Boy Boxing on ESPN card
— Doors open at the MGM Grand Marquee Ballroom at 3 p.m.
— First bell is at 3:30 p.m.
— ESPN2 broadcast begins at 6 p.m.
— Claudio Marrero vs. Jesus Rojas in the main event
— Tickets start at $10 on ticketmaster.com