Gervonta Davis found refuge and future under Calvin Ford
Updated April 21, 2023 - 10:05 pm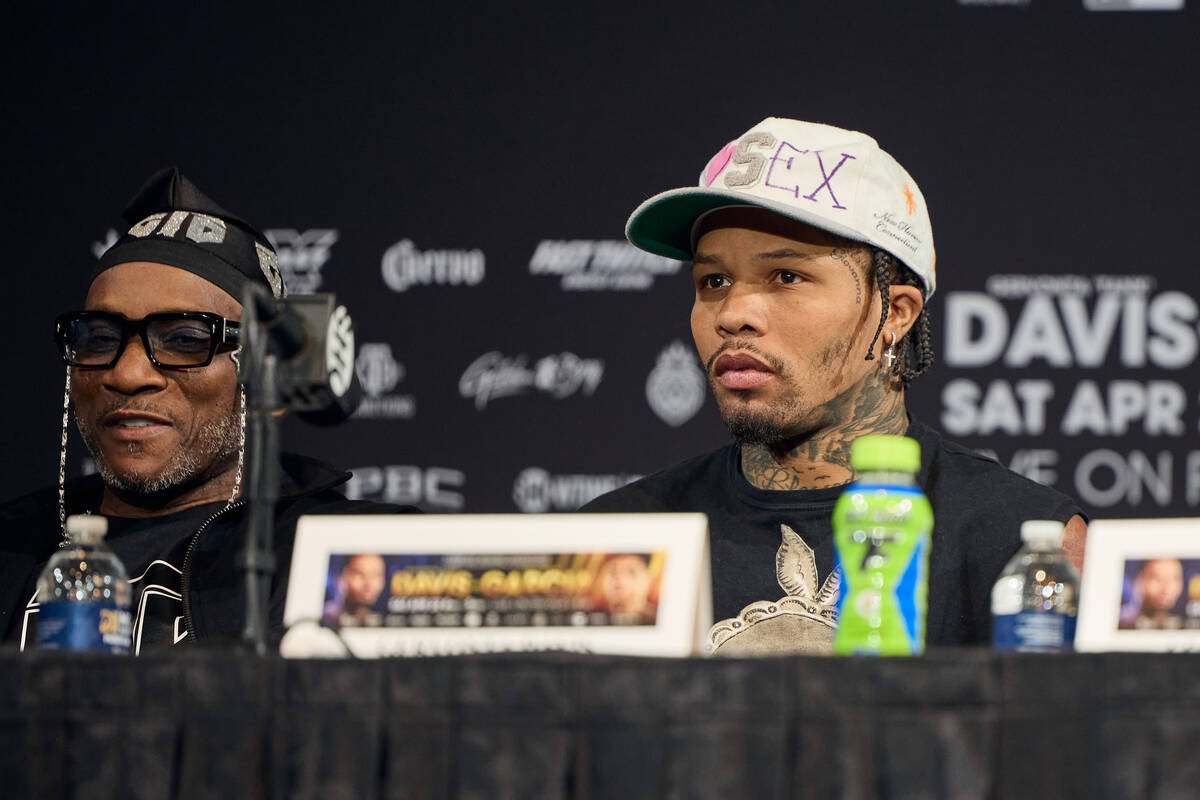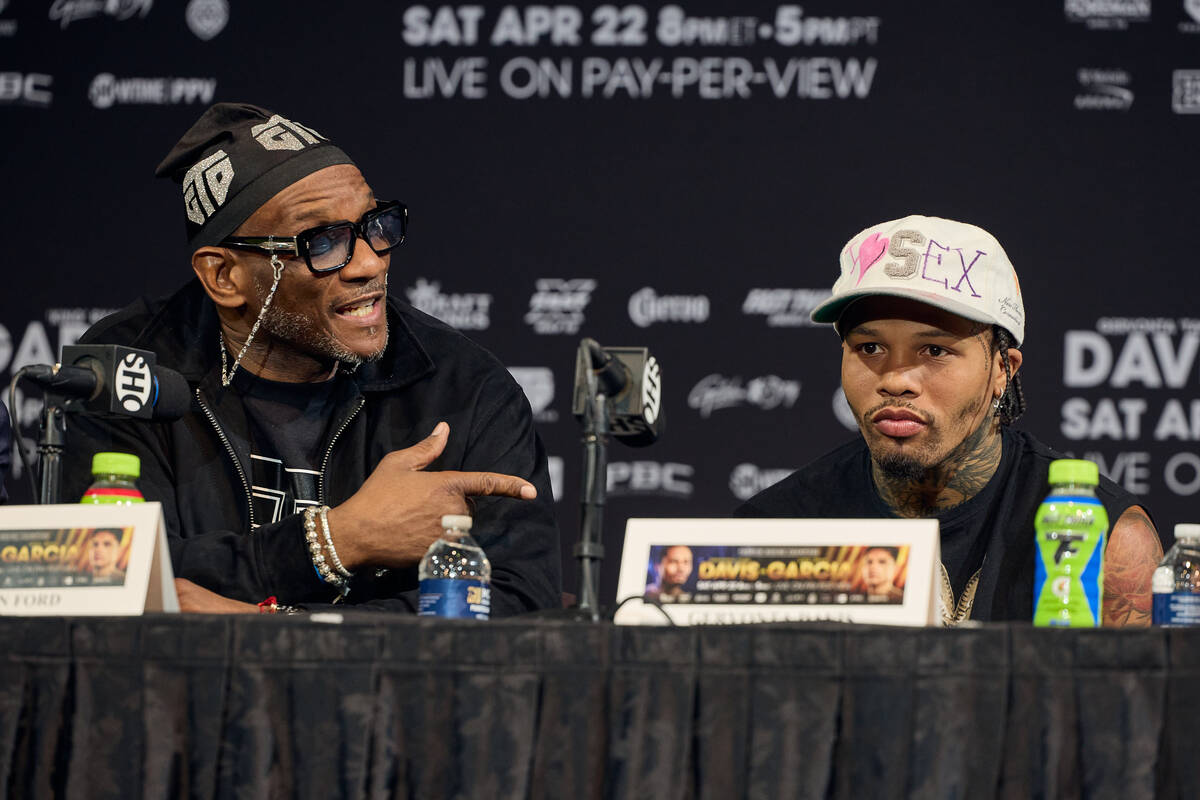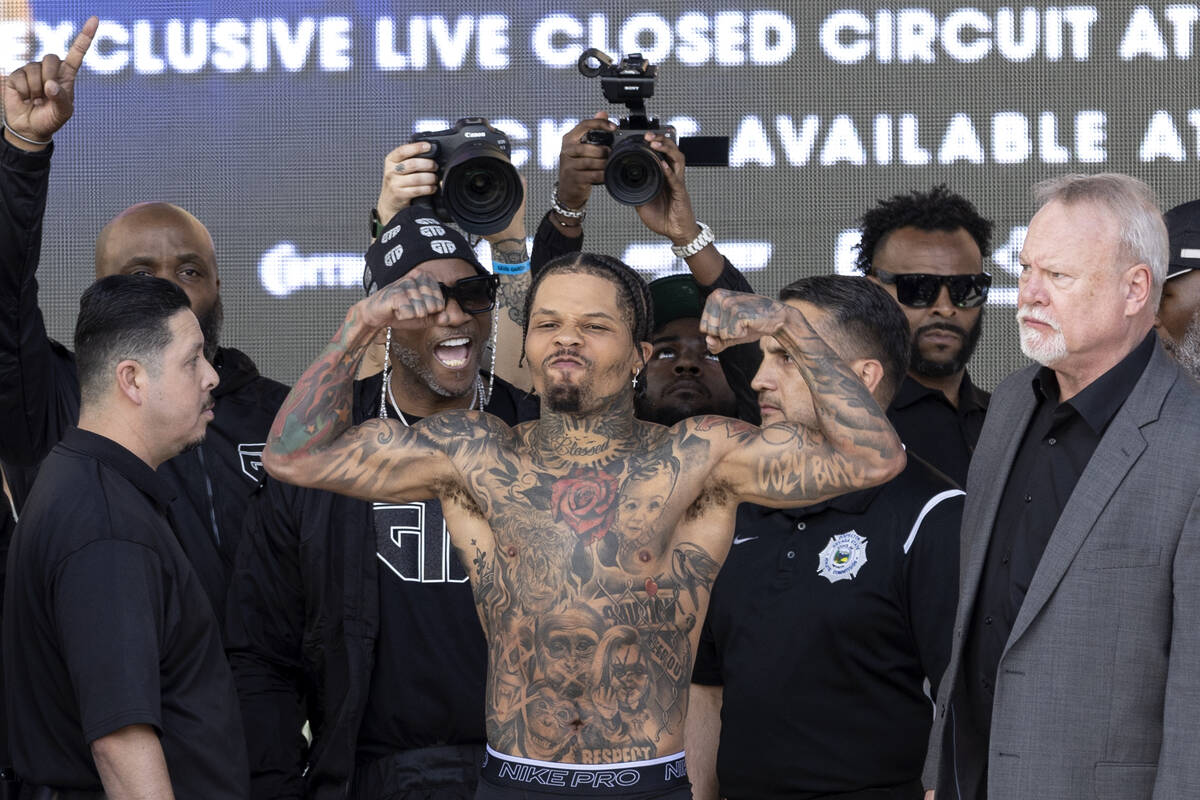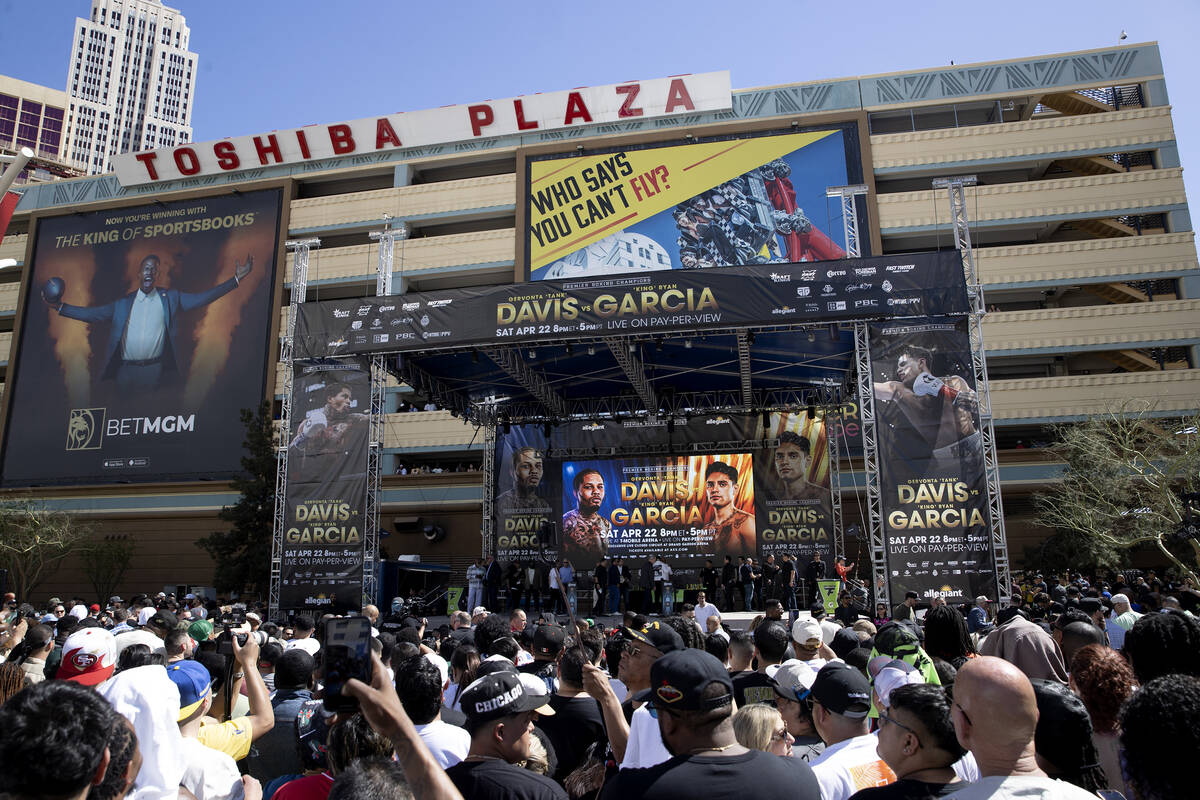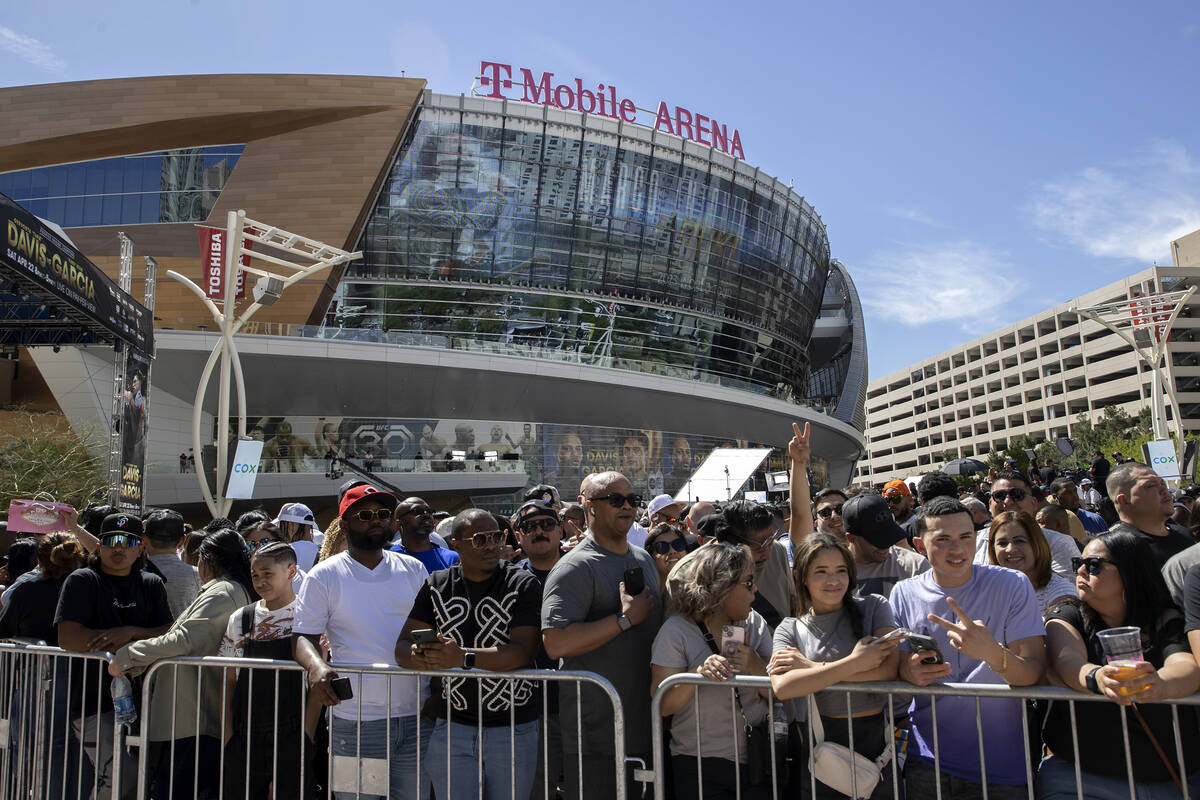 The final promotional news conference began Thursday inside MGM Grand's Ka Theater with Gervonta "Tank" Davis seated atop the stage. Trainer Calvin Ford sat beside him, keeping the promise he made to his late son, Quaadir Gurley.
It was through Gurley that Ford met the lightweight superstar in their beloved Baltimore more than 20 years ago.
"He told me 'Make sure you keep Tank close to you.' … And everywhere I went, I kept him with me."
In Baltimore and beyond.
Davis (28-0, 26 knockouts) and Ford have brought their unbreakable bond from Baltimore to Las Vegas, where they conducted training camp before their Saturday megafight at T-Mobile Arena against fellow superstar Ryan Garcia (23-0, 19 KOs). More than two decades have elapsed since Davis first walked inside the Upton Boxing Center, finding an outlet he didn't then know he needed and a father figure in Ford.
Now 28, Davis is among boxing's biggest draws, best pound-for-pound fighters — and for the first time a headliner in Sin City. Ford is the calm in his corner.
"Me and Coach Calvin have been doing this for so long," said Davis, a titlist in three divisions. "He's a major key to my success over the years. I'd be nowhere without him, so I always keep him close to me."
'Not just boxing'
He goes by Coach Calvin and relates to the upbringing Davis endured in their hometown, where drugs and violence remain rampant on the West side from which the tandem hails. That much hasn't changed: Only St. Louis has a higher murder rate among major American cities, per World Population Review.
Ford's disposition has.
He's 58, sage with wisps of black in his short grey beard, glasses he secures with a spangled silver chain and a tender smile befitting of his affable demeanor. Lest we forget he hails from Lexington Terrace, a high-rise housing project razed in 1996 that was synonymous with drugs and violence. It was a hub for West Baltimore kingpin Warren Boardley, for whom Ford became a trusted lieutenant.
"Any project areas that had high rises, there was always drugs," Ford said. "When you see stuff like that every day, it just becomes a part of your life in a sense."
As a result, Ford helped run Boardley's trade and was sentenced in 1988 to 10 years in federal prison for racketeering. He reconnected with religion and bettered his boxing skills alongside fellow inmate Reggie Gross, an enforcer for Boardley and former professional boxer who was knocked out in 1986 by heavyweight icon Mike Tyson and remains incarcerated for three murders.
Ford also learned to bake, abandoning the mentality he once maintained and filling idle time with sweets — and the sweet science.
Gross and other inmates encouraged Ford to box upon his release in 1998, but he figured he was too old and sought instead to work with younger fighters. So he started coaching Gurley while working his way toward a managerial position at Phillips Foods Inc.
Together they would train at Herring Run Recreation Center, now the Upton Boxing Center that Ford was hired by the city to run.
"It's not just boxing," said Kenny Ellis, a former amateur boxer and proud Baltimorean who operates the gym with Ford. "It's our goal to save kids from the streets."
Ford's influence among Baltimore's youth inspired the character of Dennis "Cutty" Wise in HBO's "The Wire," a television series based on the city's drug trade and the failings of its public agencies. The series is critically acclaimed for its realism. Wise is a former convict who opens a boxing gym upon his release.
The character seeks to empower kids, providing structure that helps them stay away from the streets. Ford is the real thing.
"Ever since I've met Calvin, he's trying to make his right outweigh his bad," Ellis said. "Everybody has a testimony. Nobody's perfect. … We're trying to make everything right."
'You can be a star'
A dozen or more aspiring amateurs file into Upton in the days that follow Davis' fights, motivated bythe musings of their hometown hero and greeted with the love and refuge that Ford and Ellis live to provide.
They tell Ford and Ellis they want to be like Davis.
"Just watching and learning, you can be the same thing as him. You can be a star," said 19-year-old Baltimore bantamweight Cuttino Oliver, 12 years a pupil at Upton.
Davis was 7 when he arrived for the first time, living then with his grandmother amidst his mother's drug use and father's imprisonment — brought to Upton by two uncles who saw him fighting outside his doorstep.
"An average little boy just like any other little boy," Ford recalled, "trying to find (his) way and make (his) name known and whatnot."
Davis did just that, promptly earning the nickname "Tank," because his head seemed to be too big for his body. He hits like one, too, and a mentorship program paired him with Gurley, who urged Ford to focus on training Davis.
"He's a fighter," said Ford, who would mold him into a boxer — spending so much time by Davis' side that he was often mistaken for his father. Together they traveled across the country, expanding their world view and amassing the amateur accolades they'd bring back to Baltimore.
Davis finished 206-15 in the unpaid ranks, turning professional in 2013. His surge toward superstardom has made many a fan among other prominent professional athletes and entertainers, dozens of whom are expected to attend his bout with Garcia.
But it's also rejuvenated boxing in Baltimore, giving his coaches a bigger reach as they seek to change lives.
"Coming out of Upton or just being a boxer from Coach Calvin or Coach Kenny, you're going to be something," said Oliver, who fights Saturday on the undercard.
Ford and Ellis celebrate Davis and the rest of their stable. But they've also mourned the losses of other top talents that trained at their gym. Like Ronald Gibbs, a standout amateur who was stabbed to death in 2011. Or Angelo Ward, who was shot and killed a year later with two fights on his professional ledger.
Gurley was shot and killed in 2013 in New Jersey.
"Gervonta, he's seen all of them," Ellis said, "and he wanted to walk a straight line."
On Saturday night, that will be out of the locker room in the bowels of a sold out T-Mobile Arena, down the runway and into the boxing ring opposite Garcia. With Ford — and Baltimore — behind him.
"It's bigger than Baltimore. It's bigger than boxing," Ford said. "It's just a tool and a way for me to actually change other people's life. … This mission is not finished. It's just begun."
Contact Sam Gordon at sgordon@reviewjournal.com. Follow @BySamGordon on Twitter.
Up next
Who: Gervonta Davis (28-0, 26 KOs) vs. Ryan Garcia (23-0, 19 KOs)
What: 136-pound catchweight bout; 12 rounds
When: 5 p.m. Saturday
Where: T-Mobile Arena
TV: Showtime pay-per-view ($84.99)
Tickets: Beginning at $500 on axs.com
Odds: Davis -220; total 7½ rounds