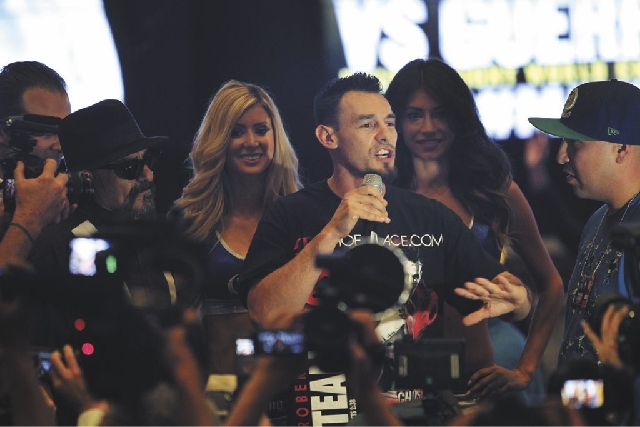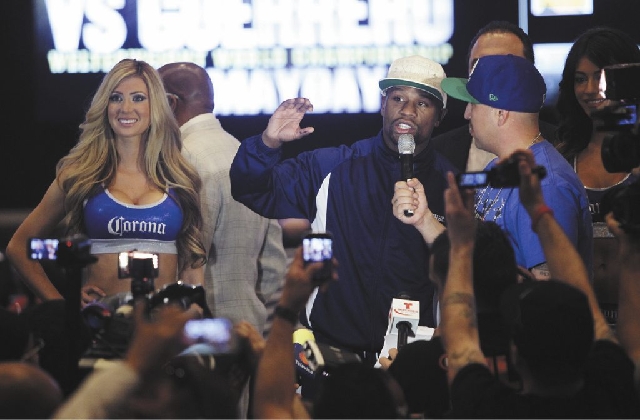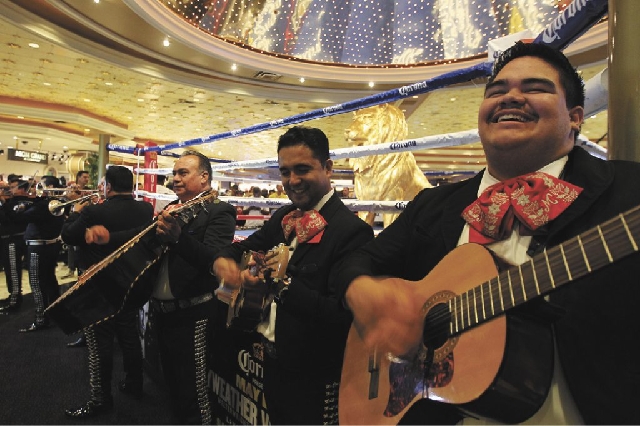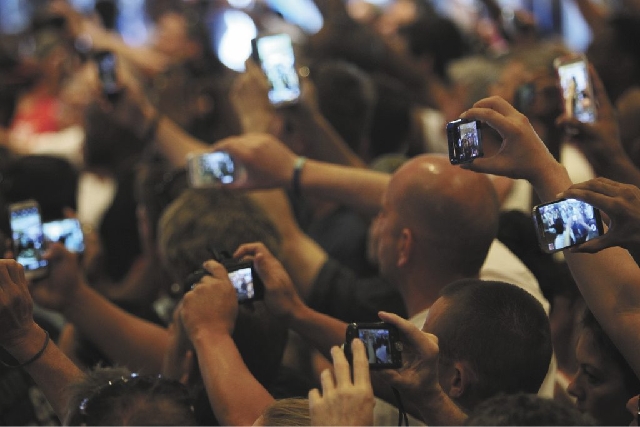 From the outset of the promotion in early March, Robert Guerrero has said that God had a plan for him to face Floyd Mayweather Jr. and hand Mayweather his first loss as a professional.
How that will happen or if it will happen remains to be seen when they meet Saturday at the MGM Grand Garden, where Mayweather will be defending his WBC welterweight title. But Guerrero believes his move to 147 pounds last year and the fights he won over Selcuyk Aydin on July 28 and Andre Berto on Nov. 24 properly have prepared him to deal with Mayweather (43-0, 26 knockouts).
"Being able to get two fights back to back — one against a pressure fighter like Aydin and one against a big puncher like Berto, who has quick hands and is quick on his feet — you get the best of both worlds," the 30-year-old Guerrero said Tuesday at the MGM Grand after he and Mayweather had their "grand arrivals" in front of several hundred fans in the hotel's lobby. "With those fights you're able to assess yourself, see what you learned and what you need to change."
Guerrero (31-1-1, 18 KOs) said his 12 years of pro experience, in which he has dealt with varied styles and learned how to adjust, makes him a difficult opponent for Mayweather.
"You're not going in unprepared," Guerrero said. "I'm comfortable with however he wants to fight. I'll fight him on the inside; I'll fight him on the outside. Whatever he wants, I'm ready."
Guerrero said he's not going to fall into the trap believing what worked in his 12-round unanimous decision over Berto will work against the 36-year-old Mayweather.
"Everybody's a different fighter," he said. "You can't compare Berto to Mayweather. That's why we worked on a lot of different things. We went back to the drawing board, and we perfected a lot of different things that we're going to bring to the ring, and putting the defense even more tighter. We're working on everything."
Guerrero isn't overly impressed by Mayweather's win over Miguel Cotto last May 5 in their 154-pound fight.
"I think Floyd just didn't take Cotto too serious knowing Cotto is slow on his feet and has slow hands," Guerrero said. "I think he overlooked him a bit. But Floyd Mayweather's a sharp fighter and a smart guy. He made the adjustments and got the job done.
"You can't underestimate him, and you can't look past anything he brings. If he's slowing down, his slower is faster than almost any other fighter out there."
Guerrero appeared relaxed Tuesday as reporters fired questions his way, ranging from wife Casey's health after beating leukemia to the pending May 14 court date in New York stemming from his March 28 arrest at JFK International Airport for trying to bring a gun onto his flight to Las Vegas.
But Guerrero said his focus remains on Saturday's fight.
"He's the man to beat, and if you beat him, you're on top," Guerrero said. "Being in this position is incredible, and it truly is a blessing."
■ NOTES — Today's final news conference is closed to the public, but Friday's weigh-in at the Grand Garden is open, and admission is free. Doors will open at 1 p.m., with the main event fighters expected on the scales at
2:45. … Guerrero was scheduled to arrive first Tuesday at the MGM, but Mayweather was first on the scene. … Tickets remain available for the fight, with prices at $631, $838, $1,295 and $1,551, plus applicable fees. Tickets can be purchased through Ticketmaster or the MGM Grand box office.
Contact reporter Steve Carp at scarp@reviewjournal.com or 702-387-2913. Follow him on Twitter: @stevecarprj.