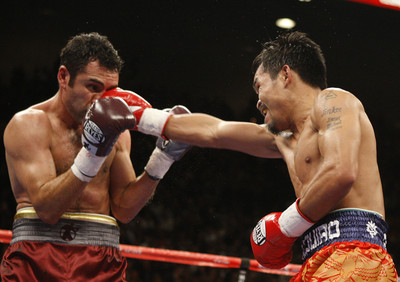 Steve Wynn usually gets what he wants.
So when the resort owner decided to get back into the boxing business, the smart money was on Wynn and Planet Hollywood's Robert Earl landing Las Vegas' first big fight of the year: Ricky Hatton vs. Manny Pacquiao on May 2.
With Wynn recently opening Encore and Earl looking to make a huge score with thousands of Hatton fans from the United Kingdom, along with locking up the town's biggest fight venue — the 18,500-seat Thomas & Mack Center — the pair thought they had a winning combination.
So why did the MGM Grand Garden wind up with the fight?
In a word, "relationship."
"If you have a relationship with someone, you just don't drop them like a hot potato," said Richard Schaefer, chief executive officer for Golden Boy Promotions, which promotes Hatton. "Robert Earl is a good man, and obviously Steve Wynn is a legend in Las Vegas. But I don't have a relationship with Steve Wynn. I have a relationship with the MGM. We have done a lot of business together over the years."
The key to the MGM getting the fight might have been Jim Murren, the new chairman of MGM Mirage. Schaefer and Bob Arum, the chairman of Pacquiao promoter Top Rank, wanted alterations to their previous deals with the MGM in regard to the overall costs of staging a big fight.
Murren and Richard Sturm, the MGM's president of entertainment and sports, were willing to cooperate.
"These are hard times economically," Schaefer said. "But Jim Murren is a very smart man, and there's a reason why Richard Sturm gets every big event at his properties. We asked them for some concessions and some adjustments, and they agreed."
By doing so, the MGM figures to capitalize on two of its properties. Not only will Hatton's loyal following from the United Kingdom take up most of the rooms at the MGM Grand, but Pacquiao and his fans figure to make Mandalay Bay — where the fighter stays whenever he's in town — their home base.
• PLAZA CARD — Boxing returns to downtown Las Vegas on Friday with a card at the Plaza. Middleweight Elvin Ayala faces Anthony Bartinelli in the eight-round main event.
USBA cruiserweight champion BJ Flores will meet Larry Robinson in a six-round bout, and Mongolian lightweight prospect Bayan Jargal debuts against Carl McNickles in a six-round fight.
First bell for the eight-bout card is 7 p.m.
• GOLDEN GLOVES — The Nevada Golden Gloves tournament, featuring amateur fighters in 11 weight classes, will be Saturday and Jan. 25 at the Silver Nugget Events Center.
Winners advance to the Golden Gloves West Regionals in March, also at the Silver Nugget. The National finals are in early May in Salt Lake City.
First bell each day is at 5 p.m. Tickets, priced at $10 each day, will be available at the door.
Contact reporter Steve Carp at scarp@ reviewjournal.com or 702-387-2913.