Henderson's 'The Havoc' gets kids hooked on boxing
October 16, 2014 - 1:00 am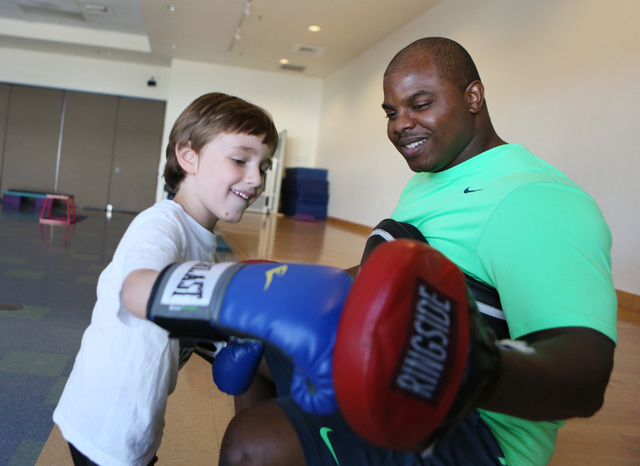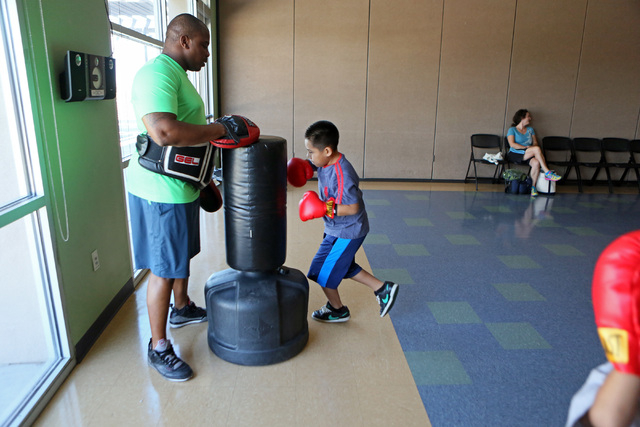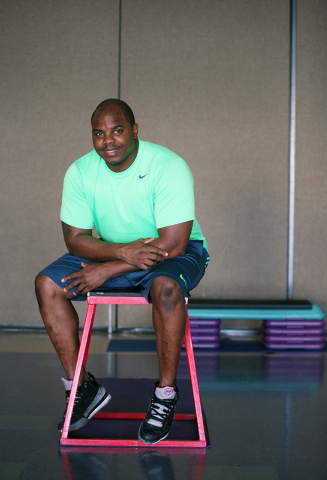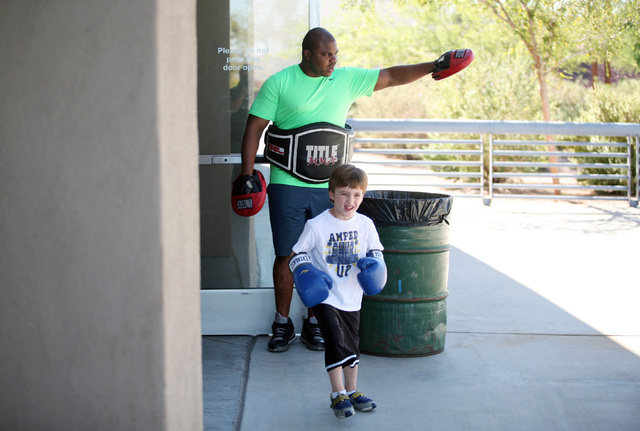 Julian Bowman, 13, concentrates as he practices jabbing and punching with a dozen other children in a youth boxing class hosted by the city of Henderson.
Instructor Brandon Harris walks around the room correcting posture and technique before he calls for a water break.
"It helps the kids learn discipline and keeps them from getting into trouble or doing mischievous things," Harris said. "It teaches them self-confidence and gives them something positive to do all year round."
Harris is set to teach youth boxing classes from 4 to 5:30 p.m. Wednesdays Oct. 29 through Dec. 3 for youths ages 10 to 16; 5:45 p.m. to 6:30 p.m. Wednesdays Oct. 29 through Dec. 3 for children ages 5 to 9; and 10:15 to 11 a.m. Saturdays Nov. 1 through Dec. 6 for youths ages 10 to 16 at the Henderson Multigenerational Center, 250 S. Green Valley Parkway.
"I teach the children how to protect themselves, but I tell them they should never go out using boxing," Harris said. "I tell them it's OK to defend themselves if someone hits them, but they shouldn't go around looking for fights. That's not what boxing is for."
Nicknamed "The Havoc," the 35-year-old Harris is an undefeated professional boxer.
"I came up with the name myself because I destroy everything that gets in front of me when I'm fighting," Harris said. "If you haven't ever seen me fight, you think I'm the nicest guy because I'm always laughing and cracking jokes. But when I fight, it's a whole different story."
Born and raised in east Detroit, Harris grew up in the foster care system. He bounced around 13 foster homes before being adopted by a family that "wanted (him) to fail."
"I lost everything I loved, so I was angry," Harris said. "Growing up out there, you either get eaten or you have to eat. The (son) of my adoptive family was into boxing, so that's how I got into it."
Harris moved to Las Vegas when he was about 20 and traveled with a boxing team. He was named Nevada heavyweight champion seven times from 2003 to 2005 and received a bronze medal during the Western Olympic Trials in 2004.
"To my adoptive family, I wasn't supposed to be anybody," Harris said. "They broke me down emotionally, which still affects me sometimes, but I try not to think about it because I'm doing better than when I was with them. I use that to fuel my energy for whatever I'm doing."
Harris began teaching boxing classes with the city of Henderson about eight years ago. At the end of each six-week session, he volunteers to take children to a real boxing ring to throw some punches with him.
"I like helping the kids and letting them try something different," Harris said. "I also throw them a party at the end and give out awards. It isn't anything major, but it still shows that they've accomplished something. It's something they can be proud of."
Aditya Sobramaniam, 12, began boxing with Harris about three years ago because he felt bullied at school.
"My mom wanted me to know how to defend myself, so she sent me to the class," Aditya said. "The first day I thought I was going to die from the workout, but I kept coming because it was fun."
Aditya's younger sister Ananya, 9, joined a few months later, and the duo began attending the class twice a week.
"We even stay here sometimes after and help with the younger class or run the track," Aditya said. "It's just fun, and I like the exercises we do."
Harris said he's also passionate about training children who are in foster care or who have autism.
"Growing up was tough for me, so now I'm trying to give back and help the kids who might feel like I did," Harris said. "I just want them to believe in themselves. If they really pay attention, this stuff will stick with them for the rest of their lives."
Harris is also set to teach adult classes from 7 to 8 p.m. Thursdays Oct. 30 through Dec. 4 or 11 a.m. to 12:30 p.m. Saturdays Nov. 1 through Dec. 6 at the center.
Children's sessions start at $24. Adult classes start at $32. Registration is required.
For more information, visit cityofhenderson.com/parks.
Contact Henderson View reporter Caitlyn Belcher at cbelcher@viewnews.com or 702-383-0403.