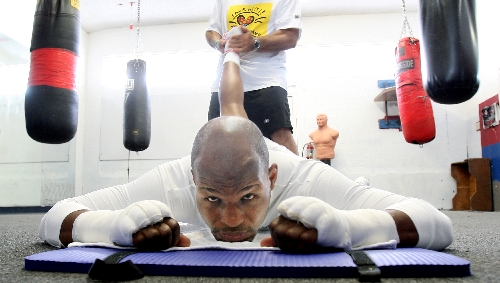 Seventeen years is a long time to hold a grudge.
But Bernard Hopkins knows all about keeping something locked up.
He hopes to finally vindicate himself against Roy Jones Jr. in tonight's 12-round light heavyweight bout at Mandalay Bay Events Center.
"This is personal," Hopkins said of his long-awaited rematch. "This isn't promotional talk. It's someone's fault we didn't get together in 17 years. Roy may have had the leverage, but it's flipped. He needs me more than I need him."
Perhaps. But Hopkins (50-5-1, 32 knockouts) has been the one clamoring for another shot ever since his 12-round unanimous-decision loss to Jones at Washington's RFK Stadium in 1993 when both were middleweights. The two former champions have exchanged plenty of angry words between then and now.
"We had a deal to fight (in 2006), but he sort of played me and he made a deal on the side," Hopkins said. "He made me wait, and I got a lot of anger built up inside me because of it."
It's the kind of rage that can build up when one is locked away, as Hopkins was from 1983 to 1988 in Pennsylvania's Grateford Prison for a series of felonies.
Now the 45-year-old Hopkins plans to use that anger in a constructive fashion to exact his revenge.
"Right now, he's one up," Hopkins said. "It's my job to even that up. I'll be two up on him when I knock him out. That counts for two."
Hopkins said the difference between tonight's fight and their first meeting will be skill and smarts.
"The fact is, I've gotten better, and Roy hasn't," Hopkins said. "He's still stuck back in time, some twilight zone. Me? I'm getting better. People keep reminding me that I'm 45, and it's like a death sentence. But have I given you any evidence that I fight like I'm 45?"
Hopkins, a minus-500 betting favorite at MGM Mirage's sports books to win tonight, isn't thinking knockout. His plan is to punish Jones (54-6, 40 KOs) over the course of the fight.
"I'm not a first-round knockout puncher," Hopkins said. "I have to beat you up. That's what I do. Roy? He's going to get a beating."
Hopkins has kept himself in amazing shape over the years. It's why, he said, he's still able to compete at a high level when others his age are watching film of their glory days.
"I've always tried to take care of myself," he said. "It's all about a person's style, lifestyle, the way he takes care of himself and, last but not least, genetics. Genetics plays a lot in people's lives, just the way they age quicker than others."
Hopkins has had to share trainer Naazim Richardson with Shane Mosley as Mosley prepares for his May 1 welterweight showdown with Floyd Mayweather Jr. at the MGM Grand Garden.
But Hopkins said it hasn't been a problem and that he talked daily with Richardson, who was in Big Bear, Calif., with Mosley while Hopkins trained in Miami Beach.
"I'm a veteran," Hopkins said. "I don't have any bad habits. I don't need anyone to hold my hand."
Richardson, who arrived in Las Vegas this week to finalize Hopkins' fight preparations, predicted things will be different in the rematch with Jones.
"I'm very confident it won't be like the first fight because there's a whole different approach behind Bernard and it encompasses Bernard's thought process preparing for this fight," Richardson said. "This Bernard Hopkins is better than the Bernard Hopkins of 17 years ago. This Bernard Hopkins will take Roy Jones to school."
Contact reporter Steve Carp at scarp@reviewjournal.com or 702-387-2913.