In Mayweather-Maidana run-up, Floyd Sr. is most voluble player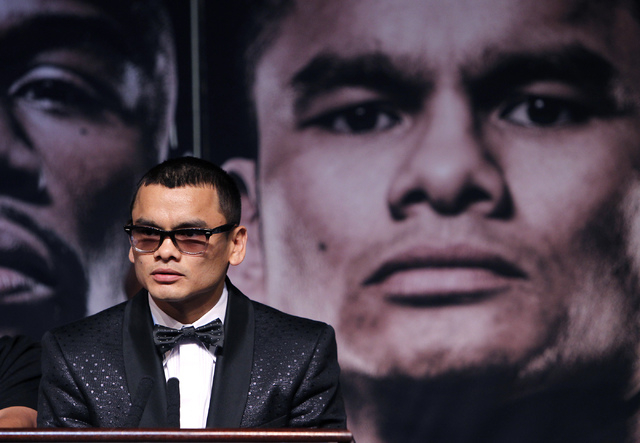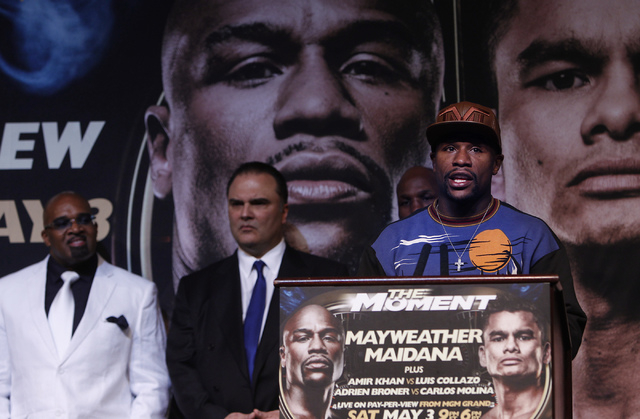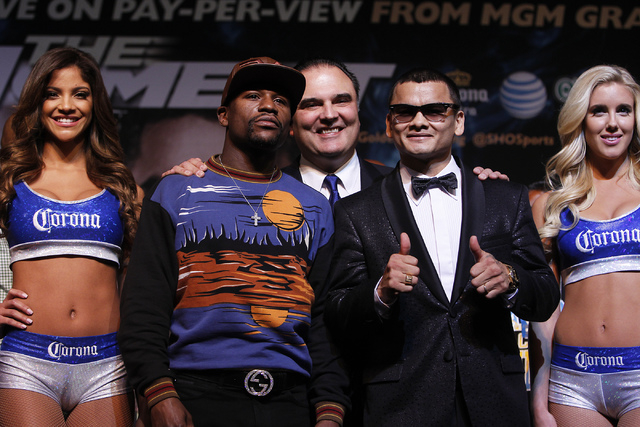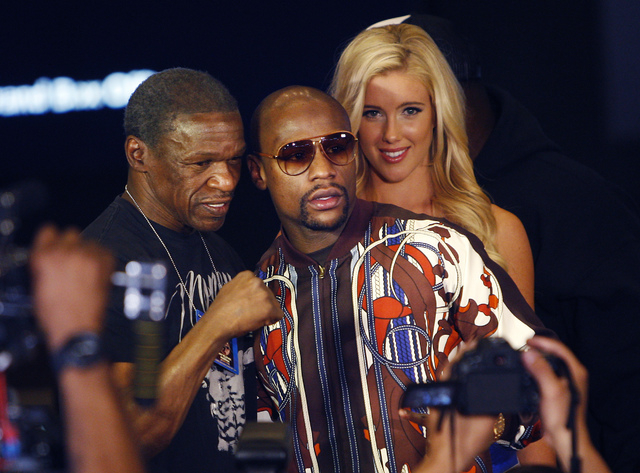 Floyd Mayweather Jr.'s final news conferences have tended to run on the dry side lately. Lots of platitudes to his team, to the network, maybe a subtle swipe at his opponent. But that's about it.
To get a good quote Wednesday meant venturing to the top of the Hollywood Theatre at the MGM Grand and seeking out Mayweather's father and head trainer, Floyd Sr. Just because he wasn't on the dais with his son didn't mean he was silent.
He never is. As always, he didn't disappoint. He's convinced his son will handle Marcos Maidana on Saturday in their welterweight unification title fight at the MGM Grand Garden, remain undefeated and look good doing it.
"Floyd is faster, he's more knowledgeable and he can adjust better than Maidana," the elder Mayweather said. "We'll see what he does, but we'll feel him out and we'll go from there."
Mayweather Sr. said he expects his son to use his speed to soften up Maidana, then use his power and go to the body and set up Maidana for the kill.
"He'll feel Floyd's body shots," he said. "Of course, Floyd's going to counter a lot, so when Maidana tries to throw that left, Floyd will come right over the top with the right."
Not only is the trainer-fighter relationship solid, the bond between father and son never has been stronger. Their falling out from a few years ago is a distant memory.
"This is the way it's supposed to be," Floyd Sr. said. "I've always loved my son. I'm thrilled to see him doing so well. You can give me a billion dollars, and to this day I still can't tell you what that was all about that put us apart.
"He's the biggest thing in boxing. It ain't even close. Working with him again makes me very happy. When we're in cahoots, we're impossible to beat."
Pretty much the only animosity Wednesday came from Richard Schaefer, the CEO of Golden Boy Promotions, which is co-promoting the card. Before introducing Richard Sturm, the MGM's president for entertainment and sports, Schaefer took his main rival — Top Rank chairman Bob Arum — to task for Arum's disparaging public remarks about Sturm and the MGM the week of the April 12 Manny Pacquiao-Timothy Bradley rematch at the Grand Garden.
"It was uncalled for in a public forum like that," Schaefer said. "It wasn't just an attack on my friend, it was an attack on over 60,000 people who work here (at the MGM). The sport of boxing is where it is today because of these people."
As for the fighters, Maidana tried to spice things up with a little profanity lobbed at Mayweather, who brushed it aside as if it were a weakly thrown jab that had no chance at landing, much less cause any damage.
Mayweather, who knows it's his job to help push the pay-per-view telecast on Showtime, said of his opponent: "Marcos Maidana has been making a lot of noise lately. Is Marcos Maidana one of the best in the sport? Absolutely. But I'm the best there is.
"We're still wondering who's going to solve the 'MayVinci' Code? But come Saturday, I'll find a way to win."
His father agreed.
"Maidana, he's a predictable fighter," Mayweather Sr. said. "When I see Maidana, I see someone that Floyd can easily pick apart. Maidana may be able to punch strong, but here's the thing — how you going to hit something you can't catch up to?"
And while the elder Mayweather claims he's out of the poetry business, he put together a couple of verses for the occasion.
"Floyd's the man you don't want to meet
'Cause you're gonna get beat
He's back, it's amazing
Ain't no jive, Floyd comes alive
With moves and grooves, with dance and prance
I know you fools don't want to fight
'Cause you came here tonight
But your pocket's looking tight
So you're forced to fight
When Floyd breaks your jaw and knocks you for a loop
You'll be sucking through a straw drinking soup."
■ NOTES — According to the Nevada Athletic Commission, Mayweather will make $32 million and Maidana $1.5 million. … Schaefer said the live gate is expected to top $15 million, which would be the fourth-highest in boxing history.
Contact reporter Steve Carp at scarp@reviewjournal.com or 702-387-2913. Follow him on Twitter: @stevecarprj.